As the economy continues to pick up, middle class Vietnamese are enjoying a larger amount of disposable income than ever before. Traditional goods are sometimes overlooked, lost in the waves of cheap merchandise and international brands. Bat Trang Pottery however, has become even more prestigious than it was five hundred years ago, when it was chosen to be sent as tributes to the reigning Chinese monarchs.
Bat Trang Ceramics, an international brand
The people of Bat Trang have not only kept their ancestors' trade, they have turned it into an internationally recognized brand. There are few Vietnamese who have not heard of it and the pottery is highly sought after by foreigners. I learned from the store owner that most of her store's income comes from foreigners, who could afford the more exquisitely crafted products. The gigantic vases that are featured would take a skilled craftsman two weeks to finish. The price? $1400 USD.
What can you buy at Bat Trang Ceramic Village?
Bat Trang is more than just premium, large vases. Its products are diverse in both size and price. Just take a look around Bat Trang Market. It's a market where one could marvel at the multitude of color that is mashed together in the confined space of interconnecting booths.
Ceramic dogs, elephants, and storks on iron legs stand next to ceramic Pokémon. Famous Vietnamese and Chinese literature figures with whom every child in Vietnam is familiar also make their appearance on the shelves. It wouldn't take long to recognize Chi Pheo and Thi No drinking together, or Kuan Yu with his trademark Guan Dao. Ceramic chasing arts grace the walls, depicting Vietnamese's traditional lives as small water fountains and wind chimes tinkle the air. And even if you are just looking for a nice tea set, there is a whole range to choose from. The goods originate from many workshops, each with their own patterns and designs, with the only thing in common being their attention to the smallest details.
Activities at Bat Trang Ceramic Village
Once known only for its ceramics, Bat Trang has now successfully turned itself into a hub for travelers. It possesses a natural beauty, nestled against the dam overlooking River Hong. It also has a bunch of fun activities. One should try the unique bamboo shoots and cuttlefish soup and take a few pictures by the coal walls. And for those who do not mind a bit of mud on their jeans, many studios let visitors to try their hand on ceramic making. You'll have opportunities to craft a ceramic product under the guidance of experienced masters. You can learn the various techniques, from operating a pottery wheel and ceramic claw hand to ceramics glazing. It's a fun experience and you'll walk away with not only your own product but also perhaps a better appreciation for the art of ceramics and pottery.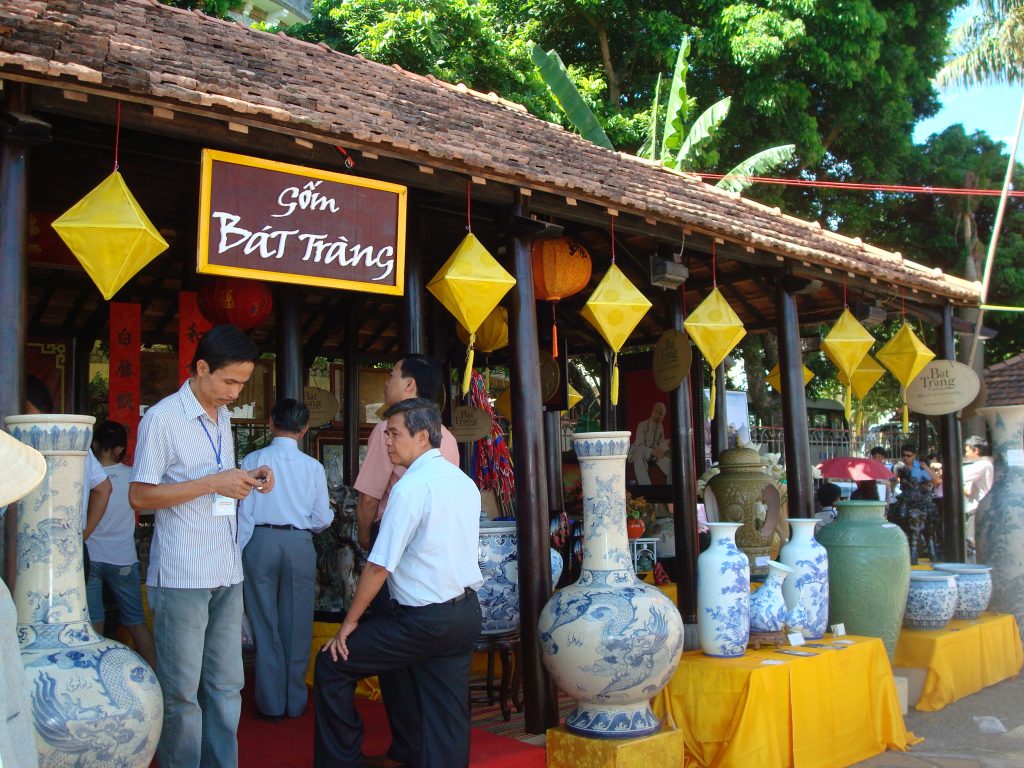 Travel Tips for Bat Trang Ceramic Village
There are a few ways to get to Bat Trang. You can go to Long Bien bus stop and catch bus number 47, which will stop right before the village entrance. The bus works from 5AM to 8PM, with a new bus making a stop every 10-15 minutes. If you're traveling by your own car from central Hanoi, cross either Chuong Duong Bridge, Vinh Tuy Bridge, or Thanh Tri Bridge. After you cross the bridge, follow the embankment until you see Bat Trang Pottery Village. On weekends, you could even book one of the River Hong cruise tours to get to Bat Trang.
Location: Xóm 3, Xã Bát Tràng, Huyện Gia Lâm, Xóm 7, Đông Dư, Gia Lâm, Hà Nội, Vietnam
Open hours: all day