One of Southeast Asia's most popular in-flight magazines named Cheryl Tiu as "the woman with the best job in the world" — and that couldn't be more true. As part of The World's 50 Best global group of taste hunters, Cheryl is literally on the hunt for the most delectable food there is in the US and in Asia. She dines in the most exquisite restaurants, converses with the most notable chefs and promotes the world's diverse cuisines.
The "TasteHunter Program" is a social media advocacy initiative of the 50 Best, powered by a select group of digital ambassadors that share an exuberant appetite for food, life and travel. Taste hunters like Cheryl assists in 50 Best's efforts to showcase the best of the best in the F&B industry. And while they are not part of the voting academies that decide on the winners, taste hunters collaborate on content to cover as many restaurants, bars and gastronomic events around the globe.
Just recently, Cheryl flew to Antwerp, Belgium for The World's 50 Best Restaurants awards ceremonies, where the global food community celebrated the feat of Copenhagen-based Noma and all other restaurants in this year's 50 best list. The event started and ended with the most mouthwatering receptions, glamorous awards night and cheerful tête-à-têtes — which was just apt, after it took a hiatus in 2020 due to the COVID-19 pandemic. With the culinary world slowly reemerging from a considerably bland year-and-a-half, the World's 50 Best event was a triumph in itself for the whole community.
While there was no mention of Vietnam-based restaurants in this year's list, our very own Saigon-based Anan Saigon was part of Asia's 50 Best Restaurants 2021 announced in March. TUNG Dining in Hanoi was also mentioned in the extended 51st-100th list. These recognitions are testament that Vietnam's dining scene is growing in popularity — and it won't be a surprise if it gets in the world list in the years to come. And Cheryl believes in this, too.
The content creator,  traveler, lifestyle journalist, social media influencer, culinary consultant, entrepreneur — talk about being a multi-hyphenate woman — knows where the best truffle dumpling is in Miami (where she's based) or where you can get the ultimate sōmen bowl in Manila (where she was born and raised). It's safe to say that she has a lot on her plate, and we mean this in a good way. 
But beyond food tasting, attending culinary events and writing restaurant reviews, Cheryl works with different chefs and restaurants to promote cultural and culinary exchanges through her consultancy platform, Cross Cultures.
"It is the sharing of culinary experiences and talents between chefs and cooks, between countries and continents—a mechanism for discovering new flavors and cultures," she wrote on her website.
Vietcetera asked Cheryl Tiu about the flavorful life she leads, and, as an established food connoisseur, what she thinks of Vietnam's culinary culture.
How did you become interested in food? What's that specific food/cuisine or moment that made you want to pursue this passion?
My family is a big foodie family. We've always been around food. Every Sunday, my Dad's side of the family—aunts, uncles, cousins, would get together for our Tiu family lunch, and they would always take turns hosting, so we'd be trying out a new restaurant or be spoiled by a lavish home-cooked meal. 
What are the most spectacular and most challenging parts of your job?
Apart from being a freelance journalist and content creator, my official "job" is actually Cross Cultures, an events and consultancy platform I founded to promote the exchange of cultures through food. We've conceptualized, organized and hosted events with World's 50 Best and Michelin-starred restaurants, as well as food movements, all promoting the exchange of cultures through food and beverage with the broad goal of dispelling misconceptions. We've had events in the Philippines, Hong Kong, Singapore, the US (New York, Boston and Miami). Naturally when COVID-19 hit, it was a challenge since events are ultimately designed to bring people together in a shared space. So at the height of the pandemic, we converted to an online platform, #HomeCookingTogether, where chefs from around the world from Elena Arzak in San Sebastian to Will Goldfarb in Bali, offered easy-to-make recipes at home using pantry ingredients, to help us all get through lockdown. From Vietnam, Peter Cuong Franklin so kindly shared how to make 𝗖𝗮̀ 𝗧𝗶́𝗺 𝗡𝘂̛𝗼̛́𝗻𝗴 (Eggplant and Crab Salad). 
We also started a series Cross Cultures Changemakers, spotlighting women in the F&B ecosystem globally.This year, we've also expanded to start offering consultancy services, working intentionally with brands with strong giving back components. Some of our services include restaurant and chef partnerships, curating culinary programs and creating social causes storytelling campaigns. We work with clients from all over the world (the great thing about this virtual world!), so please don't hesitate to get in touch!
You've traveled around Asia and tasted different cuisines. Which one is your favorite?
I love how Asia is so vast and how each country has its own distinctive cuisine, representative of its culture and tradition. I love them all, and there are moments of course you are craving a specific one over the other, depending on your mood or how you are feeling that day.
Vietnam has recently made a mark in Asia's 50 Best. What do you think of this feat and of Vietnam's dining scene in general? 
All I can say is...finally!!! Vietnamese cuisine is one of the most delicious in the world but the fine dining and upscale dining concepts have really grown over the years, and I am definitely looking forward to visiting them soon!
Have you ever visited Vietnam? What's your favorite Vietnamese dish?
Yes! I've been to Ho Chi Minh and Hanoi on separate occasions, but am long overdue for a visit. My favorite Vietnamese dish is banh xeo.
How do you see Vietnam's future in the culinary world?
I think that it will become an even larger culinary destination. What I'd love to learn more about are Vietnam's regional cuisines, and how this generation of chefs are working with local produce, ingredients and dishes that people are familiar with and preparing them in exciting permutations.
How would you compare Filipino and Vietnamese cuisines? Any Filipino food you want to share with the Vietnamese and vice versa?
I think while we may each have our spring rolls — cha gio and lumpia — the flavor profiles are very different, owing to our history and heritage. But I love that both are centered around sharing, with family and friends, etc. Sisig has always been my favorite Filipino dish, but I've turned pescatarian this year, and would love to showcase ways that we can enjoy sisig as tofu, bangus, mushrooms. I also LOVE taba ng talangka (crab roe, a Filipino seafood paste derived from the roe and reddish or orange tomalley of river swimming crabs or Asian shore crabs) and would love to share this with Vietnam. Asia's Best Female Chef 2016 Margarita Fores makes it so well, and we've been lucky to showcase this at a Cross Cultures pop-up in Miami. I'd also love to spotlight the flavors of Mindanao, which is so different from the rest of the country, with its predominant use of burnt coconut. Overall, I'd like to dispel the misconception that Filipino food is unhealthy and unphotogenic.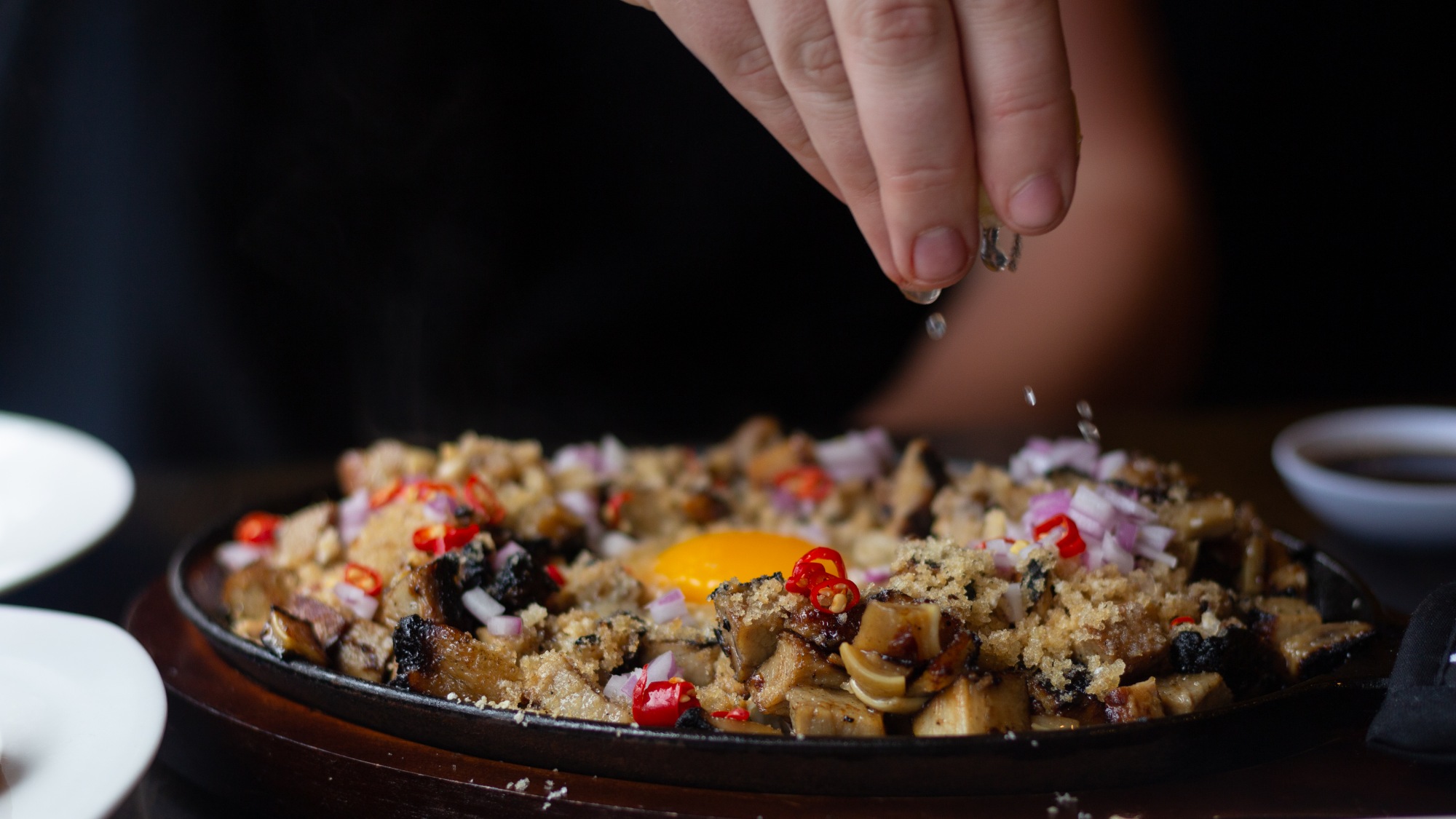 If Vietnam could learn something from somewhere in terms of promoting its cuisine, what and where would it be?
I think with platforms like Vietcetera, it's been very helpful. I think that a lot people are curious but the language barrier could pose an obstacle. I think when possible, restaurants, chefs, websites, etc. can post the same description both in Vietnamese and in English, that would help a lot.
How do you aim to further boost Asian cuisine to the world?
I think in some parts of the world, they think of Asia as a monolith, so when they think of Asian cuisine, it's often Chinese and Japanese. So I think it's important to really identify, promote and spotlight cuisines and dishes that some people may not have heard of. I also want to dispel the misconception that most people think that Asian food is meant to be inexpensive, where patrons refuse to pay more money for an Asian dish vis a vis a Western one, because we have been constrained to being "street food" or "casual eats." On the contrary, some of the most creative plates and spectacular dining experiences I've had are from/ in Asia.