Despite being relatively new to the cocktail scene, Hanoi certainly has no shortage of enchanting cocktail bars which serve unique concoctions. In this city, which has traditionally been Vietnam's bia hoi heartland, cocktails have become increasingly popular over the last few years as young people seek to try new things and hop on the latest trends.
Across Hanoi's cocktail bars, there is a common focus on creating locally-inspired drinks which appeal to the local taste and draw the interest of travelers. From the award-winning Pho cocktail to drinks inspired by local neighborhoods, there's an element of innovation and creativity that is truly unique to Hanoi.
The Best Cocktail Bars In Hanoi
Reminiscent of the American prohibition era, most cocktail bars are found in inconspicuous locations, complete with dimly lit interiors and glamorous decor.
Vietcetera set out to find the best cocktail bars and the best drinks each had to offer. Here is our roundup of the top five.
Polite & Co
Polite & Co, previously Polite Pub, is a Hanoian institution. It opened under its previous alias in 1995 as the first traditional pub in Hanoi. Transferred from uncle to nephew in 2013, it underwent refurbishment and reopened as Polite & Co, a whisky and cigar bar. Today, still under Mr Quan's ownership, it's more of a cocktail bar, but whisky remains a popular drink here too.
Inspired by the gentlemen's clubs of the 1920s, the interior is classy and cosy. Here, the cocktail menu changes every six months and features 25 cocktails from around the world as well as classics and Hanoi-inspired concoctions. A special Mixology Journey menu is often available with between five and ten extra cocktails designed to different weekly themes.
The latest Mixology Journey menu brings Hong Kong inspired drinks to Polite & Co. It features concoctions like the Lan Kwai Fong, Dim Sum and Jackie Chan. As you'd expect, the Lan Kwai Fong represents the legendary nightlife of this entertainment district through a heady mix of Hong Kong baijiu and tequila infused with kaffir leaves.
On the other Hanoi-inspired menu, there are five cocktails created using local ingredients, each not only intricately flavored but thoughtfully presented. Designed to represent Hanoi's Old Quarter, The Street Vendor, for example, features chrysanthemum-infused Gin and embodies floral and fruity tones.
What: A Hanoi institution that's evolved into a cocktail bar.
Where: 5b Ngo Hang Hanh, Hoan Kiem
Try: Their Hong Kong menu that features tributes to Jackie Chan, dim sum, and Lan Kwai Fong.
Contact: Facebook | Instagram
Jigger Cocktail & Wine Bar
Only two months old, Jigger Cocktail & Wine Bar is tucked away on Nam Ngu Street amongst beauty salons, clothing stores and local eateries. Inside this beautifully refurbished building, the speakeasy bar feels worlds apart from the rest of Hanoi. Dimly lit with cosy seating, exposed brick, beautiful wall panelling and neon signs, this is a truly unique space that's been designed with careful consideration.
The head bartender here is Helen Nguyen. Previously a trainer at The Unicorn, Helen brings a fresh and vibrant attitude to her service and her cocktail creations. For her, there's a story behind every cocktail and it's all about achieving a balance of flavors. It's also a combination of modern techniques while keeping things simple with good quality spirits and fresh ingredients. Helen is passionate about creating new drinks. And her major motivation is seeing happy customers.
With a desire to educate customers and share the story and history behind cocktails, all cocktails on the Jigger menu come with a Vietnamese description and there's even a taste wheel to help people decide what to drink.
The Signature Cocktail Menu is one that's still currently being refreshed by Helen and will contain innovative creations like 'Hanoi's Weather' and 'Neighborhood'. Designed to represent Nam Ngu Street and the local duck specialty, 'Neighborhood' is a tasty concoction of rum, red dragon fruit, pineapple, Thai basil, Vietnamese coriander and lime juice, served with a small bowl of roasted peanuts.
Owner Jeff Luong is focused on creating the full experience at Jigger, not just amazing cocktails. The bar hosts different music on different nights, from jazz on Wednesdays to acoustic pop on Sundays.
What: A dimly lit bar with cozy seating, exposed brick, beautiful wall paneling and neon signs.
Where: 59 Nam Ngu Street
Try: Their Neighborhood that contains rum, red dragon fruit, and pineapple.
Contact: Facebook | Instagram
Nê Cocktailbar
Only a few steps away from Hanoi's iconic Train Street, Nê Cocktail Bar is a cozy speakeasy bar with a strong focus on local ingredients and flavors. Open since May 2017, it attracts a mix of locals, expats, and travelers who come for the great atmosphere and the award-winning Pho Cocktail.
The name "Nê" is short from Negroni, the favorite drink of one of the partners. Naturally, there's a special focus on Negroni on the menu and you can order your Negroni infused with cinnamon, jasmine, chili, coffee, chamomile or cloves.
The cocktail menu at Nê is extensive and signature cocktails are created by all the mixologists behind the bar, made with local ingredients to showcase what Vietnam has to offer. Most well known is the Pho Cocktail, created by Pham Tien Tiep for the Diageo World Class Vietnam mixology competition in 2012.
Various other cocktails on the menu take a similar Hanoian twist. For example, you'll find soya sauce, coriander, garlic, lime and fresh chili in their Vietnamese Bloody Mary.
With only 40 seats available, a core part of Nê is the bar counter. This is where most customers will sit and watch their drinks being made. Communication and interaction over the counter are encouraged so that bartenders can get to know their customers and what they like. Special cocktails can also be made based on the customer's mood or a description of the flavors and base they like.
What: A cozy speakeasy bar with a strong focus on local ingredients and flavors.
Where: 3b Tong Duy Tan, Hoan Kiem
Try: If it's the day after a heavy night, try the Vietnamese Bloody Mary.
Contact: Facebook | Instagram
Mad Botanist
Situated in the heart of the Old Quarter by St Joseph's Cathedral, The Mad Botanist is allusively hidden upstairs on the third and fourth floor of HeSheEat Dim Sum (previously V-Presso coffee shop). The interior pays homage to the 1920s prohibition era with its glamorous furnishings, palm motifs, beautiful geometric patterns and plenty of brass.
With 103 different types of gin on their shelves, the focus at Mad Botanist is undoubtedly on the fashionable spirit. Stocking a range of gins from all around the world, there's plenty of obscure brands to sample for the biggest of gin lovers.
One of the best sellers here is the 'Lab Inspired Gin & Tonic', which comes in nine flavors including 'basil & cucumber' and 'cinnamon & orange peel'. Created using a hot infusion siphon, every batch takes around 48 hours to prepare. There's a desire for locals to get to know the bar and the taste of gin, and bar manager Nguyen Cong believes that by bringing science to the bar and using newer technology is a draw for the Vietnamese.
But gin isn't the only specialty at Mad Botanist. There are a number of in-house infused liqueurs used across various signature cocktails, including delicious concoctions like the Bacalao. Using Sweet Muffin Tea-infused Gin, Maraschino Luxardo and a housemade roselle cordial, the beautifully presented drink is a balance of sweet and sour. While the menu does change every six months, best sellers like this will stay on.
What: A bar that pays tribute to prohibition era with glamorous furnishings, palm motifs, beautiful geometric patterns and plenty of brass.
Where: 45 Ly Quoc Su, Hoan Kiem
Try: The Bacalao with sweet muffin tea-infused gin, Maraschino Luxardo and a housemade roselle cordial.
Contact: Facebook | Instagram
Ca Phe Hai Bon
Located on bustling Ba Trieu Street, only meters away from Hoan Kiem Lake, Ca Phe Hai Bon draws plenty of locals and travelers. While coffee is the specialty at this popular cafe, they've recently added cocktails to the menu after a successful Halloween debut.
Quang Anh is the bartender behind the new cocktail menu. Passionate about bringing the cocktail culture to the streets, he recently moved to Hanoi from Saigon (on a motorbike with his dog Pelle), where he had plenty of experience working for the likes of Saigon Saigon Rooftop Bar. He believes that the key to a good cocktail is not having a recipe, but instead catering to the changing tastes of customers and their mood.
Focused on serving classic cocktails with good ingredients and providing good customer service, Ca Phe Hai Bon attracts a large group of regulars and loyalists. At just 68k for a Classic Cocktail and 88k for a Signature Cocktail, they're making fine drinks affordable and accessible to the general public.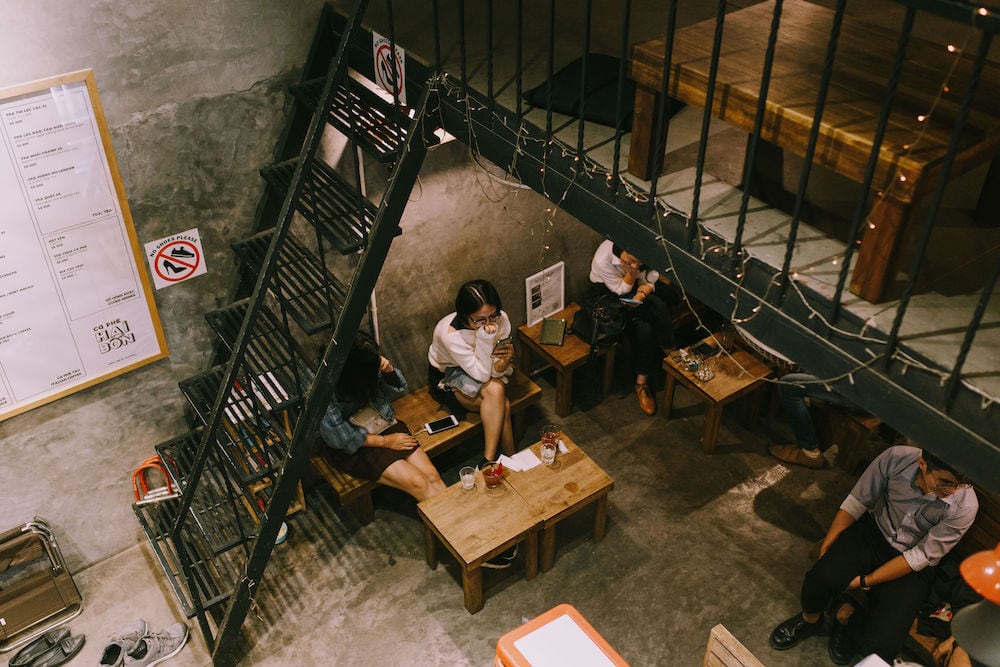 The specialty here is the Chili Cocktail, which uses chili infused vodka, peach liqueur, raspberry puree, lemon juice, and is served with a fresh whole chili. Other popular drinks include the Mai Tai and Espresso Martini, which seems natural as they serve great coffee.
To keep things exciting for the regulars, Quang Anh has plans to refresh the menu every couple of weeks. Expect items on the menu like Lychee Martini, Banana Daiquiri and more.
What: A cafe that converts into a street cocktail bar—maybe the first of its kind?
Where: 24 Ba Trieu, Hoan Kiem
Try: The specialty Chili Cocktail that contains chili-infused vodka, peach liqueur, raspberry puree, and lemon juice—plus a whole chili.
Contact: Facebook | Instagram
Related Content:
[Article] Hanoi Poet And Tranquil Coffeeshop Co-Founder Nam Lu's Writing And Style
[Article] Coworking Spaces In Hanoi: Five Shared Spaces To Work