Today, Coffee.Saigon and Vietcetera recommend five coffee shops where you can not only get your much needed coffee fix, but also meet your work deadlines. After a relaxing weekend, you can choose to visit any (or all) of the places mentioned below and begin a new week at your own pace.
Coffee shops suitable for working offer several convenient power outlets, as well as delectable and mood-boosting drinks that will keep you company on a hectic day. Above all, the stores also should have a comfortable and friendly space for customers to easily "deep work" without being distracted.
Here are five spots around Saigon that inspire productivity.
The Hummingbird Cafe
The Hummingbird has two big advantages: the delicious coffee made from coffee beans roasted on the spot, and the comfortable and quiet space that helps you concentrate.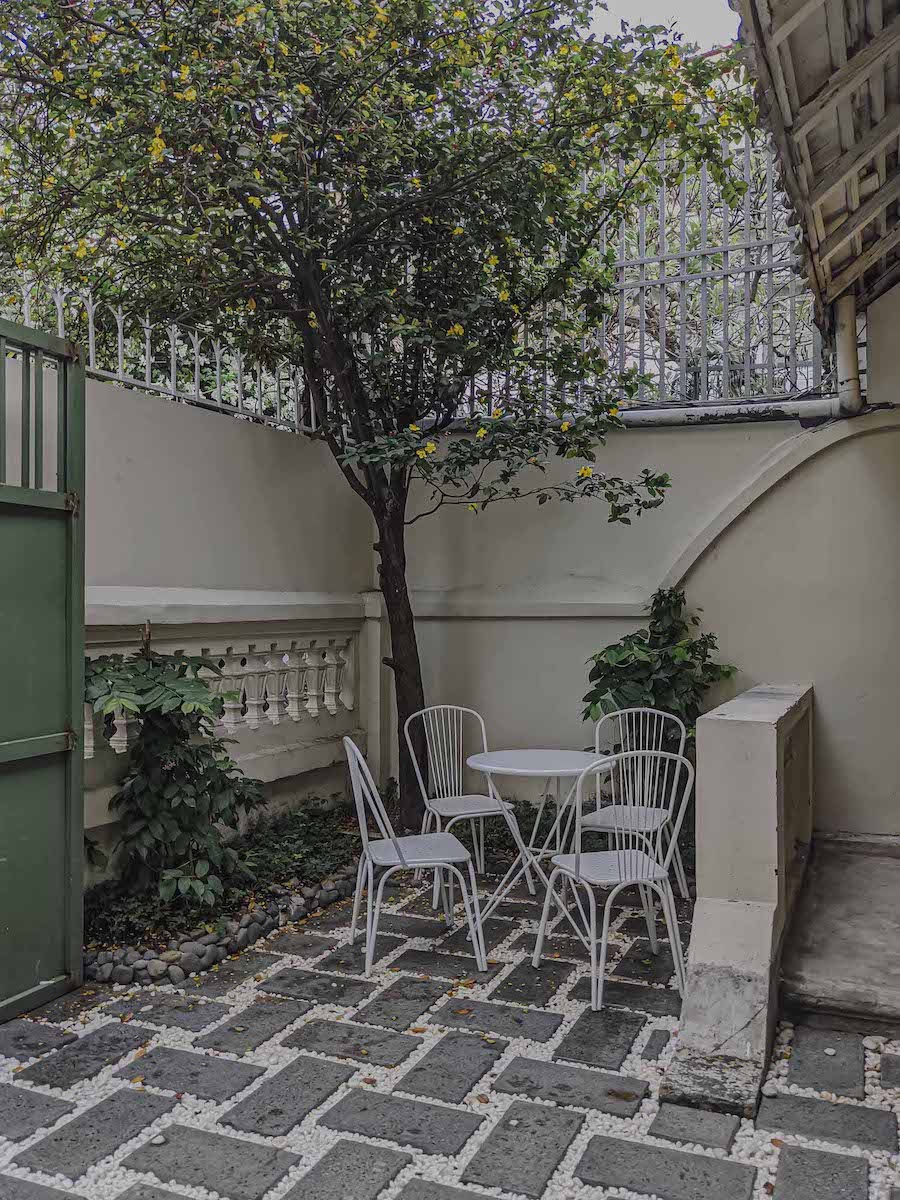 Space
Impressive entrance with a paved courtyard under a canopy, aesthetically decorated with pebbles.
The space inside gives off a rustic and cozy feeling, with a long bar counter and wooden chairs in pale colors, creating a feeling of closeness and comfort.
Quiet atmosphere, especially in the morning.
Has single tables for people who come alone, and long tables suitable for groups
There are two locations of The Hummingbird Cafe with different designs, but still have one thing in common. The interior design for both stores is the combination of a coffee shop, a roasting workshop, and a lab - to give customers the most optimized coffee experience.
Menu
Mainly coffee, made is several ways (manual brew, cold brew, handcrafted). Teas, juices and cakes are also served.
The Hummingbird uses specialty coffee for brewing, and also sells coffee beans so you could make coffee at home.
Recommendation:
Iced Milk Coffee: Fragrant, rich in flavor of handmade coffee.
Cube Pound Lemon: Lemon-sauced cake served with lemon jam. The cake is fresh, not so dry and beautifully decorated.
Address:
5H Ton Duc Thang, Ben Nghe Ward, District 1
103 Bis Vo Thi Sau, Ward 6, District 3
Opening hours: Monday - Sunday | 8:00AM - 9:30PM
Parking: Vo Thi Sau branch has free parking at alley 113
Price: From VND 30,000
Barxiu Caffe
Despite being hidden in an old apartment building, Barxiu has a spacious space with a decor style that gives off a "private" vibe. The store is often very quiet, suitable for customers to work and study.
Space
Barxiu is a brand new coffee shop hidden in an old apartment. Surprisingly, the address is quite difficult to find. However, the way to go there is very interesting, we recommend you experience it to understand why!
A beautiful and spacious coffee shop, inundated with natural light. Many people also choose to do photoshoots here.
Tables and chairs are intentionally arranged to leave plenty of space, so that visitors can sit comfortably.
Simple decoration, with industrial finish to help reduce distractions.
The store has a quiet atmosphere since it is located in an old apartment building, and also has a balcony overlooking Tran Hung Dao Street.
Menu
Many types of coffee - made by both coffee maker and handcraft, lattes, teas, wines and some savory dishes.
Mostly classic or familiar drinks, beautifully prepared.
Recommendation:
Honey-lemon Cold Brew: Combination of cold brew coffee, fruit juice, pickled peaches and a slice of fresh orange. The taste is cool and sweet.
Address: 90 Tran Dinh Xu, District 1
Opening hours: Monday - Sunday | 8:00AM - 11:00PM
Parking: At 86 Tran Dinh Xu (the street food stall selling beef dipped in hot sauce)
Prices: From VND 30,000
103
This place is suitable for people who like to work in coffee shops located in the downtown area, but far from the noise and hustle.
Space
The interior design of 103 looks so light, like a cloud in the city center. At the ground floor, there is a Dì Lý restaurant selling crab noodle soup with Northern style of cooking, quite delicious.
The store has two spaces: indoor and outside at the balcony, overlooking Dong Khoi Street.
Aiming to create a sustainable coffee space, the entire floors and bar counter are all made of raw laterite materials.
The architect has designed the store based on the concept of Cloud - Wind - Moon, so if you pay close attention, you will notice some delicate and beautiful details that reflect these light concepts.
Perfect for bookworms. The store also has good books for you to browse and read.
Menu
Coffee made by coffee maker, black teas, fruit tea, green tea, and homemade cake.
The 103 menu gives off a light and healthy feeling, as the desserts and drinks are all made from traditional and healthy ingredients.
Recommendation:
Sweet and Salty Lemon Soda: Sweet molasses, cool sparkling soda with a little flavor of salted lemon. It's a drink that refreshes, soothes the throat, very good for your health.
103's Signature Apricot Tea: With picked Moc Chau apricots - harvested in late spring and early summer, mixed with slightly acrid Oolong tea, very easy to drink.
Vietnamese Honeycomb Cake: Made in the traditional way, fragrant from jaggery but not too sweet, chewy and slightly sticky, has a slight smell of eggs and creamy smell of coconut.
Address: 2nd floor, 103 Dong Khoi, Ben Nghe Ward, District 1
Opening hours: Monday - Sunday | 7:30AM - 10:30PM
Parking: At Ngo Duc Ke apartment complex
Prices: VND 35,000 - 60,000
Unihub
Located in a quiet alley in Binh Thanh district. You can choose to come here to work with a cup of good coffee, or to explore a peaceful corner of Saigon.
Space
Another brand-new coffee shop for those who love the tranquility and enjoy handcrafted coffee.
The shop has two floors with white as the main color tone.
There is a couch in front of the entrance, surrounded by potted plants, gives off the friendly and intimate feeling.
Spacious inner space, arranged to create certain privacy.
The highlight of Unihub is the design that takes advantage of natural light, easier for you to focus.
The shop is located on a small road with no traffic, so it is very quiet.
Menu
Basic coffee made by coffee maker, made from Robusta and high quality Arabica, crafted coffee; teas and fruit teas; cake.
Recommendation:
Espresso/Americano: Using 100% wet pre-processed Ethiopian Guji coffee beans, has slight taste of lemon and black tea, and sweet aftertaste.
Latte/Cold Brew: Blend of Min Mountain Arabica with Ethiopian Guji, to make a cup of coffee with high fat, chocolate and balanced citrus taste.
Hand-made coffee using Hario V60: Combining natural preprocessed Costa Rica Brunca and Ethiopia Hanbella, high sweetness, fermented berry flavor.
If you are not familiar with these various types of coffee beans, the barista will be more than happy to chat and explain to you.
Address: 36/32/2 Nguyen Gia Tri, Ward 25, Binh Thanh District
Opening hours: Monday - Sunday | 7:00AM - 10:00PM
Parking: At the store's parking lot
Prices: From VND 45,000 VND
Ticos
Open 24/7, suitable for night owls who have to work on deadlines. The shop is spacious, offers several electrical outlets and sitting areas to suit various purposes and diverse numbers of people.
Space
The front side is divided into many small squares, showing a unique and modern style.
The shop has one ground floor and two upper floors, all in gray and black tones.
The largest 24/7 coffee shop in Saigon.
The decoration is not extremely glamorous, but creates a sense of comfort for visitors and attract young people to study in groups, or to work.
There is a rooftop with outdoor sitting space.
Menu
Traditional coffee, brewed coffee, cold brew; fruit teas, ice blends, smoothies, juices and pastries.
Recommendation:
Sereno Berry: Tea, orange, raspberry. The tea is quite strong, the raspberry flavor stands out and the orange taste is faint and generally not sweet. Toppings include raspberries, orange slices and fruit jam.
Lemonade: Cold brew coffee, served with iced glass and fragrant yellow lime slices. Tico Coffee's cold brew is a bit darker than usual, with mild acrid taste, and has a sweet finish.
Address: 527 Phan Van Tri, Ward 5, Go Vap District
Opening hour: Monday - Sunday, open all day
Parking: In front of the store
Prices: From VND 29,000