In our commitment to showcasing the most relevant insights to our readers, we're excited to announce a new content partnership with Ho Chi Minh City-based market research firm Decision Lab. Twice a month, we'll be producing data-driven analysis on findings from Decision Lab's tracking tool Foodservice Monitor.
In our first release, we dig into three findings that were made in the first quarter of 2017 about the dining out preferences of Vietnamese consumers and the drivers of restaurant choice. We complement these findings with our insights into what is driving these trends in the market.
Vietnam is a breakfast nation
Between all the affordable and popular breakfast options on offer, what can stop the growth of the Vietnamese breakfast market? Of the 328.6 million visits to food service outlets in the first quarter of 2017, breakfast accounted for 30% of all visits. Spearheaded by Vietnam's rising coffee demand and working class, breakfast preferences by Vietnamese consumers are set to maintain this pace of growth through 2017.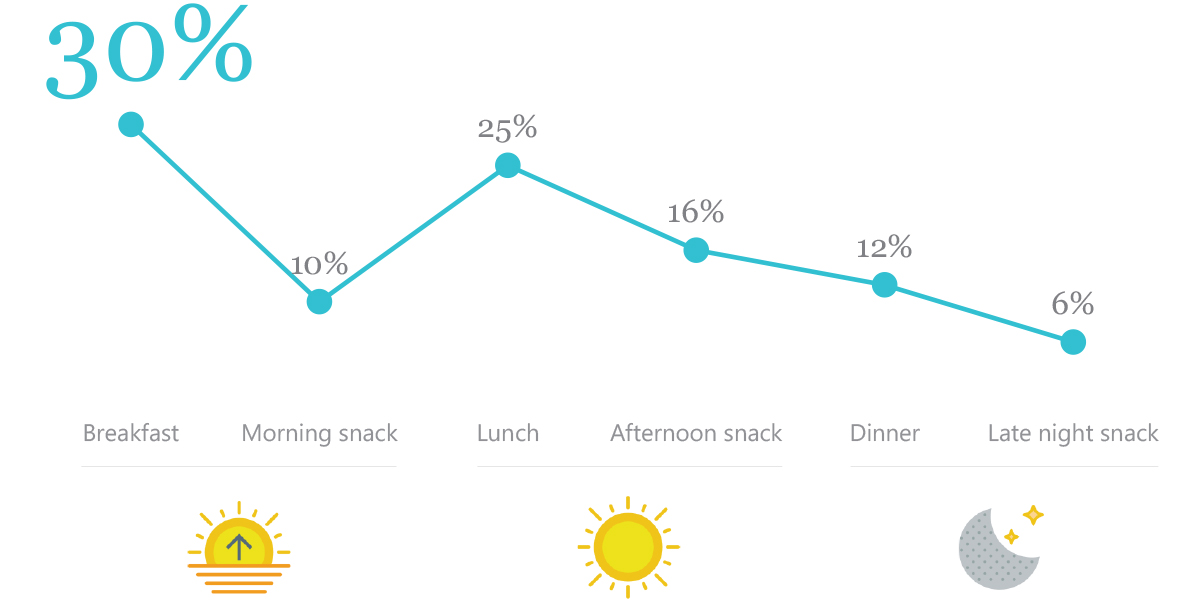 So why is Vietnam a breakfast nation? There are three main factors. First, the modernization of three affordable staples of Vietnamese cuisine: the banh mi, pho, and coffee. Second, the introduction of convenience store chains. And lastly, the growing urban office professional class.
At the mass market level, banh mi, pho, and coffee are sold in people's homes that are converted into makeshift restaurants and streetside vendors throughout Vietnam. Market penetration and access to consumers can't be beat when your nextdoor neighbor sells the best neighborhood pho. In urban centers, we're seeing more coffee shops, Western restaurants, and mid-range Vietnamese restaurants focus on modernizing the traditional Vietnamese experience into air-conditioned, full-service storefronts, either it be a fast casual or a sitdown restaurant.
Among Vietnamese restaurant groups, we see more mid-range brands such as Pho 24, Mon Hue, and The Coffee Factory, set the tone for this trend. And all of these brands are growing fast. Many of these brands are positioning themselves to ride the wave of middle-income growth of Vietnamese consumers by focusing on the whole experience rather than just food offerings and price.
Secondly, perhaps the most visible driver of this growth is the convenience store. You can now find a Circle K or Family Mart on almost every street in major urban centers. In fact, there are now over 500 convenience stores in Ho Chi Minh City alone. Air-conditioned and clean, these spaces are a departure from local corner shops run out of family homes. Offering easy take out options, snacks, and coffee, the convenience store has become a daily routine for the average office worker in urban centers. The addition of seating areas in convenience stores has also encouraged repeat purchase behavior.
Lastly, the growing urban office professional market in Vietnam has helped to buoy the appetite of dining out for breakfast. Breakfast is the largest benefactor of this growing audience because of lower price points, convenience, and higher likelihood of recurring purchase behavior. As more of Vietnam's population moves from the countryside into the city in pursuit of white-collar jobs, the number of visits to food service outlets will continue to grow and the size of the breakfast market should maintain its position.
Vietnamese consumers prefer to go out in groups
If you know anything about Vietnamese culture, you know it's social. Bia hoi culture, casual coffee shops, and open air eateries that line the streets of Vietnam set the tone for group dining.
In fact, we've noticed at our very own coffee shop, that single person coffee-goers are much less common. Customers tend to arrive and leave in groups. The youthful age of the population provides another signal that highlights this finding. Young Vietnamese tend to go out together, rarely alone.
According to the Decision Lab, more than 60% of Vietnamese consumers prefer to consume out-of-home in a group of two or more people. This implies that restaurants should consider offering group buying deals to attract these consumers. In our experience, many of the most successful mainstream restaurants and coffee shops in urban centers like Ho Chi Minh City often design their seating to accommodate groups rather than solo diners (e.g. fewer bar seats, tables for two in favor for large tables and group seating areas).
Location is the main criteria for restaurant choice, but other factors drive higher spend
Location is critical in Vietnam. There's a shortage of motorbike parking in cities and the worsening urban gridlock continues to limit mobility. Restaurants offering service in busy, walkable business locations are well positioned to capitalize on recurring visits.
For dinner spots, which tend to be more 'special occasion' or social events for the average Vietnamese consumer, a clean environment and quality of food become more important. This preference is highlighted by Decision Lab's findings that when consumers choose a restaurant not because of its location, their average spending is 30% higher. Ultimately, the factors that make them much more likely to pay extra is cleanliness of outlets, quality and taste of food and drink.
What's the perfect combination for a new restaurant business in Vietnam today?
It's hard to pick a consistent winning combination. Though based on the findings by Decision Lab, we're particularly excited about businesses that focus on high volume breakfast and/or lunch service, a group friendly offering, and a location that is conducive to recurring business. While there's never a formula for a winning business, we believe that these traits would make an ideal combination in the current food and beverage market.