Among the eight major culinary traditions of Chinese cuisine, Cantonese cuisine has the most diverse food processing methods. It is also the most popular style of Chinese cuisine in the world. Among many Chinese restaurants, Cantonese in particular, Dim Tu Tac is definitely the place where we always want to revisit.
Recently, Vietcetera had a chat with Master Leung Kwong, Head Chef of the Dim Tu Tac restaurant chain, at the Dong Du branch. Master Liang Guang shared with us Dim Tu Tac's journey of sharing Cantonese cuisine with Vietnamese diners.
Please introduce Dim Tu Tac.
In early 2015, it was first founded. It was then followed by branches at Tan Son Nhat Hotel and District 5 at the end of the year and District 10 in 2017. Last year, we officially moved the District 4 branch to District 1, on Dong Du Street.
In Chinese, Dim Tu Tac means "anything you want, or, anything is possible." This name symbolizes the founding team's vision to build the restaurant as the destination for the most diverse yet genuine culinary experience.
What differentiates Dim Tu Tac from other Chinese restaurants in Saigon?
We uphold two core values: high quality food and high customer satisfaction. Our staff, from the chefs to the management and service staff, always shape their approach and work with these values when serving our customers. We aim to offer a memorable dining experience to all visitors.
What are some features of traditional Cantonese cuisine and how has Dim Tu Tac modified this cuisine?
For me, there is no traditional food, only traditional food processing methods. Characteristic of Cantonese cuisine is the variety of ingredients and cooking methods. We employ 21 elaborate methods, including stir-frying, grilling, roasting, and steaming to create a characteristic flavor for each dish.
Not only that, each dish must possess four elements: color, flavor, taste, and shape.
Ultimately, the dish needs to account for the weather. Fall dishes must be cool, while winter and spring dishes must be warm and flavorful. What is particularly interesting is how Cantonese people only prepare food as they are about to eat it. This is also the experience that Dim Tu Tac hopes to bring to our customers.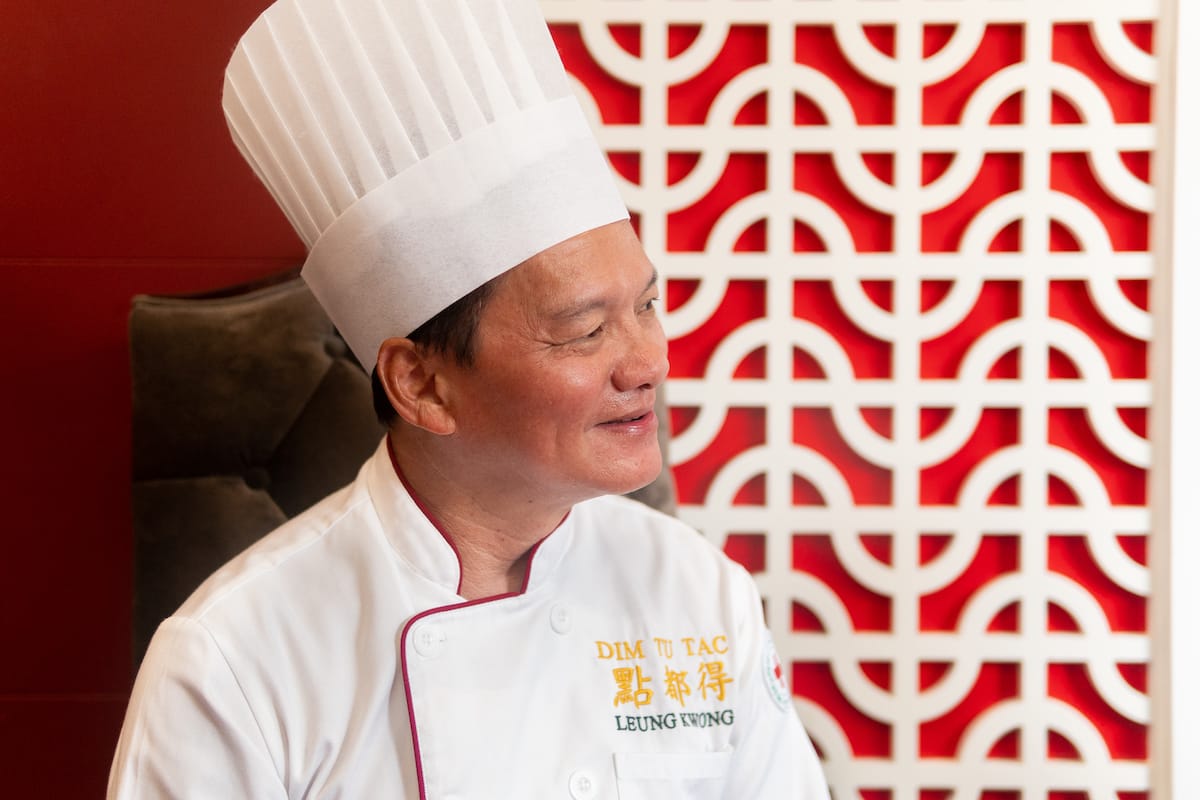 From what I understand, contemporary cuisine is a combination of elements, whether ingredients or processing methods, between many different culinary cultures to form a new dish.
In addition to the combination of ingredients, contemporary cuisine also accepts combinations that are inspired by the food of one culture while 'borrowing' the flavor of another culture. Of course, this fusion must still follow certain principles.
For instance, in the past two months, we have released a dish called Shanghai dumplings in curry sauce. Shanghai dumplings, which are famous for the meat soup on the inside, are now infused with Indian curry to innovate the dish.
How can Cantonese cuisine become more accessible to Vietnamese customers?
There are many dishes that are traditionally Chinese, such as dim sum, but in Vietnam, we adjust them to fit the Vietnamese palate, specifically with the reduction of spiciness and oil in food processing. In addition, we also incorporate popular Vietnamese fruits to add creativity to our dishes.
What is the role of ingredients in Cantonese cuisine? And what are some indispensable ingredients in the dishes at Dim Tu Tac?
In my opinion, cooking techniques are important, but ingredients are the most important component in creating a delicious dish. At Dim Tu Tac, the ingredients are all chosen, pre-processed, and cooked by our chefs, not industrially processed like other restaurant chains.
Espousing a standard of clean, healthy, and high quality food, we carefully examine all of our ingredients that are imported from sources in Hong Kong and Japan. For example, for Chicken Fried Rice with Truffles, we use spinach juice to produce a natural green color and aroma for the rice.
The one indispensable ingredient has to be shrimp, as 'shrimp dumplings' is the most popular dim sum dish in Chinese cuisine.
Tell us more about the chef team at Dim Tu Tac and the training process of the team.
There are about 20 chefs working at each of four branches, most of whom are from Hong Kong, Shanghai, Sichuan, Guangdong, and Singapore. At each restaurant, the chefs are divided into three main groups: general dishes, roast dishes, and dim sum. A dish from a specific region will be prepared by the chefs from that respective region.
Each type of dim sum adheres to a different standard and processing method. Shanghai buns are a type of Northern dim sum and are prepared by Shanghai chefs. Southern dim sum is prepared by Guangzhou chefs, while main dishes are prepared by chefs from Hong Kong.
Every week, we visit a different branch to taste its dishes, observe, test, and train the team to ensure uniform standards throughout the branches. Every day, we check the quality of raw ingredients before they are used, ensuring that everything from the pre-processing to processing stage is consistent with our restaurant's standards. The remaining time is used to research and curate new dishes.
To improve their expertise, the chefs at Dim Tu Tac are encouraged to travel to major cities in the world. This helps them find ingredients and find inspiration to create new, enhanced dishes for Dim Tu Tac. This year, our destination is Singapore, the famous culinary intersection of Asia.
Dim Tu Tac's upcoming plans.
We will continue to introduce special menus with over 20 different dishes that are replaced every two months at each branch as it is a way to provide seasonal, diverse tastes to our diners. It has kept and will continue to keep Dim Tu Tac fresh.
In the future, Dim Tu Tac will also open more branches in various districts of Ho Chi Minh City. Our goal is to bring Chinese cuisine closer to Vietnamese customers.