The period following World War I, known as the Roaring Twenties, was an era defined by economic growth, heightened design sensibility, and cultural dynamism. America was experiencing a resurgence in the production of finer products created by designers and draftsmen in workshops across the country. In images captured of them at their work, you'll notice a recurring presence: the timeless task stools of the 1920s.
The Akron Collection, inspired by those timeless task stools, fuses hand-cast iron, brass detailing, and hand-stitched leather. It includes pieces such as the Akron Stool and the Akron Desk Chair whose arms sweep up into the curve of wood that forms the backrest with such understated authority that you can almost imagine a factory director barking orders from it.
And so, with their made-in-Vietnam philosophy combined with the growing global repute of the brand in markets as diverse as the US and Scandinavia, we wanted District Eight to explain more about how the timeless task stool became the inspiration for their Akron stool and how it fits in with their collections of modern-industrial furniture that foreground function while retaining their aesthetic appeal.
Tell us about the Akron collection. What's the concept behind it?
The Akron stools are a version of the old task stools that factory workers used for many years. Back in the day, when design work was done with a pen and paper, you would have seen rooms full of draftsmen perched upon similar steel stools. This connects deeply to the images we have of the Industrial Revolution when America was one of the most prominent steel manufacturers in the world.
Why take the name of this town in America's Midwest?
When considering names, District Eight was drawn to the old "rust belt" steel towns of the Midwest and Akron, Ohio, was one of the largest industrial hubs at that time. Although the region had many such towns, Akron maintained its stature even when surrounding cities were going bust as the Industrial Revolution began to lose traction. So, it seemed like the perfect name for our new concept.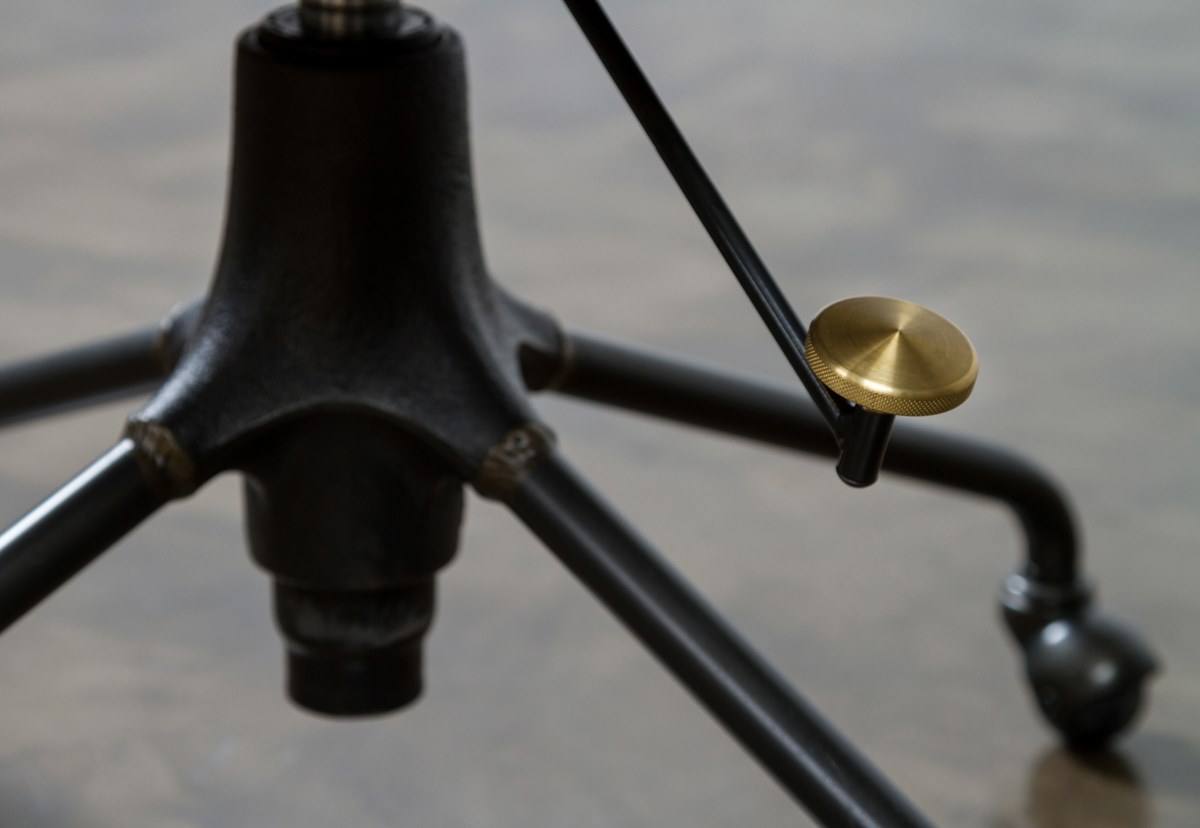 What are the core values inherent in the design?
It's safe to say that most of the steel products coming out of Akron, Ohio, back then were constructed primarily for functional purposes, rather than for show. In our reinvention of this kind of furniture, we went for an industrial-chic look that allows the pieces to fit into any kind of modern contemporary home or office space. We also wanted this collection to maintain that spirit of functionality, but to also be visually appealing.
And so, in order to further align this unique collection with its inspiration, we employed traditional techniques. Our iron is all hand cast and the brass detailing is also welded by our craftsmen. The leather seats are hand-stitched too. Together, all of these elements evoke a sense of practicality and functionality, but also they have that aesthetic attraction we talked about.
Is Akron a new direction for District Eight? How is the collection different from your other products?
The Akron collection is a clear representation of our design team's evolution. Compared to our original stools, which were part of District Eight's L'Usine collection, you will notice cleaner lines, a greater focus on brass details, and more of our signature handmade features.
However, I wouldn't say that the Akron collection is meant to stand alone. We aim to produce designs that easily integrate with any of our other pieces. For us, the materials that we use are the key to bringing continuity throughout all of our designs. Those materials, and the techniques we employ, are the heart and soul of everything we do.
What other elements give District Eight its individuality and identity?
Besides taking inspiration from outside of Vietnam, our ambition is to make furnishings that uniquely reflect the industrial environment of our home base here in Ho Chi Minh City. We also take pride in the fact that we employ real people with authentic skills—yes, we're working out of a factory, but that doesn't mean we are fully mechanized. We aim to find the middle ground between the two while still producing furnishings of the highest quality possible. So, I guess you could say this is where our true identity lies.
Is there any aspect of the Akron Collection that consciously references Vietnam?
No, not regarding the design. But what District Eight's Akron collection does represent is the skill of the Vietnamese people and their keen eye for detail. These characteristics make our team ideal artisans who fit perfectly with our company's beliefs. They are precise, hardworking, and know how to execute the designs in ways that follow our strict protocol. Discipline like this is hard to find, but their personalities are made for this kind of industry.
Who do you see as a typical Akron customer? Where would they live?
Anyone could be an Akron customer. Our customer base is global; it's not really limited to one area—they could be in North America, Sweden, Australia, or even right here in Vietnam.