I am always filled with wonder whenever I scroll through Instagram and see a friend visiting an exhibition. It is satisfying to know that they do the extra mile to experience art, and that art, along with aesthetic values and artistic spirits, always has a place in our hearts.
That initial sense of wonder is soon replaced with doubt. Did they take the photo out of appreciation for the artwork? Or did they mean to have selfie pictures in the first place?" I thought to myself. Undoubtedly, selfie museums have become a worldwide trend.
The question is, do we need selfie museums? Why shouldn't art be treated as a photoshoot backdrop? How can we make the most of an exhibition other than having some social-media-worthy photos?
What is a selfie museum?
The concept of a "selfie museum," also known as an Instagram museum, has been popularly used since 2015 to describe the rising trend of art galleries with well-designed, spectacular, and interactive settings for perfect photographs and videos that will find a home on social media.
Obviously, the word "museum" in the case has been used in loose terms. According to the International Council of Museums (ICOM), "A museum is a not-for-profit, permanent institution in the service of society that researches, collects, conserves, interprets and exhibits tangible and intangible heritage. Open to the public, accessible and inclusive, museums foster diversity and sustainability.
They operate and communicate ethically, professionally and with the participation of communities, offering varied experiences for education, enjoyment, reflection and knowledge sharing." This latest definition adopted by the ICOM has drawn a line between a traditional museum and an Instagram museum which is well-designed for photo-shooting purposes.
In fact, the selfie museum is widely considered a type of experiential retail where artworks are created only to serve as photography backdrops.
This newly popular concept is believed to derive from installation art, a relatively new contemporary art genre that fascinates the audience worldwide. 29Rooms and Museum of Ice Cream are cited as the first examples of the entertainment trend, followed by many other well-styled Instagram-friendly museums across the globe.
The concept "selfie museum" has found its way to Vietnam and gained popularity recently as many brands have capitalized on the trend to promote their products. On the other hand, some solo exhibitions also included some ingredients of a selfie museum to draw public attention.
A selfie museum is a win-win situation for photo lovers and the organizers. It is by no means bad, but nothing more. At the end of the day, all we get is some spectacular photos to post on Instagram or other social media.
What matters more than a selfie museum?
Selfie museums are growing in popularity and accessibility throughout the world. There is nothing wrong with visiting a Made-for-Instagram museum or taking photos at an exhibition (if allowed). Who knows how far a selfie picture can spread the word about an event?
However, art is by no means a photo backdrop and should not be treated as such. There is more to an exhibition that can make your visit more meaningful other than just some made-for-social-media pictures.
Have you ever asked yourself, "How do I truly feel when I quietly contemplate the exhibits?"
Each work of art shall evoke different emotions in the viewers. And essentially, that is why we visit an exhibition. We want to immerse ourselves in the feelings aroused by the artworks on display.
Vietnam is witnessing a significant increase in the quantity and quality of art exhibitions with diverse themes. For example, the recent exhibition "Toa IV – The Foliage," organized by Vincom Center for Contemporary Art (VCCA), displayed many artworks of different formats, showcasing how nature is embodied in art from other approaches. The event recorded a large number of young audiences.
Also, many art spaces have been created and contributed to enhancing visitors' experience. Some favorite big names in Hanoi include Vincom Center for Contemporary Art (VCCA), The Muse Art Space, Mo Art Space, and Heritage Space.
Meanwhile, Galerie Quynh and Uom Hub are some popular art spaces in Ho Chi Minh City. These places have always endeavored to deliver high-quality exhibitions and provide their audience with aesthetically enriching experiences.
Take Lotus Gallery, for example. This 31-year-old art space in Ho Chi Minh City has generated many dialogues on art while constantly attempting to promote traditional and contemporary Vietnamese fine art to the world.
The gallery fascinates visitors not only with its distinctive and well-designed space. It is also a perfect place for knowledge acquisition and aesthetic enhancement.
In short, an art exhibition can evoke our unique emotions and provoke our curiosity about art knowledge and practices. It can also offer a one-of-a-kind experience where we can immerse ourselves in art and acquire aesthetic values.
Some suggestions for all exhibition visitors
As mentioned earlier, there is an increasing number of art spaces and high-quality exhibitions in Vietnam. If you want to experience art, absorb knowledge and familiarize yourself with new trends in art and life, try out these suggestions:
You can search for art and culture events via websites like HanoiGrapevine and Tripadvisor. Besides, you should look for local art spaces, subscribe to their newsletter, and follow their social media for the latest event updates.
Before your visit, do your research on the exhibition, including its theme, artworks, and artists. That way you can equip yourself with information and open the door to new knowledge and fresh perspectives that you can apply to interpret the exhibits.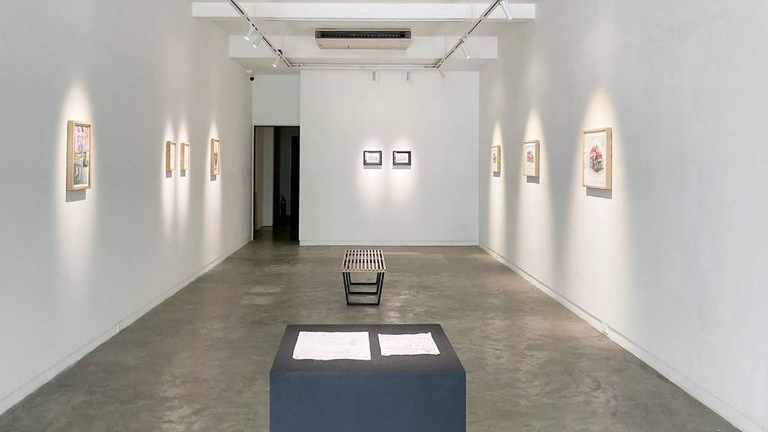 Remember to follow the exhibition's rules and guidelines for healthy and meaningful art enjoyment. You can admire each piece on display at your own pace based on your preferences and intentions.
You can buy postcards, paintings, or catalogs on the spot if you like because you can hardly find them after the exhibition period.
Get yourself into the habit of documenting your visit and don't apologize for it. Whether you keep it private and look back sometimes or publish it on social media with some nice photos, it's all worth it.