Technology has changed the way people find friends, date, and connect in general. Dating and social apps, specifically, tend to ruin the process of meeting someone and can easily frustrate those users looking for a real and worthwhile relationship — fake profiles for catfishing, chats that go nowhere, baseless matches.
That's the very reason founders Denise Sandquist, who speaks six languages with previous experience in investment banking from Goldman Sachs, and Oscar Xing Luo, who has a background in Machine Learning and worked at iFlytek, China's biggest AI company. Their mission is to provide Asia, Vietnam in particular, a platform that pushes for safety and authenticity in finding meaningful connections.
Unlike other dating apps, Fika empowers users to create and maintain such connections and see those connections through, from making friends to finding love, and then going deeper into a real relationship with its Couple's Version.
"I thought about why there was no safe social & dating app out there that really focused on Vietnamese people and their needs, focusing on meaningful connections instead of 'fast connections' which is typical for other dating apps," Denise shared in her previous interview with Vietcetera.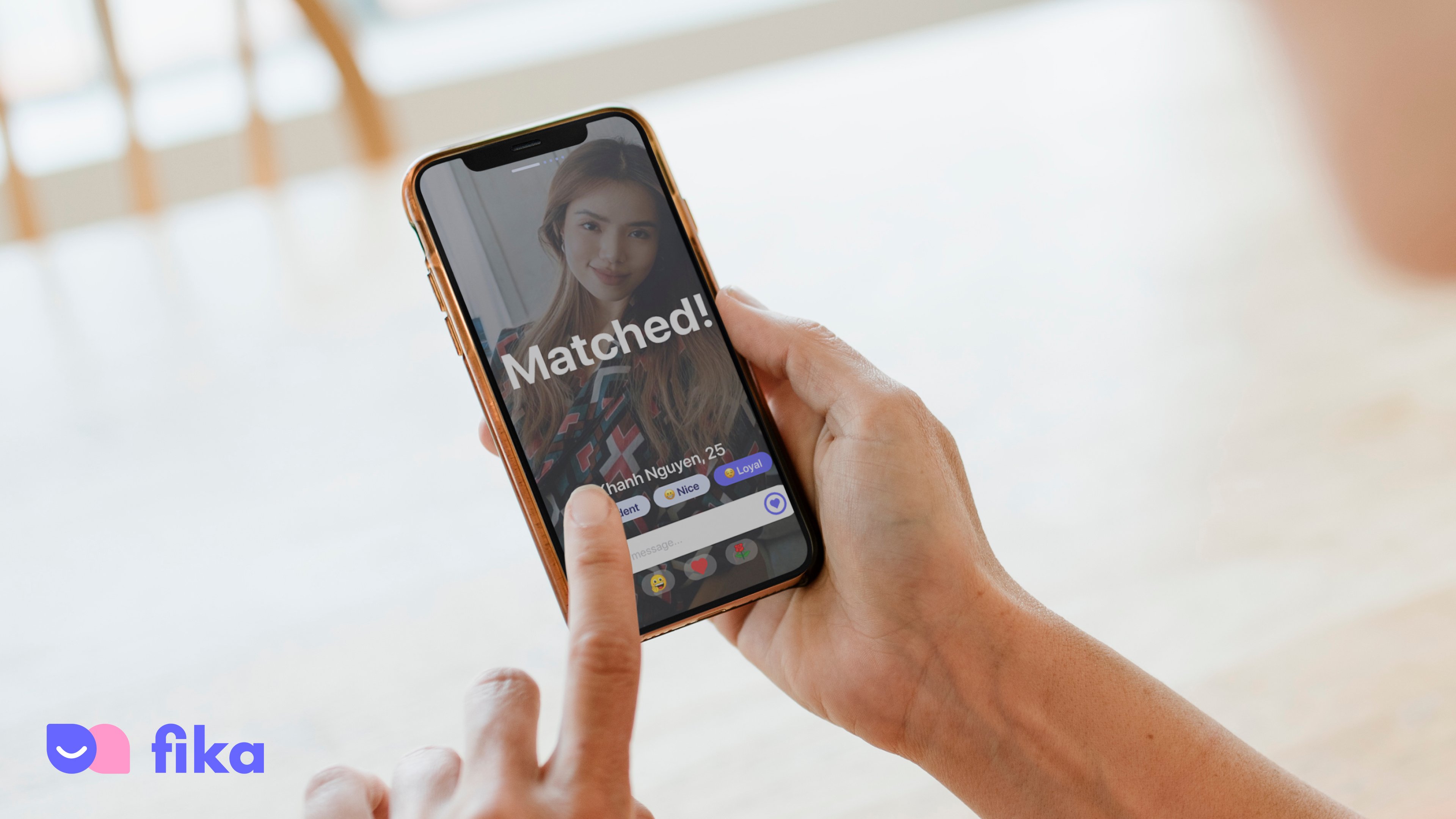 US$1.6 M seed funding
Fika's funding journey was "quite intense", as Denise would describe it.
They started about six months ago, when Denise just flew back home to Sweden. While in Stockholm, Denise met his friend Fredrik Hjelm, the CEO of Voi Scooters, Europe's biggest e-scooter company who then introduced her to Fika's lead investor, VNV Global.
"After having met with VNV Global, the real fundraising began, meeting with a lot of different VCs and investors, since the interest was high and I saw the potential of having a group of really strong investors backing us," said Denise.
Fast forward to today, after countless calls and meetings with interested investors from all over the world, Fika bagged US$1.6 million in seed funding.
"Fika is not just another dating app. Denise and Oscar's unique backgrounds and passion for empowering people causes it to become so much more. The pair, and the team they've built around them, truly understand the importance placed on meaningful connections and how technology can play such a vital role in today's society when it comes to social interactions. Their knowledge of the market, their life experiences, their cultural understanding, not to mention their business and technical talent will see Fika make a real impact on many people's lives and we are thrilled to now be a part of that journey," said Björn von Sivers, Investment Manager at VNV Global.
Alongside VNV Global, other investors in Fika's seed round include Global Founders Capital, Keith Richman's angel fund 31 Atlantic, Balderton Capital's Magda Lukaszewicz, Index Ventures' Sofia Dolfe and EQT Partners' Madeleine Magnerius as angel investors. This is in addition to angels including Sebastian Knutsson (founder of Swedish unicorn, King), Fredrik Hjelm and Douglas Stark (CEO and COO at Voi), Jussi Salovaara (co-founder of Antler), Bryan Pelz (founder of Vietnam's first unicorn, VNG), Brian Ma (from Iterative Capital and founder of a unicorn, Divvy Homes), Therese Mannheimer (CEO at Grace Health), and more.
As a result of their most recent success, Denise and the Fika team have almost doubled their manpower and are now scaling up. "We intend to make Fika not only an app but more of a community with content related to relationships, dating, and self-growth. We want to shed light on interesting topics that are not always addressed publicly, and our core values remain: authenticity, empowerment, and growth."
Like they say, "empowered women, empower women," and that is what Fika is all about — "to empower people, especially females, to dare to be and find themselves, then regardless of romantic relationship or friendship, it will be easier to understand what kind of person one would be suitable with."
Come autumn, Fika will continue to work on developing AI to build strong personalized algorithms. To do this, the team will work on the self-growth section with personality tests and other questions that its users can answer, implementing zodiac and astrology knowledge — all to achieve the goal of finding meaningful connections.
In general, Denise, Oscar and the whole team are taking Fika to the next level, an app that can follow the user through its journey of finding, building and keeping any relationship they have found.
"In a couple of weeks, our new website will be launched with a lot of interesting content; videos, and podcasts, and next month, our "Real is better than perfect" campaign will go live. Overall, we have very exciting times ahead of us and aim to create a really good product for our growing community, with this US$ 1.6M."
Expansion to other SEA countries
When they started, Denise and Oscar had to put in their savings for Fika to kick off and although they were scared of what could happen, they have always been strong believers of their team and have a strong focus on their mission.
From bootstrapping Fika and using their own money to fund the company, they're now talking about expansions. Thus, the plan to expand out in Southeast Asia is not anymore a question of if but of when. Denise shared that it's definitely on the soon-to-come agenda and they're moving fast as the app download in Vietnam approaches 1 million.
"As soon as we have built up our product and matchmaking algorithm to a stage where we have a strong product-market fit, we will raise Series A and expand out to the rest of Southeast Asia. Vietnam is our sole focus right now, but the app is available globally since there are people in Vietnam who are not using the Vietnamese App Store and Google Play, and we already have thousands of users outside of Vietnam, specifically in Hong Kong and Singapore."
But for now, Fika's main focus is in Vietnam and with the investors' support, Denise proudly said, "we are more than ready to execute on our vision, making Fika Vietnam's leading social & dating app."
As an empowered woman herself, after the fundraising and being the full-time CEO of Fika for about five months now, Denise is well aware of the debate and the fact that proportionally very little of the VC capital goes to female founders and female-led companies.
"This is an important matter to address and also change, and I would love to contribute and be a part of it. I am no expert in fundraising but would be happy to support other female entrepreneurs with what I can, should it be fundraising or something else related to entrepreneurship, in the future."