The current gin trend took hold around a decade ago. Today, there are 233 gin producers in the UK—that's close to the number during gin's heyday in the 1600s. In 1631, there were 200 gin distillers in London alone. The spirit fell out of fashion, but the distilled drink that's a mix of botanicals and juniper is back.
The reason for gin's fashionability? The drink's astronomical upswing is probably due to a number of factors. There are more tonics on the market. For example, Thomas Henry's tonic water has delicate floral and citrus aromas and comes in flavors like elderflower.
And gins have a mix of different botanicals which means the spirit is rich and varied. Added to that a huge amount of craft distilleries have popped up, from the Four Pillars distillery in Australia's Yarra Valley to the European distillery that produces Ferdinand's Saar Dry Gin that's infused with hand-picked grapes. They join historic gin distilleries like Bols Genever, founded in Amsterdam in the 16th century.
All this is cause for a celebration. And so the city's first Gin Fest is bringing together fourteen bartenders who will all feature on the day of the event. Vietcetera set off to test out all fourteen of Gin Fest's bartenders' drinks. Here is part one of our Saigon gin guide.
Hoai Le's "Asian Spritz" at Air360
Hoai Le is the type of bartender who has all kinds of homemade syrups and bitters behind the bar. His "Asian Spritz" contains two of them—his homemade mushroom bitters and a spiced syrup made with cooked down Thomas Henry tonic. Both ingredients elevate it from a normal Aperol Spritz into something infused with Asian flavors.
But Hoai Le only became a bartender by chance four years ago. He was inspired to enter the industry by a friend who was studying to become a mixologist. "I didn't even know what that was," Hoai laughs. "I knew cafes that served juices, and coffee, and mixed drinks, but I didn't know you could study bartending."
First, Hoai adds the mushroom bitter to the gin. "I was watching TV and a Japanese doctor said shiitake mushrooms—like the ones I use here—are good for cholesterol and the immune system," he remembers, "so I'm balancing the effects of the alcohol with some healthy Asian ingredients. That's what makes this an Asian Spritz."
It's too windy on the Air360 rooftop to throw the mix so Hoai adds the spiced syrup, Aperol, and Campari, and shakes it this time. Then he perfumes the glass with a special homemade scent, and he decides to use some orange peel instead of the cinnamon, apple, and sprouts he'll finish the drink with at Gin Fest Saigon.
Where: Air360 Sky Lounge, 136-138 Le Thi Hong Gam, District 1
Ingredients: 40ml Bulldog gin, 30ml Aperol, 20ml Campari, 10ml spiced syrup, 3 dashes of homemade mushroom bitters, topped with Thomas Henry tonic, with a cinnamon stick, dry apple, and sprouts
In Short: A traditional refreshing spritz localized with mushroom bitters and spiced syrup.
Hoang Nam's "Von der Saar" cocktail at Racha Room
Ferdinand Geltz was a forester in a region that borders France, Luxembourg, and Germany. Today, there's a gin named after him—Ferdinand's Saar Dry Gin. Besides its 30 botanicals, Ferdinand's is special for another reason: they infuse the gin with Riesling grapes from the historic Saarburger Rausch vineyard.
Ferdinand's Saar Dry Gin is the key ingredient in Hoang Nam's "Von der Saar" cocktail. The bartender has been at Racha Room for four years. "It's like my second home here," he says looking around. "Being a bartender satisfies my creativity. It's not a job, it's a part of who I am…"
Hoang Nam's "Van der Saar" cocktail uses 40ml of the uniquely European gin. "Ferdinand's gin is unusual in the market. It's not too strong and not too dry, with floral and fruit notes," Racha's bartender says.
Then he adds Thomas Henry tonic—a popular choice among Gin Fest's entrants—and lime and taro which softens the flavor. And Hoang finishes his "Von der Saar" with sweet, citrusy mandarin peel.
Where: Racha Room, 12-14 Mac Thi Buoi, District 1
Ingredients: 40ml of Ferdinand's Saar Dry Gin, taro, lime, Thomas Henry tonic, mandarin peel
In Short: A well-balanced, gently sweet gin cocktail topped with taro.
Trinh Tien Phat's "Ori Gin and Tonic" at Stoker Woodfired Grill & Bar
Bols Genever is a history lesson in a bottle. Few makers of spirits can claim that "your grandfather's grandfather's grandfather may have tasted Bols Genever in one of the first cocktails." But the brand has the history to back it up.
The House of Bols was founded in 1575. And its Bols Genever was first distilled in 1820. The drink made its way the States and featured in one of the first books on the art of cocktail making by the father of American mixology, Jerry P. Thomas.
At Stoker Woodfired Grill & Bar bartender Trinh Tien Phat is using Bols Genever as the base for his "Ori Gin and Tonic."
"Bols Genever has this strong grain flavor with malt notes that are complimented with hints of sweet juniper, honeysuckle, and citrus," Trinh Tien Phat tells us as he adds his homemade maraschino liqueur and dracontomelon syrup to the full-bodied Genever.
It's a seasonal Vietnamese twist, "because I want to introduce everyone to local Vietnamese fruit like dracontomelon that's in season now." The dracontomelon syrup is sweet and sour with some spiciness from ginger that he adds to the mixture that's left to age for a week. "I finish the drink with floral homemade Vietnamese bitters and refreshing tonic water," Trinh Tien Phat says sliding the drink over.
Where: Stoker Woodfired Grill & Bar, 44 Mac Thi Buoi, District 1
Ingredients: 40ml Bols Genever, 10ml dracontomelon syrup, 4 drops of herbal bitters, 5ml maraschino liqueur, 60ml Thomas Henry tonic
In Short: A floral refreshing take on the gin and tonic made with a gin that's a true original.
Nguyen Quoc Thong's "Lotus Summer Gin" at Shri
The Shri bartender Nguyen Quoc Thong has created a cocktail that's as infused with the rooftop bar and restaurant's quirky sense of humor as it is with exotic ingredients.
Thong's "Lotus Summer Gin" uses Bulldog, a brash London dry gin that has 12 botanicals including lotus leaves, citrus, and lavender. Bulldog gin is also distilled four times in copper stills. All these elements combine to give it a spicy, warm finish.
"Bulldogs are so cute and strong," Thong laughs, "that's why I use a picture of one to decorate my drink." His "Lotus Summer Gin" contains Thomas Henry tonic, lotus, coriander powder, and homemade cream. "Of course, it should taste creamy, but also sweet, sour, and fresh all at the same time," Thong adds.
Where: Shri Restaurant and Lounge, 72 Nguyen Thi Minh Khai, District 3
Ingredients: 40ml Bulldog gin, Thomas Henry tonic, cream, lotus seeds, coriander powder
In Short: A brash London dry gin softened with cream and coriander.
Du Nguyen Gia Hoai Thuong's "SaiGonese" at Chill Skybar
Four Pillars Rare Dry Gin contains citrusy Australian oranges and spices like cardamom, cinnamon, and star anise. Du Nguyen Gia Hoai Thuong is using it in his "SaiGonese."
"We get such a diverse mix of people at Chill Skybar," Thuong, who's been a bartender for three years, says, "so that's one of the inspirations for the drinks I make."
"Here, I'm building on the citrusy notes in the gin with local calamansi and mandarin," the bartender says throwing the ingredients.
He slides one large ice cube into a tall, ornate cocktail glass, pours the drink, and then sits some flowers on top. "It should taste warm and a little spicy from the rosemary, and soft and sweet from the lemon and calamansi," he adds serving up his "SaiGonese."
Where: Chill Skybar, AB Tower, 76A Le Lai, District 1
Ingredients: 50ml Four Pillars Rare Gin, 20ml Thomas Henry syrup infused with rosemary, 60ml mandarin juice and calamansi purée
In Short: A warm, citrusy gin cocktail filled with local fruit flavors.
Lu Minh Luan's "Tales of the Boodles" at Corked Tales
"People don't drink cocktails in Binh Thanh," Lu Minh Luan explains about the district where he lives, "they drink coffee." He calls his drink "Tales of the Boodles" and it connects coffee and cocktails.
Corked Tales is hidden at the side of the CJ Building. "It's a combination of Eastern and Western cultures, a mix of science and witchcraft, and magic and myth." Lu Minh Luan's cocktail mixes East and West too.
The mellow, herbal Boodles Gin is made "with labor and patience" from British wheat. And the coffee is Vietnamese. "We use 80% arabica and 20% robusta so it's refined with honey notes," Luan explains carefully pouring the coffee over a homemade herbal tonic and 50ml of Boodles Gin.
Where: Corked Tales, M Floor, CJ Building, 6 Le Thanh Ton
Ingredients: 50ml Boodles gin, 200ml homemade herbal Thomas Henry tonic, 20ml Vietnamese cold brew coffee
In Short: A drink that connects coffee culture with cocktail bars.
Ha Trung Quoc's "Saigon Thymes" at Blanchy's Lounge
Blanchy's has had a makeover. There are chains hanging from the ceiling and a moodily lit bar area. And for a lounge named after Paul Blanchy, the first mayor of Saigon, Ha Trung Quoc's "Saigon Thymes" is an appropriate cocktail.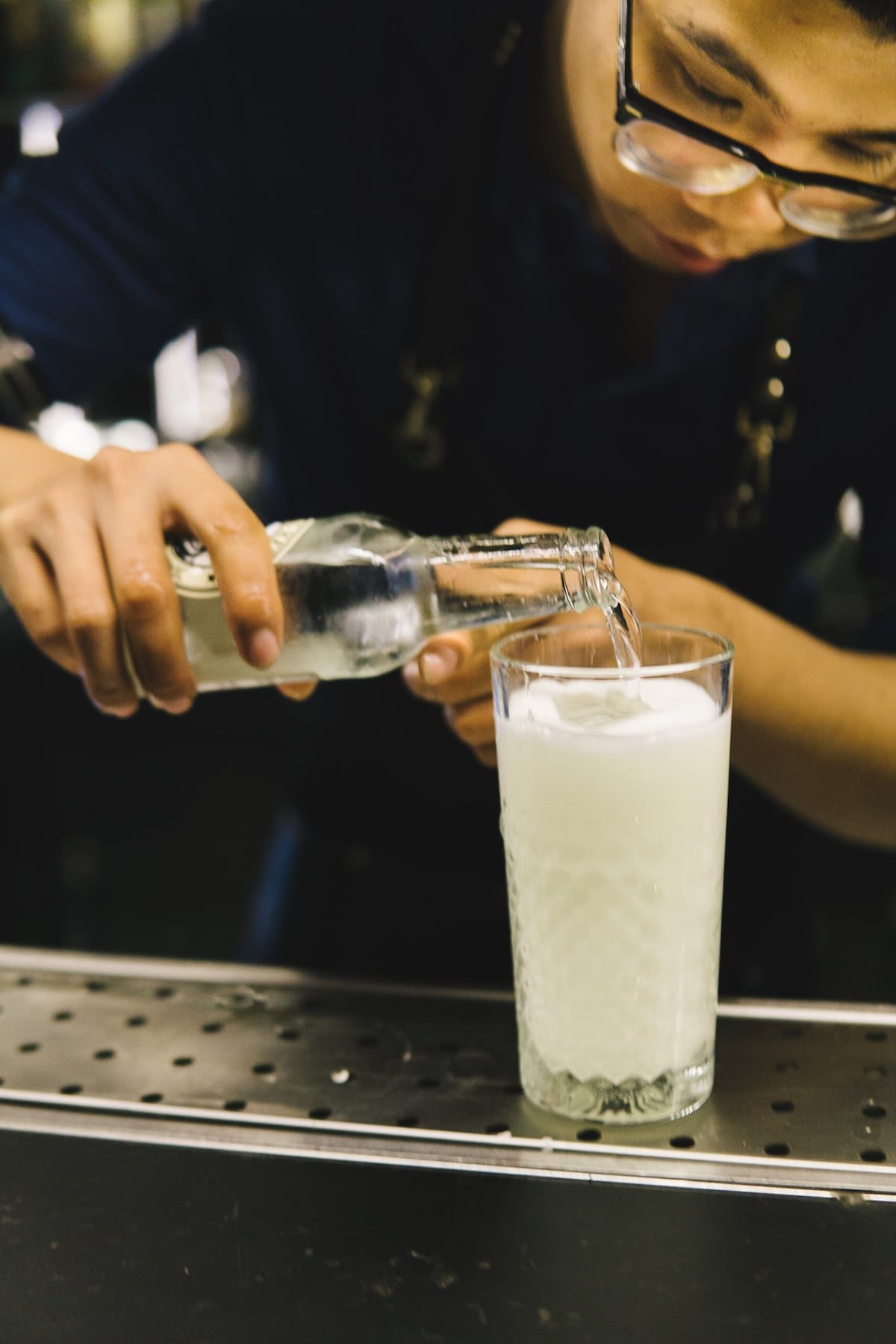 The drink uses Bombay Sapphire, a gin that references the popularity of the drink in India. There's a picture of Queen Victoria on the bottle, and the "Sapphire" refers to the Star of Bombay—the gem that's on display at the Smithsonian Institute.
Ha Trung Quoc adds pomelo juice, lemon juice, homemade thyme syrup, and Thomas Henry's elderflower tonic to the gin.
Quoc has been a bartender for five years. Today, he's using that experience to create cocktails "that take people on a journey" he tells us, finishing the drink with a sprig of thyme and some juniper berries.
Where: Blanchy's Lounge, 95 Hai Ba Trung, District 1
Ingredients: 60ml Bombay Sapphire, 40ml fresh pomelo juice, 10ml fresh lemon juice, 15ml homemade thyme syrup, topped off with Thomas Henry elderflower tonic and a sprig of lime and some juniper berries.
In Short: A tangy, aromatic tribute to the city of Saigon—and its first mayor.
Related Content:
[Article] The Clumsies On How They Became On Of The World's Best Bars
[Article] The Anatomy Of A Dish: Renkon's Jesse Grasso's No-Broth Ramen