As Saigon grows into a cultural hub, dining etiquette has become a popular topic for "global citizens" of the city. Dining etiquette varies in different countries from West to East. In East Asian countries such as South Korea, Japan, and China, dining etiquette has already diversified. A polite gesture at the dining table in one country can be view differently in another. Thus, we believe that the upcoming generation is in need of a guidebook to adapt to various eating traditions, specifically Chinese cuisine.

"Similar to the Japanese, Chinese are known for their properness and principles during meals,"- Dim Tu Tac's staff members share with us. Vietcetera explores the small details that matter at a Chinese meal. In addition, we will suggest some dishes that you can't miss at a Chinese restaurant.
1. Everyone has their own set of dinnerware
"You don't need to pay attention to this at a Vietnamese or Japanese restaurant. However, Vietnamese diners often use their own chopsticks to pick up food for others. This is something you shouldn't do," Dim Tu Tac shares with us.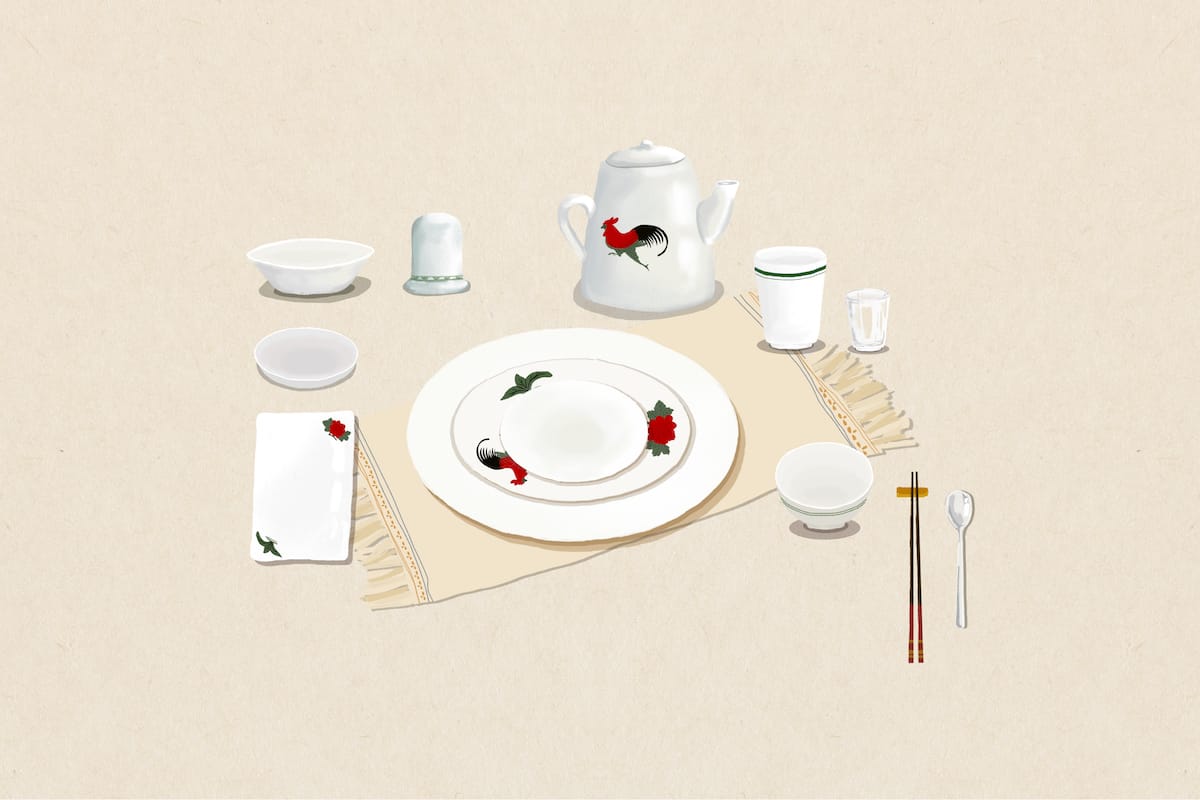 In Chinese restaurants, every diner will have their own set of dinnerware, including one teacup, a plate and a bowl, a pair of chopsticks, and a spoon (which are usually set on the right side of the plate). The set sometimes comes with a chopstick holder, a water or wine glass, and a small glass for Baijiu liquor. Besides the soup, other dishes must be enjoyed with chopsticks.

For big dishes (dishes from the main kitchen), the staff will carefully prepare the table with a big spoon for everyone to scoop from. This helps avoid the use of your own utensils in the shared dish. Even when you're eating dim sum, you shouldn't use your chopsticks to pick up food for others.
2. Remember to lift up your bowl when you're eating
Don't be lazy when you're eating and remember to lift your bowl up! The proper way to pick up the bowl is to hold it with your thumbs on the rim with the other fingers supporting the bottom. It is considered to be improper to look down towards the table while you're eating. More importantly, this bent posture can affect your stomach and digestion.
3. The elders have the first bite
Vietnamese have the habit of inviting everyone before starting a meal. Afterward, they often pick up a piece for another person to show their endearment and attentiveness towards each other. Although Chinese respect dining formalities, they express it differently. They don't have the habit of picking food or inviting others during a meal. Instead, everyone is actively dining based on their interests. 

However, there's a small detail to consider which is the way the dishes are arranged on the table. On a rotating table, the dishes are often put in front of the elders and slowly rotate towards other members. This rule must be complied with to show respect for the elders at the table. 

Furthermore, you should only pick from the dishes in front of you to avoid reaching your hands too far out or to limit picking from dishes that are in front of the others. Since Chinese dine at a rotating table, you can spin the table to be closer to the dish. However, remember to limit your spins at the table!
4. The order of the dishes
The appetizers
Appetizers are served first. Usually, a meal will have two to three appetizers such as roasted peanuts or salads for diners to enjoy while waiting for the main courses. At Dim Tu Tac, the Black Fungus with Wasabi salad and the Chicken Claw with Pickled Chilli are must-try. 
The main courses
There are infinite choices for the main courses, including dim sum and main dishes served with white rice. "With dim sum, if you're a true foodie, you won't need soy sauce on the side. Most of the dim sum dishes are well-seasoned so that guests don't have to use additional sauces," the staff at Dim Tu Tac said. However, it really depends on your unique appetite. People from Guangdong Province of China prefer lighter seasoning; thus, they only use a little bit of black vinegar on the side.
Some favorite dim sums include shrimp hargow, shumai, fried rolls with XO sauce, and egg tarts. The shrimp hargow checks all of the requirements with an amazing filling and a chewy but not tough shell. 
The most special dish is the Shanghai-style dumpling with a steam and fragrance soup carefully tucked inside the dumpling. To enjoy this dish, it's best to take a little bite to enjoy the soup. Never rush through the dish by eating the whole dumpling in one bite as the soup can burn your tongue. It's best to slowly enjoy the dumplings with small bites.
It's impossible not to mention the BBQ dishes, with Pecking Duck as the top choice. The crunch skin is usually paired with a special wrap, along with a few slices of cucumber, chili, and sliced spring onion head. The wrap also has a small drizzle of a secret sauce. The duck meat will then be carved out and put into a stir-fry noodle dish, wrapped in lettuce leaves or mixed in fried rice.  If that's not enough for you, you can add a roasted goose, roasted piglet or char siu to your order. 
The carb dishes
After finishing the main courses,  order a carb dish such as noodles, vermicelli, and buns to ensure you have a fulfilling meal. These dishes are simply cooked and served right away. According to Chinese culture, noodle represents longevity; thus, it's a popular dish at birthdays and longevity celebrations. Noodle eating has its own procedure; the whole noodle string should be swallowed rather than being bitten into smaller pieces. In addition, noodle slurping is considered an immodest behavior. 
At Dim Tu Tac, the staff suggests diners to try the Wonton and Noodle Soup, the Charsiu Buns or the Crab and Vermicelli Casserole in which the crab is braised with vermicelli. This helps keep the crab meat to stay intact, the texture of the vermicelli, the well-spread flavor and aroma of the coriander in the dish.

When the meals are slowly coming to an end, it's important to ask everyone's permission before you have the last pieces. It is impolite not to ask even if you decide to have those last bites. In addition, you shouldn't leave any left-overs on the plate.
The desserts and tea
To end the meal on a "sweet" note, you can choose from a wide range of the best Chinese desserts including the Mango Puree with Pomelo and Sago, Chinese Herbal Jelly, and Lemongrass Jelly with Lime Juice.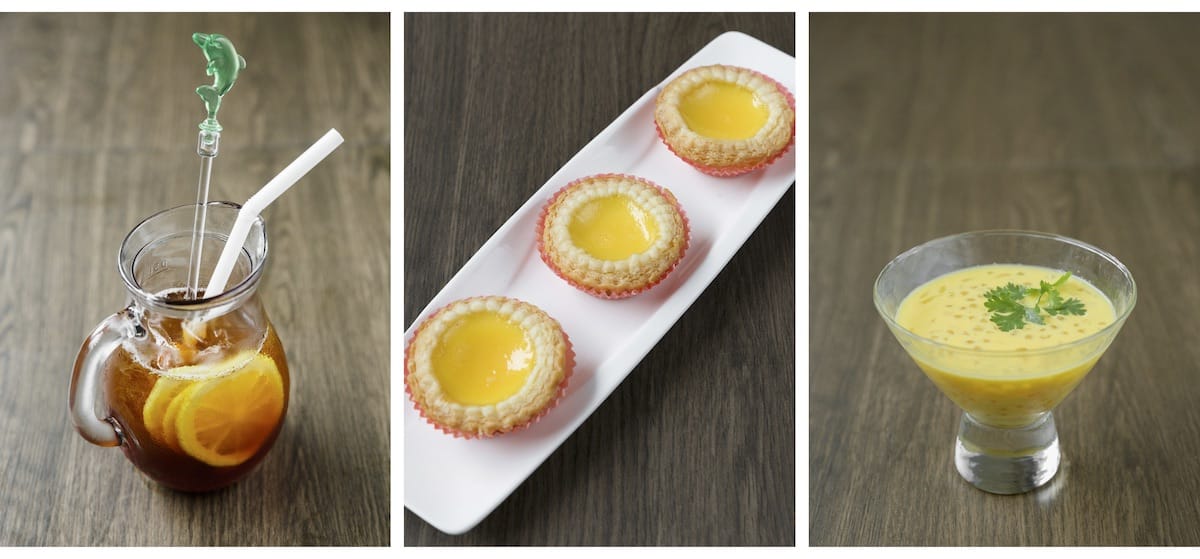 Serving tea after a meal is a long-standing tradition in China. Currently, tea is also being served throughout the meal. Staff at the restaurant will continuously pour you tea so that your teacup will always be full. This gesture aims to show the courtesy and respect from the staff. Thus, remember to say thank you to show your gratitude for them. 

We hope that you can enjoy an amazing and authentic Chinese cuisine experience!

Adapted by Phuoc Ho

Related Content:
[Article] Dim Tu Tac: Cantonese Cuisine In Saigon
[Article] Sake Central Saigon's Elliot Faber Presents Three Misconceptions About Sake