As Vietnam's epicenter cautiously reopens its businesses, health facilities and public transportation today, most, if not all of them, only allow vaccinated people. 
October is here and barriers and checkpoints on the streets are gone. While you, you surely can't wait to go outside and visit the places you've missed in nearly four months of lockdown.
As of latest, nearly seven million of Ho Chi Minh City's adults aged 18 and above have already received at least one COVID-19 vaccine shot, or 95% of the total population. On the other hand, over 45% of the adult population is fully vaccinated. 
On Thursday, Vietnam's Ministry of Health recorded 7,940 new COVID-19 infections, taking the tally since the start of the pandemic to 790,755 cases.
Of those, three were imported cases and 4,550 were detected in the community and outside of concentrated quarantine or locked-down areas.
HCMC is back on the first spot with 4,372 cases, followed by neighboring Binh Duong with 2,103. After five straight days with no community cases, Hanoi reported one new case.
A total of 159 fatalities were added to the list, raising the total tally to 19,301, or 2.5% of the total infections — the average number of deaths over the past week is 177 a day.
With the delta variant continuing to cause a spike in COVID-19 cases, it's not a surprise why both public and private establishments are now requiring people to get the vaccine, at least a shot.
Local media reports city residents traveling to or visiting different establishments, such as businesses and health facilities, as well as those using public transport, will have to show their QR codes on smartphone apps or papers that prove they have received at least one vaccine shot, or have recovered from COVID-19 within the last six months.
Even outside HCMC, in Quang Binh, only vaccinated tourists are allowed to join packages to explore the central province. Dubbed as the country's kingdom of caves and home to UNESCO heritage site Phong Nha-Ke Bang National Park, visitors who have been fully vaccinated can enjoy tours, while those who have received one vaccine dose will need to furnish a negative COVID-19 certificate obtained via RT-PCR or rapid testing. 
As proof of their vaccination status, citizens need to show their physical vaccine card or a photo of the card on a mobile device. Problem is, what if you misplaced or forgot your card at home? How can you prove you've been vaccinated, especially if you're an expat living in HCMC?
Getting your yellow or green card
Step 1: On Web Browser
Visit COVID-19 Vaccine Portal and click on 'Feedback Form' in red or the button to your right hand.
Fill in the information needed, only those marked as important, the ones with red asterisk signs.
Attach your COVID-19 vaccination certificate, like below.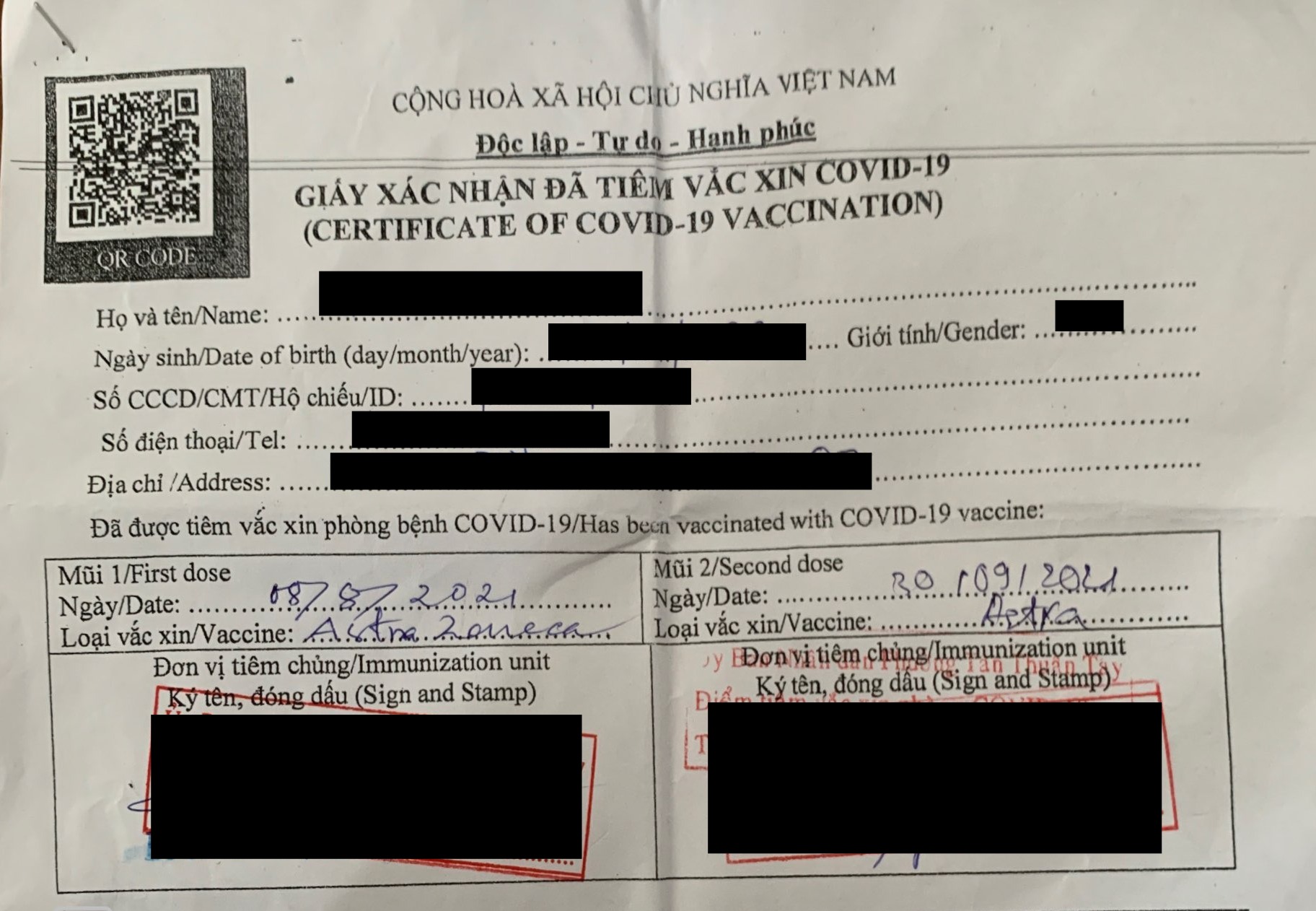 Key in the verification digits/letters and submit your feedback.
Step 2: On the App
Download Sổ sức khỏe điện tử on the AppStore or Google Play.
Open the app. Click on 'Dang Ky' and fill in the necessary information to register and create an account.
Full name, it must match your vaccination certificate, doesn't matter if surname first or if you included your middle name, as long as it's consistent
Click 'Tiep tuc' to continue
You will then receive a verification code on your phone. After that, you will be officially registered. 
Go back to the main page and click on 'Dang Nhan' to sign in. After signing in, click on 'Ca Nhan', the icon at the bottom right of the screen. 
The page will look like below then you click on 'Thong tin ca nhan' to go to your profile details.
Fill in the form shown.
Continue below…
Below shows medical insurance information, only for Vietnamese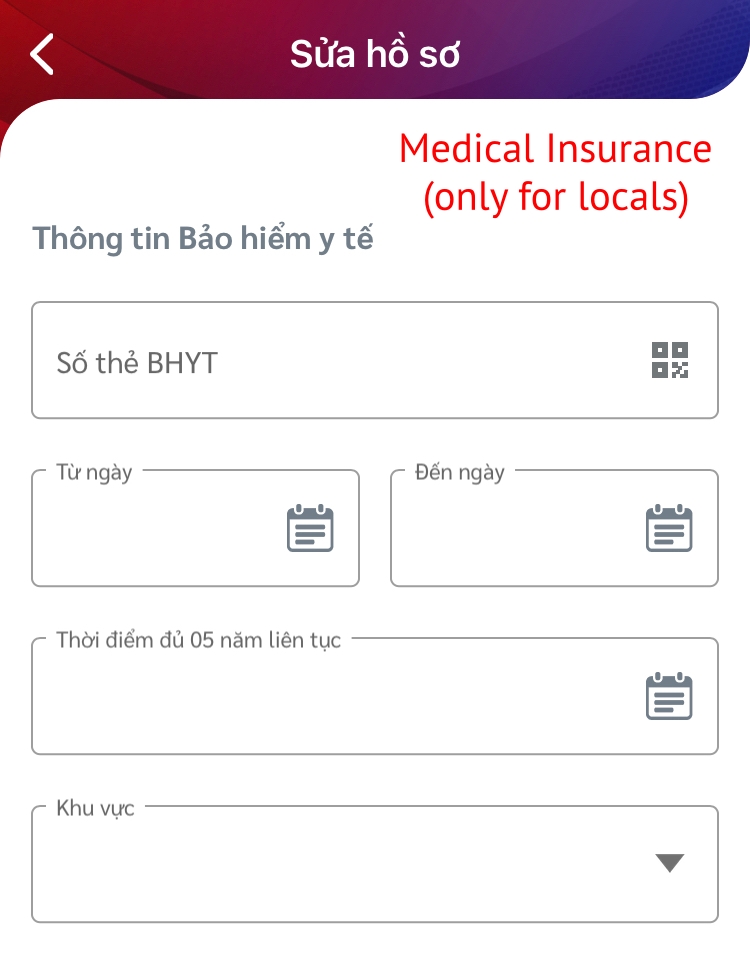 Fill in below…
Scroll down to continue …
For Ethnic groups, choose 'khong' which means unknown. Religion, choose 'khong' or you can translate each item to provide the exact information asked. Occupation, choose 'khac' which means 'other occupation' 
Click 'Luu' to save
Go back to the main page and click on the 'Chung nhan ngua covid' icon to view your certificate. Take note that it will take 1-2 days for the information to reflect. 
Vaccine certificates will look like these:
Tap on the QR code to see the details of your vaccination like the date, location and vaccine brand. 
After that, you're all good. 
PC-Covid app
However, eventually, HCMC is planning to have an official mobile app which will be designated as the only mobile app required for the country's fight against COVID-19 — PC-Covid.
Once official, the said app will serve as a one-stop app for health declarations, contact tracing, as well as user's vaccination status and recent COVID-19 tests from other existing applications in the country.
Similar to what's shown in the guide above, the COVID-19 cards will be displayed on the PC-Covid app, using one of three colors — green, yellow or red. 
If you have the Bluezone app, it will automatically update to PC-Covid. After its official launch, local residents will use it in place of the Y tế HCM and VNEID apps. And the data from the Y tế HCM app will be transferred to the new app.