Looking down from the rooftop residence of the Australian Consul-General in Ho Chi Minh City, all you can see is a rolling sea of treetops. Hidden amid the greenery is the Independence Palace. And while we can't help but admire the views, Julianne Cowley and her family, who have called the residence home for the past two years, confess that what they love most about the neighborhood is all the amazing food on their doorstep.
And so it's food, the subject dear to both the Aussies and the Vietnamese, that kicks off our conversation with Julianne. We also ask the Australian Consul-General in HCMC about the 50th anniversary of diplomatic relations the two countries will be celebrating in 2023, Australia's commitment to promoting gender equality in Vietnam and the changes to Julianne's leadership style post-covid.
Are there any similarities that you've noticed between the two nations, other than the love for good food?
Australians are known as very direct communicators, as are the Vietnamese, so we understand each other quite well. Coming back to the love of food, in Vietnam you can have a very productive official meeting, but it's not until you've shared a meal that you become friends. And that ability to connect in a more personal way is very important. That's why we encourage our businesses to have a presence on the ground: the Victorian Government is opening a trade and investment office at Bitexco Financial Tower and the New South Wales Government has  announced a HCMC office too.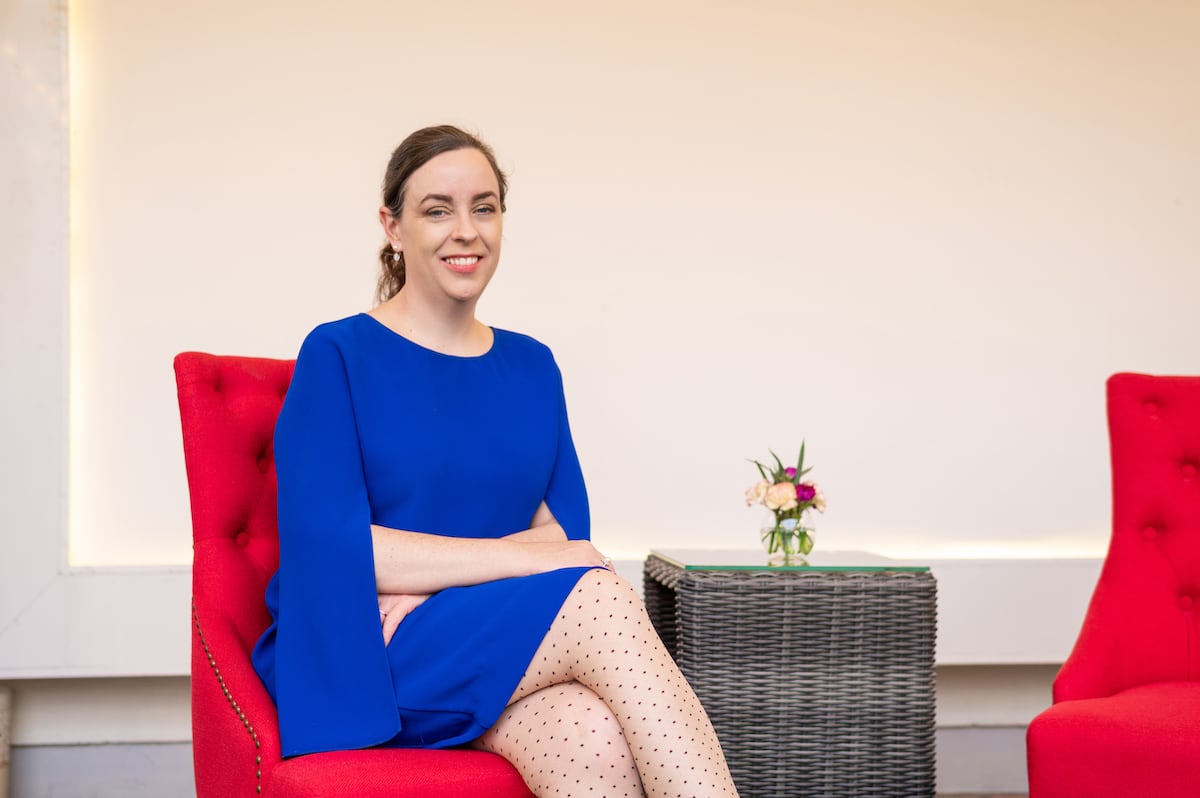 The Consulate's Australia Day celebration has been one of Saigon's biggest culinary events. How significant is this sort of food diplomacy? 
It is a delight to further this culinary diplomacy. This program celebrates Australian cuisine and culture, and is a partnership between the Australian Government and producers, distributors, retailers, and restaurants. Australian food and beverages are high quality – they're clean, they're green and they're safe and we love being able to share our wonderful produce in HCMC and throughout Vietnam.
Around the world, food brings people together. As one of the most successful multicultural nations on Earth, Australians enjoy an enormous range of cultural options. This means that we enjoy coming together to try new and different cuisines, and sharing our food with our friends and neighbors. 
In this way, sharing Australia's culinary culture is about more than just our world class produce – it is about coming together as a community. Both Australia and Vietnam love gathering with family and friends to share food, and I am proud that in HCMC and across Vietnam a wide range of Australian products are readily available.
In HCMC, the Consulate-General's Australia Day Community Event has been a family-oriented celebration of Australia for the Australian community, Australian alumni and the broader public. We also partner with well-known restaurants, five-star hotels, cafes, and breweries and last year served iconic Australian food and beverages to over 1,000 guests.
Did coming to Vietnam prompt a change to your leadership style?
Absolutely, and not only because Covid-19 forced me into a crisis management mode and changed my priorities. I got confirmed for the role just as I was about to have my third child, so that alone meant quite a few adjustments. Dealing with the pandemic – looking after my people, organizing emergency commercial flights home, ensuring businesses had the resources to bounce back quickly – required a different leadership style.
How would you describe it?
My leadership style is passionate, as I am very enthusiastic about what I do. I've always been very lucky to have the jobs that I love, so it's easy for me to bring that kind of energy to the workplace. Also I am an incredibly proud Australian, ever more so since I've started living abroad, and I lead with a sense of pride.
On 10 November the Consulate hosted a reception to mark NAIDOC Week. For non-Aussies out there, what is NAIDOC Week?
NAIDOC Week is Australia's annual celebration of the history, cultures and achievements of Aboriginal and Torres Strait Islanders – Australia's First People. The theme for 2020 is Always Was, Always Will Be, recognizing that Aboriginal and Torres Strait Islander people have occupied and cared for the Australian continent for over 60,000 years. 
The event hosted by the Consulate showcased the Pilbara – a region with magnificent landscapes, rich Aboriginal heritage, and lively art and cultural scene. It is also home to the Young Indigenous Women's Pathways program – a local initiative dedicated to the development of Indigenous talents in the arts and media sector. Australian-Vietnamese fashion designer Betty Tran shared her incredible experience working with young women in the region and traveling to New York Fashion Week in 2014. 
In 2023, Vietnam and Australia will be celebrating the 50th anniversary of diplomatic relations. What areas of cooperation will be the focus in the coming years?
During an official visit to Hanoi in August 2019, Australia's Prime Minister Morrison and Vietnam's Prime Minister Phuc agreed that the partnership would focus on three priority areas for the period of 2020-2023: enhancing economic engagement; deepening strategic, defense and security cooperation; and building knowledge and innovation partnerships.
The Australia-Vietnam Defense Cooperation Program focuses on peacekeeping, including cooperation on Women, Peace and Security; training and education, including English language training; counter-terrorism cooperation; and maritime security, including annual ship visits. 
Australia is proud to have supported the deployment of two Vietnamese peacekeeping units to the UN Mission in South Sudan (UNMISS) by providing a Hercules C-17 to transport the troops and field hospitals from Ho Chi Minh City to Juba.
Australia and Vietnam enjoy a robust economic relationship. Total two-way trade in 2019 was valued at $15.5 billion. Our two countries are developing an Enhanced Economic Engagement Strategy with the aim of becoming top ten trade partners and doubling investment by 2030. This work will also identify opportunities to rebuild our economies following the challenges of covid-19.
In education, collaboration between Australian and Vietnamese education institutions – especially at the tertiary level – has never been stronger. In 2019, 26,050 Vietnamese students undertook studies in Australia, while Vietnam is a popular destination for the New Colombo Plan (NCP) program, with 3,612 students from Australia traveling to Vietnam for cultural and knowledge exchange since 2014. This two-way knowledge exchange continues to expand.
Why do so many young Vietnamese go to Australia to study?
For one, Australian institutions are consistently ranked in the world's top 100 universities on the Times Higher Education, QS and Shanghai Rankings. And as global demand booms for entrepreneurial and innovative thinkers, Australian education providers have re-engineered their approaches to teaching and learning to inspire thought-leading creativity among students across subject areas. Students can also gain hands-on industry experience and develop professional networks through different work experience programs and internships as part of their courses.
Australia is known globally as one of the world's most diverse and welcoming countries. Almost 30% of Australians are born overseas, and more than 700,000 students representing 192 countries have commenced studies in Australia every year since 2017. We also have a 300,000-strong Vietnamese community in Australia, and Vietnamese is the fourth most commonly-spoken language in our country. 
What educational opportunities do you offer in Vietnam itself?
Australia is proud to support Vietnam to strengthen its institutions and train its future leaders, and the new Vietnam-Australia Centre (VAC) situated in the Ho Chi Minh National Academy of Politics will be the centre-piece of these efforts. We look forward to the formal launch of the Centre in the coming months.
Another great initiative is Aus4Innovation: it aims to strengthen Vietnam's innovation system and embrace opportunities associated with Industry 4.0, and help shape Vietnam's innovation agenda in science and technology. 
The program has four main activities focused on digital foresight, innovation partnership grants, science commercialisation partnerships, and artificial intelligence (AI) initiatives. To date, seven agreements have been signed between Australia's Commonwealth Scientific and Industrial Research Organization (CSIRO) and Vietnamese agencies; 60 grant partners have been awarded AUD$1.6 million on three collaborative projects; and 263 agencies and 661 individuals have participated in program events.
What other priorities does the Australian government have in Vietnam?
The empowerment of women and girls is a priority and a key focus of Australia's economic partnership with Vietnam. Australia's gender equality priorities in Vietnam focus on enhancing women's voices in decision-making and leadership, promoting women's economic empowerment, and ending violence against women and girls.
We know this is important work. A 2018 study by the McKinsey Institute showed that if Vietnam achieves gender equality in business, the country can add USD 40 billion to its GDP annually by 2025. That is a remarkable statistic, particularly as an economic opportunity given the impacts of Covid-19.
Since 2017, Australia and UN Women have worked with the Government of Vietnam to reform Vietnam's Labour Code in raising the retirement age and codifying gender discrimination and harassment at the workplace. Australia's AUD 30 million World Bank Strategic Partnership in Vietnam includes work on promoting the essential role that women play in advancing Vietnam's economic development. Australia's flagship Investing in Women Program actively supports businesses to improve workplace gender equality practices, increases impact investment in women-owned enterprises, and is working to influence social norms and attitudes about the economic inclusion of women through data-driven research studies in Vietnam.
The Australian Consulate-General in Ho Chi Minh City held a series of events to mark Vietnam Women's Day and to advance these gender equality priorities. Partnering with the Australian Chamber of Commerce Vietnam, we convened a business breakfast panel event – "Gender Conversations 2020: inclusive practices for business success" – for senior business decision-makers to reflect on practical initiatives to drive profitable cultural changes in their businesses, by supporting, including and promoting more women leaders.
Our "Men, Masculinities, and Gender Equality in Vietnam" online forum, co-hosted with Investing in Women, the Institute of Social and Development Studies (ISDS) and CARE Vietnam, highlighted an approach that encourages men to be agents of change in gender-inclusive initiatives. 
A panel discussion with senior Vietnamese business leaders attracted widespread cross-sectoral interest. The success of these events speaks to the traction that gender equality efforts have gained in Vietnam and widespread interest within the business sector and broader community as we continue to take gender initiatives forward.