When I arrived at Hù Project's latest event, Karma, the veranda of the Meander Saigon Hotel was abuzz with effortlessly cool artists chatting away in anticipation for their retribution. The attendants were potential souls of the underworld, playfully making our descent through three different levels of hell: love, materialism, and ego. The exhibit started on the rooftop bar. As I sipped away on a sugary pre-show cocktail, the city skyline cast an ambient light on this young, hip crowd. I was moments away from being cast down into the fluorescent flames of hell and didn't know what to expect.
The mother of Hù Project is the community-minded Kho Muc Studio, one of Vietnam's first Risograph studios. Founded in September 2018 by Dang Thanh Long, a graphic designer and curator who has been recognized on Vietnam's Forbes 30 under 30, and Simon Phan, a designer and illustrator who was first exposed to risograph while studying in the UK. Kho Muc Studio is tucked away in a picturesque alley in Saigon. Over the years, it has transformed into an educational center where Long and Phan teach creatives the infinite possibilities of Risograph.
When I arrived to meet Long at the quaint, almost-hidden coffee shop that sits under the studio and at the back of the OHQUAO concept store — one of Long's side projects — he was flicking through documents, glancing over at his constantly buzzing phone. "This is an open studio: you come and print your stuff, you get your hands dirty, and you understand the beauty of making your own print," he explains. Long has taken a very hands-on, meticulous approach for Hù Project's annual shows.
At this show, visitors couldn't help but let go of their inhibitions and get sucked into a world of reverie and play. It's a fitting approach from a boundary-pushing studio, whose name literally translates to "dried squid." To fundraise for the studio, Simon and Long asked artists to draw a squid where submissions would be printed on Risograph and sold. Inspired by the fundraiser's enthusiastic reception, Simon and Long decided to come up with more out-of-the-box ways to engage with the local art community. This marked the beginnings of the Hù Project.
When brainstorming for themes for their next drawing open call, Simon and Long remembered that Vietnam has a ghost month. It falls typically in August in the Gregorian calendar, and during this time, many things are closed. The realms of heaven and hell are open, and along the streets, small fires emerge as people burn fake money to offer to deities and loved ones. An eerie quietness falls over the country, adding to an ambient, mystical vibe.
Building off the artistic possibilities of this Vietnamese cultural tradition, the first Hù Project was born: a collection of 44 pieces of Vietnamese artwork that centered on the idea of ghosts. Artists were given free rein to draw new ghosts, or ghosts inspired from Vietnamese folktales, with the only limitation being the artist's imagination. The use of the number 4 was no coincidence either. Across Asia, buildings, streets, and elevators avoid using the number because it has a strong association with death.
Long attributes the project's tremendous success to his ability to foster a sense of creative freedom from fellow artists. According to him, Hù Project has become ''a playground for local artists and illustrators'' because it doesn't abide by the stereotypical, picturesque, postcard view of Vietnam.
Hù Project's first exhibition, Ghosts, played with the effects of Risograph's incredible abilities with color. They printed the artwork in fluorescent pink and gave visitors a black light that when shined on the ghosts they glowed.
"We're going to work around this belief culture, even though some of us believe it and some not, it will always be a part of our culture. So I think it's necessary to keep it alive and have fun with it," Long explained. With this sense of ingenuity, they turned Joss Paper, the traditional material burned for offerings, into a book containing all the artworks from Ghosts.
For Karma, their second exhibition, they didn't want to be constrained by Risograph's A3 print size. Instead, they wanted to use an array of materials. "I love fabric because there's no limitation for me anymore. So, I can be free with all of that," Long said with enthusiasm.
With the Karma exhibition, Hù Project opened the door to new creative possibilities that were much greater than anything Simon and Long had initially expected. Though as Hù Project continues to grow, Long emphasizes its roots "'will always be related to Kho Muc, we are using the color palette of Kho Muc, we have seven Riso colors.... and with that spirit, we make the book, the book is still 100% Risograph."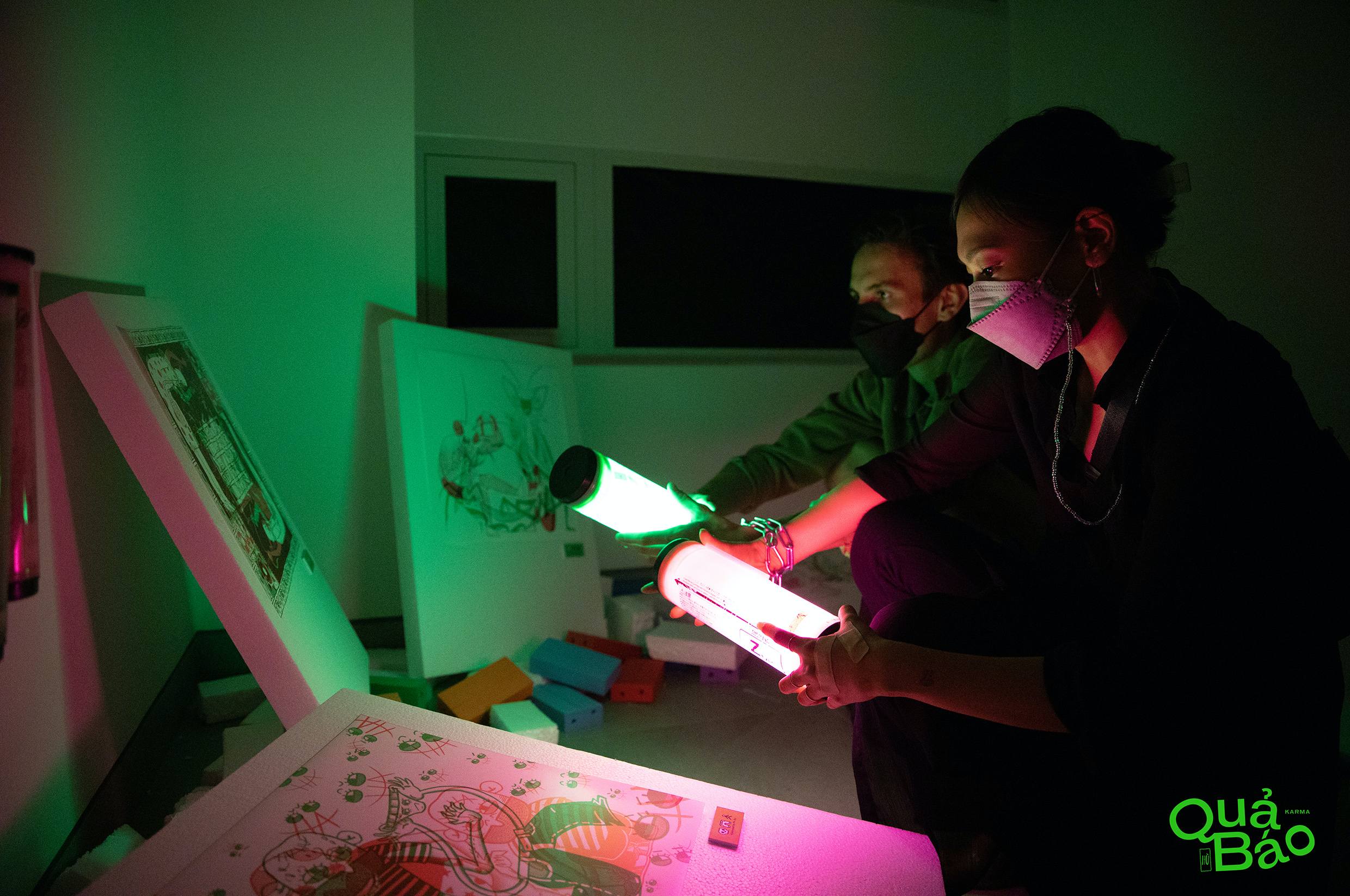 The book for Karma is a delicate collection of all 61 pieces of Vietnamese artwork that are intricately displayed across the three floors of hell. When viewed using the colored plexiglass, the Risograph red and green enhance a different image, one of sin and one of punishment. Within each piece, there are hidden meanings that can only be uncovered by those who buy the book.
According to Long, there were over 200 submissions this year — which is double the amount for Ghosts. Even though Long modestly attributed this number to the boredom artists felt during hard lockdowns in Saigon, it's likely more reflective of the grass-root community that he and his team have built for the past 8 years, with projects like Saigon Artbook, Loco Art Market, Inpages and OHQUAO. These initiatives are providing platforms for Saigon's independent fashion, art, and design scenes, creating a sense of sustainability amongst the city's creative community.
Through OHQUAO, Long met DEADEND: the young, energetic, multi-disciplinary crew who are the co-collaborators of Karma. They lovingly refer to Long as an "older brother" because he has supported their fashion label ever since they emerged on the scene in 2019. We chatted over Vietnamese iced coffee in a shaded corner of Uom Arthub, a beautiful outdoor space housing a design school and creative studios, where they were about to prepare a shoot for their clothing line.
DEADEND has an appetite for learning and creating everything themselves. Hai Phan, a member, told me that they jump between various disciplines of design according to the specific needs of a project — whether it's graphic design or fashion.
Frustrated by the impermanence of exhibitions, they were hungry to get involved with Hù Project after seeing the potential of Ghosts. "We proposed serializing the project, to create a database for the art, not only for this year but last year," Hai Phan explained.
They tirelessly worked on creating a website, developing the storyline for Karma, and an 8-bit RPG virtual game where the player moves around the three floors of hell discovering various artworks. This idea stems from Diyu and Naraka — the notion of hell in Chinese mythology and Buddhism where each level of the underworld represents a different karmic punishment for the sins committed on Earth. Nama Duong, one of the co-founders of DEADEND, told me that he wanted to reimagine the notion of karma in the modern context.
"This is a big and strong partnership that we're gonna keep doing. But we don't say that we don't want to work with other people and also, DEADEND is very open to new people as well. The more the merrier," Long said.
The current exhibition features a myriad of tiny details that were made by local creatives. Long is quick to point out RDV, Mess, and Liti Florist's involvement, whose flowers perfectly co-exist with the artworks in the realm of love. There is also ELEK, whose stylistic, circular light design has caused a frenzy of Instagram photoshoots.
When I asked Long about what he has in store for the new year, he was elusive but jokingly mentioned that an idea came to him recently. For now, his attention is elsewhere; there is no rest for this wicked curator of the underworld, and for those that remain in this realm, it's a good idea to be on your best behavior, as Hù Project will certainly be unlocking the gates of hell again in 2022.