Having been locked into their homes for more than four months surely made Saigonese crave the outdoors where there's sunshine, fresh air, trees swaying to the wind, and people talking and laughing like there's no tomorrow.
When the city lifted most of its mobility restrictions last week, the streets, which were eerily empty since June, became alive once again. Thousands of motorbikes came flooding the street, the sound of their engines is a welcome music for a city that missed its pre-pandemic hustle.
Public parks, which were taped-off for months, have been reopened, and are now enjoyed by families and playful teens. Many immediately took this chance to go on a little picnic or bike ride along tree-lined paths, and relish this redefined sense of freedom.
For vendors and workers, this reopening means getting back to their means of income. Some embraced the influx of customers, especially at barbershops and supermarkets; some are taking it slow. They, nevertheless, see this as a sign of hope for a full recovery.
Vietcetera photographer Tin Phung explores the streets of Saigon to capture the city's renewed vibrance.
Cheers for ice cream! With most stores closed during the lockdown, these little kids probably had ice cream on top of their first-foods-to-eat list.
Haircut at last! Many Saigonese were surely itching to get a haircut after four long months. While most salons and barbershops are still not allowed to operate again, these sidewalk services are available for that classic taper fade.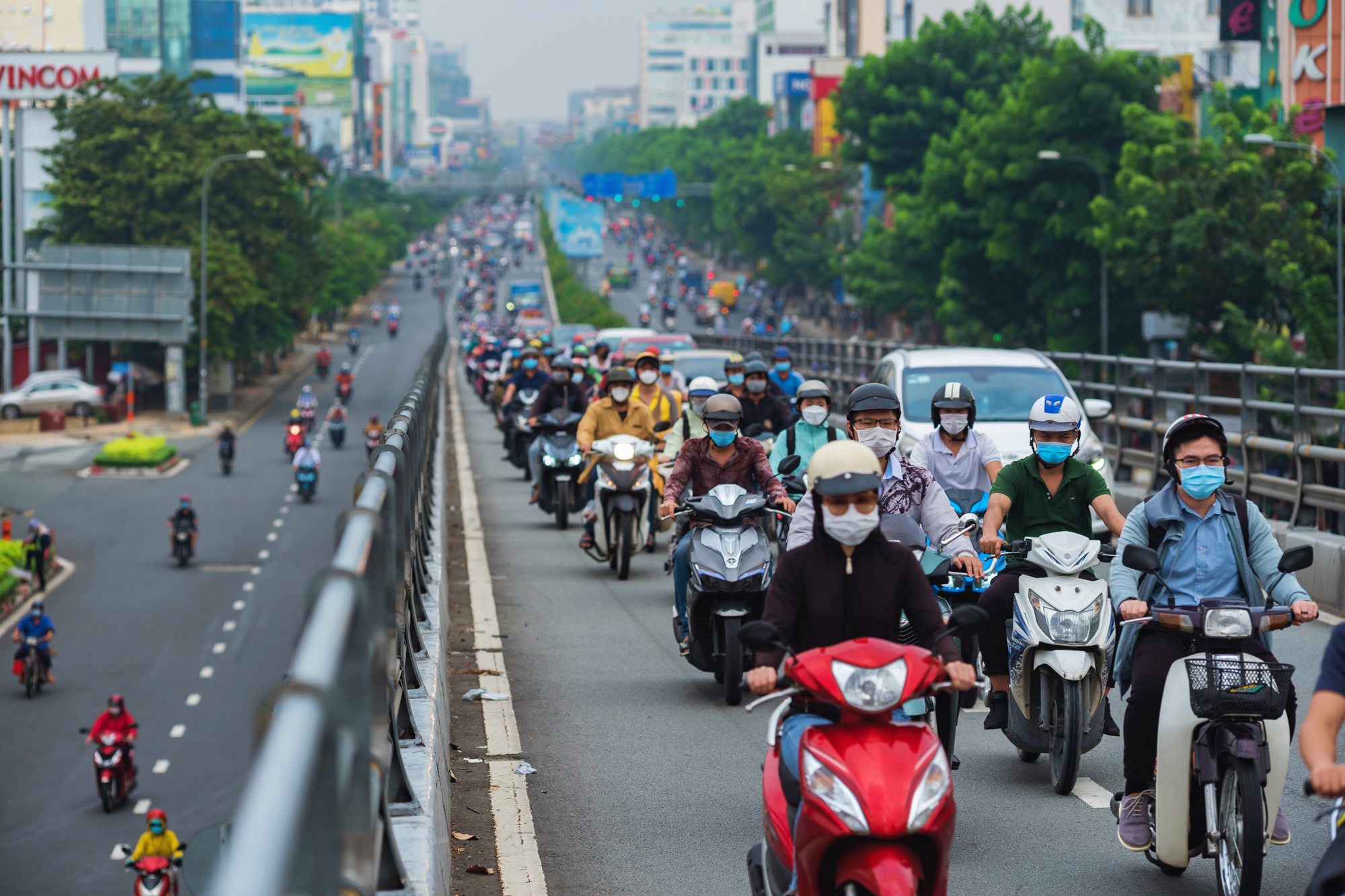 Don't you miss Saigon traffic? Motorbikes coming from the northwest part of Saigon flock to the city center during the rush hour on Tuesday.
Dogs have missed the outdoors, too. The lockdown posed a different challenge for pet owners, who needed to walk their pets every day. Now that it's possible, these dogs did not miss the chance to enjoy the outside world.
These express shoe repair services are now back in business. These guys do amazing job in fixing that heel or hand-stitching your shoes back together in less than an hour. There's usually a coffee/refreshment vendor nearby, so you won't get bored while waiting.
Traditional and wet markets are now allowed to reopen, but safety must still be prioritized. To avoid direct contact between vendors and customers, plastic shields are put up in all stalls.
Health workers and military officials enjoy their well-deserved time off. And what better way to spend it than a photo session in front of the Ho Chi Minh statue at Nguyen Hue.
With construction projects resuming, these workers are now back in action. They start their day early, as so much of the works have been delayed because of the lockdown.
This space near Nguyen Hue was deserted for four months. But when the lockdown was lifted last Friday, these kids rushed got their skateboards, and showed off their skills with friends.
Vietnam's modern-day heroes. Thousand of health workers and volunteers like them came to Saigon at the start of the lockdown to help fight against COVID-19. Now that the situation's under control, some of them are now starting to travel back to their hometowns.