Ho Chi Minh City's social distancing measures have been extended yet again. Last Friday, the government announced that Directive 16 will continue to be implemented until August 1, or until the number of coronavirus cases wane.
The past weeks have been very tough for most. Hundreds, if not thousands, have lost their jobs or were unable to go to work because leaving their homes would mean putting themselves and their family's safety at risk. Deciding between earning money to put food on the table and braving through an "unseen" storm is something no one should experience. But with the current outbreak that's hitting Ho Chi Minh City in the worst ways possible, it has become a daily dilemma. 
But if there's something these difficult times have shown us, it's the fact that there are people who would step up without hesitation, extend their hands (and resources) to help those in need. 
Vietcetera had the chance to talk with two of the many organizations doing charitable works to somehow alleviate the hardships of those who've been greatly affected by the lockdown.
Lien Tam Charity Group
For Thiện Nguyện Liên Tâm (Charity of the Heart), founded in July 2017, they found it as their duty to help those in need. "Our name is Lien Tam, which is to convey the deepest and most sincere sympathy and care for others," Cao Huu Hoang Van, the group leader, shared. "And our mission is to connect with hearts full of compassion to those in difficult circumstances, by bringing love and spreading happiness."
Before the pandemic, their charity works came in different forms. From building houses and bridges in remote provinces to distributing gifts to the poor in mountainous regions, and donating to shelters, orphanages, or communities after a natural disaster on relief trips, their operations were aimed to support those in great need.
Ever since travel restrictions were enforced as part of pandemic control, their operations widened. They continued with care packages to homeless people with the addition of medical masks, antiseptic water, and gloves, and distributed large portions of rice and noodles to neighborhoods in lockdown.
"We just hope to be able to alleviate some of the difficulties people are facing right now, especially those unemployed or of disadvantaged backgrounds." 
Given the tighter restrictions that came with Directive 16, she shares that Charity of the Heart has been in touch with local authorities in their respective areas to ask for guidance on how to distribute gifts and give assistance in the safest and most efficient way possible.
Within the past two weeks, while out on volunteer missions to help those in need, the group admits they have witnessed many pitiful situations within the city they call home. "We saw families sleep on the streets because unemployment means that they cannot afford accommodations," Hoang Van shared. In the midst of hardships, the group said many Saigonese remain considerate of others and would decline food offers because they've already eaten and "others need it more".
"Hearing that gives me this warm feeling inside," she smiled.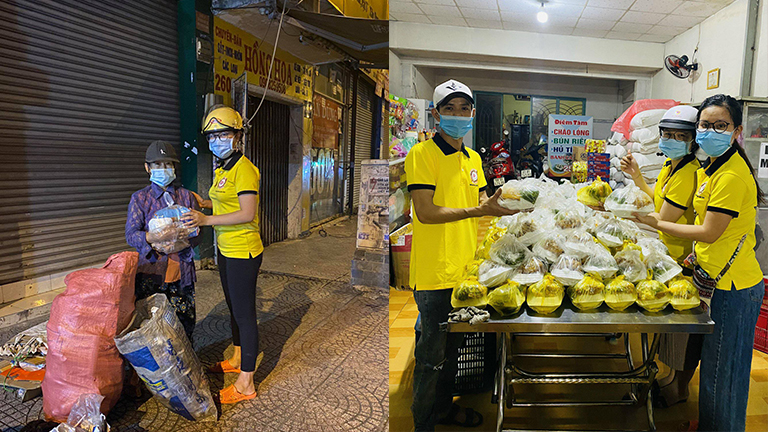 Dem Sai Gon
Similar to Charity of the Heart, Dem Sai Gon has had to change their operations with Directive 16 being implemented, but they never ceased helping communities in need. With their mission of "sharing, spreading kindness, and supporting those in difficult situations," as their group leader, Nguyen Vuong Truong Thanh expressed, the group has been in operation since June of 2016. 
Prior to the global pandemic, Dem Sai Gon also organized many trips for its volunteers to travel to remote regions of the country where they built schools and other infrastructure for underprivileged communities. Simultaneously, they also donate gifts, basic necessities, and care packages within Ho Chi Minh City several times a month.
Since the pandemic, the group has ramped up its operations within the city. On a daily basis, they prepare and send out between 1000 and 1500 meals to several locked down areas, hospitals, and to the homeless.
When Directive 16 limited their travels, the group sought ways to continue their operations while abiding by safety rules. "We divided our charity, which consists of up to 60 people, into smaller groups of two," Truong Thanh shared. "Each group distributes food to homeless people within two districts on a motorbike."
While Truong Thanh has met many people in need when delivering these gifts, he shared that one family's story still sticks with him. "On one of the nights I was delivering food," he shares, "I met a man who sold lottery tickets for a living, and we started talking. He is about 60 years old, and blind. So is his wife. Given their difficult situation, they are still trying to make a living from lottery tickets to raise money for their son to finish his university degree," Thanh said. "I truly admired the love and dedication they have for their son."
"And stories like this," he smiled, "makes me want to spread more love to those around me, and hold onto hope that the pandemic will soon pass so we can return to our normal lives."
Similar to Charity of the Heart and Dem Sai Gon, many other charity organizations have also been aiding those in need. Their service to the community is proof that during times of difficulties, kindness prevails. 
To support Thien Nguyet Lien Tam (Charity of the Heart), contact: 
Vietcombank: 0071001090401 CN Hồ Chí Minh

Sacombank: 060066698842 CN Chợ Lớn

Account Owner: Cao Hữu Hoàng Vân

Hotline: 0359 055 337 Ms. Vân
To support Dem Sai Gon, contact:
Vietcombank 0371000433594 CN Phạm Ngọc Thạch - TPHCM

Account Owner: Nguyễn Vương Trường Thành

Hotline: 0906830924  Mr. Trường Thành