At the same time, finding ways to develop new ideas and services to help people adapt to this change provides opportunities for many businesses.
In fact, many successful startups established after the 2008 global financial crisis are providing essential services during the current pandemic, namely Uber (2009), WhatsApp (2009), Pinterest (2010), Instagram (2010).
Therefore, we can assume with some degree of certainty that many innovative businesses will emerge from the crisis or expect to see existing startups break away from the pack.
To explore the opportunities COVID-19 presents, Le Mai Anh, the National Director of PRNewswire Vietnam (CISION – USA), sits down with Vietnamese startup representatives to talk about their survival and growth strategies during the pandemic.
Prepare for the worst
"Looking at the past two months, we've recorded a year-on-year growth in January 2020," says Nghiem Xuan Huy, CEO and founder of Finhay, a smart money platform. "The fact that people spend more time at home and online, as well as an increased interest in digital services, are the key factors driving traffic to our website."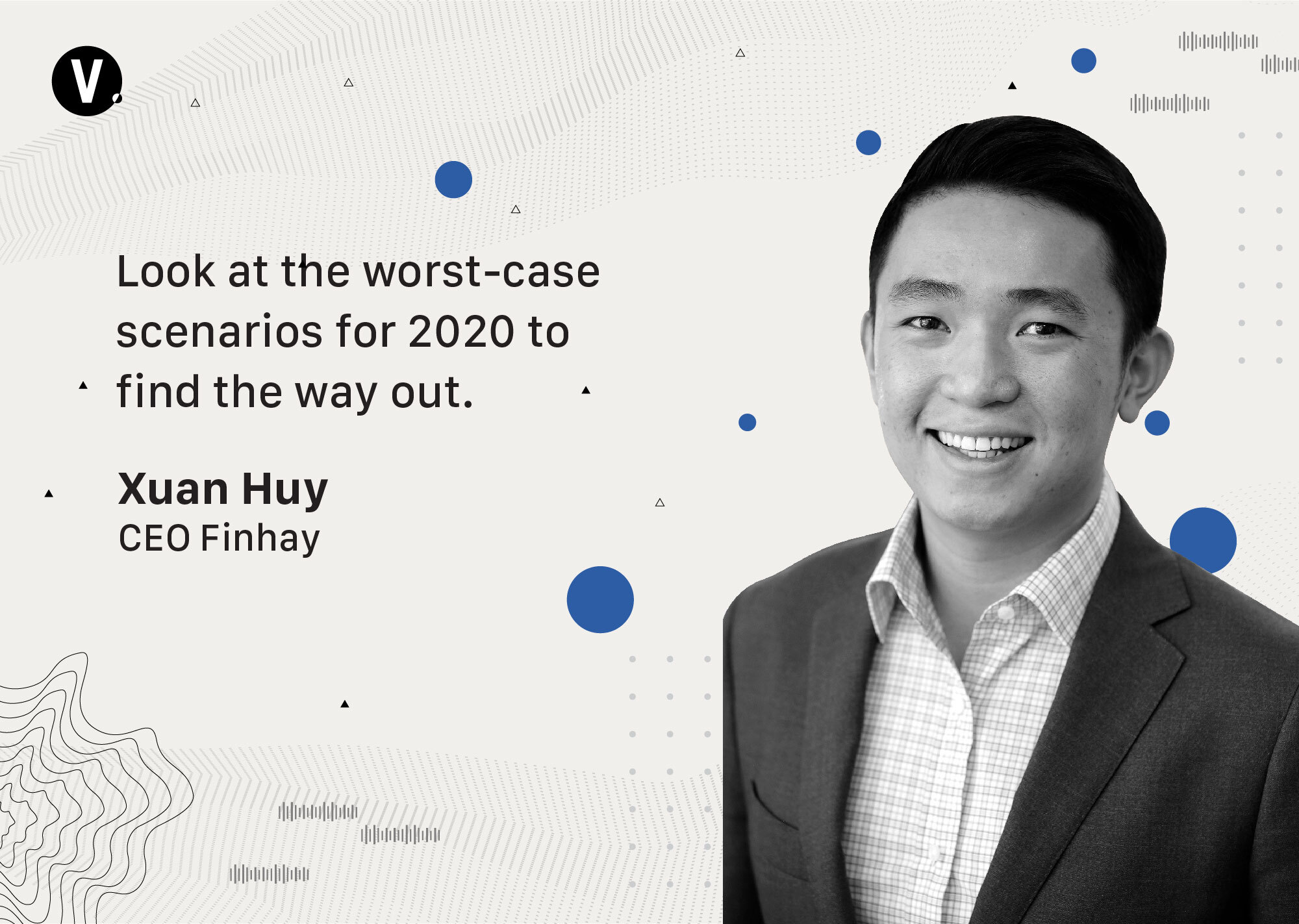 When asked how a young business like Finhay (founded in 2017) can prepare for a force majeure event like a global pandemic, Huy admitted that in the case of the current crisis, the team has been preparing since the end of 2019.
Interestingly, the company started looking at worst-case scenarios not because of the viral outbreak, but because of WeWork. In 2019, analysts predicted that established startups like WeWork, Slack and HonestBee would take an even bigger market share, hurting smaller businesses.
Finhay, expecting 2020 to be a very unfavorable year, implemented measures to ensure growth even in a depressed market. As a result, when the crisis hit, the team was financially and operationally prepared for the downturn.
Adapt quickly
With 50% of the world population isolating at home, sales of equipment for home work-outs have received a considerable boost.
Some companies in the field have reported a 300% increase in revenue in the past two months. According to an independent report by iPrice Group, demand for home gym equipment since the implementation of "shelter-in-place" measures increased by 116% compared to the month before.
While certainly putting pressure on cost, personnel and revenue, COVID-19 also presents opportunities for our business. It is important that we focus on streamlining production and logistics, expanding sales agent network, and raising capital to promote our brand and products, especially in foreign markets.

– Khanh Trinh, home gym equipment startup founder
Another industry insider, Candice Hien Nguyen, the CEO and Founder of protein bar startup 365 Begin, believes that COVID-19 should be treated as an important reminder that self-care is crucial to our wellbeing.
"At the onset of the outbreak, we were faced with a liquidity problem. But we quickly recognized that our business model — being a nutrition brand — comes with its advantages, as people were looking for healthy lifestyle options during this difficult time."
Act quickly, do not hesitate
Amid public healthcare crisis, eDoctor, a healthcare startup, is one of Vietnamese companies that received US 1 million in funding from CyberAgent Capital investors, Genesia Ventures (Japan), Bon Angels and Nextrans (Korea).
The earliest we can hope to contain the spread of COVID-19 is the end of 2020, and after that I anticipate many complex developments that right now are hard to predict. I think businesses should go into a full-on crisis mode for the next 2-3 years, because if no vaccine is developed, we will have to learn to live with COVID-19. When we emerge from this crisis, the resources will be exhausted, so we must act now and not wait for the dust to settle. eDoctor will soon launch many new products and services, adapting to today's market with an eye on the future.

– Alain Huynh, CEO of eDoctor
"As a technology startup in the field of healthcare, I think the government needs to continue introducing policies that encourage innovation and creativity; maintaining and nurturing the environment of international exchange and cooperation," he continues.
"More importantly, the ICT [Information and Communication Technology] Management Agency should be taking urgent steps to create a legal corridor and to promote conditions in which new technology solutions and services can thrive.
We need regulations laying the legal basis for electronic health records, privacy protection, information security, circulation of health information, recognition of electronic health records by all service facilities etc."
Conclusion
Following the pandemic, we can expect changes in consumer behavior that will bring opportunities for businesses providing meaningful services. What startups need to focus on now is on optimizing resources and preparing themselves for the upcoming change. Take this time to make adjustments and improvements. By definition, a startup is nimble and flexible — the very qualities that make it likely to thrive in a crisis. So this, now, is a true test of a company's vitality.
Interview by Le Mai Anh
Le Mai Anh is the National Director of PRNewswire Vietnam (international news transmission unit of CISION – USA.) With over 15 years of experience in media and press relations, she has consulted and worked with many large domestic and foreign corporations in the fields of telecommunications, tourism, hotel, F&B, technology and start-up. She is also the co-chair of VNPR Association (a network of PR professionals in Vietnam) and a core member of Startup Elite – Pitching for Success.
Before that, she was the Communications Manager of Reuters News, managing markets in Vietnam, Laos, Cambodia, Myanmar and the Philippines. Le Mai Anh is the recipient of 2019 Diamond – ASEAN PR Excellence Awards.
Related Content:
[Article] Opinion | There Is No "Going Back To Normal"
[Article] Tips For Managing Remote Clients: How To Sell And Work When You Can't Meet?