Lose To Win is a series of inspiring success stories that arose from life-changing sacrifices.
Note: This interview was done in April, before the lockdown started in Saigon.
Born in Australia in 1985 to Vietnamese parents, chef Bao La then decided to visit Vietnam in 2020 and stay here for good. But even before he set foot in Vietnam, his name was already a familiar sound to the Vietnamese culinary community, especially for those who know of his famous restaurant in Hong Kong, Le Garcon Saigon.
After over 10 years of bringing Saigonese flavors through his restaurant, chef Bao La decided to leave Hong Kong and move to Vietnam. But that wasn't the biggest shift he had to do - from a decade of cooking appetizing meat dishes, the famous chef switched to vegetarian cooking.
We spoke with chef Bao La at Que Kaarem to know more about his new journey, and all the life learnings he carries with him.
How did your relationship with the kitchen begin?
My parents opened a restaurant in Brisbane when they came to Australia, and it was also my first cooking "school".
During my teenage years, I loved cooking with my parents at our family restaurant, but never thought this was a serious direction in the future.
As I did not think of it at all, I still chose to study university and graduated in accounting, then worked in an office. But the funny thing was that I could not even calculate my own tax refund.
Only then did I realize that I had gone "in the wrong direction", so I told my parents: "Perhaps a career as a chef is more suitable for me." My parents did not mind at all. So for more than ten years and up to now, I have been walking on this culinary path.
What made you choose to go to Hong Kong? And what made you decide to leave that place?
I went to Hong Kong in 2014. I loved the hustle and bustle there, so I decided to stay and build a career. With a partner of mine, we opened a Vietnamese restaurant called Le Garcon Saigon.
But over time, it became more and more apparent to me that I was drained by the same hustle and bustle I had so eagerly dived into.
At the same time, I also realized that it was time for me to rest, to find the way back to my original beliefs and culinary philosophy.
And what was the "last straw" that made it all happen?
First, my lease expired. Signing an extension also meant staying there for another 1-2 years. I flinched thinking about it.
I realized I had been working continuously, all my life up to that point. The moment I had no restaurant to work for, I felt free for the very first time and no longer burdened by frameworks.
First is about the food. Most people (even in Vietnam) generally assume that Vietnamese cuisine always has a low price. If you want to use better ingredients, you have to make the portions smaller.
When people think that the cheaper it is to buy raw materials, the more profitable it is, then of course farming is also gradually turning to commercialization.
Personally, I do not believe in this approach. So even though Le Garcon Saigon is still there, I decided to leave.
On the other hand, I used to cook at a restaurant in Paris for three months. It was a time that left a lot of inspiration in me, and I also saw the possibility of opening a restaurant in Paris.
So I decided that the next chapter of my life would be to leave Hong Kong and open a restaurant in Paris. I first returned to visit Vietnam for no particular reason. But the pandemic hit as soon as I got here, so I stayed here ever since.
Since returning to Vietnam, have you only cooked at Que Kaarem?
I also cooked at Quince and Park Hyatt. Sometimes I cook to treat my friends in Da Lat, since this is my mother's hometown. My long stay in Da Lat gave me the opportunity to experiment more with cooking vegetables and learn more about the flavors of Vietnamese cuisine.
According to the menu in Que, you mainly cook vegetarian dishes?
Mostly, yes.
First I need to explain a little, Que is part of Kaarem — a fashion brand that focuses on materials, construction and sustainability. Their store is based on the ground floor in an alley in Ho Chi Minh City, with an open bar space upstairs for a variety of activities.
I met Chuong — owner of Que, and knew that Chuong wanted to experience turning Que into a residence space for chefs and creatives alike. Feeling interested and having worked together briefly before, I became the first resident and continued to build this program with Que.
Why is the menu vegetarian? Because the size of the refrigerator here is quite limited, putting a lot of things in will definitely not be hygienic.
Meat, fish, seafood, wine, fruit, and vegetables put together are easy to create bacteria. So I decided to just store vegetables.
Not only is it a new challenge, but this transition is also really necessary for me. Reducing meat and seafood consumption is one of the solutions to limit the negative impact on the environment.
This is not to say that people must completely switch to vegetarianism. You can choose to eat non-vegetarian food part-time, or gradually cut down on meat and fish in your daily dishes.
So how to cook delicious vegetarian dishes while ensuring nutrition?
This is not easy at all. I am still learning to do it.
I use a variety of mushrooms and fresh vegetables, and not too much tofu. Tofu is good if eaten to a certain extent, but eating it every day is not recommended.
Nuts, lentils, or chickpeas are rich in protein but not popular with Vietnamese people.
Looking back, was your decision to stay at Que Kaarem the right choice?
Every day here is super fun!
In Saigon, there seems to be no residency program for chefs. As more and more of our friends and guests gradually come to Que Kaarem, we started thinking about a platform for young chefs with little practical experience to showcase their abilities.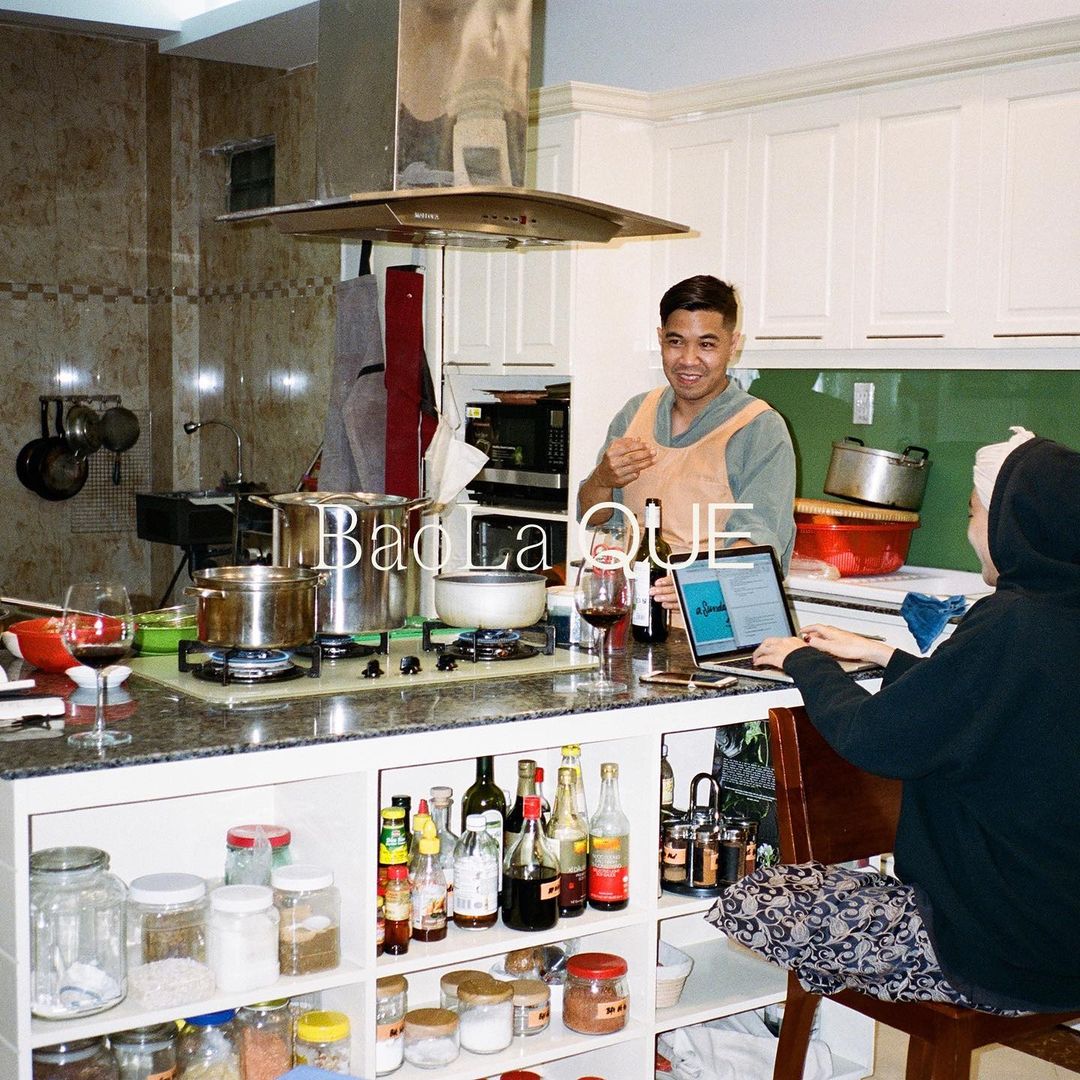 Instead of spending a large amount of capital on restaurant business when success is uncertain, Que Kaarem will be the place to help them test these abilities.
They can just cook and introduce themselves: "Hi, I'm a chef. I made this dish myself, and it's a pleasure to welcome you!".
Later when you come to Paris, what will your restaurant look like?
I will open a small restaurant, where people come to eat, drink, and chat freely.
I will not serve pure Vietnamese dishes, but dishes inspired by Vietnamese culinary traditions, combined with natural wine. This is a combination I have been planning for a long time, and no one has ever done it before.
The reason is that natural wines are easier to drink and contain fewer preservatives.
Typical wines served in bottles have a very complex taste, and are suitable for light and simple food. Vietnamese dishes, which are full of flavors from sour, spicy, salty, to sweet, need to be paired with a simpler drink. Natural wine and Vietnamese food are a perfect match.
Adapted by Thao Van