Mai Nguyen Anh is a photographer and visual artist born and raised in Hanoi, who focuses on exploring artistic approaches to contemporary issues. In 2012, after graduating from a finance university program in the UK, he worked in the Middle East as a freelance reporter.
When he returned home, Nguyen Anh signed with VnExpress for over a year as a photojournalist. In 2016, he completed a course at the International Center of Photography in New York City. Once back in Vietnam, Nguyen Anh joined three friends, Linh Pham, Dao Thu Ha and Son Dang, to co-found Matca — a local photography project.
The topics Nguyen Anh works with are diverse and always in line with his personal growth process. Usually, they reflect his own concerns or are inspired by everyday stories. 
One thing that's always prevalent even throughout different projects is his use of metaphorical contrasts or social paradox, most easily found in his narrative documentaries. Nguyen Anh is also known for often exercising his first-person view or envisioning himself in the stories he tells.
We're looking at this project of yours about family. Is there some significance to it?
Gửi Anh Tuyền (Dear Brother Tuyền) is actually my first and only project about family so far. 
At first, these photos were only intended to act as mementos of my grandmother's reunion with her long-lost older brother after 63 years apart. But their story also helped me see clearly that division is still engraved in the hearts of many Vietnamese people today. Its hitting close to home is what pushed me to invest into this project.
What kind of research did you do to better understand your subjects, as well as the story's historical context? 
Aside from digging into my own family records, I did interviews with all of my relatives who were involved in the story. I tried my best to persuade them to recall their genuine reactions for me.
To get a multidimensional understanding of the issue, I also met with people in the Vietnamese community in the US. And I watched plenty of documentaries and movies about the war in Vietnam, as well as about family reunions.
One thing that irritates you the most about your job?
Good question. I could say there's none and I'm already settled on this career, but it's also a privilege to be able to do what I love — making art. 
There are others out there doing hard, physical work, while I get to call working with things society considers beautiful my job. That's nothing to be upset about.
If you can pick anybody, who would you like to photograph? In what context?
Vietnamese men from all ages and walks of life, while reading this one letter. It's for a project of mine called Ex-love Letter.
The backstory is that, in 2016, I got an email from a stranger, and the things written were just impossible for me to finish reading at the time. Now, almost five years later, I finally gathered the strength to get through that letter.
For Ex-love Letter, I'm sharing the email with my subjects. Together, we'll address the questions raised and come up with a potential reply.
What do you think your 10-year-old self would say about your current job?
When I was 10, I never once thought about a career in art or photography. Both my parents are engineers, so I grew up hoping to work in mechanics, too, as an adult.
My 10-year-old self would've probably been more concerned with where photographers could get their gears fixed — because if they worked with cameras all the time, then surely those must break a lot!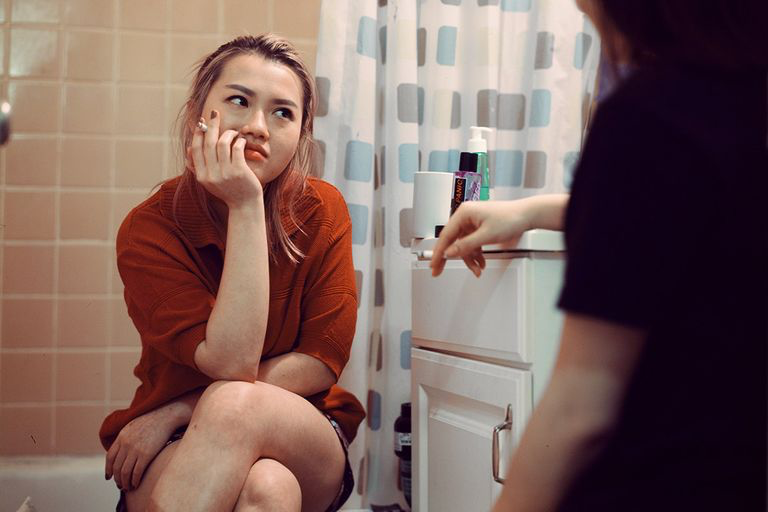 What role does "the moment" play in your photography?
"The moment" is perhaps one of the most important factors in photography, for it separates this visual medium from many others. Knowing I've captured a beautiful, invaluable moment is the most amazing feeling to me in my experience working with this art form.
I try not to depend on it too much in my own practice, though. Like many other photographers, I'm always going to be holding out for the right moment in my heart, but I won't actively hunt it down or stand by it.
I would hate for my work to depend solely on something so random like luck. I can only see it as an addition to my photos' emotional values.
Was there a specific moment when you realized that you really are a visual artist?
When I found out that there were people collecting my works.
My projects often go on for a couple years. I can't recall how many times I've doubted my own abilities and the feasibility of my ideas, or stumbled upon a creative block and wanted to give up in the process. I also can't recall the number of times I've become comfortable with getting by in another career that isn't related to art. 
But somehow, I keep going.
To be featured at exhibitions, collections and similar creative spaces really helps me have more trust in myself to continue being a creator, as long as someone out there still believes and finds empathy in my art. 
The Factory Contemporary Art Center (The Factory) is the first purpose-built space for contemporary art in Vietnam, operating under the business model of a social enterprise, The Factory focuses on interdisciplinary cultural activities to introduce and expand knowledge of contemporary art in Vietnam.

Address: The Factory Contemporary Art Center, 15 Nguyen U Di, Thao Dien Ward, District 2, Ho Chi Minh City
Contact information: art@factoryartscentre.com | +84 (0)28 3744 2589Translated by Jennifer Nguyen