A Mediterranean restaurant, a bar and a community center, the new Mama Sens in Thao Dien is a stark departure from the original minimalist concept in District 3. Gone are the grocery aisles and the modernist decor. The new culinary team has taken over the helm and the focus has shifted to bringing the community together.
Mama Sense is the brainchild of Jacques and Laurent Pourcel – Michelin-starred twin chefs from the south of France globally recognized as ambassadors of Mediterranean cuisine. As Saigon is getting the first look at the new kid on the block, Vietcetera visits for a tour with the group General Manager, Monnet Mae.
What was the inspiration behind Mama Sens in Thao Dien? 
Mama Sens opens at the new venue with a fresh concept: the ambience is more relaxed reflecting the laid-back and carefree Mediterranean lifestyle. Inspired by the visions of the Greek coastline and its rugged beauty, I wanted Mama Sens to exude the same untamed energy, to be strikingly beautiful in a natural yet urban way.
Dappled light and twisted arches, the contrast between the rough and smooth textures, solid wood against copper details, the paired-back color palette that calms and envelops you – it is the kind of beauty that feels effortless. What feeling did you want to convey when designing the facade?
The design philosophy embraces a play on duality with dusty textures and leather accents derived from nature juxtaposed against a visual symbol of urban culture – a mural.
The use of terrazzo flooring, a technique known in northern Italy since antiquity, is a nod to the decades-old Vietnamese tradition of utilizing the material in public outdoor furniture. Hand-crafted tiles in traditional patterns are another send-off to local design traditions.
What can customers expect to find at Mama Sens?
At Mama Sens, you will meet a team of caring people: friends who know how to listen and who know when not to ask questions.
Food is fresh, authentic yet modern, bursting with flavors. The menu will change on a regular basis with plenty of exciting signature dishes to keep the community hungry for more. The beverage list is varied and features both alcoholic and non-alcoholic tiples.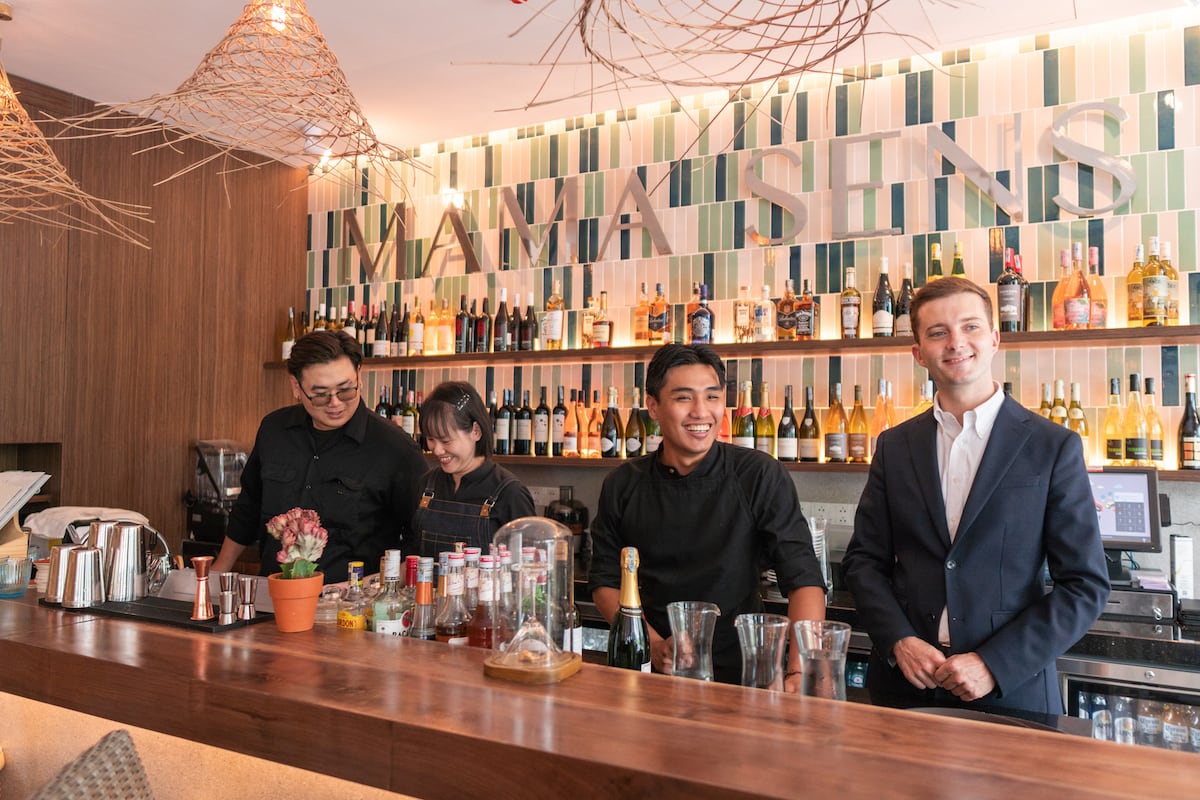 The restaurant is open from 7.00am to 11.00pm and you can expect the vibe to change as the day unfolds. For us, the best way to provide a great service is by being creative and by constantly challenging ourselves.
Mediterranean cuisine is quite a foreign concept in Vietnam. What are you doing to help make it more familiar? 
I'm not sure I agree with the statement. Saigon's foodie scene is constantly evolving and local customers are becoming more knowledgeable about foreign cuisines with each passing day.
Mediterranean cuisine has many dimensions, including pasta, pizza and grilled seafood that are hardly considered exotic by anyone. What I mean is that customers in Saigon already have exposure to some of the key flavors shaping the Mediterranean cuisine.
Fresh, regional ingredients drive our simple, modern approach in the kitchen where the focus is on purity, authenticity, and the reinterpretation of iconic recipes. Mama Sens embraces the Mediterranean diet not just as a culinary mode but as a lifestyle.
I don't believe in adapting foreign concepts to local flavors. To me, it's akin to telling the customers that their palate is not sophisticated enough or that they cannot appreciate our food unless we make the unfamiliar familiar.
At Mama Sens we approach menu creation from a position of respect for our guests who are either already familiar with the concept or are curious to try it. All you need is an open mind and the management team will guide you and make you feel at ease.
They have a strong passion for food, wine and service, and years of experience in the field. At Mama Sense you can expect an authentic Mediterranean experience, with no compromises.
We also never judge our guests: if they ask for the fluorescent chili sauce, we have no problem with that at all, whether at Mama Sens or at our sister fine dining restaurant Le Jardin des Sens. We want them to enjoy themselves, this is what gives meaning to our job and this is our best reward. 
How does the Thao Dien iteration of Mama Sens differ from the old downtown location? 
The most noticeable difference is in the color theme. The original Mama Sense restaurant had an all-terracotta interior. For our Thao Dien location we wanted to go back to nature, so you'll see granite tones, leather accents, textures inspired by nature.
Also, we don't have the grocery section anymore. We only sell olive oil. The concept of the original grocery store was to offer gourmet products from local artisans – an idea the Pourcel brothers were very keen on. But obtaining the license to import cheese and charcuterie from France was so difficult.
We opened with the new culinary leaders. The new Group Executive Chef, Federic Thevenet is from France and brings years of experience in European fine dining. We are extremely lucky to have Frederic working with us in Saigon.
Not only is he a Michelin-starred chef who had worked for 25 years with the great Alain Ducasse before joining the Pourcel twin brothers, but he is also an accomplished pâtissier! 
The head chef, Hoang Nam, is Vietnamese and has a very fine palate. In my eight years in Vietnam, I've met very few chefs of his caliber. He is extremely sensible and his food tastes as good as he was born in Tuscany! 
There are some common challenges you encounter when opening a restaurant, wherever you are in the world. An important first step is to establish communication channels for sharing ideas, brainstorming, putting things into perspective, reassessing and listening a lot to others.
What are some of the challenges when creating an integrated product like Mama Sense? 
Recruiting seasoned professionals who will train the rest of the team is key. And while for me a resume is secondary to personality and attitude, I can't stress enough the importance of having a team of experts for all the products and services you provide.
You and your team should be able to articulate the concept. Keep fine-tuning it until everyone is on the same page. A multicultural work environment is a real source of inspiration, but it can also pose problems when it comes to interpreting things.
And while you will be spending more time explaining and clarifying things, you will become a better communicator as a result. 
Another tip is to always, always have a plan B (better yet a plan C) to be able to immediately bounce back if something doesn't go the way you planned. Being prepared will save you lots of frustration and disappointment and wasted time!
What experience have you curated for the customers? 
We want Mama Sens to be known as the restaurant next door, a gathering space for the community. We've translated this vision into a coffee shop, bar and restaurant concept presented in a setting that is social and relaxing. 
On the culinary side, the tone is set by the fine dining influences and passion for the Mediterranean lifestyle that is synonymous with the Pourcel brothers. Despite their international acclaim, the brothers have retained a down-to-earth demeanor, warm humour and a very relaxed attitude to life.
Our promise to our guests is high quality food from breakfast to diner, sent from a kitchen run by one of the best chefs in Vietnam. We have some simple dishes, like tapas, which are perfect for sharing with friends when you simply want to enjoy a glass of wine. But we also have dishes that are richer, more complex and have a personal meaning for our chefs.
Besides enjoying great food, we want our guests to feel relaxed, to drop by for a quick drink, or just to say hello.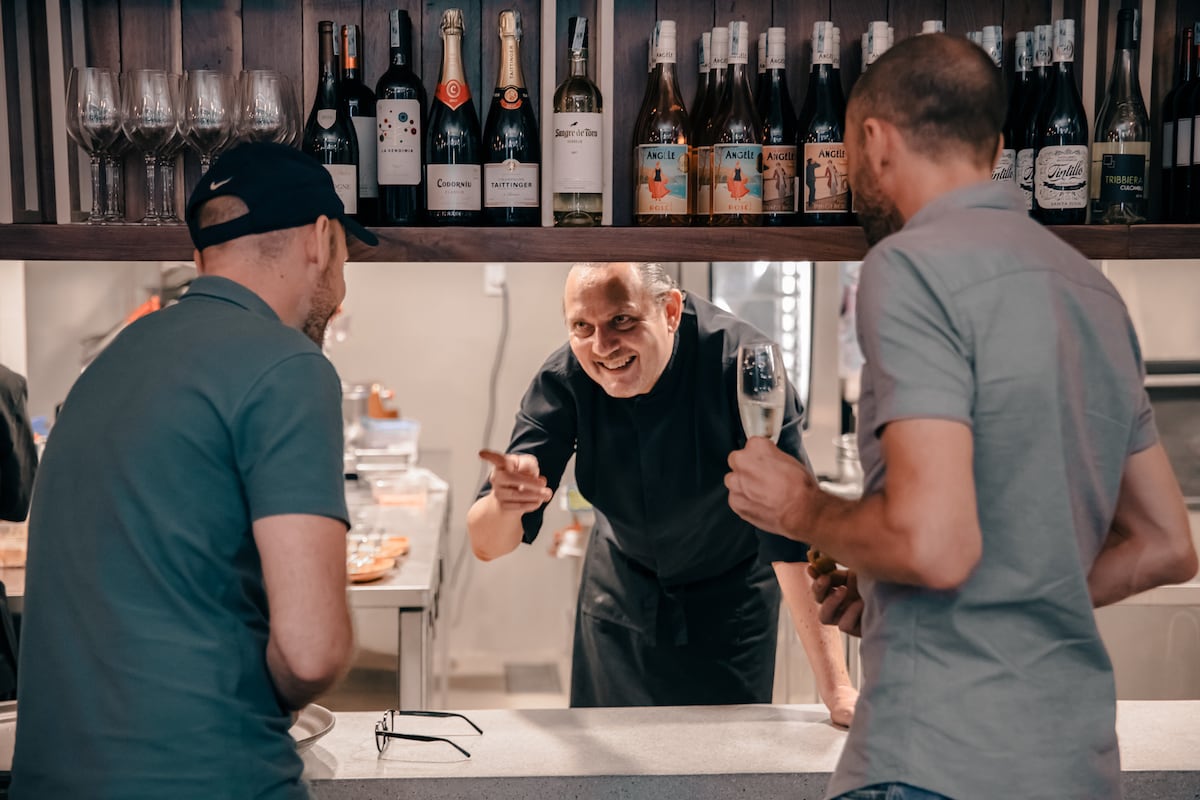 Any hidden features we should know about?
Why would we want to hide anything from our guests? Even the kitchen is fully open for the diners to see the chefs in action!