Although widely known for drawing delicate and elaborate images that clearly depict Vietnamese culture, Michael Angle does not consider himself an artist. He shared that he is a freelance designer, currently living and working in Thai Binh, and is a young person with a burning love for Vietnamese history. Michael Angle hides his real identity because he wanted to be known through his talent and creations, and not by any judgment towards him as a person.
Since when did this love for Vietnamese history start?
I was once booked to restore the drawing of a historical figure at Thanh Liệt temple in Hanoi. When I had to research materials and read about history online, I was drawn to it, especially because I always have a burning desire to turn historical figures into vivid models.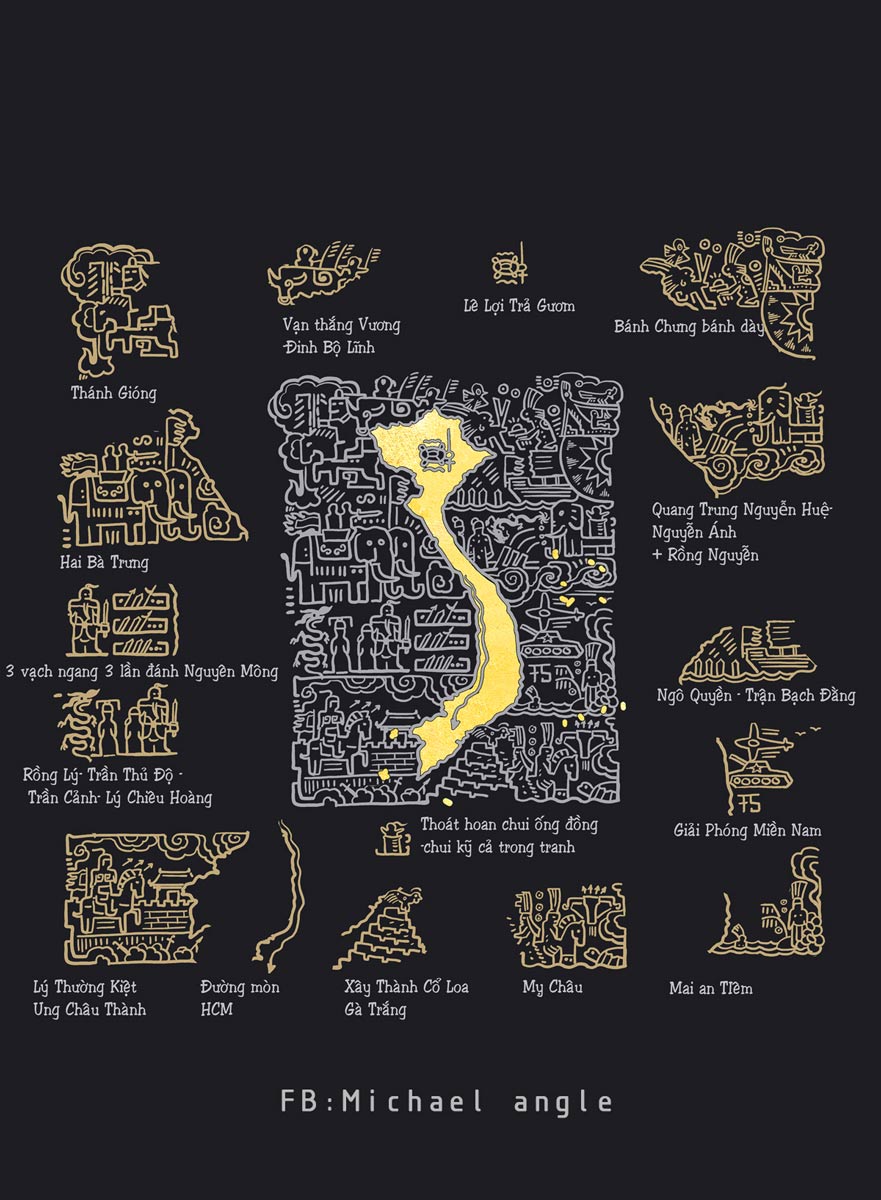 With the help of many history lovers that I encountered in the groups where people share and discuss ancient culture, I have gained a lot of materials and a common passion to create drawings like today. I will keep this passion forever. As long as I have the strength, I will continue to share my drawings with everyone and give them the opportunity to know and understand our history better through arts.
What style do you choose for your sketches?
About the style of drawing historical figures, I didn't do much research and just drew based on my thoughts. It's simply the style of drawing comics. I have invested in coloring following the style of old paintings, trying to make the strokes look like ancient Vietnamese drawings in Hang Trong paintings or Dong Ho paintings, no need to shade in 3D or contour. I want to restore as many figures as possible, and already plan to do five in half a year.
Can you share more about the two works of yours that resonated with the community?
Around mid-April 2021, I completed the Mê Cung Sử Việt (The Maze of Vietnamese History) and 4575 drawings, also on the occasion of celebrating Vietnamese Liberation Day on April 30. The drawing 4575 includes a total of 27 Vietnamese historical events, landmarks, and heroes hidden in pieces that create the Red Flag with a Golden Star. And Mê Cung Sử Việt is a drawing with the map of Vietnam in the center, surrounded by Vietnamese mythical characters such as Mai An Tiem, Thanh Giong, and also real historical events such as Mongol invasions of Vietnam, Southern Liberation for National Reunification, Battle of Bach Dang.
These are the two drawings that I am most passionate about, and were done in only about an hour. The ideas just suddenly came to me, and I was so attracted to it that I focused on drawing, and finished it very quickly. Since I already have two years of experience in drawing and editing, I just grabbed my pen and "went with the flow", as the historical data is already arranged.
What about the SSEN DOLL project?
SSEN DOLL is a project that recreates historical figures in the form of "miniature models" with spherical joints on the body, allowing collectors to create any pose they want for these models.
Currently, although I have not completed any model products, I still focus on drawing and uploading sketches of historical heroes and figures, as well as characters from legends and fairy tales, and upload them onto my personal social media page.
While many embraced your work, there were also those who think your drawings were not realistic. What do you think about this?
I think each character has a specific situation, space, time, and a story that describes their state in the drawing. Within the scope of my knowledge, I can only draw based on what I know. If there are suggestive comments that make sense, I will still be willing to absorb and modify.
There are new works that are only in the concept sketching stage but have already been well received by the community, which gives artists like me a sense of joy. I consider it a huge motivation, so I have to try not to disappoint the ones who love my work.
Besides, I have registered copyright for all my works, just to prevent others from using them for commercial purposes.
Have you ever had a difficult time or felt discouraged?
Difficulties are always present in any profession, and we have to find a way to solve them ourselves. For me, there aren't too many things to think about in life. As long as I am healthy and still have the passion, I'll still do what I need to do. And if I have everyone's encouragement, it's the most important energy booster for me.
I really like the saying that happiness is in the journey, and I am fortunate that I have supporters in this journey of mine. Although the road is arduous, if I keep going, it will lead me to where I should be!
Adapted by Thao Van