The first season of The Bachelor Vietnam has come to a close, but not before making international headlines for its remarkable same-sex love story. When Bachelor Jean-Marc Nguyen Quoc Trung didn't give a rose to Minh Thu in episode five, she announced that she had fallen for somebody else anyway—fellow contestant Truc Nhu.
"I went into this competition to find love," Minh Thu said to Jean-Marc Nguyen Quoc Trung on set with tears in her eyes. "I've found that love for myself. But it isn't you. It's someone else."
Foreign news sources like CNN and Vulture have covered the viral moment. Meanwhile, Vanity Fair commented that the Vietnamese-language adapted show delivered the kind of "ending the Bachelor franchise has always had the potential for, but never delivered—until now." Since the series' debut in 2002, two contestants have never ended the show in this way.
After the intensity of the month-long Bachelor Vietnam show's shoot, they've returned to normal life and the LGBTQ icons now live together. While Truc Nhu continues to work as a stunt woman, Minh Thu is studying to be an actress. She's even taken up martial arts classes with Truc Nhu so they get to spend more time together.
We caught up with the pair at Publik Office on Minh Thu's twentieth birthday, a few days after the show's wrap party. Between spoonfuls of birthday cake, we asked Minh Thu and Truc Nhu about their journey on The Bachelor Vietnam, from their decision to sign up to the culmination of their time on set, and life now the show is over.
Is the Bachelor the kind of show you'd usually watch?
Truc Nhu: Not usually. I prefer comedy or adventure shows.
Minh Thu: I hadn't seen any version of The Bachelor before. But once I knew that there would be The Bachelor Vietnam, I did a bit of research and decided I wanted to apply.
Why did you apply for the show? How did your family and friends react when you applied and got accepted?
Truc Nhu: My friend planned to come with me to register, but she was so busy that I had to go alone. When I showed up to watch the casting I was surprised by the show's slogan. It said, "This man will be the most perfect man you have ever known." I wondered how this could be possible. I wanted to find out for myself what the fuss was about.
My mother just laughed when she heard I would be a contestant on The Bachelor Vietnam. My best friend laughed even louder, and said, "You'd better be gentler and more feminine in how you speak and carry yourself if you want him to like you."
Minh Thu: For me, I was interested in the idea of being one of twenty-four women chasing and exploring our feelings for the same guy.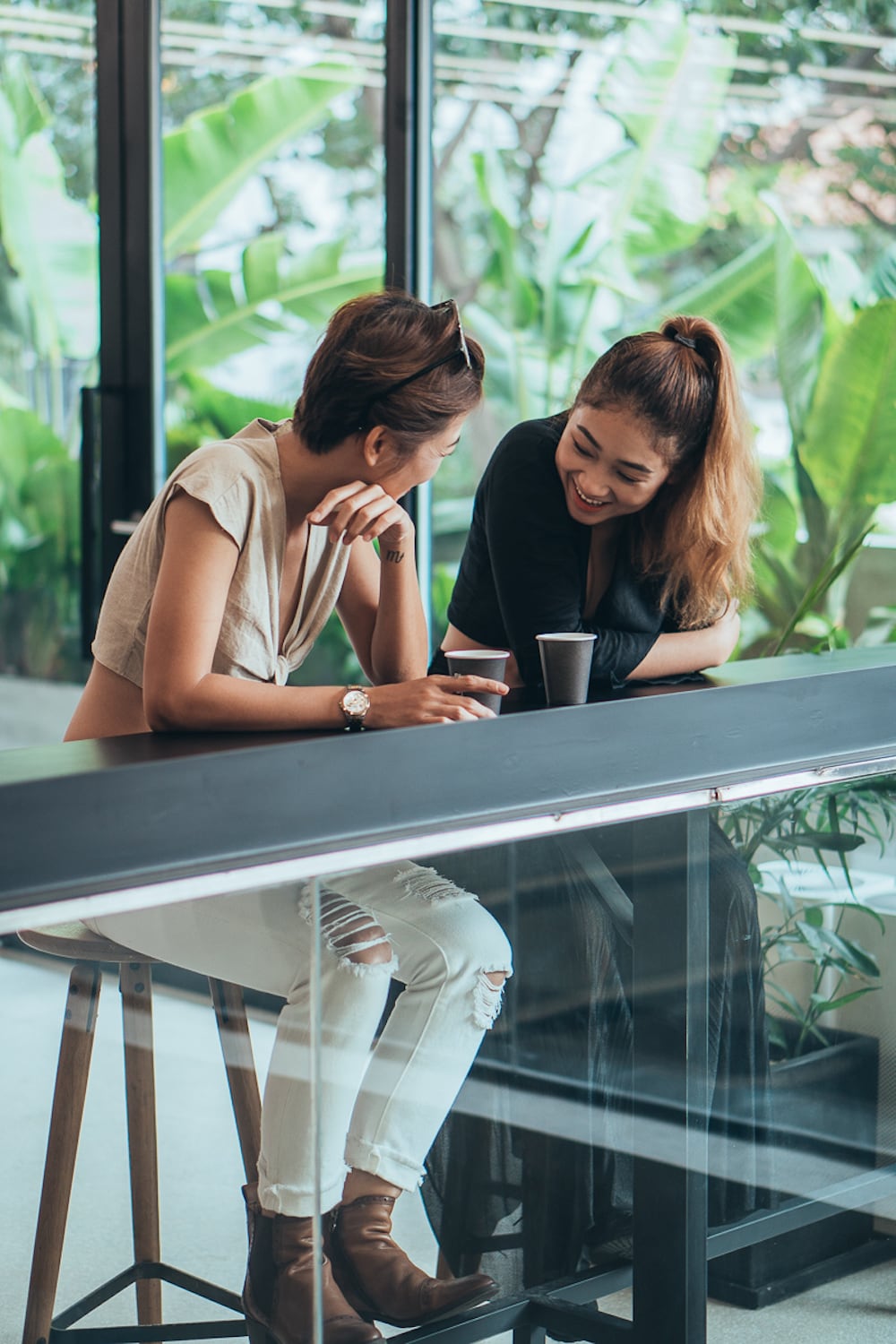 If you could go back to audition time, would you still apply for the show? Would you do anything differently during the shooting of the show?
Truc Nhu: Even though I didn't find love with Jean-Marc Nguyen Quoc Trung, I would absolutely do it all over again. But this time, if Minh Thu confessed her love to me, I would say "yes" right away without a second thought.
Minh Thu: I would too. I value all the beautiful and meaningful memories that the shooting of the show has given to me.
Truc Nhu, you've said you didn't go home with Minh Thu immediately because you weren't sure whether the feelings between you were infatuation. What's the difference between infatuation and love?
Truc Nhu: Infatuation can mean a lot of small things. Infatuation shows up in gestures that touch another person emotionally or actions that make the other person know you care.
But love is more long-lasting. It's best understood as the feeling between two people that they will be with one another permanently. People are willing to change to make the person they love happy. I knew I was in love with Minh Thu when I realized I want her beside me no matter what happens, and when I saw how much I meant to her.
Minh Thu: Infatuation is the feeling when you meet a person and their personality or attractiveness strikes you deeply at that moment. But later, if the story continues, I think that then it becomes love.
After shooting for so long, did you start to forget about the cameras?
Truc Nhu: Like everyone else, there were times where I thought they'd shut off the cameras but they hadn't. So, some of the moments on tape were moments in which I'd believed I had privacy.
Minh Thu: The shoot was a month long, but despite that, and not knowing whether the cameras were on or not, I always tried to control my emotions. I am not usually an impulsive person…
Do you think you might have fallen in love with another girl at some point in life if you hadn't gone on the show?
Truc Nhu: Maybe so. I don't think there is a big difference between a relationship with someone of the opposite sex and a relationship with someone of the same sex. We're all human. We have empathy, we share feelings with others, and we are all looking for a soulmate.
I don't know whether everyone is gay to some extent, or if it's just some people. But I do believe that, if they are, they should be brave enough to follow where their hearts lead them.
You've been praised for your bravery for doing this. How comfortable are you with being suddenly being LGBTQ icons despite never having had a same-sex relationship before?
Truc Nhu: I am just grateful to have met Minh Thu, even if the path to our relationship was unusual. If we can inspire others to be true to themselves, too, I'll be very happy. In that sense, I'm comfortable with being an icon for this cause.
Minh Thu: Of course, I am comfortable to be an LGBTQ icon too. And I want to tell everyone to be comfortable with whatever you choose to do.
What's the most surprising thing you have discovered about each other since you've started living together?
Truc Nhu: Minh Thu eats a lot of snack foods…even at night. She's always saying she's afraid of getting fat.
Minh Thu: I discovered a lot, for example that Truc Nhu is hot-tempered. She always reacts quickly but then calms down soon after. I've also learned she doesn't like cooking—and she's not really good at it anyway—but if I'm exhausted after school, she will cook or heat up some food for me. She is also good around the house, and our place is really clean.
And what's the nicest thing about having a relationship with a woman?
Truc Nhu: We can share clothes since we're the same size!
Minh Thu: I think there are some differences in how men and women feel when they are in love. But before finding true love, and marriage, with anyone I think there needs to be knowledge, experiences, and even some failures to understand who we are and how to be in any relationship. I can't say much more than that for now, other than I feel very satisfied. Truc Nhu's my soulmate.
Have you introduced each other to your families? If so, what were their reactions?
Truc Nhu: Minh Thu already visited my home. My mother regarded her as another daughter and now she treats her like a member of the family. I haven't had the chance to visit Minh Thu's home yet, but I'm excited to do so.
Minh Thu: Yes, I hung out with Truc Nhu's family. They left a good impression on me, and I didn't feel there was any issue from her family when we came out. We are also going to go to my mother's hometown soon.
Do you think relationships like yours or even the bachelor's can survive under so much public attention and scrutiny? What's the secret to staying sane?
Truc Nhu: I believe our relationship can survive as long as we listen to one another when we have concerns. But there's no staying sane. The best Minh Thu and I can do is to go crazy together! That is, we can choose to ignore the constant scrutiny and just live our lives how we want.
Minh Thu: Being in the public eye does affect a relationship. We are aware of that, and we can try to limit its effects, for example, by having a safe place we call home where we can go after work or studies and cut ourselves off from outside.
Have you been recognized around town? And if so, what kinds of things have people said to you?
Truc Nhu: I've been noticed about five times since the show was on the air. Once, someone tried to take photos, but when I saw, he hid his phone. Another time somebody asked me, "Where is Minh Thu?" It's definitely strange being recognized for my relationship with another contestant on the show, but I don't mind.
Minh Thu: Yes, on the street, at school, at the spa, at the gym! But everyone has been really nice. They tell me they watched the show and really liked me and Truc Nhu. Some took photos of me…
Saigon has few dedicated LGBTQ venues. Do you think it should have more? Have you been to any LGBTQ events before—or plan to in the future?
Truc Nhu: I've never really been involved in the LGBTQ community, so I haven't been to events in Saigon. One day I hope to attend an LGBTQ-focused event so I can better understand what it's like for others to be gay or bisexual in Vietnam.
If you launched a spin-off TV show, what would it be about? What other projects would you like to do together?
Truc Nhu: Our spinoff show would be about how our feelings have matured, from the moment we realized we were in love to the day we really committed to one another. We hope to create a YouTube channel through which we can share things about our daily lives. It would make a great movie too—two women who begin by chasing a man but find love between each other.
Minh Thu: A TV show would be a good place to share more about our story. I feel so fortunate and grateful to hear people say our story is an inspiration to them. I would really like to do something more meaningful and practical for the LGBTQ community. We have been thinking about it…