Friendly, talented, good-looking – these three words best describe young Canadian singer-songwriter Johnny Orlando, who Vietcetera had a chance to meet in an exclusive video interview.
His music career began at the age of 8, with some music covers posted on YouTube. The charming singer quickly amassed a loyal fanbase, and soon became a rising superstar in Canada, seemingly following the footsteps of Justin Bieber and Carly Rae Jepsen.
Johnny Orlando is gradually cementing his position in the entertainment industry. With his music getting more than one billion streams and the many nominations and awards he had garnered over the years, including MTV Europe Music Award for 3 years in a row, there's no doubt he's taking over the spotlight.
The singer just finished his tour in North America, and is planning to release his first album this year. Amidst a very tight schedule, Johnny Orlando took the time to share exclusively with Vietcetera his musical journey, dreams and goals, and what he thinks of his growing fanbase in Asia and Vietnam.
1. Having your first tour after two years, how do you feel to be on stage again?
To put it simply, it was awesome, especially after two years of not seeing people. Although this tour only had six shows, so more like a mini-tour, to really have a taste of it again and get back on stage was an amazing experience. Montreal is my favorite show so far.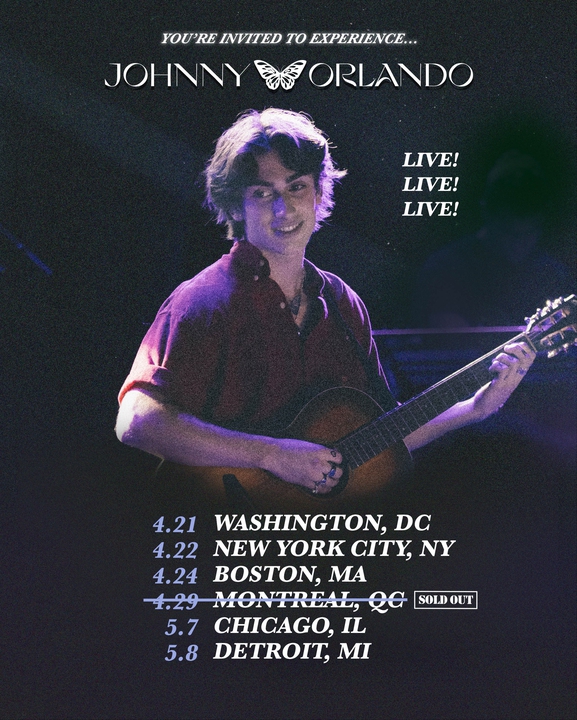 2. How did the last two years of COVID and lockdown affect your music?
It definitely made me dig deeper into myself to find things to talk about. I would still talk about the same situations over and over again, but more deeply or from a different viewpoint. It was challenging, but also a learning experience for me.
I know a lot of people tried out knitting, baking, cooking, and different activities during the lockdown, but I was just working the whole time, making more music. I learned to record by myself, which is a big step. It takes a very long time to be good at it, or be OK at it since recording is a full-time job in itself. I'm not amazing, but at least I was able to experience and learn it by myself.
3. You started your singing career at a very young age, by posting covers of pop songs on YouTube. How did you evolve into being a full-fledged professional singer?
In my mind, I've always been a full-fledged professional singer. I feel the same way as when I did covers back then. To get everybody to believe in that is a big challenge. I know it's definitely different to be signed to a label than just making or covering music on YouTube. It was a very natural progression over the last 10 years. There have been many things that have happened in a decade. I and my music, along with my fans, have grown up a lot.
So everything that has happened to lead me to where I am now is the product of doing things right — having integrity, working hard, and appreciating people who love you.
4. Your latest song "Someone will love you better" was released in April. What is the core concept of this song? How does it relate to the rest of the album you're about to launch?
The concept of this song is an interesting story about my girlfriend's brother. He was dating a girl for nine months and fell in love with her. It gets to the point when he had to tell her that it was over and that the feelings have subsided in some ways.
When he shared with me this story, it was very sad and weird when you come to think that you are not in love with somebody who meant the world to you a few months ago. I cared about the story so deeply that I decided to write a song about it.
As for how it relates to the rest of the songs in the album, the whole album is mainly about love and relationship. However, sonically the song had very big vocals, very spacey, especially the pause. There is also a lot of reverbs. It is conversational, just like me telling a story to my friends.
5. Your EP, "It's never really over," reveals some of your insecurities. What different kinds of insecurities have you explored in this album?
I feel like the upcoming album is an expansion of that EP. I do talk about insecurities, the biggest of which are insecurities in a relationship and insecurities as a person overall. The title track is about how I'm scared to be in a relationship and how I'm afraid that I'd just come crashing down. I think that is the product of insecurity: not being able to believe in myself and let myself be happy.
The album expands on my personal insecurity, anxiety, and depression.
6. Which artists inspire you the most in terms of music production?
It's definitely Kanye West. Billie Eilish is another artist who I learned from a lot. I remember that she changed the game when she came out. I also think about Post Malone a lot when I write a song. His chord is so incredible and captivating. I take many little things from million different artists, some of whom I am not really a fan of but just certain things about their songs that I really like.
7. Aside from music, you also did some TV and film projects. Can you share some of the movies you've participated in and the characters you've played?
Honestly, I can't remember them all. It's been so long, and I don't really think much about it.
I haven't done big movies, just some smaller TV shows, voice acting, and appearances in movies. I am really not an actor, nor do I want to be at this point. I did the acting thing for a while but it's doing music that I really love. Acting is like a side job while I was waiting to be old enough to do music.
8. Have you considered giving up on music one day?
I did think about retiring from music. When I first started, I thought that when I went to high school, I would stop. But then I was doing shows for 3-4 years so I realized that it was already beyond just a YouTube project. Though sometimes the stress is overwhelming and I do get very stressed out. Sometimes, I just want to curl up in a hole and not do it anymore. But, ultimately I love making music.
9. Many people in Asia are rooting for you and your music. Do you plan on an Asian tour one day?
I'd love to! That's the answer I want to give to everybody, but I'm also sorry for not having a solid plan. I think within the next year I would plan to have a tour around Asia, especially Southeast Asia. The people there give me so much love and support, and I would love to see them in person. Still, everything is not solid yet.
10. Do you have any message to Vietcetera readers?
First of all, thank you for watching and caring for me. I still have a lot of stuff on the way and stuff I have been working on for a very long time. If you've stayed until this point, hopefully, you'll stay for that as well. I love you guys and thank you for all of your support. I hope I can see you in person someday!