Nespresso, the worldwide pioneer and reference in premium portioned coffee celebrated its launch in Vietnam with its first new concept Boutiques at Annam Gourmet Estella Place, Thu Duc City, and Annam Gourmet Phu My Hung, District 7 to bring the ultimate coffee experience to Vietnamese coffee lovers anytime, anywhere.
Fabio De Gregorio, Regional Business Development Manager says: "At Nespresso, we always aim to bring the highest quality coffee and the richest aromas in all our varieties and in a sustainable fashion. With a touch of a button, we have brought the world's best beans into homes, offices, hotels, restaurants and cafes delivering the ultimate coffee experience to our customers, cup after cup. Today, Nespresso is known around the world for its commitment to coffee quality, innovation and sustainability. We are confident that this partnership with Annam Gourmet to open our very first Boutiques in Vietnam will bring delight to coffee lovers in the country." 
An immersive coffee experience at Annam Gourmet Estella Place and Phu My Hung
Nespresso brings sustainability to the forefront through the finishes of its new Boutique store at Estella Place and Phu My Hung. Deliberate and meaningful, the new Boutique is designed to celebrate coffee and its origins. The muted color palette of rich brown and crema-inspired gold blends to a luxurious atmosphere that calms and satisfies the senses. Vietnamese coffee lovers and shoppers can now indulge and explore the multi-sensory experience that Nespresso promises through its wide variety of coffee range.
The last drop isn't the last use 
At the heart of Nespresso lies its dedication to create innovative solutions that ultimately protect and benefit society. You can positively impact the lives of many people by participating in Nespresso's recycling program, which entails dropping off used Nespresso coffee capsules at the Nespresso Boutique at Annam Gourmet Estella and Phu My Hung. All Nespresso capsules are made with aluminium, which is infinitely recyclable. Once separated from the aluminium casings, the used coffee grounds are sent to farms to be used as compost fertilizers, while the aluminum are sent to our partnering smelter for upcycling into everyday objects.
Sebastien Lestang, General Manager at Annam Gourmet says: "At Annam, we are delighted to announce the launch of our first Nespresso Boutiques in our two stores Estella and Phu My Hung. We are aiming to bring most premium and qualitative products to our customers and we hope they will enjoy as much as we do". As part of our green program, we will continue and further enhance our collection program of all used capsules that our customers will bring back to us for recycling.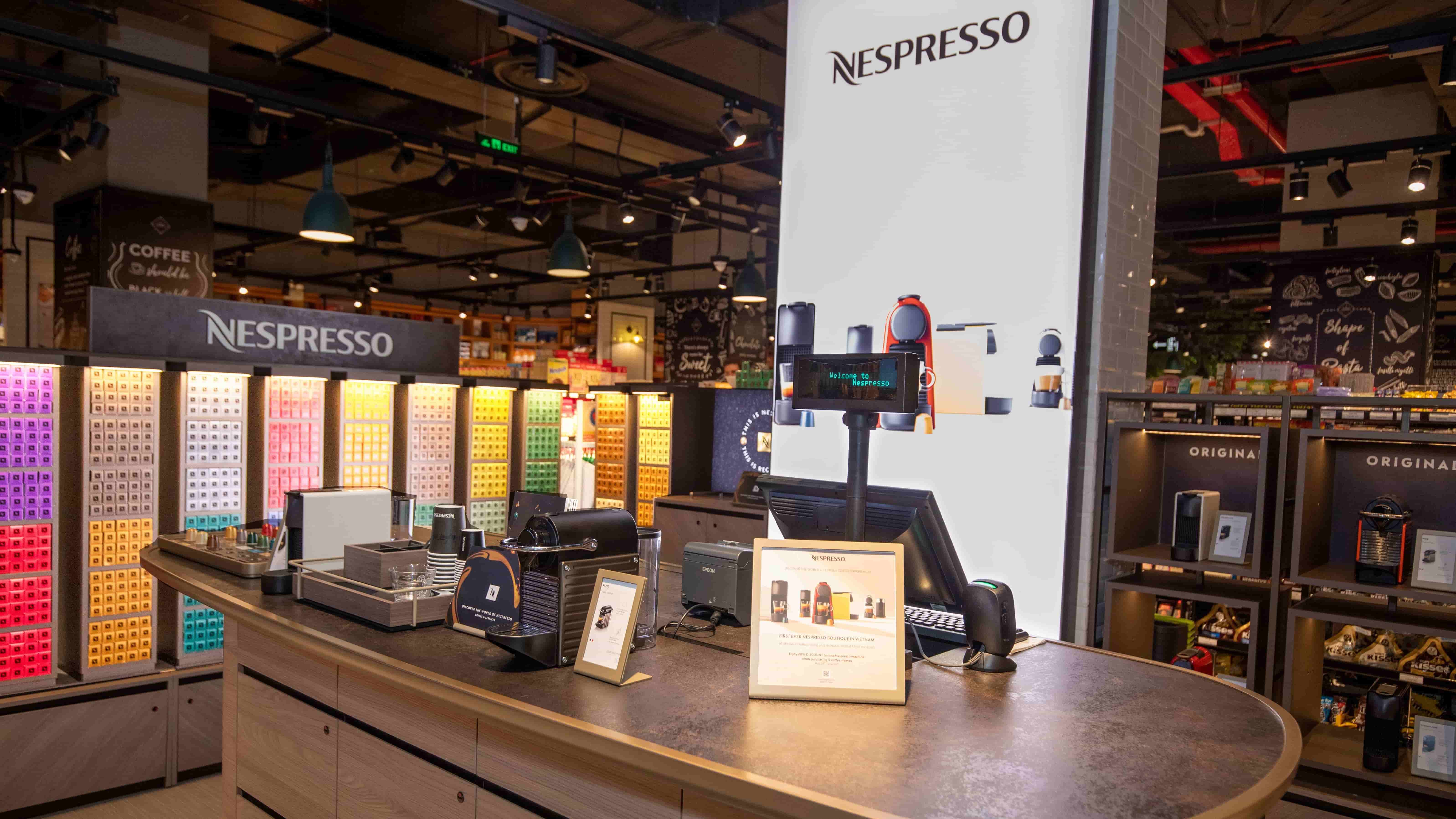 Nespresso Boutiques at Annam Gourmet are located at 
L1, 21/22/24, Estella Place, 88 Song Hanh Street, An Phu Ward, Thu Duc City, HCMC
Riverpark Premier, 64-70 Nguyen Duc Canh Street, Tan Phong Ward, District 7, HCMC.
Ecommerce website www.nespresso.vn 
Customer relationship center, 1800 234 506 (10am – 06pm, Mon-Fri)
Guests are invited to discover the new Nespresso Boutiques at Annam Gourmet Estella Place and Phu My Hung, which opened to the public on 24th May 2021. 
#NespressoBoutique #NespressoVN #CoffeeExperience
About Nestlé Nespresso SA 

Nestlé Nespresso SA is the pioneer and reference for the highest-quality portioned coffee.  The company works with more than 110,000 farmers in 15 countries through its AAA Sustainable Quality™ Program to embed sustainability practices on farms and the surrounding landscapes.  Launched in 2003 in collaboration with the NGO Rainforest Alliance and later joined by Fairtrade International, the program helps to improve the yield and quality of harvests, ensuring a sustainable supply of high-quality coffee and improving the livelihoods of farmers and their communities.

Headquartered in Lausanne, Switzerland, Nespresso operates in 82 countries and has over 13,900 employees. The global retail network currently operates 809 Boutiques in 532 cities. For more information, visit the Nespresso corporate website: www.nestle-nespresso.com.