Breathing and working in Saigon, Nguyen Phuong Dong is currently the Founder and CEO of Loop Central and Hot Panda Media. He is also a Producer/DJ. Phuong Dong can play several instruments such as drums, guitar, and keyboard. Even though his family members all love music, Phuong Dong is the first to decide to pursue a career in music.
Aside from working on personal projects, Phuong Dong is currently managing artists (WEAN, Naomi, Kha) and DJ/Producer (GET LOOZE, Monotape, Steji, BeepBeepChild, Tenkitsune). With the decision to work in the music industry, Dong shared with us his experiences, as well as the qualities, the necessary and sufficient conditions to become a good artist manager in Vietnam.
Could you share with us a bit about your background?
I lived in Vietnam most of my school life. After graduating from high school, I went to the US to study marketing. Although my field of study was not very related to music, I still found ways to study other courses that supported me to pursue the music or entertainment career path.
After many years of studying, there finally came a more specialized class on entertainment marketing. I learned a lot from that class, from scheduling release dates, building a marketing plan, to how awards like Grammy, Oscars, Emmy work. Although very interesting, unfortunately, the knowledge that I received there was not applicable in Vietnam.
Why do you want to work in the music industry?
Back in the US, the most memorable memory was when I and a few friends waited until around 4-5 AM to meet our idol at that time, Steve Angello. He's one of the three members of Swedish House Mafia, a Swedish house music supergroup. I had the opportunity to talk with him, learned a lot. This later nurtured my dream of working in the music industry.
When I met Vietnamese artists and their crew, I realize that their skills and qualities are able to compete with other international artists. Therefore, I decided to learn more about the music industry to help artists not only be creative but also grow their business based on making music.
My most memorable experience was when I worked as a Marketing Manager for Deadmau5's concerts in Saigon and Hanoi in 2018. Working on that show, I felt the proficiency and professionalism of a world-class team. The team had to work for months in advance, along with other departments of Deadmau5's side, to finally welcome nearly 2,000 spectators on his first show in Vietnam. The emotion from that night made me want to build and be a part of such a team.
My ultimate goal is to learn more about the music industry. This will help Vietnamese artists to turn music into their main source of income, enough to live on and develop in their own way.
What are the two biggest projects that you are working on at the moment?
My "passion project", Loop Central, was established in 2017 which is still operating in a non-profit form now. The main purpose of Loop Central is to introduce urban contemporary Vietnamese music and artists.
On the contrary, Hot Panda Media is a project that focuses on music business for artists, labels, and companies. Its purpose is to professionalize music in Vietnam and bring Vietnamese artists to the international market. Currently, Hot Panda Media is directly managing artists such as WEAN, Naomi, Kha; producers, and DJs like: GET LOOZE, Monotape, Tenkitsune, BeepBeepChild, Steji.
Who have been the most influential people in your life?
I am very fortunate to have met, worked, and learned from many seniors, and even juniors. For me, anyone who works in the music and entertainment industry has their own stories and experiences that I can reflect on and learn from. 
The four most influential people in my career that I must mention are:
DJ/Producer Kid Massive: Kid Massive is like my mentor, as he has many interesting experiences on different ways of thinking and perspectives when working in the creative industry.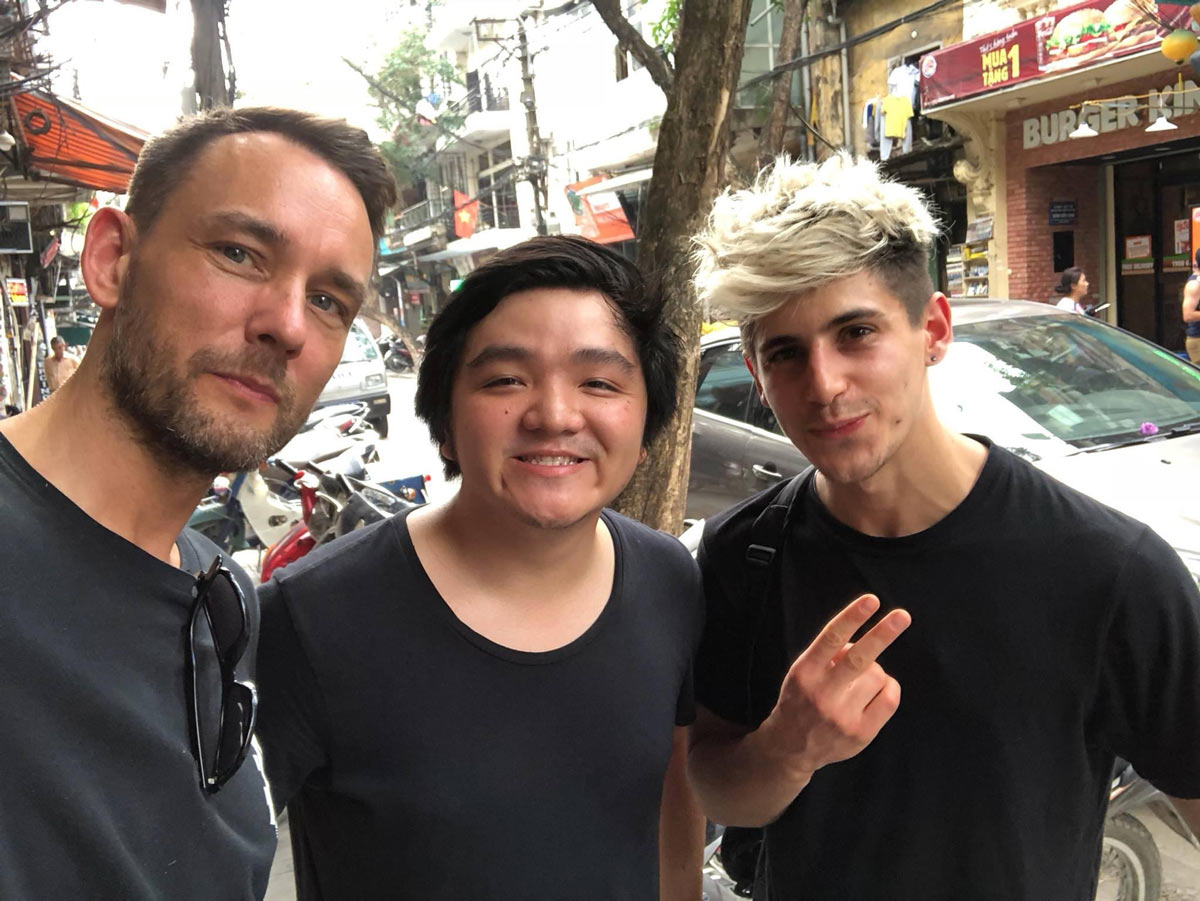 Dustee Nguyen and Tia Lieu from 1900: I really appreciate their love for music and their burning desire to help Vietnamese artists. Their work ethic and passion are always a great source of motivation for me.
Priya Dewan from The Orchard: Hot Panda Media is fortunate to have a great partner like The Orchard, and especially like Priya. Her professionalism and her intention for everyone to develop together inspire me to always help those around me, regardless of the immediate benefits.
What do you think of the artist management "job" in Vietnam at the moment?
The artist management "job" in Vietnam is still in its infancy but is also developing very quickly. Because Vietnam is still a new market, it still lacks many facilities and legal standards, so we still have to explore. This is the time that we can build the first solid foundations for the national entertainment industry to help artists to develop.
What are the necessary attributes of a good manager?
Work Ethic: Managers need to understand that although this is a fair relationship between manager and artist, the artist's interest is still a priority. Imagine this job as you and the artist are the operating parts of the machine, working together to keep it running smoothly. Don't let your ego or self-interest negatively affect your artist.
Professional Expertise: A person or a management company needs to understand the process of many different parts of the music industry, such as distribution, copyright, or how to work with record labels, PR/Marketing, booking agency. Knowing almost all the basic aspects will help the manager to give the best advice and make the best decisions for the artist.
What are some of the challenges of working as an artist manager?
Currently, the domestic market does not have any standards, specific practices or guidelines of how to be an artist manager. And not all online materials can be applied in Vietnam, so it is often difficult to make totally correct decisions.
Besides, artists also need to be familiar with following the international standard requirements when working. Some concepts of work that seem so normal internationally may be something completely new in Vietnam, and not every artist can adapt or feel comfortable changing.
Do we need a professional team to manage an artist's career?
Of course, it's essential. The entertainment industry is still very new and attractive to young people. This is when they really need the materials to learn the basic skills to help them adapt. Without this, companies need to continuously invest a lot of time and effort in training people to meet evolving expectations.
How flexible are you when working with the team?
I've been to some shoots that lasted a whole day, some even could last until early morning. Or when I need to talk to international partners, I have to wake up at midnight. As the timetable changes frequently, this also affects my other activities such as entertainment, family, and health care.
My team and I have been working together for a long time, so everyone understands each other quite well. This helps us to be ready to support each other to ensure the best quality of work. This flexibility allows me to have an overview, orient, and stay by my team's side to come up with solutions to problems.
Any advice you want to share with those interested in becoming an "artist manager"?
My sincere advice is to thoroughly research and study the various aspects related to music. Not only that, but you also need to learn about legal regulations and business problems from the industry.
As the person who works side-by-side with the artist, you will need to have the correct answer for everything, which will make you an asset. You can start learning from working at small companies, or as an assistant at large companies, or find ways to learn directly from experienced seniors. From that, we could support and help each other so that both the community and the industry will move forward together.
Adapted by Thao Van