Home to a soothing 135 kilometers of coastal front in South-Central Vietnam is an untouched destination you've most likely never heard of or been too; Quang Ngai and nearby Ly Son Island.
Located just 100 kilometers south of Hoi An, and nearly smack dab in between Hanoi and Ho Chi Minh City, the best way to travel to Quang Ngai will require both an airplane and a bus, as the province has yet to build an airport.
From Saigon or Hanoi, the fastest means of transport is an initial flight to Chu Lai. From there, visitors can travel to Quang Ngai City by bus, which takes 3-4 hours. Of course, you can always opt for a taxi if your pockets are full and local buses aren't your thing. But if local isn't your thing, go ahead and turn around now. This spot might not be for you.
Everything Online Says There's Nothing to Do…Wrong!
Tuan Hai
Vietnam's Own 'Great Wall'
Perhaps one of the biggest archeological discoveries for Vietnam throughout the past 100 years was the 2011 unearthing of their very own version of the Great Wall of China. Deemed as the largest monument in all of Southeast Asia, some sections even reach heights of up to 4 meters tall, which support 50 forts along its routes.
Excavation broke ground in 1819 and the wall is said to have been used to maintain security and assist in levying taxes between the Viets and the Hrê tribe, people from the outer mountain valleys. The wall sets its course in Quang Ngai and sprawls 127 kilometers southward into the province of Binh Dinh, and could be one of the most significant achievements of the Nguyen Dynasty.
Ly Son Island
It's perhaps the most traveled and rapidly developing land in Quang Ngai province boasting a fair amount of hotels, homestays, guesthouses and even a resort. From its paramount viewpoints overlooking completely untouched ocean, clear waters bursting with coral reefs and volcanic sedimentary rocks, said to be millions of years old, Ly Son Island should be near the top of the list if you travel to Quang Ngai province.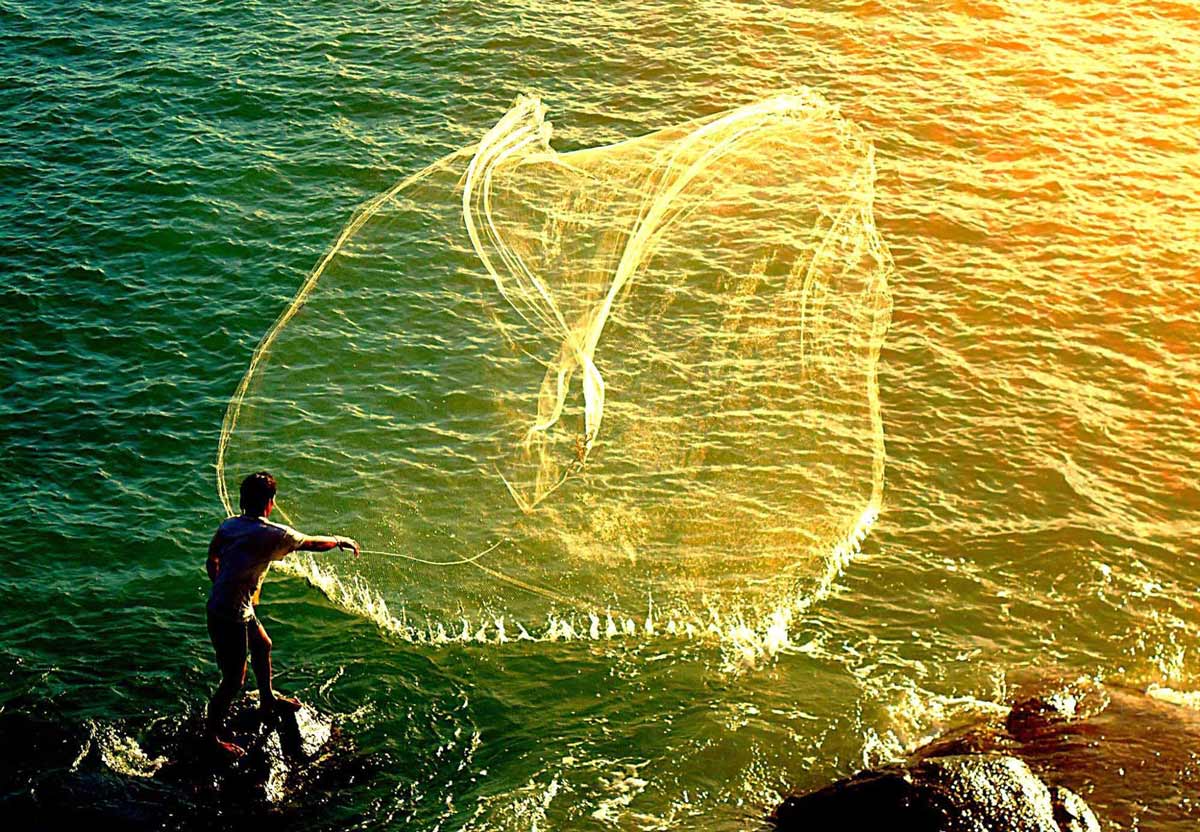 Tuan Hai
Sa Huynh Beach
Sitting 85 kilometers from Quang Ngai City is one of the most underrated strips of beach in the country, Sa Huynh. Explore the golden coastline bordered by pine trees and take in the panoramas of open skies and blue waters. Sa Huynh beach is also the best spot to acquire good accommodation in the region, and the Sa Huynh Resort is the most well known by a long shot.
Tuan Hai
My Khe Beach
If you like deserted, unfacilitated shoreline and your own private party on the beach, then take a drive 15 kilometers from Quang Ngai to My Khe. This 1 kilometer strand is an idyllic place to escape for the afternoon and enjoy your own slice of Vietnam. Take note, My Khe beach is also on the way to My Son Memorial, and would make for a nice refresher after the tough experience one might endure when visiting the war museum.
Tuan Hai
My Son Museum and Memorial
An absolute gut-wrenching, but necessary experience and honorable monument to the victims of the Son My village during the American War. Although it might not be particularly enjoyable, it's a key attraction to Quang Ngai, and the least we can do to show our respect to Vietnam's people and history.
Thien An Mountain and Pagoda
'Thien An' Mountain towers at 106 meters and closely resembles a seal from a distance, hence its name 'Niem An Thien Ha' or 'Heaven Seal'. The journey to the top provides sweeping views of Quang Ngai City and the surrounding region, and is best accessed by a motorbike or vehicle.
At the top of the summit lies the revered 'Thien An' pagoda. Built in 1695 and home to two religious relics; the 'Great Bell' and 'Buddha Well' both of which have remained intact since the temple's construction. The pagoda houses a main worship hall, an area dedicated to ancestral monks and tomb towers for deceased Buddhist masters.
Tra Khuc River
The 'Tra Khuc' river is a widely known destination for those that travel to Quang Ngai, Vietnam. It spans 150 kilometers and works its way through mountain formations and crags at 2,350 meters above sea level. As it cuts through the city, it provides numerous spectacular views along its route.
Don't Be Shy. Eat Like A Local
Food is the first and primary step to understanding a culture, and Vietcetera encourages you to eat like a local. Don't be one of those travelers that eat burgers and pizza everywhere you go. And no, fried rice doesn't really count either. So, here it is, our brief guide to some of Quang Ngai's most cherished traditional fares.
Don Quang Ngai: Extremely small snails exclusively from the 'Tra Kuc' river served in a soup with onion and grilled rice paper. Simple but meticulous, and very close to the hearts of those that grew up there.
Oc xa cu: Another dish that is only available in Quang Ngai due to the abundance of 'Mother of Pearls" on Ly Son Island. This dish contains snails and pork fat stir-fried with lemongrass and chili.
Keo mach nha: This local candy is a treat for the sweet tooth, and made from the malt sugar of rice grains. 'Keo mach nha' is flexible but not too tough and its sweet, dark yellow components make for a sticky delight.
Ca Nuc hap cuon banh trang: Another popular meal with fresh, regional flavors are rice paper rolls made with scad fish. The fish is seasoned with onions, spices, peppers and chopped chili before being steamed. It's usually served with morning glory and an assortment of other vegetables, rolled up and then dipped into a pungent, but satisfying local fish sauce.
Banh xeo Quang Ngai: Many of us already know and have tried 'banh xeo' or what many call the Vietnamese pancake. However, Quang Ngai whips up their own version which is much smaller, (about the size of your fist) and maintains a texture that is much more thick and crispy than its sizeable, often flappy counterparts. Yum.
Mam nhum: Grab a Sa Huynh sea urchin, slice it open and take out the flesh, sprinkle some salt on it and wait ten days. Spice it with Ly Son garlic and uncrushed black pepper and you have sea urchin paste. Often served with noodles or, even better, sliced pork rolled up with rice paper.