Speaking about resorts in Vietnam, and the first (and often only) thing that comes to most people's minds would be beaches lined with palm trees along crystal clear waters. Fair enough. But do you know that most of Vietnam is actually covered with highlands and mountains? Like three quarters of the entire country? And that Vietnam is also home to about 50 highland ethnic groups with some of the region's most colorful traditions and festivals?
There's simply an amazing world up there that the beachgoers are missing. And even better, summer is considered off-peak season for the highlands, which means that some of the finest resorts in Vietnam will be offering discounts to entice travelers. With stunning landscapes, relatively unspoiled ethnic tribal villages and world-class biodiversity, the highlands of Vietnam promise a lot of drop-dead gorgeous views and extraordinary experiences.
Dalat Edensee Resort (Dalat)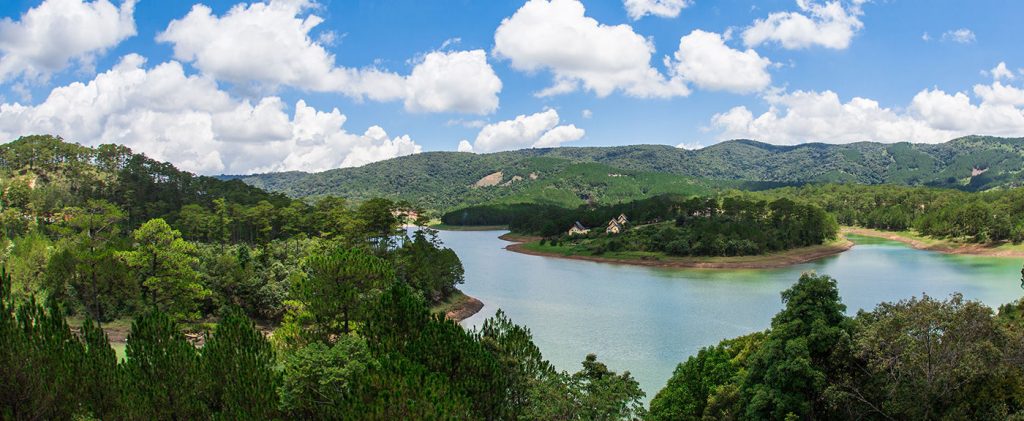 From its very inception as a "hill station" for French colonial administrators, Dalat has always been a favorite year-round vacation destination for both Vietnamese and foreigners. Once considered the "summer capital" of the entire French indochina, Dalat has plenty of gorgeous French colonial villas amidst lush forests, and the French culinary influence can still be felt in the city's excellent jams and desserts.
Situated right next to the shimmering waters of the Tuyen Lam Lake, Dalat Edensee is just a 40-minute drive away from the Dalat airport and a 20-minute drive from the city center. With towering pine trees, stunning vistas of the lake and thick mists in the early morning, this is the place for people seeking a bit of Europe in the tropics.
With 120 rooms, Dalat Edensee is the second largest resorts in this list, boasting three restaurants and a café, plus a spa center. The rooms are quite affordable, ranging from $110 superior double rooms to $200 suites. They are running a special early bird discount for the summer.
Mai Chau Ecolodge (Hoa Binh)
Located up in the northwestern highlands of Vietnam, Mai Chau is one of the most important heartlands of the Thai ethnic group, and then became famous nationwide via the popular Vietnamese war poem "Tay Tien" (The March to The West). According to experienced travelers, one of the best times to visit Mai Chau would be from March to April, when the pristine white ban flowers bloom all over the mountains and the locals celebrate the coming of spring. Another time would be from October to December, when the landscape is again blanketed with the white peach and plum blossoms.
Sited near the nature preserves of Pu Hu and Pu Luong, Mai Chau Ecolodge is just 140km away from Hanoi and yet feels like a entirely different world. Surrounded by lush mountains and rice paddies, the four-star resort is designed like a hilltop village that blends in seamlessly with the surrounding landscapes, and offers a perfect home base for hikers and cyclists. Sourcing food from nearby farmers and fishermen, its restaurant serves iconic ethnic Thai dishes such as five-color rice or grilled goat meat. Add to this mix a sizable pool and poolside bar, and let's say that Mai Chau Ecolodge has got a winning combination here.
For such a gorgeous retreat, Mai Chau Ecolodge is surprisingly budget-friendly. Rates for the 43 rooms here start from a mere $65 for a superior double room, to just $250 for a deluxe family suite.
Swiss Belresort-Tuyen Lam (Dalat)
Though its name is a bit of a misnomer (it is located not next to the Tuyen Lam Lake, but the Tuyen Lam Road), Swiss-Belresort has got things right with the "Swiss" part. A five-star resort with a faux-Tudor facade sitting within walking distance of the 18-hole Sacom golf club, this place offers plenty of fresh air and gorgeous vistas.
With an astonishing number of 151 rooms, the room rates of Swiss-Belresorts rarely goes over $70 per night, definitely making it the most affordable resort in this list.
Topas Ecolodge (Sapa)
A 40-minute drive away from Sapa, one of Vietnam's most renowned tourist spots, Topas Ecolodge is a hilltop resort that offer otherworldly views of the surrounding mountains and valleys. Here, you can hike or cycle (there are free bikes and helmets) around the area and see for yourself how the mountain tribes cultivate their famous terraced rice fields and go on their daily lives. Mostly staffed with tribal people, Topas also places a strong emphasis on environmental sustainability and social responsibility.
The 25 rustic mountain bungalows at Topas Ecolodge are reasonably sized and well-furnished, with rates usually being around $130 per night. There is a direct limousine service from Hanoi that will take 5 hours to arrive at the resort.
The best times to visit the area would be either from March to May, when the wild flowers bloom across the valleys amidst the green expanses of rice, or from September to December, when the rice paddies become fields of gold and white plum blossoms blanket the mountains. In recent years, due to climate change, there's also a high chance of snowing from December to February.
Last, but not least, have we mentioned that Mark Zuckerberg and Priscilla Chan once stayed here for Christmas?
Ana Mandara Villas Dalat Resort (Dalat)
Yet another resort in Dalat, Ana Mandara stands out as a collection of 17 authentic and well-preserved French colonial villas dotted along the hillsides. Hence, it is the perfect place for those who want to immerse themselves in Vietnam's richly detailed colonial history. You can even have your own private lunch or dinner party in the villas, should you feel like reliving the old aristocratic atmosphere.
According to TripAdvisor, this is also the second-highest rated hotel in Dalat. There's a bit of everything for everyone here, from a spa and a pool to a mini golf course and an organic vegetable garden dedicated to the resort's restaurant.
For such an amazing place, Ana Mandara is surprisingly budget-friendly. Rates for the 72 rooms here often hover around the $110-130 mark.
Belvedere Tam Dao Resort (Tam Dao)
Another hill station founded by the French colonial government, Tam Dao owes its fame to the gorgeous mountains and waterfalls of the nearby Tam Dao National Park. Its quirky marine-themed name (Tam Dao means "three islands" in Vietnamese) is actually a great description of the park's three highest peaks, which do look like three islands floating amidst a sea of mist in the early morning.
Located just a 2-hour drive from Hanoi, one of Belvedere Tam Dao's biggest selling points is its infinity pool overlooking the nearby mountains and forests. There are also a gym and tennis courses for the athletically inclined guests.
Belvedere Tam Dao's 48 rooms are reasonably priced, ranging from $90 (garden view) to $110 (mountain view) for the double rooms. There are also luxuriously sized suites (90 m2) that costs about $320 per night.