As Vietnam's restaurant scene continues to evolve, the number of outlets serving Mexican cuisine is growing too. Inside these restaurants, the taco—the traditional Mexican corn or wheat tortilla with filling—is being served in many ways from authentic recreations to innovative localizations.
Tomatito, is the "sexy tapas" joint that was born in Shanghai under chef Willy Trullas Moreno. They opened their Saigon branch last year, led by Mexican head chef, Julio Gomez. Besides cooking creative Spanish tapas, Julio, who was born in Mexico City, is a natural taco aficionado.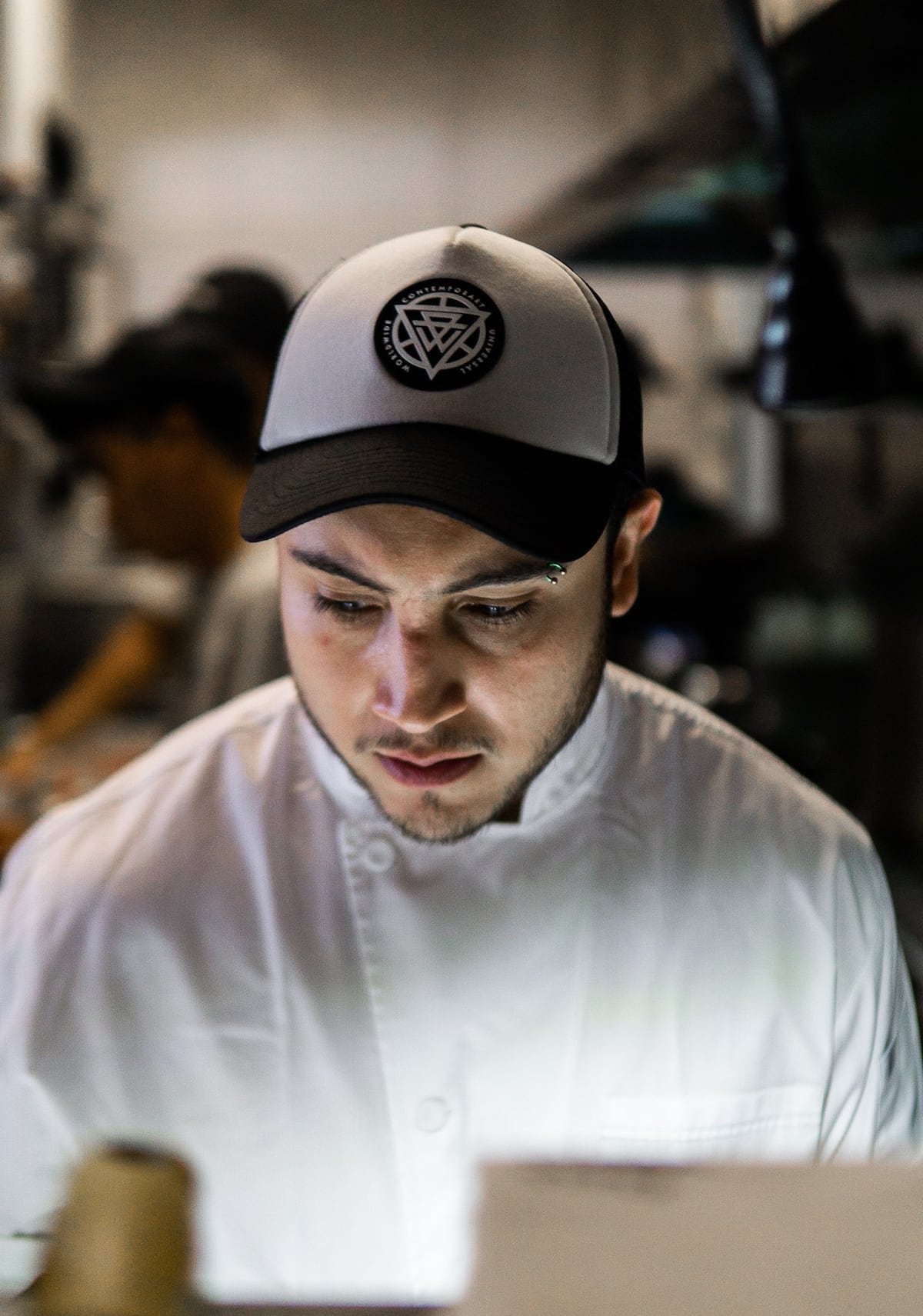 "In Mexico, tacos are what you eat on a normal day—at home, at work, at parties, or when the feeling takes you," the chef explains. "There's no Mexican who doesn't carry with them the feeling of home that tacos represent, even when they are abroad."
So Vietcetera called up the chef to go on a quest in search of seven of the best tacos in Saigon.
Tacos in Saigon: Chef Julio Gomez's 7-stop tour
#1 District Federal
District Federal is all about choice. There are two seating areas, three kinds of house-made sauces, and eight different taco fillings ranging from grilled pumpkin to savory duck and juicy pork carnitas.
The back dining area houses the bar. But we sit in the open-air section out front where there's a good view of "La Cocina"—the kitchen. We watch as they make the thicker, fluffier corn tortillas from scratch.
The restaurant's ambiance is both festive and laid-back. "Take a look at the papel picado," Julio mentions as he points to the colorful, intricately cut sheets of "paper" hanging next to the dangling lights. "Crepe paper with cut out designs like those are typically used during celebrations like Dia de los Muertos and Independence Day in Mexico," Julio explains.
At District Federal, they cook the pork for their carnitas pork tacos for four hours to help caramelize all the juices in the meat. "After that, we remove the skin, fry it, chop it up, and add it into the taco," chef Victor Torres tells us.
Julio's Opinion: "A festive and laid back Mexican restaurant with some familiar features like the papel picado paper sheet decorations."
Try: The carnitas pork tacos with meat that's caramelized through a four-hour cooking process.
Taco Tip: Choose from homemade spicy habanero sauce, tart green chili salsa, and smoky chipotle sauce.
Location: 84 Xuan Thuy, Thao Dien, District 2
Contact: Facebook
#2 El Camino
El Camino is known for its Korean tacos served with fresh, house-made flour tortillas. We enter this low-lit speakeasy through the back door passing through neighboring Cuba la Casa del Mojito. "You guys took the hard way in," laughs Calvin Bui, the chef and owner pointing out the front entrance. You can find it on the left at the side of the 91 Pasteur building.
Inside, a loud, eclectic mix of old-school hip hop and modern rap music lends El Camino an upbeat vibe. Fluorescent neon signs contrast with the warm glow of quirky light bulb clusters that dangle from the ceiling. They illuminate the black-and-white photos hanging on the walls and the goofy horse head masks sitting on the bar counter.
The concept behind El Camino is simple. "Good food, strong drinks, and no bullshit," Calvin explains with a wide grin. "I really wanted to build a neighborhood restaurant for those who live and work here—for the common Saigonese man and woman. We know everyone's name who comes here. We know what they drink and what they eat. And they keep coming back for our tacos and well-priced drinks."
El Camino's spicy gochujang chicken tacos contain the savory, sweet, and spicy Korean gochujang chili paste. This taco is Calvin's take on taco al pastor—the spit-grilled meat taco from Central Mexico.
"I use gochujang to give it that smoky flavor," says Calvin. "The pineapple and roasted garlic help bring out some spicy and acidic notes. And I use chicken thigh instead of chicken breast since it's moister and better retains the flavors."
Julio's Opinion: "Calvin's take on the taco al pastor is really flavorful—but with a very Korean twist with the gochujang sauce. This place might be the new chefs' hangout."
Try:  The spicy gochujang chicken tacos, a Korean take on the spicy Mexican original.
Taco Tip: El Camino opens at 5 PM but the kitchen doesn't open until 6 PM.
Location: 91 Pasteur, Ben Nghe, District 1
Contact: Facebook
#3 Anan Saigon
One short walk in the center of District 1 takes us to the last local wet market and the restaurant, Anan Saigon. It's the only place to get banh xeo tacos in Saigon. "On Anan's rooftop at night, you can see the two sides of Saigon. There's the modern Bitexco Tower right behind the traditional market and the local houses that were a part of the old Saigon," says Julio.
Modernity and tradition coalesce not just in Anan's location, but also in its cuisine. Chef Peter Cuong Franklin wants to change perceptions of banh xeo in Vietnam, while simultaneously making it more accessible to foreigners. Anan shape their crispy banh xeo tacos like a typical hard-shell taco but packed with the flavors we might typically find in Vietnamese food.
Chef Peter's team spent six months perfecting the formula for his taco shells. They successfully managed to thicken them while still keeping the original flavor of the banh xeo batter. Custom-made taco stands support the taco shells as they harden into their final shape making it easier for customers to eat Anan's unique banh xeo tacos in Saigon.
"Anan's shrimp and pork banh xeo taco has sweetness from the pork, and the prawns go really well with the freshness of herbs like the fish mint and dill," Julio says taking a bite.
Julio's Opinion: "The tacos here are a new take on the dish. And the restaurant is successfully bringing together the old and the new."
Try: The shrimp and pork banh xeo taco with thick banh xeo batter, sweet pork, and fresh prawns served with herbs.
Taco Tip: Go vegetarian and try the banh xeo taco with tofu.
Location: 89 Ton That Dam, Ben Nghe, District 1
Contact: Website | Facebook
#4 Sancho's Cantina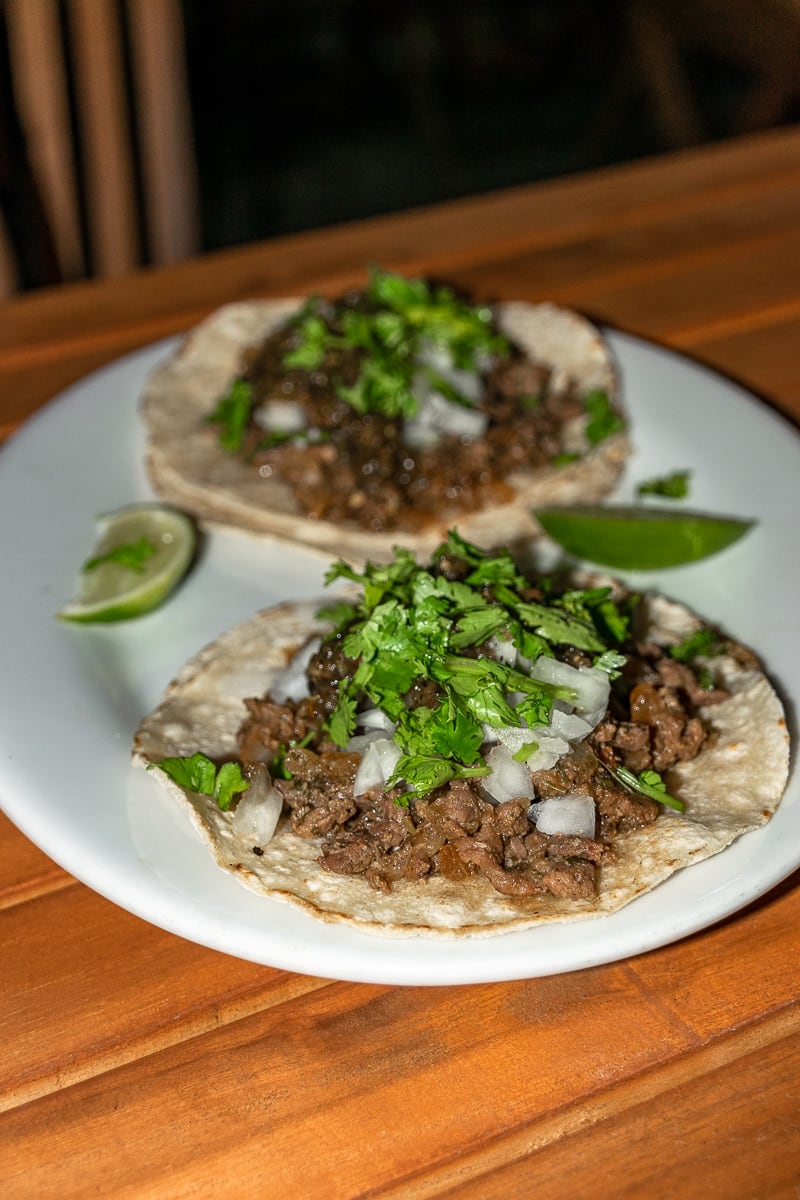 Sancho's Cantina is at the quiet end of raucous Bui Vien street in District 1. It's serving some of the best tacos in Saigon. Though ownership of this restaurant and bar has changed over the past few years, it's recently returned to the hands of Jeremy Willis.
With a few tables on the street and a bar inside, Sancho's boasts a warm welcome and a lively atmosphere. Customers get both homestyle and street-style Mexican cuisine reminiscent of the fare Jeremy grew up on in Northern California. To get the flavors and sauces just right Jeremy imports chilis, spices, maseca—a type of corn flour used to make corn tortillas and pastes from his home state.
Their carne asada taco with corn tortilla contains beef that's been marinated in citrus for more than 24 hours. The process breaks down the meat so that it's not too chewy. "That was the closest thing to a Mexican taco that I've had in Saigon," Julio says, contentedly leaning back in his chair.
Julio's Opinion: "It's very difficult to represent homestyle food in a business setting. Not everyone is going to like it. But I think these tacos, especially served with corn tortillas, succeed."
Try: The carne asada taco with corn tortilla that has 24-hour marinated beef inside.
**Taco Tip: Switch out wheat tortillas for corn tortillas.
Location: 207 Bui Vien, Pham Ngu Lao, District 1
Contact: Facebook
#5 GringoTacos Y Cantina
Our hunt for the best tacos in Saigon continues at GringoTacos Y Cantina. "I like the music," Julio remarks as Sin Ti plays in the background. "It reminds me of home. This is the music my mom used to play when I was a child."
GringoTacos Y Cantina opened earlier this year. Sporting a full bar, colorful sombreros, intricately patterned tiles that decorate the stairs, and carved bricks on the second floor, Gringo's attracts customers not just with the flavors of Mexico, but also with its Mexican atmosphere.
"Cantinas are a popular type of bar in Mexico, and they often play this same kind of live music.  Two people play the guitar and sing," Julio reminisces. "Sometimes, you just want to stop by a cantina for a margarita and some snacks. Gringo's really reminds me of the ones back in Mexico."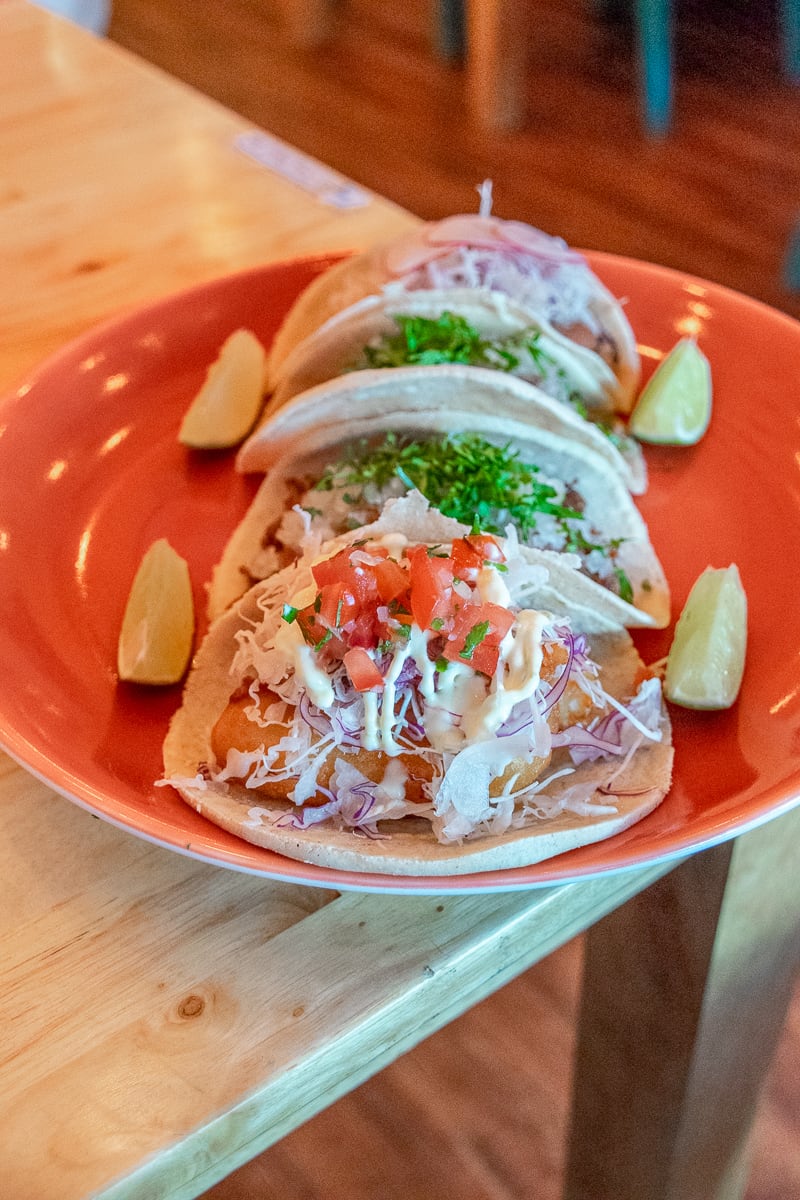 "I like the chicken's spiciness and smokiness in the pollo asado taco." There's some chargrilled flavor in there," notes Julio. "It's moist and soft, which is great because chicken can easily be dry and overcooked. The radish and the cabbage give the taco an extra crunch too."
Julio's Opinion: "Mexican cantina music and an atmosphere from my childhood. Plus tasty tacos in Saigon made with fresh corn tortillas that use imported maseca flour."
Try The pollo asado taco with spicy smoky flavors.
Taco Tip: GringoTacos has a second location at 26 Thu Khoa Huan.
Location: 137 Calmette, Nguyen Thai Binh, District 1
Contact: Facebook
#6 Rico Taco
Our tour of tacos in Saigon takes us into District 3. Previously known as Khoi Tom, Rico Taco was founded by Parisienne restaurateur and advertising executive Noelle Carr-Ellison. It's hard to miss the brightly-lit multi-colored space with decor that screams Mexico. And with a playlist of Latino hits on rotation in the background, Rico Taco has a distinctly festive feel.
Rico make their corn chips, corn tortillas, and flour tortillas in-house from local ingredients. The homemade tacos, which use corn from Dalat, are served with black salsa on the side.
"Here our al pastor taco uses six varieties of local chili's to get the flavor of one particular Mexican chili," says chef Alejandro Torres Palacios.
The vegetarian taco with asparagus is well seasoned. "The dehydrated tomatoes are house-made too," Alejandro notes. "They're a little sweeter once dehydrated, and you get a crunchier texture."
Julio's Opinion: "The vegetarian taco with asparagus is not something we eat in Mexico everyday. Asparagus is very expensive there, so usually, we don't put it in our tacos. It works really well here though. And I like that everything is house-made and ingredients are locally sourced."
Try: The al pastor taco that uses six varieties of local chili's to get the Mexican flavor just right.
Taco Tip: Try the eight-taco platter combo featuring baja fish, chicken, steak, and al pastor tacos.
Location: 29 Ngo Thoi Nhiem, Ben Nghe, District 1
Contact: Website | Facebook
#7 Nonla Guys
Hidden away in an alley off Bui Vien Street, Nonla Guys is especially popular among expats and tourists. This cozy restaurant offers Asian-Mexican fusion food with unconventional taco options like the Korean Spicy BBQ and Japanese-style Chicken Garaake taco.
All three of Nonla Guys co-owners, Sungrak Choi, Jongrak Choi, and Dongrin Kim, are from South Korea. Their business came about as a way for the trio to finance their YouTube channel, HanQuocOppa HQO. Through both their videos and their food they strive to promote greater cultural exchange between Vietnam and Korea.
Global influences are clear not just in their videos and in their food but also in the Nonla Guys' decor. At the entrance, there's a whimsical image of Superman wearing a non la—the traditional Vietnamese conical hat. There are non la-shaped lighting fixtures too and a huge map filled with names of past customers which decorates the side wall.
"The Vietnam signature bun cha taco contains Vietnamese grilled pork. It's a throwback to the celebrated Vietnamese noodle dish which is marinated in fish sauce and mulyeot, a kind of corn syrup," Sungrak tells us. "The corn syrup makes the bun cha sweeter, and it balances out the strong flavor of the fish sauce."
Julio's Opinion: "A fun place with cool decor and another very Vietnamese version of the traditional Mexican taco."
Try: The Vietnam signature bun cha taco, a taco that incorporates one of Vietnam's most beloved pork noodle dishes.
Taco Tip: Choose the level of spice that suits you—the Nonla Guys accommodate different customer preferences for how spicy they like their food.
Location: 40/24 Bui Vien, Pham Ngu Lao, District 1
Contact: Facebook
Related Content:
[Article] Western Restaurants In Ho Chi Minh City: 5 To Try
[Video] Vietnamese Food From North To South: Taking The World Beyond Pho