Award-winning Vietnamese Chef Peter Cuong Franklin welcomed Chefs Ton aka ThiTid Tassanakajohn and Dej Kewkacha to his kitchens in Saigon's old wet market on 89 Ton That Dam to treat a lucky crew of epicures to a sensational six-hands-dinner blending the best of Thai and Vietnamese culture and cuisines.
We were fortunate to have Vietnam's cosmopolitan and eloquent celebrity Chef Luke Nguyen among us, who summarized the evening so succinctly.
"I was overjoyed to see so much talent in one room and experience some of the best chefs in Asia collaborating on a menu that showcased fun fine dining while championing the best South East Asian ingredients," Chef Luke said. "Chef Ton, Chef Peter, and Chef Dej put together such a creative, delicious, and sensational six hands dinner, and I am so proud to see Vietnam's dining scene evolving rapidly."
The goal of the evening includes showcasing the finest Thai dishes and desserts as well as Vietnamese dishes, highlighting the commonality and compatibility of Vietnamese and Thai ingredients, and matching the best wines to the cuisine.
Chef Ton, the globetrotting gastronome, honed his skills as a Line Cook at the iconic former World's Best Restaurant, Eleven Madison Park, in New York. He has subsequently attained the status of Thailand's most celebrated chef. Chef Ton also opened a series of fantastic restaurants such as Nusara and the Michelin-starred Le Du, which means "seasons" in Thai and reflects their focus on seasonal ingredients and elevated Thai cuisine. Chef Ton also flies the flag for Thailand on the World's 50 Best Extended Best List and has recently been voted as the #4 Best Restaurant throughout Asia, while Nusara was voted #10.
Ton's most memorable dish was his delicious tiger prawn with tamarind and Vietnamese gourd. After discovering it in the local market earlier that day, he chose the Vietnamese vegetable gourd and swopped it for his usual eggplant.
On the same market visit, Chef Dej noticed that Vietnamese loved matching local fruits with chili salt as much as they do in his native Thailand, so he created a refreshing Pink Guava with a gentle kick of chili and basil. This course served as a perfect palate cleanser to refresh the taste buds in between a spicy artichoke and a buffalo tartare course.
It was a pleasure to experience Chef Dej's unique style of desserts invented in the kitchens of Kyo Roll En, which he has now developed into a multi-outlet franchise in Bangkok famed for its premium and creative Kyoto-inspired desserts and roll cakes. Dej is exceptionally talented at bamboozling the taste buds by infusing savory ingredients into his desserts. His tantalizing banana curry medallions and remarkable risotto with durian and lemon were widely praised.
Chefs Dej and Ton have lived through and contributed to the meteoric rise of Thailand as a culinary destination in Asia over the last ten years. So it was very heartening for Ton to declare, "In my opinion, Vietnam is on the road to becoming an attractive dining destination in the future, and its development reminds me of Thailand 5 to 10 years ago. There are already many exciting restaurants in Vietnam, and I can't wait to see how the culinary scene in Vietnam will evolve."
Dej ultimately agreed with Ton and recognized the conveyor belt of young culinary talent here by sharing, "I am aware that a large group of the next generation of Vietnamese chefs is training overseas at the moment at big-name restaurants, so watch out for when they return in the coming years."
Both Ton and Dej also commented on the warmth of the welcome that they received in Vietnam, especially from Peter Cuong Franklin and his team at Anan Saigon. Peter was especially delighted that they brought many seasonal ingredients such as pink guava, durian, ant eggs, fresh herbs, and spices to blend with local ingredients to create "special dishes and a memorable experience for our guests."
Peter also commented, "as neighboring countries, Thai and Vietnamese cuisines have many ingredients in common, but the Thai way of cooking tends to be more punchy with spices; Viet dishes are lighter, incorporating more fresh herbs for flavor. This came to life with my favorite dish of the night, the buffalo carpaccio with thinly sliced local buffalo tenderloin accompanied by lemongrass and toasted ant eggs. The lean and gamey buffalo meat is similar to bison and must be handled properly to ensure it is soft and tender."
Kuzz (Le Hoang Khanh Vi), the Sommelier from Da Loc Fine Wines, thoughtfully selected some fantastic wines to accompany these delicious dishes beginning by warmly welcoming all the guests with refreshing glasses of champagne from Charles de Cazanove.
The citrus notes of the Chablis style white wine from Domaine Billaud-Simon 2018 paired perfectly with the scallops and the smoked salmon components of the Banh Nhung. My favorite wine of the evening was the red wine from the Chateau du Domaine de L'Eglise 2016 from the Pomerol region of Bordeaux because this juicy wine was bursting with black fruits and silky tannins and matched nicely with the buffalo carpaccio and the lamb with satay and pickles.
Anan Saigon has been the flag bearer for Vietnamese cuisine, having been included on Asia's 50 Best Restaurant lists in 2021 and 2022. Peter has his team primed for continuous improvement commenting, "We will maintain our mission to elevate Vietnamese cuisine, explore more about Vietnamese drinking culture via our Nhau Nhau cocktail bar and continue to develop the next generation of Vietnamese chefs."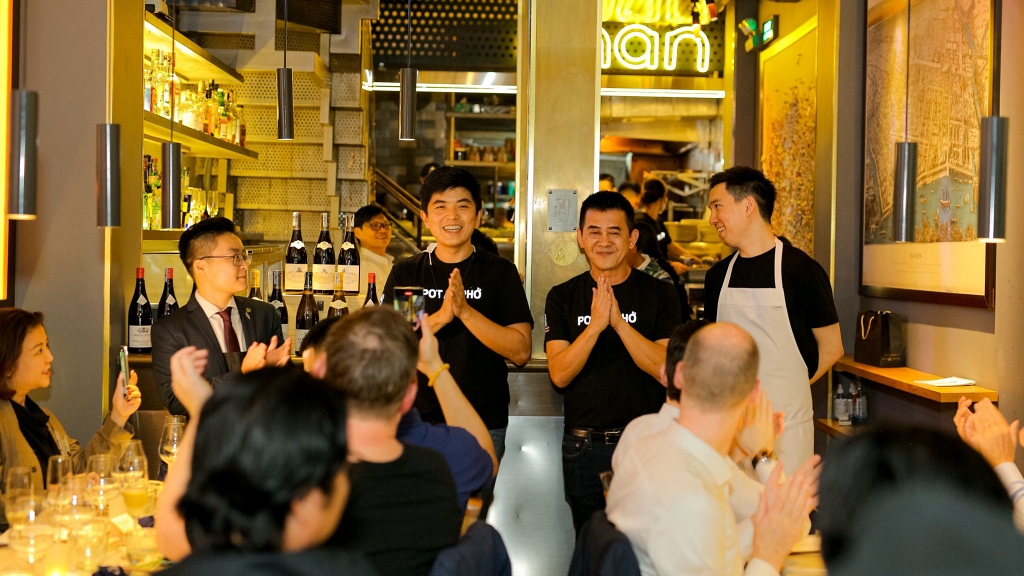 There is so much more to come from our globe-trotting Thai gastronomes and Peter and his team at Anan Saigon. Stay tuned for future developments from all three cosmopolitan chefs who delivered such a sensational six hands in Saigon this summer.
Chef Ton and Chef Dej collaborated with Chef Peter Cuong Franklin for the Sensational six hands dinner across two evenings on the 28th and 29th of June, and the menu with wine pairing was priced at 3,400,000 VND ($147) ++.