It was long believed that you could find any food in New York City — besides Vietnamese. At long last, that is no longer true. Forty-four years after the first wave of Vietnamese refugees landed in the States, Vietnamese restaurants, bakeries, and pop-ups are taking over America's culinary capital in a big way. 
Sure: the prototypical Vietnamese noodle and sandwich shops emerged in New York's Chinatown in the 80s, but in the last few years, a new generation of largely first- and second-generation Asian-American chefs have kicked off a real renaissance of modern, innovative Vietnamese cuisine. In the past few years, some dozen of these new-school Vietnamese restaurants have opened across Manhattan and Brooklyn. Though their immigrant predecessors opened Vietnamese restaurants out of survival, this generation's chefs have the freedom to innovate and build on that foundation — elevating the quality of ingredients, service, and decor, while also mainstreaming the cuisine by marketing to diners' broader expectations. 
The most recent renaissance started in 2017 with the near-simultaneous openings of Jimmy Ly and Yen Vo's Madame Vo and Ben and Sara Lowell's Hanoi House just a few blocks from each other in the East Village. With the former spotlighting the robust, garnish-heavy rendition of southern Vietnamese pho and the latter veering towards the more delicate, consommé-like northern style, the comparisons were instant. But the nuances between the two also awakened diners to the regional plurality within Vietnamese cuisine, from northern to central to southern. 
One year later, Tuan Bui, Kim Nguyen, and Chef Dennis Ngo opened Greenpoint's Di An Di, a follow-up act to their now-shuttered Lower East Side kitchen An Choi. Here, Ngo introduced dishes the team had discovered in Vietnam, including banh trang nuong — a loaded rice paper street snack that had previously only been seen on the streets of Saigon and other major cities. Along with Madame Vo and Hanoi House, Di An Di is recognized for helping push the boundaries of what Vietnamese food in America could look like — not just by introducing newfangled dishes from the homeland, but also by showing that a dish as complex and labor-intensive as pho could and should be sold for more than $8. 
New Yorkers certainly got the message. Since then, the city has welcomed the likes of Van Da, serving a standout tasting menu of reimagined Vietnamese flavors, and Bolero, a rustic, French-accented kitchen from An Choi alum Matt Le-Khac that has already become a staple in the trendy Williamsburg neighborhood. Then there's Ban Be, which is notably New York City's first Vietnamese American bakery. And that's not to mention the rise of Brooklyn-based Vietnamese coffee roaster Nguyen Coffee Supply, which is championing fresh-roasted highland coffee beans including Vietnamese robusta.
Suffice to say: there's never been a better time to eat Vietnamese food in New York City. To help you figure out where you're eating next, here are the 11 best Vietnamese restaurants, bakeries, and pop-ups in New York City to try right now. 
Banh
One of the first Vietnamese restaurants to open since the pandemic, this casual uptown eatery from owners John Nguyen and Nhu Ton offers a number of dishes you won't find at other restaurants on this list. Take, for example, the standout take on banh chung — the traditional Lunar New Year dish made of sticky rice and marinated pork wrapped in banana leaf — and the bun cha, the savory Hanoian pork and noodle platter popularized by Anthony Bourdain and President Obama. Standards like pho and banh mi are also on offer here, along with Saigon Export beers and a homemade lime and strawberry soda to drink. Nguyen and Ton own the Com Tanh Ninh Kieu in the Bronx, a longtime mainstay for the titular broken rice dish. 
Bolero
Chef Matt Le-Khac is a relative long-timer in the Vietnamese restaurant circuit, having cut his chops in the kitchen at the Lower East Side's An Choi. After it closed in 2020, he unveiled this modern Williamsburg restaurant inspired by — and subverting — the French influence on Vietnamese cuisine. The name itself nods to a Cuban music genre that became popular in France in the 1930s, and thus became popular in French colonies including Vietnam, where Latin-influenced rhythms and cadences remain strong. One of the most exciting chefs in NYC, Le-Khac simmers up a soulful, Saigon-style Wagyu pho in a combi oven and reimagines Hanoi's iconic cha ca turmeric fish, typically prepared with catfish, as a lush skate salad that adds baby fennel, yellow radicchio, pickled cantaloupe, and tricolor carrots to the usual dill. 
Bricolage
Opened in 2015 in Brooklyn's Park Slope neighborhood, Bricolage predates all the other entries on this list. The Vietnamese gastropub is the brainchild of the celebrated duo of chef Lien and Edward Lin, who first came to prominence working at Charles Phan's The Slanted Door in San Francisco. On the East Coast, the Lins serve up a pitch-perfect take on bo luc lac (shaking beef), which they cheekily present as an Unshaking Beef: a 14 ounce ribeye with Cipollini caramelized onions, grilled scallions, and a lime-and-pepper sauce. Meat is generally the highlight here: a lemongrass grilled pork chop comes topped with grilled pineapples, five-spiced salt, and scallion oil — all offset by a crisp watercress salad with fennel and lime-and-pepper sauce. 
Di An Di
A green-and-yellow neon sign and a front porch of verdant potted plants let you know you've arrived at Di An Di, which translates to "let's go eat." Opened in 2018, the first date-friendly Greenpoint restaurant is the critically-acclaimed sophomore project from the An Choi team (Tuan Bui, Kim Hoang, and Chef Dennis Ngo), who reference copious research and visits to Vietnam in dishes like banh trang nuong: a riff on the modern Da Lat street snack presented here as a "Vietnamese pizza" of grilled rice paper topped with alliums, fermented chilies, and Laughing Cow sauce. The house pho, prepared in the northern style, also nods to an iconic Vietnamese dish, very specifically the version at Pho Thi on Lo Duc Street in Hanoi's Old Quarter. You won't go wrong with anything on the cocktail menu, but you absolutely must try the Ca Phe Trung Martini, a boozy riff on Hanoi's egg coffee made with beans from pioneering Vietnamese coffee roaster Nguyen Coffee Supply.
District Saigon 
Though the borough of Queens is often referred to as the most diverse place in America, it hasn't historically been known as a destination for Vietnamese food as much as it is for Thai, Tibetan, or Malaysian food. Opened in 2016 in Astoria by Lam and Michael Lien and Louis Leung, District Saigon brings much-needed traditional Vietnamese flavors to the burgeoning neighborhood. Named after the famous meal shared by President Obama and Anthony Bourdain, the Obama bun cha combines char-grilled pork patties with crab-and-pork spring rolls on vermicelli noodles. Meanwhile, a homestyle dish called thit kho appears here as a Vietnamese pork belly braised in coconut juice and chicken broth with a hard-boiled egg. For some subtle fusion flair, try the pho with herbed, house-smoked brisket. 
Falansai 
The first Falansai opened way back in 2013 in Brooklyn's Bushwick neighborhood. In 2020, it was revived and reimagined by chef Eric Tran, an alum of the famed Blue Hill at Stone Barns restaurant. At the critics' choice "Falansai 2.0," Tran showcases his pedigree in nose-to-tail cooking: a standout of the menu is a grilled Berkshire pork shoulder brightened by a house salsa verde and a farm egg. Homestyle dishes are also present, like a "Dad's Fried Rice" which of course uses a Tran family recipe that calls for Vietnamese mortadella, Chinese sausage, and most shockingly: brown rice that somehow works. 
Madame Vo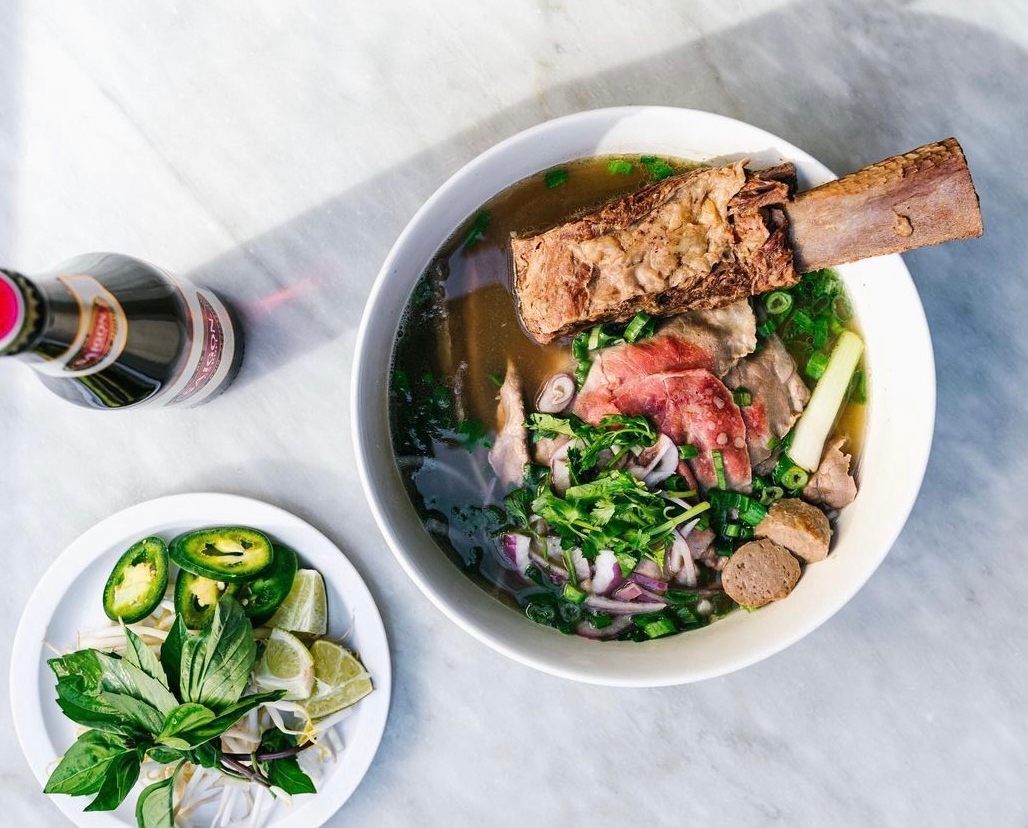 Madame Vo's short rib pho isn't just one of the best Vietnamese dishes in town — it's become a quintessential NYC dish in its own right. To create the dish, owners Chef Jimmy Ly and Yen Vo combined family pho recipes: 24-hour simmered broth from Ly's and a huge fall-off-the-bone short rib placed on top of the bowl from Vo's. Highlighting nostalgic, homestyle cooking and family recipes forms the ethos behind the entire menu, which also includes double-fried, fish sauce-glazed wings and a salt-and-pepper fried soft shell crab starter. The husband-wife duo opened the flagship Madame Vo in 2017, before unveiling a second restaurant, the Vietnamese barbecue favorite Madame Vo BBQ in 2018 (it remains temporarily closed due to the pandemic). [Disclaimer: I've worked with Madame Vo.] 
Mam NYC
It's not a permanent venue (yet), but this recurring pop-up from Di An Di alum Jerald Head and his Vietnam-born wife Nhung Dao Head offers one of America's most daring Vietnamese menus. If you're lucky enough to be in New York City when Mam is open for business, stop by for their boldly traditional bun dau mam tom, a northern-style rice vermicelli dish that is loaded up with fried tofu, boiled pork belly, blood sausage, and fried pig offal. In its last run, Mam also served what may be New York City's first-ever Vietnamese jerky made of Sirloin steak covered in a spicy, savory mix of lemongrass, chili, and ants sourced directly from Vietnam. 
Non La
Opened in 2020 by chefs Ronny and Tommy Nguyen, this pint-sized noodle shop is another welcome addition to the burgeoning Vietnamese scene in New York's East Village. Bún, or Vietnamese round rice vermicelli, is the star of the menu, offered in a house combination noodle salad with grilled lemongrass pork and shrimp, as well as in bun bo Hue — the classic, lemongrass-spiced noodle soup of the Central Vietnamese city of Hue. For an ultra-traditional optional, try the ca kho to, clay pot salmon caramelized with soy sauce, onion, scallion, and bell peppers. As a bonus, the restaurant is BYOB, so bring a bottle of wine to wash it all down. 
Saigon Social 
Originally from Seattle, chef Helen Nguyen trained under the legendary Daniel Boulud before setting out to spotlight Vietnamese cooking. At this casual Lower East Side kitchen, Nguyen offers fun takes on Vietnamese classics including a meaty brisket pho and sweet, umami-blasted garlic noodles topped with fried soft shell crab. With a menu of dishes that are great for drinking, Saigon Social also turns out more fusion-style dishes like Nguyen's signature banh mi burger with an 8-oz dry-aged patty, Maggi seasoning-oxtail gravy, and foie gras pate.
Van Da
Van Da's owner Yen Ngo, trained at fine dining restaurants in Washington DC, Santa Fe, and San Francisco; meanwhile the restaurant's executive chef, Mary Celine Bui, hails from the Philippines and boasts extensive international experience from Manila to Florida to New York, where she worked at the beloved Thai restaurant Pok Pok. At Van Da, the menu is separated by Vietnam's region: Central, Northern, and Southern. Start with the royal cuisines of Hue in Central Vietnam, including banh beo and banh khot, before traveling north for cha ca La Vong (Hanoian turmeric skate) or south for five-spice roasted duck on egg noodles. Or, just choose the regional set menu to try a bit of everything.