Australian-born restauranter Tim Scott began his journey in the food and beverage industry as a dishwasher at age fourteen. But these days, he's one of the people behind Quan Ut Ut, a powerhouse American-style smoked barbecue joint that has began taking over Ho Chi Minh City with the opening of a fourth location in District 7.
"District 7 is home to a large population of Korean residents. Barbecue is a big component of their cuisine. Many people travel outside District 7 to get an international barbecue fix, so opening a new Quan Ut Ut in District 7 makes perfect sense," Tim explains.
The new setting for Quan Ut Ut marks their largest establishment to date with a seating capacity of 450 people. It also has 20 taps of craft beer—the biggest selection of draft beer of the four locations. In addition to the new glass-encased fully air-conditioned smokehouse comes the introduction of three additional year-round craft beer imports including BrewDog's Elvis Juice, Melvin's Killer Bees American Blonde Ale, and the Go To IPA from Stone, the ninth largest craft brewery in the USA.
Unsurprisingly, Tim and co-founder Mark Gustafson have tweaked the food options as well, offering a menu in Korean, and adding food items like the Um-Chin-Ah Korean burger with pepperjack cheese, Gochujang sauce, and kimchi, and there's another sexy little surprise that's dropping everyone's jaws—the Spicy Gochujang Pork Ribs.
The anatomy of Quan Ut Ut's Spicy Korean Gochujang Pork Ribs
The Inspiration
"Korean barbecue was always an inspiration for us. In fact, when coming up with Quan Ut Ut's original rub, Korean influences were already present," Tim explains. The incorporation of Korean chili has been a part of their barbecue recipes since the beginning.
"As we continue to roll out we will create concepts that connect to the characteristics of each specific location. District 7 has a many Korean residents so we customized the menu to reflect Korean cuisine. We want to give them something special," Tim nods assuredly.
Korean barbecue is diverse and prepared using a wide range of techniques. The flavors and characteristics are often immediately identifiable—just like American barbecue. "We wanted a marriage between American and Korean barbecue styles and the result was the Spicy Gochujang Pork Ribs."
The Dish
The spicy Korean Gochujang Pork Ribs is a cross-cultural dish. Once we walk past the grilling station we've already entered the open kitchen where head chef Tony Do starts with a cut of St. Louis pork ribs before applying the rub—a secret spice blend which contains potent Korean chili powder.
"We apply the pork rub and let it sit for an hour. Then we smoke the pork with cashew shell fragments for an additional hour. The next step is to wrap in foil and cook the ribs in their own juices for three more hours. Finally we put them on the charcoal grill to get that beautiful crispy outer layer of bark," Tim explains.
After the Korean Gochujang Pork Ribs are smoked, chef Tony lathers on a thick layer of sauce which has components of both American and Korean barbecue sauces.
Chef Tony carefully starts with an American base including ketchup, brown sugar, apple cider vinegar, garlic, and onion powder. A combination of ingredients which is the foundation for many American barbecue sauces.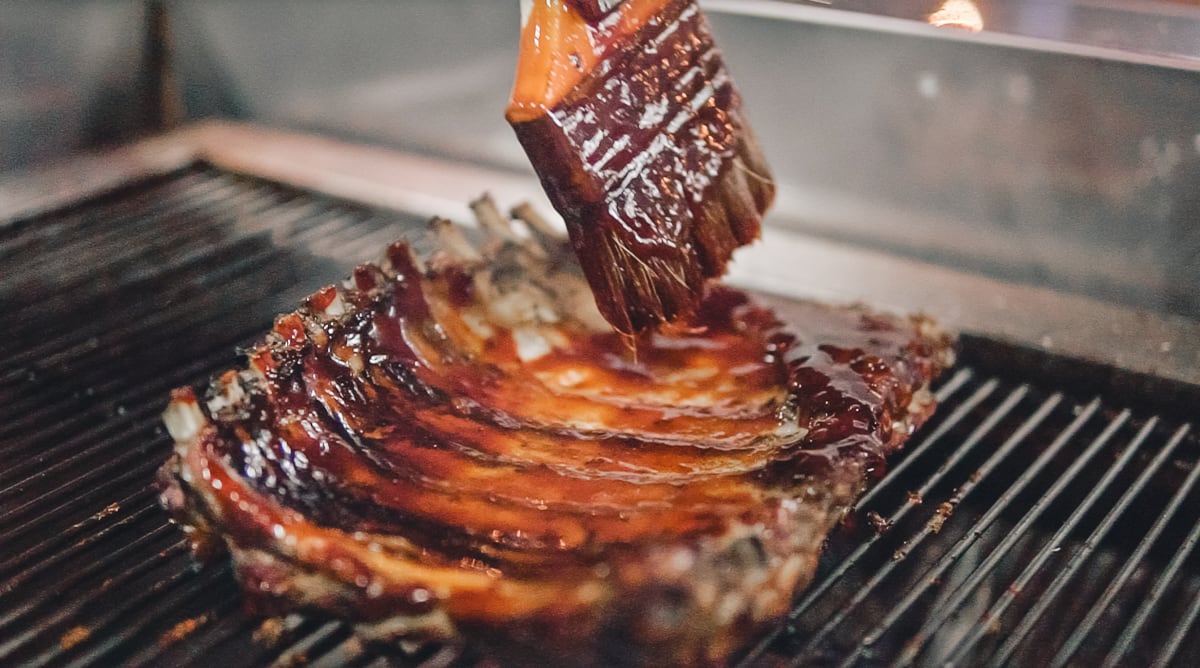 "The second layer of sauce is where the Korean influence comes into play. The primary ingredient is a healthy dollop of gochujang. The spicy Gochujang paste is made from Korean chilis and glutinous rice. We also add Makgeolli—a milky, light sparkling rice wine, ginger, and soy," Tim demonstrates.
"What we end up with is a sweet and sour sauce with the mouthfeel of an American barbeque sauce. The spiciness and the floral, aromatic properties are characteristic of Korean-style barbecue sauces," he explains.
"To top it off we garnish it with a dose of sesame seeds and thinly-sliced spring onions…and for the pairing? I'd go with a side of kimchi and wash it all down with a tall glass of cold Pabst Blue Ribbon or our in-house Xau Ma Chanh IPA."
Quan Ut Ut's Spicy Gochujang Pork Ribs
Vietnam's powerhouse smoked meat joint Quán Ụt Ụt dissects the components of a new breed of ribs where Korean and American styles coalesce.
Posted by Vietcetera on Thursday, 27 September 2018
The Restaurateur
Tim Scott got his foot in the food industry as a dishwasher when he was fourteen. By age 15 Tim had picked up enough culinary skills to cook for his parents and two siblings.
"I learned that if decided to cook for the family then what we ate was up to me. It was a real breakthrough because I could be creative and experimental. Not to mention my parents loved the idea," Tim grins.
"When I was seventeen I worked in a Brisbane-based steakhouse in the Hotel Morrison called Fireworx. It was a huge enterprise with only myself and two other people on staff—and one of them was Vietnamese. The three of us would pump out over 100 steaks a night. There was a certain zen that came about when it was busy. That's where I got my passion for meat."
Between firing up the grill and studying microbiology at University Tim decided to take a 6-month break. That included a trip to Vietnam. "I fell in love with the craziness. I wasn't familiar with any of the ingredients or the food. During that trip I realized I wanted to stay longer. At the time I was thinking more like another year, not forever."
"All these opportunities kept luring me in. One of my first professional ventures in Vietnam was to help open a chain of cinemas. It was called Megastar back then, but has since been bought by CGV. It's still up and running today," Tim remarks.
The beginning
Quan Ut Ut is a collaborative enterprise between co-founders Tim Scott and Mark Gustafson. A mutual friend introduced Tim and Mark back in 2012 during Tim's first visit to America.
During his trip Tim and Mark hit the music festival Lollapalooza and returned to Mark's house for an all out American barbecue where Tim was introduced to many different styles. Co-founder Mark Gustafson had even prepared a special small batch of his homebrew just for the occasion.
The craft beers went down fast and discussions about opening a barbecue restaurant in Ho Chi Minh City ensued. Soon after, Tim put together a business plan for a restaurant. By 20th March, 2014 Mark sold his house and moved to Vietnam. Soon after, the first Quan Ut Ut location opened at 160 Vo Van Kiet in District 1.
The future
Aside from opening more restaurants, Quan Ut Ut is bringing the American barbecue experience full circle with the addition of iconic new imports like BrewDog's Elvis Juice and Melvin's Killer Bees.
Pabst Blue Ribbon brewer Alan Kornhauser even made a special trip to Vietnam to pass on the legendary recipe to local brewery Platinum Beer. The project is now executed by Platinum's brewmaster and international beer tasting judge Michael Comerton, and distributed to Quan Ut Ut's District 7 location.
"…and people can expect to see more Quan Ut Ut's popping up in outer districts like Tan Binh. Just wait and see," Tim smiles.
Related Content:
[Article] The Anatomy Of A Dish: Renkon Saigon's Jesse Grasso's No-Broth Ramen
[Video] BiaCraft Curates 4 Craft Brews For The Summer Season