We are surrounded by objects so familiar as to be almost invisible. Some are so utilitarian that the thought of picking them up to admire their deceptive simplicity never crosses our minds. Yet among those modern-looking designs are inventions that are in fact much older than their youthful features suggest and that will be around for a long time thanks to their classic, timeless lines.
The Moka Pot (1933)
1933 was the year when construction started on the Golden Gate Bridge in San Francisco, Albert Einstein arrived in America, the first King Kong movie was released and the Moka pot was born. Alfonso Bialetti, the inventor, is said to have found inspiration for his stove-top coffee maker while watching his wife do laundry. She set up a bucket covered with a cap fitted with a tube. As soapy water in the bucket was brought to a boil, the pressure would push it up through the tube to disperse over the laundry. Bialetti's moka pot brews coffee in a similar fashion.
This design quickly became a symbol of Italian coffee culture, completely changing the drinking habits of Italians, and then the world. Nowadays every family in Italy still have a Bialetti coffee maker at home because it was so simple and convenient: just fill it up with ground coffee and water and let it boil. More than 300 million Bialetti espresso makers have been sold since its inception.
Moka Express Advertisement . | Source: 99u.
The octagonal pot became an instant classic of industrial design. In the eight decades following the invention, its features were only slightly modified and materials were improved on. Such was the influence of the Moka pot on Bialetti's life (and that of his fellow countrymen and women) that he asked to have his ashes placed in a specially-designed urn inspired by his famous invention.
The Arco Lamp (1962)
Visit 10 Italian homes and you are bound to find the Arco lamp in at least one of them. An inspiration for many decorative lamps that followed, today many refer to Arco lamps as simply the "floor lamps".
Achille Castiglioni with his Flos Arco . | Source: Interior Notes.
The lamp, designed by brothers Achille and Pier Giacomo Castiglioni in 1962, was inspired by the street lights in Paris. Their explanation of how they came up with the idea is delightfully lazy and very practical at the same time"We thought of a lamp that would project the light on the table. There were some in existence already, but you had to walk around them. In order to leave space around the table, the base had to be at least two meters away". 
With its graceful arc-shaped structure, the Arco consists of a large dome-shaped aluminum shade hanging at the end of a stainless steel trunk, with a block of white marble at the bottom. The clever design allows light to radiate in a way that evenly envelops big spaces.
More than half a century old, the classic design remains one of the most beloved models; a perfect blend of elegance, stillness, authority and pride.
The Superlight Chair (1957)
La Superleggera, the world's lightest wooden chair was born in 1957. Gio Ponti, the design giant and the father of modern Italian design, spent eight years designing and testing the durability and resistance of his groundbreaking piece of furniture by repeatedly… throwing it from a considerable height. It is said that when you buy a Superleggera, you acquire not only a chair but also a scientific breakthrough.
"La superleggera". | Source: Gio Ponti Archives
What makes this slender and simple chair a masterpiece? The precise calculations used to figure out the ideal distribution of forces between the slats coupled with the elegance of ashwood. Robust yet refined and elegant, the sturdy chair weighs only 1.7kg (just a little heavier than Macbook Air) so that even a child can easily lift it with his little finger.
Tested by time itself
If the Renaissance can sometimes leave you feeling overwhelmed by thousands of elaborate details piled on top of each other by master architects, in the 20th-century Italian designers have let plenty of fresh ideas and energy into their products. 
That said, the old and the new share a common formula that brings lasting value to these designs – the perfect combination of aesthetics and practicality. It is said that even today, with the most cutting-edge technology at their disposal, some veteran craftsmen in Florence still weave with looms designed by Leonardo da Vinci several hundred years ago. 
At the heart of the "Made in Italy" culture are designs that are built to encourage interaction and connection, rather than being created for aesthetic purposes only. This attitude is what makes Italian design so fresh, relevant and young in spirit – a feature that the nation strives to convey through their cultural activities.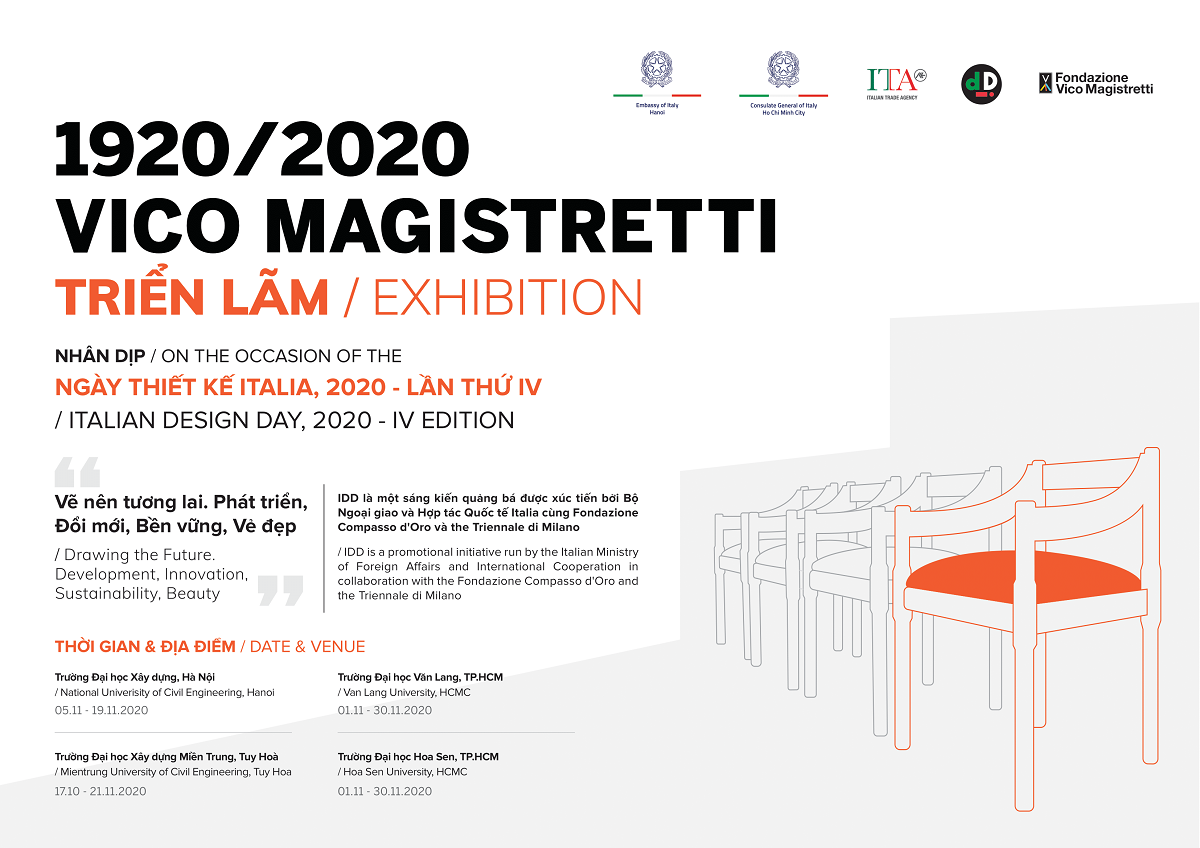 Each year, 100 "ambassadors" of Italian design from all fields: fashion, design, architecture, painting... present in 100 cities around the world to convey that profound message in the chain of events. "Italian Design Day - Italian Design Day". Taking place simultaneously in Hanoi and Ho Chi Minh City with the theme "Drawing the future. Development, Innovation, Sustainability, Beauty", this year's "4th Italian Design Day" event is a place to celebrate the designs bearing the hallmarks of Italian culture, as well as a forum for ideas, artistic and architectural initiatives are exchanged, shared, and taken off.
Join the webinar at: Italian Design Day webinar