2020 got off to a rough start for most of us, and for the food and beverage industry, the year has been particularly trying. Refusing to despair in the face of challenge, Vietnam's restaurateurs and chefs continued trying out new strategies ... and winning.
The impressive balancing act that saw them skilfully navigate the fine line between compromise and innovation further turbocharged Saigon's already bustling restaurant, bar and nightlife scene.
Vietnam's restaurants and bars have never experienced a more dynamic time. Yet the path to success is no longer a straightforward progression; it's become an expansive and thoughtful journey, spurring new dialogues of ingredients and philosophies that inspire today's chefs and mixologists. 
While the morning conference was the golden opportunity to hear from the elder statesmen of Vietnam's F&B industry, the evening program saw foodies, restaurateurs and chefs gather at the Mai House ballroom to toast the restaurants and bars that have stepped up and stood out in the face of change and adversity. Below are some of the highlights from the evening event.
Grand Jury's Choice, Restaurant of the Year 2020: Quince Eatery
The Grand Jury's Choice for Best Restaurant of 2020 goes to Quince Eatery, the domain of fire-forged cuisine. 
Recent years have seen the industry transform like never before. Every chef is carving a path to bring their unique vision to the fore. One might say that while searching for its culinary identity Vietnam has already stumbled on its biggest differentiator: the constant fusion of and cycling through different trends. 
We've seen international influences flood in and weave their way through familiar staples. We tucked into "exotic" ingredients as they got their 15 minutes of fame.
Restaurants in Vietnam are certainly having a trailblazing moment, but with everything that's going on in the world, there's a certain yearning to return to fundamentals, to the basic yet unmistakably delicious. 
Quince Eatery embodies that primal instinct. Hiding behind no pretensions, thoughtfully selected ingredients come to life by the open fire. Darkly-charred figs from Dalat arrive meltingly tender, fragranced with truffle honey sprinkled over a bed of fresh-as-can-be stracciatella.
Only flaked salt adorns the beefy O'Connor ribeye, with three profiles of mustard to customize each bite.
The space is chic yet minimalistic, perfectly balancing an air of privacy and liveliness. The staff, always ready, are as aligned with the workings of the menu as any confused diner could hope them to be. 
Runner-Up
A close runner-up this year, Anan continues as Saigon's beloved constant and the home of new Vietnamese cuisine. With ingredient quality always at the forefront, chef Peter Cuong Franklin continues to imagine and reimagine.
Each dish is a love letter to the original, embodying the spirit and integrity of what Chef Peter believes to be the underrated beauty and complexity of Vietnamese cuisine. 
Winner: Quince Eatery
Runner-up: Anan
Nominees: Octo Tapas Restobar, Sol Kitchen, 4P's, The Monkey Gallery, Esta Eatery, Stoker
Fear of Missing Out?
Signup to receive a collection of this week's top stories in your inbox every Tuesday.
People's Choice, Restaurant of the Year 2020: Pizza 4P's
Pizza 4P's wins the People's Choice for Restaurant of the Year 2020 for their commitment to the freshest ingredients and their belief in the food's ability to build a bright future. 
The people have spoken loud and clear: an almost universal vote names Pizza 4P's the ultimate mainstay of sustainably sourced ingredients and deliciously creative cooking.
Not only that, their mission to promote values of sustainability with an ultimate goal of having a better-informed society truly sets them apart from the competition. 
They take the idea of making people happy beyond simply filling their stomachs. Recent initiatives such as building a greenhouse-like structure for the purpose of "edutainment" (fostering learning through fun recreation) provides insights into the lifecycle of ingredients.
By inviting guests to find delight in the wonders of nature, Pizza 4P's imbues dining with a new meaning, as well as giving patrons an opportunity to contribute to bettering the world. 
And the quality of food speaks to these continued efforts. From giving their cows plenty of space to walk and graze under the sunlight (and yes, that's why biting into their house-made, gooey mozzarella feels so good) to traveling to Ca Mau to work with a tiny farm that raises crabs with zero chemicals, the 4P's team finds and supports like-minded individuals across the country.
Next time you tuck into their crab spaghetti, each noodle pull revealing tender, naturally sweet crab meat, you can smile in the knowledge that you are helping to make the world a better place, one bite at a time.
Grand Jury's Choice, Bar of the Year 2020: Layla Eatery & Bar
Layla Eatery & Bar wins the Grand Jury's Choice for Bar of the Year 2020 for creating an escapist hideaway in the heart of Saigon. 
Located in a rundown colonial-era building just off iconic Dong Khoi street, Layla Eatery & Bar serves as Saigon's utopian retreat amidst the hustle and bustle.
The crowd is younger and diverse, mingling amongst the high tables and by the sweeping bar that runs the length of the space. Large windows offer panoramic views of the heart of Saigon, granting a sensation of escape. 
The interior feels generous, industrial but handsomely so, inviting intimacy where other bar designs would feel borderline crowded. Cocktails give off an air of confident experimentation, but with consistently positive results.
Drinkers can create their own from a list of suggested ingredients, reassured by the skill of the talented team. Everything on the Mediterranean-leaning menu is perfect for sharing, providing natural accompaniments to the polished drinks. 
What sets Layla Eatery & Bar apart is its great location, thoroughly trained staff and a sense of constancy – nothing feels out of place. With daily worries checked at the door, you are finally free to kick back and relax.
Runner-Up
Last year's Grand Jury winner, Firkin Bar, comes up right behind with their continued commitment to a personalized experience for each guest.
Connoisseurs of whiskey and masters of customization, Firkin Bar enjoys the patronage of a vastly diverse clientele, from the weary office worker to the young couple. 
Winner: Layla Eatery & Bar
Runner-Up: Firkin Bar
Nominees: BamBam, MAD Wine Bar, Drinking & Healing, Dram, The First, Rabbit Hole
People's Choice, Bar of the Year 2020: Bam Bam
The People's Choice Award for Bar of the Year 2020 goes to Bam Bam for a vibe of ever-young, all-out fun.
Winning the popular vote for the best bar, Bam Bam proves its big impact on the city's after-dark scene. Perfectly located in the heart of Saigon on Nam Ky Khoi Nghia street, Bam Bam is all about liberation.
A sophisticated cocktail bar that transforms into an energetic nightclub on the weekends, there's an air of the surreal in the first impression. The steady mood lighting flatters, getting the few remaining wallflowers out on the dance floor.
With a premium and expertly mixed cocktail in hand, a sultry mood takes over as excellent acoustics round out the night's funky beats. 
Modeled with the colorful energy of Bali in mind, Bam Bam pushes the envelope of what a great bar should be, by being everything for everyone.
Mixologists energetically concoct elaborate drinks with a luxurious flair, while its music choices are many and quirky. The space is at once vibrant and chic, with stimulating conversations, great dancing, and a feel-good vibe. 
Chef of the Year 2020: Julien Perraudin (Quince Eatery)
For the second year running, Julien Perraudin takes home the award for the Chef of the Year.
Located on the deliciously ungentrified Ky Con street on the outskirts of Saigon's District 1, Quince Eatery feels like that inviting space before a burning hearth.
Patrons in the main dining room lean in closer to share a laugh, while those seated at the counter have a more intimate view of chef Julien Perraudin's world. 
Chefs navigate the great oven and grills with precise intuition, guided by an instinct that comes only from working constantly with fickle fire.
From the first bite to the very last, dishes feature assertive flavors. Fussiness is absent, altogether forgotten. And halfway through the dinner, you realize that Quince is not to be categorized under any one cuisine.
This is Julien Perraudin's handiwork. He coaxes every last notion of flavor out of an ingredient, and presents it with condiments that are treated with equal respect.
Anything can be cooked, but to nurture an ingredient to its full potential requires an endless cycle of trial and error, and an intimate knowledge of working with fire.
For some, only the signature smoke deserves to be on the pedestal, but it's the masterful way in which Julien Perraudin does justice to all the ingredients that earns him this year's Chef of the Year award. 
Runner-Up
Though only one year into running his first restaurant, Esta Eatery's Chef Francis Thuan cooks for a full house most days of the week.
With a concise menu, each dish conveys his love for the exploration of nature, playing with obscure ingredients to bring out their full potential.
An advocate for fire cooking and grilling, Francis Thuan looks dead set on continuing to refine his art using the lush bounty of Vietnam's farms and seas. 
Winner: Julien Perraudin
Runner-Up: Francis Thuan
Nominees: Peter Cuong Franklin, Viet Hong, Pedro Goizueta
Bartender the Year 2020: Nguyen Huu Phu (Irusu)
Nguyen Huu Phu wins our very first Bartender of the Year award for his determination and creativity in the field of mixology. 
Winner of Campari Bartender Competition Vietnam 2019 and Vietnamese representative in the World Finals in Milan, Nguyen Huu Phu has been shaking up a storm in stylish Irusu Lounge.
Never one to rest on his laurels, Phu builds himself up by reading books and visiting museums, always drawing from the environment to inspire his craft. 
Saigon's bar scene continues to shine brighter than ever. Cocktail mixing has been elevated to an art form and is recognized as such, and today the bartender must truly strive for the highest craftsmanship to impress the drinker.
Phu has not only refined his art, but infused it with such intuition and creativity that every cocktail becomes a precious gift, specially tailored and impossible to replicate. 
For his dedication to every part of drink-making artistry, Nguyen Huu Phu earns 2020's Bartender of the Year award. 
Runner-Up
Dinh Thep, a key player at Layla Eatery & Bar's little sister, Summer Experiment, has had a great year winning several prestigious bartending and cocktail competitions.
His emphasis on transforming local ingredients into unique concoctions earned him this year's runner-up spot for Bartender of the Year. With many great mixologists emerging from Saigon's vibrant bar scene, Dinh Thep is up there with the best and will no doubt continue aiming for new heights. 
Winner: Nguyen Huu Phu
Runner-Up: Dinh Thep (Layla Eatery & Bar/Summer Experiment)
Nominees: Dat Nguyen (Yugen Bar), Trung Vang (Summer Experiment), Le Nguyen Phuc (Inthe MOOD)
Neighborhood Hangout of the Year 2020: Kin Dee Thai Gastropub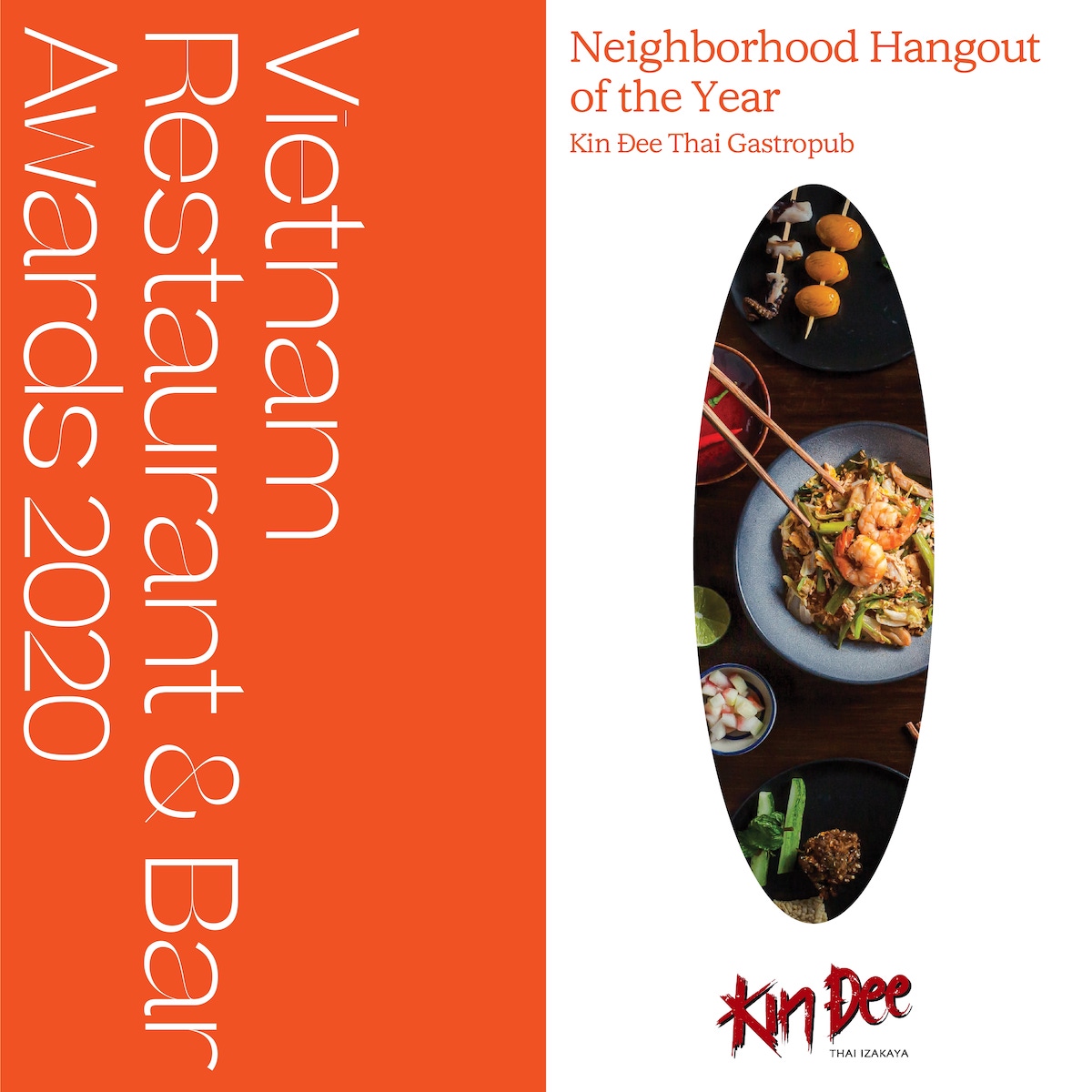 Kin Dee Thai Gastropub wins Neighborhood Hangout of the Year for embodying the cool, casual vibe that invites company and more. 
An ingenious concept combining world-renowned Thai street food with the social drinking culture of the Japanese izakaya, Kin Dee is a quintessential hangout spot.
Drinking options abound, ranging from beers, cocktails, sake and wines to higher proof options. The food demands to be shared, spanning drink-pairing bites, skewers galore and mix-and-match options. The interior is effortlessly cool, blending vibrant alleyway vibes with speakeasy blues. 
Runner-Up
Enormously popular with the younger crowd and their four-legged companions, L'Herbanyste delivers an exquisite outdoor retreat complete with lounging sofas, neat lawns and even a pool.
Serving vegan and vegetarian fare, the kitchen sources quality ingredients and seems to never run out of inspired food presentation ideas. Open 9am-6pm, L'Herbanyste is the perfect weekend gathering place. 
Winner: Kin Dee Thai Gastropub
Runner-Up: L'Herbanyste
Nominees: Laairai, East West, Yugen Bar
Design of the Year 2020: Okkio Caffe Thao Dien
Okkio Caffe, the popular and whimsically conceived cafe in Thao Dien, wins Design of the Year for 2020. 
Unlike many aesthetically-inclined cafes, Okkio Caffe exudes an air of enlightened detachment, unconcerned with its status as an Instagram hotspot.
Designed by Red5Studio, their third location in Thao Dien recently opened to packed crowds. Ambitious concepts are a dime a dozen, but too many favor visual sensationalism. For its playfully original design, Okkio Thao Dien deserves the Design of the Year award for 2020. 
The oft-seen exposed brick wall never looked so fresh and fitting, marking a touch of artistry rather than a cliché masking the lack thereof. A palette of deep jade juxtaposed with defiant red cleverly adorns the interior.
Natural light adds dimension, providing gentle transitions of shadow as the day unfolds. If one pays notice, delightful touches abound: from pastel plates to contrast the pastry they hold, to the subtle perfection of minimalist cutlery and glassware.
The atmosphere is a carefree one, resonant with grace without ever resorting to affectation. 
Runner-Up
Where Okkio Caffe is playful, Yugen Bar is grown up and refined. Designed by ShapeUs Studio, here the beauty lies in the negative spaces: the expansive and polished bar, the areas of dark untouched by the spotlights, the almost hypnotic way the beams curve and bend through the place in a Fibonacci-esque pattern.
Not a single piece is redundant, and the cocktails taste as precise and principled as the space looks.
Winner: Okkio Caffe
Runner-Up: Yugen Bar
Nominees: The Bloom (Thi Sach), Mama Sens, BAKES
Brand to Watch 2020: NOMU Izakaya
Fusion is nothing new, but no one in Saigon does it quite like the team at NOMU Izakaya.
Building upon the original tradition of a Japanese izakaya, NOMU elevates that experience to the point when the venue becomes a destination-worthy spot. 
Dishes and cocktails come crafted with an eclectic spirit, blending styles from all over Europe and Asia with a decidedly Japanese sensibility. With its minimalist-cool vibe and delightfully convenient electronic menus, it's easy to find comfort at Nomu. 
Runner-Up
A very close contender was The Monkey Gallery, Chef Viet Hong's temple to refined tasting menus. Having trained in both France and Japan, Viet Hong uses his incredible palate to weave Vietnamese ingredients into an entirely new taste experience.
Only one year old this July, The Monkey Gallery has already cemented itself as one of Saigon's most adventurous spots. 
Winner: NOMU Izakaya
Runner-Up: The Monkey Gallery
Nominees: The Vintage Emporium, Kiba, La Viet Coffee
Social Responsibility Award 2020: Pizza 4P's
Winner of last year's Mission Impact Award, Pizza 4P's has been committed from the first day to a sustainable future.
Across their twenty locations nationwide, the chain strives to reduce food waste, and have recently started initiatives such as installing a small solar energy conversion system on the rooftop of their Thao Dien restaurant. There is also a worm composting system in place for vegetable and fruit scraps.
Any guest dining at a Pizza 4P's directly contributes to this sustainable cycle, while enjoying the purity and healthy aspects of such ingredients. Pizza 4P's holistic and educational approach to the dining experience earns them this year's Social Responsibility Award.
Runner-Up
Noir. Dining in the Dark commits to a different kind of social impact. Since 2014, they have chosen to train the blind and visually impaired into hospitality experts, an unexpected choice of career that has proven a resounding success. 
Offering unique dining entirely dependent on sensory experiences in the dark, Noir. aims to raise awareness about the difficult life of the blind in Vietnam, and provide career opportunities for them in a professional environment. 
Winner: Pizza 4P's
Runner-Up: Noir Dining in the Dark
Nominees: Song Cai Distillery, Blanc, Anan