Officially opened since March of 2018, and only less than a year later, Tomatito has already earned its place in the Saigon food and beverage scene as the winner of the People's Choice Award Restaurant of 2018 at Vietcetera (aka. #banhmiawards).
Known as the 'sexy tapas bar,' Tomatito has been delighting the Saigonese culinary scene with its fun, colorful, and unique Spanish palate.
Tapas are what always traditionally precede every Spanish main course, and the appetizers made an impression on Saigonese diners due to the diversity in their ingredients – namely cold cuts such as cheese, sausages, and ham. Tapas are even diverse for its hot entrees and its recipes.
Seared French foie gras, pear jam, smoked chili and crispy bread will be presented on the upcoming Christmas menu.
Spanish people believe that the true tapas experience is best when the joy of eating them is shared with everyone on the table. Hence, when Tomatito first opened in Saigon, the restaurant localized its menu so that the selections express this warm and pleasant attitude in the most fulfilling way possible.
In this effort, Tomatito earned its place in the people's hearts with its nuanced balance between traditional Spanish flavors and Vietnamese preferences.
With the Christmas holidays and New Years nearing, of course, a hearty place like Tomatito is on our radar. Let's visit the cozy kitchen of Tomatito with head chef Willy Trullas Monero and discover what kind of sweet and savory surprises he has for visitors during this time of the year.
After being selected as one of the winners at our Vietcetera awards last year, what kind of transformation has Tomatito undergone that is most memorable this year?
Honestly, the Vietcetera award has been a great source of encouragement for someone who is so new to the Saigonese food and beverage industry like ourselves. As a restaurant known for introducing and serving Spanish cuisines, after all this time, we still try our best to always grow closer towards Vietnamese customers.
Luckily, all the hard work at Tomatito's team has been recognized and welcomed by most customers. If the majority of our restaurants' customers at the beginning were foreigners, then by now we have seen the number of Vietnamese diners increased steadily. This truly motivates us to: stick with our mission to promote our Spanish culture all the more; as well as to bring extra creativity and novelty onto the table.
What has contributed to Tomatito's success in Saigon?
For me, it's the funky, jovial and distinctive quality of Tomatito that is evidently communicated through our interiors, recipes, and even presentations of food. These very things are what attracted and created a special connection between us and the customers.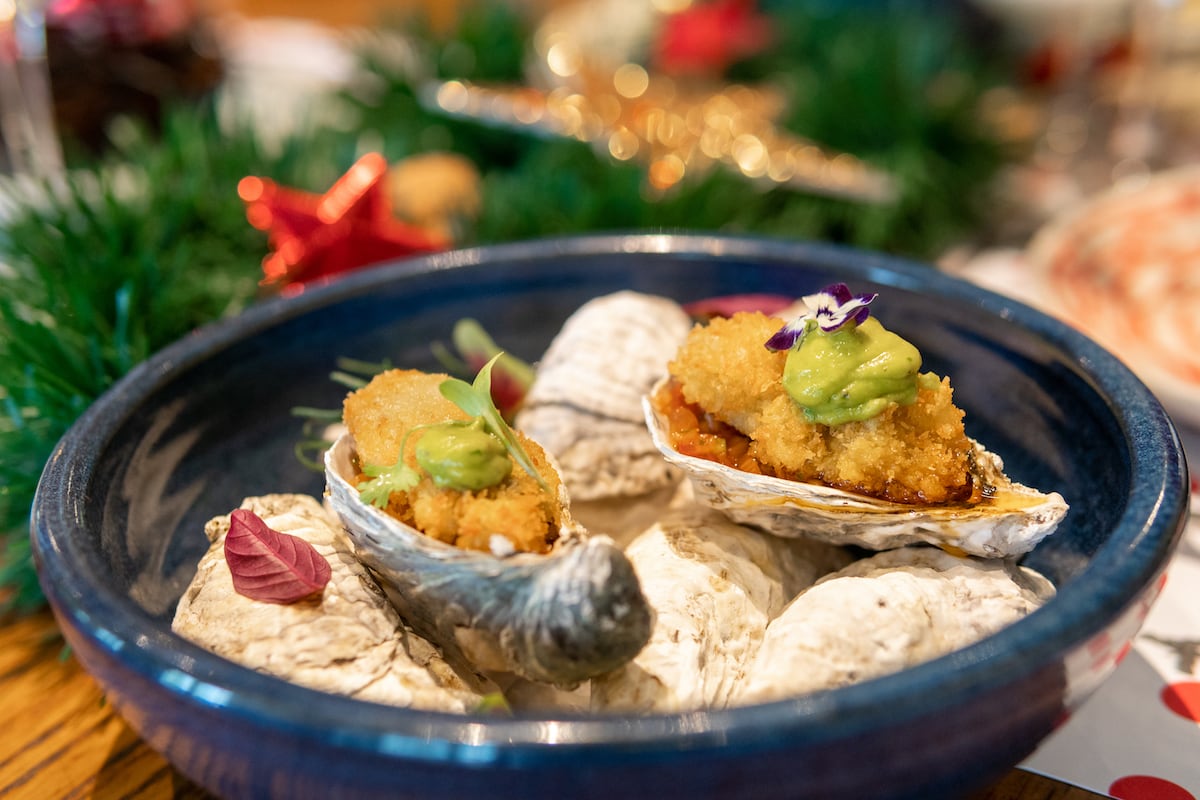 Crispy Nha Trang oyster, avocado mousse, basil and mango salsa is will be added in the Tomatito's Christmas menu.
Another element that's incredibly important is tasting experience of the customers. In order to keep up with Vietnamese trends, we pay attention even to the calibration and alterations. Furthermore, the menu at the restaurant is always renewed and updated every 3 to 4 months.
Could you speak more on the "Vietnamization" experience of Latin cuisine at Tomatito?
Some quintessential ingredients that Vietnamese customers respond to are rice, seafood and beef. Vietnamese also have a tendency to eat quite light and prefer the rice to be cooked more well done than Spanish do. Therefore, Tomatito's menu always includes the aforementioned ingredients, and we always make sure that the cooking process meets the expectations of Vietnamese audiences.
Porcini mushrooms, hazelnuts and Ibérico ham juicy paella will be served on the New Year Eve's .
What should customers look forward to in the upcoming holiday menu at Tomatito?
Similar to Tet in Vietnam, Christmas and New Year's are the two big holiday seasons. This is the time of the year when all members of the family gather together. Thus, instead of the regular Western-style individual servings, all dishes will be made and served for plural servings so that many can enjoy altogether. During this time, all dishes are also prepared and elaborated with much higher quality resources than usual.
To truly express the festivities of this season well, we have spent around a week to do research, design and perfect the two Christmas and New Year's menu at our restaurant.
Aside from the cozy family-style servings, all dishes from these two menus will be cooked using ingredients that Vietnamese customers especially love. The Christmas menu includes dishes made of Chilean mussels, oysters from Nha Trang, fois gras, Angus beef, etc.
Of course, these ingredients won't be repeated in the New Year's menu. Thus, tuna, black caviar, sea urchin, lobster, and Australian beef cheeks, will be the specialties of this menu instead.
With our efforts to balance the two Spanish – Vietnamese cultures, we hope to bring a complete, cordial and intimate Christmas and New Year's experience to everyone.
So when can us customers come to enjoy these two menus?
These two menus will be available starting from two different periods. The Christmas menu is exclusively served for two days only, December 24th and December 25th. Next is the New Year's menu, which is also exclusively served on the night of December 31st.
Other than these two special menus, are there any other fun and interesting events happening at Tomatito during this holiday season?
Of course! Festivities and music are the two necessities of the restaurant, especially during this great celebratory mode. Moreover, to welcome the upcoming year of 2020, Tomatito will organize a countdown on the night of New Year's Eve.
Since the restaurant is located right in the center of District 1, customers can easily watch the fireworks and enjoy the very last moments of the year right from our balcony. Tomatito has also prepared some surprise gifts for everyone.
We hope to see everyone, the members of the Tomatito Saigon family, very soon.
Related Content:
[Article] Tomatito: Bringing Funky World-Class Latin Cuisine To Vietnam
[Article] La Boulangerie Française: Baking For A Brighter Future