Saigon-based Vietnamese architects Nguyen Hai Long and Tran Ngu Ngon take inspiration from nature—and even from insects. As Tropical Space Architects they create structures like their Termitary House in Danang which references the construction of termite mounds. Buildings like these use simple materials which work with the environment rather than fighting against it. And they are gaining international admirers for their work including winning the gold award for sustainability at the recent ARCASIA Awards for Architecture in Tokyo for their Terra Cotta Studio. Their Long Thanh House in Dong Nai also received an honorable mention. That's added to previous recognition from institutions including The Friz Hoger Prize, The Architectural Review, and—fittingly—The BRICK Awards.
According to a World Bank report titled "Vietnam Affordable Housing – A Way Forward", published in 2015, Vietnam faces the dual challenges of affordability and reducing the environmental impact of rapid urbanization. Tropical Space architects are responding by employing locally-made bricks to create layers of walls which naturally regulate their buildings' internal temperature. This innovative use of materials lowers building costs and reduces the need for expensive and environmentally damaging air conditioning.
So Vietcetera asked Nguyen Hai Long and Tran Ngu Ngon to explain more about how they're blurring the lines between architecture, sculpture, and art.
What are your backgrounds and how did you become architects?
Tran Thi Ngu Ngon: We both grew up with a passion for architecture, art, music, and design. Growing up in a tropical environment, we felt that architecture could influence how people live in harmony with their surroundings and we wanted to be able to encourage and inspire that idea through our work. We studied at The University of Architecture Ho Chi Minh City and founded Tropical Space Architects in 2011.
How would you describe Tropical Space Architects' style?
Nguyen Hai Long: Our two main design influences are sculpture and climate. Everything starts with a response to the local climate and mitigating the effects of climate change. Initially, these are practical design choices but our style of architecture is inspired by sculptural forms and simple shapes. It is important that our buildings are a reflection of the people who inhabit the space, and not just a reflection of the building's architects. So besides looking very closely at the location and surrounding landscape, we also want to understand the story of the owners.
As we're based in Saigon we do a number of projects here. We see people living, working, and playing all in the same small space. When creating buildings in cities like this we try to make the space adaptable, but also stimulating for the people living there.
Who are your architectural influences? Where do you draw your design inspiration from?
Nguyen Hai Long: One of our favorite contemporary projects is The Guggenheim Museum in Bilbao by the Canadian-American architect Frank Gehry. The building seems to live in our collective imagination. It is not like any architecture from the past—we feel it's the ultimate architectural project.
The Terra Cotta Studio was designed as a workspace for the artist Le Duc Ha. How does your approach differ when designing a workspace as opposed to a residential space?
Tran Thi Ngu Ngon: A home needs to be built with the family in mind. There, private spaces and family spaces are equally important so the layout is designed to support this. A workspace for an artist needs to inspire its owner while also serving a practical purpose. The space should enable both things.
The Terra Cotta Studio is set by the river with lots of bamboo, access to sunlight, and a breeze flowing through it from the river. It is also a space where an artist like Le Duc Ha, who creates pottery artworks from terracotta, can showcase his work…displaying it at its best.
The Terra Cotta Studio is a cube-shaped building with 7 cubic meters of space. Surrounding the potter's wheel is a bamboo-frame platform used for drying out terracotta artworks. The outermost layer of the studio is made from solid clay bricks which reminds people of a traditional furnace. The bricks were built interleaved creating holes which help the wind to ventilate the building. This protects the artist and his work from the elements, but still allows him to feel part of the surrounding environment.
The same project pays homage to ancient Champa culture. How did you incorporate this and why was it important to you to include this reference?
Nguyen Hai Long: Central Vietnam is the land of the ancient Champa Kingdom, so we wanted to create a building that reminds people of this past.
And the thing we love about Champa architecture is the way it uses sunlight. There's also a respect for materials. For the Terra Cotta Studio we wanted to create a space that could feel the sunlight from sunrise to sunset and also show the nature of the materials used in its construction. The bare brick harks back to Champa style and the spacing of these bricks is both for style and for the flow of light and air through the building.
The Termitary House is named after a termite mound. How did this project take inspiration from nature?
Nguyen Hai Long: Insects build their nests with very simple materials and they have used the same design for a very long time. I wondered why people keep changing the way they design and build when nature seems to find a simple and reliable long-term solution. We are too dependent on modern technology for our buildings and how we deal with the environment. For this Tropical Space Architects' project we wanted to build something inspired by termite nests using simple materials and taking advantage of the climate itself.
The structure of the house includes many layers of brick arranged randomly like the tunnels and spaces in a termite mound. The holes in the brickwork as vents to help the wind flow inside the house while allowing light to reach all the rooms without the heat of direct sunlight. In the evening, the house looks like a giant lantern with light shining back out through the holes.
How do you design to mitigate the fluctuating climate in central Vietnam?
Tran Thi Ngu Ngon: To reduce a building's reliance on technology, especially air conditioning, our designs promote natural airflow. We have learned about how the wind flows through different spaces, how the layout of rooms affects airflow, and how perforated walls can promote the flow of air.
We also pay attention to where the sun will be during the hottest part of the day. We create room layouts in our buildings with that in mind. For example, we place the stairs, storage, and bathroom on the side of a building that receives direct sunlight so that these structures act as protection for the family's living spaces. Natural ventilation and shade reduces the reliance on electricity which provides both an economic and environmental benefit. All of Tropical Space Architects buildings are designed with these principles in mind.
Why does Tropical Space Architects use red brick so often?
Nguyen Hai Long: We want to show the beauty of raw materials. Red bricks like these are used in most buildings in Vietnam but they are almost always covered up. The finishing layer of paint, concrete, or plaster is largely a cosmetic decision which also adds to the expense. We want to show that you can build beautiful spaces with simple, low-cost materials, which there is no need to conceal.
We want to inspire people to use local materials and to only use what they need. We make use of these bricks because they are widely available here and suit the environment. They are very good at dealing with heat and humidity. They absorb moisture which creates a natural cooling effect when it comes into contact with air.
How do you feel about blurring the lines between architecture, sculpture and art?
Tran Thi Ngu Ngon: A project that only focuses on function is just a building. We want to put a little bit of art and emotion into the spaces we create—people should have an emotional reaction to our constructions.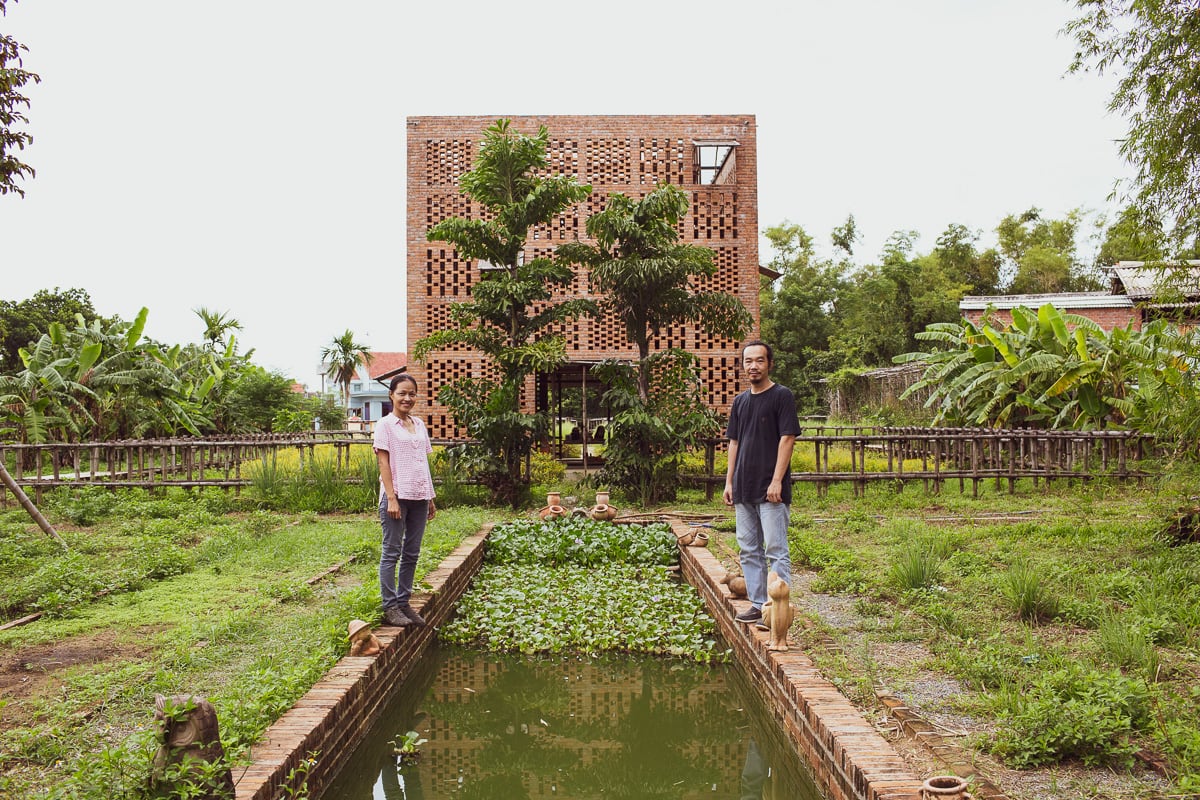 What are your dreams for Tropical Space Architects?
Tran Thi Ngu Ngon: We have a lot of dreams for designs we hope to create at Tropical Space Architects. Our greatest dream is that we will be able to inspire other people to live a more simple life, to use enough but not more than is needed. We can show this to people with our architectural designs and material choices and they can apply that to all areas of their lives.