Walk into the shop of Tuhu Ceramics in Thao Dien, District Two and one feels as if they've stepped into a blue oasis. Blue is the central color of the first collection developed by founder and CEO, Le Thi Hien. She is as gracious and inviting as the space, which displays stacks and rows upon rows of hand-crafted ceramic ware.
What is unique about each handcrafted piece, she emphasized upon Vietcetera's visit, was that the shine of the pieces, the unique tan and yellow undertone is unique to the clay found in Lai Thieu stoneware. This type of pottery can only be found in the southern part of the country, and was originally created in Binh Duong province in the early 20th century. The main focus in this craft is homeware ceramics. 
The former banker and 38 year-old mother of one was not drawn to this type of ceramicware originally and said that it occurred organically. In 2012, there was a boom for collectors to get their hands on Japanese ceramics. Hien opened her first shop influenced by this boom simply because she also loved collecting this type of homeware and wanted to share that interest with others. However, she said that her shop failed. Upon further research, Hien found that Vietnamese people simply did not like the ceramicware style since it did not match their homes. 
Hien did more investigating to find out what styles Vietnamese people enjoyed displaying and using in their homes. The first blue themed collection of Lai Thieu stoneware of Tuhu ceramics was founded in 2017. Why blue? Well, simply because Vietnamese people liked the colour and it matched with their home. 
The name Tuhu itself is inspired by Vietnam's song bird, Hien said. The bird borrows something valuable to share with the world. Thi is in tandem with Tuhu borrowing upon a decades old practice of ceramic ware to bring homeware ceramics to modern Vietnamese homes while displaying heritage. Ultimately, the Tuhu customers are both local Vietnamese and overseas visitors who have an appreciation for the craft, and enjoy one-of-a-kind Vietnamese pieces for use and display in their homes. However, Tuhu does not value themselves based on who walks through their doors. "I don't limit myself to a certain target audience for Tuhu, whether it's the locals or tourists," Hien said. "We hope that we reach as far as we can."
With this small, niche industry, there is little room for competition, Hien said. However, the emphasis is first and foremost on authenticity while reinventing the past. "You shouldn't put creativity in a box," she said. Read on to learn about the inner workings of Tuhu Ceramics, Hien's vision for ceramic ware in Vietnam and her goals for the future.
Can you share with us your journey towards ceramics and Tuhu?
I grew up in a privileged family. My mother was a middle school principal in a province. My father worked for the government. Their income allowed us to live a pretty well-off life. I remembered when I was little, my family only used the shiny white ceramic bowls that had an image of a fairy. In her hand was a colorful fan with glittering patterns. My path to opening a ceramic business neither stemmed from my childhood memories of ceramics nor I had not thought about opening a ceramics business like Tuhu. 
Through researching Vietnamese consumer behavior, I'm more confident than ever that the Vietnamese Gen X, Millennials and Gen Z don't turn away from products that have traditional values, but it's rather the opposite. There is a huge demand for products that carry the Vietnamese traditional values but it also has to be suitable to the modern day. The year 2016 was the year of researching the industry, pursuing my passion in ceramics that all sparked from my trips visiting the ceramics manufacturing facilities at Bung-Lai Thieu market. I personally love the simplicity that this type of ceramics exudes. However, many customers think that it doesn't look aesthetically beautiful and they won't buy it to use at home. The question I want to ask them is: why do you think that it is not suitable? I then realized that their living space follows a modern style, which is the brand image that Tuhu has been building and developing until now.  
What's the message Tuhu is trying to convey to this audience?
Looking at the history of this type of ceramics and what Tuhu is currently achieving, it deserves to represent ceramics in Southern Vietnam. This type of ceramics is unique and is one of a kind. Vietnamese people can be proud of the fact that Tuhu's version of Lai Thieu ceramics is appealing to people; and we're a brand that focuses on Vietnamese ceramics. Vietnamese ceramics doesn't lose to other brands around the world.
How do you balance tradition and the modern era in your products and business?
Not only is Lai Thieu ceramics a sophisticated home product, but it also contains traditional values. We understand that preserving these traditional values is very important. Meanwhile, we're also aware that changes happen constantly in this day and age and the society always keeps moving forward. Therefore, being creative while maintaining these traditional values and culture is a huge challenge and pressure. However, we believe in our decisions. We decide to preserve the traditional methods of making ceramics, which is the core value and the foundation. We stay creative by upgrading our products to something that is of high quality. We use an oven run by gas instead of following the traditional way of using logs to reduce CO2 emissions. In addition, we create new patterns that have different concepts and themes all relating to the Vietnamese culture, which can be created using different techniques. Even the old patterns can be tweaked to make it suitable for the form of ceramics.
Did Tuhu Ceramics face any challenges when it first opened and how were they solved?
Initially, Tuhu baked ceramics by the traditional method of using logs. However, it wasn't well-received by the majority of our customers. These customers pay more attention to the shine on the ceramics, its durability and a clean look. With the result that the traditional method of baking ceramics had, we weren't that well received in the Vietnamese consumer market. In addition, up to fifty percent of the products were faulty. What's surprising is that tourists and foreigners really love ceramics made using traditional methods. However, our target audience is still the Vietnamese.
Tuhu switched to an oven run by gas and accepted the risk of missing out on foreign consumers. At the early stages, we were faced with a lot of faulty products but after almost a year spent researching about the temperature and the ratio of water to mud, our products have become more consistent. That being said, our products can still be improved to reach a quality that we expect.
What are the challenges that Tuhu has now?
There aren't many senior ceramic artists as of right now. The majority of them prefer to work in a flexible time schedule, and the younger generation has little patience to go after this career. Therefore, to find a passionate ceramic artist is a huge problem for us.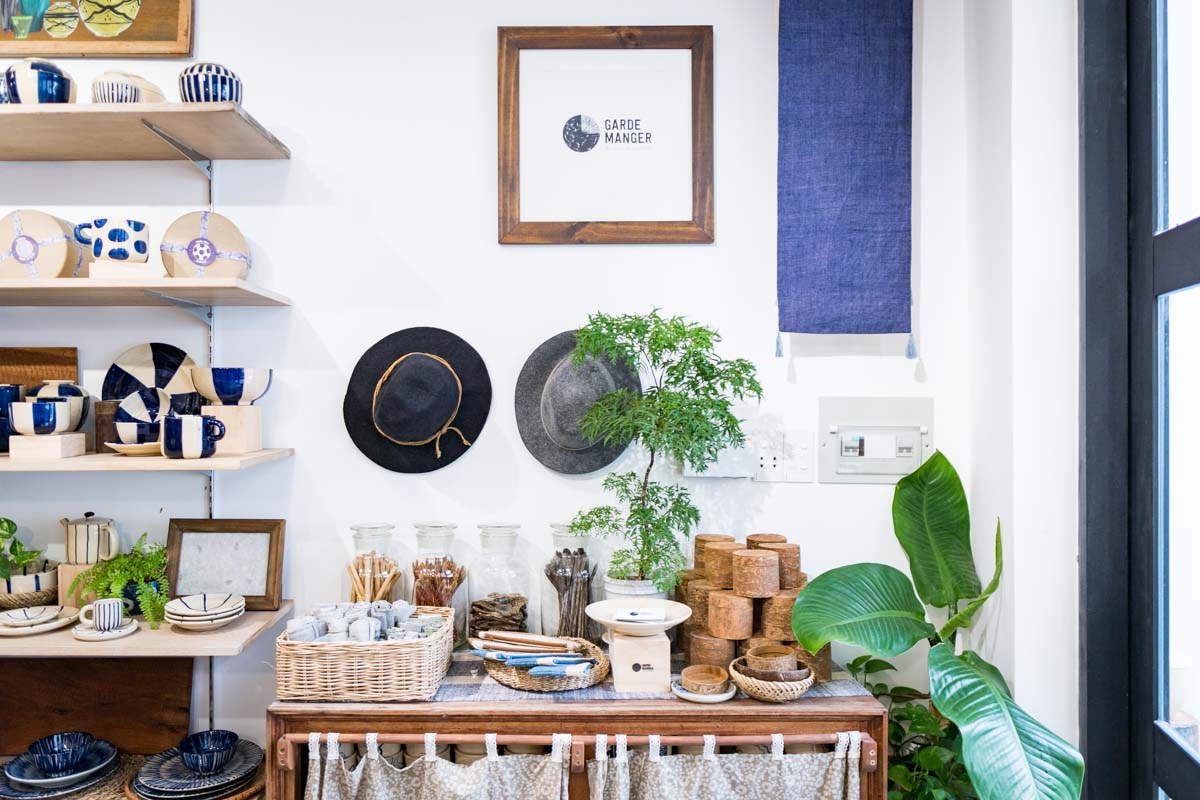 You mentioned a collaboration with Indigo's young artists on Tuhu's facebook page. Can you tell us more about the story of this collaboration and how you came up with it?
As a leader and a person who makes decisions for all creative directions and branding for Tuhu, at that time Tuhu just finished "The color is blue" and was mostly known in the underground. With the goal to reach father, I needed to boost Tuhu so that people would know more about who we are and our mission. In Vietnam, besides antiques exhibitions or ceramic exhibitions where the artists focus more on the art and representation of their collection, there has never been a brand that put on an exhibition specifically for ceramics for family uses. I want to be the pioneer and take risks without any regrets.
People at Indigo are talented and passionate artists. They're very interested in applying their designs to real life applications. Our theme is Vietnamese culture and nature. They've done a good job and exceed Tuhu's expectations. This is not a coincidental collaboration but Tuhu wants to deliver a more practical message. That is, throughout years of travelling, I have had the opportunities to understand the policies that developed countries put out to preserve the art of traditional ceramics. The way that they encourage pride in the younger generation to start out this career is amazing…I hope that we can create more opportunities for the younger generation who are passionate about ceramics, and train them. We will always create more opportunities for young artists to collaborate with us in the future.
Are there any new, upcoming collaborations?
Tuhu is currently working on two projects. In the first project, we are experimenting with a recycling program in which we would fix faulty products. The goal here is "no waste." The second project is one that we're very excited about, which is releasing a second collection. The intended release date would be Spring 2020. We hope that this collection will satisfy Tuhu's fans and will be as well-received as "The Color Is Blue."
What's your vision for Tuhu ceramics in the next five years?
We hope that Tuhu will reach the Vietnamese consumer's market and will be displayed on shelf of malls in different countries with the name "Tuhu, Made in Vietnam."
What advice do you have for someone who wants to create their own business?
When you have a new business idea and decide to start one, it is necessary to ask yourself this question – are you ready to accept loss when your business fails? If the answer is yes, the next thing is just put all of your effort into making it happen and have absolute trust in yourself that you can do it.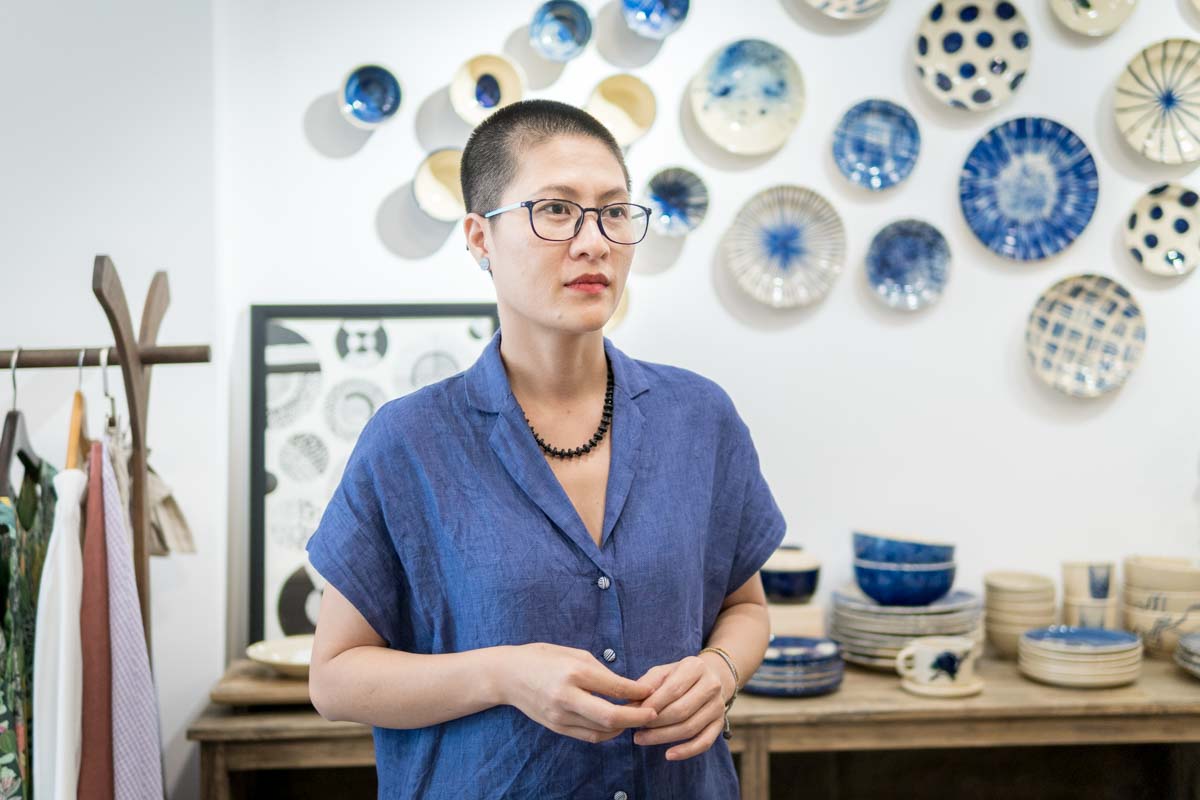 In your opinion, what traits should one possess in being a business owner and a leader of a team?
A leader needs to have knowledge to analyze problems and discover the untapped potential regarding to the company's existence and development. They must be confident to make decisions and support everything relating to that decision. Lastly, they must be determined.
Were there any personal challenges or sacrifices you had to make while creating Tuhu and how did you overcome it?
When you don't have any support and must do everything by yourself, you need to work hard. Except for having to spend less time with family and friends, I don't think of the challenges I encountered while starting Tuhu were sacrifices. At each milestone, whenever I feel lost and encounter challenges regarding finance, rent, employment, my determination to work towards a goal helped me to overcome these crisis and gain confidence easier.
What are your hopes for the pottery industry in Vietnam and Lai Thieu pottery in the near future?
I hope that we can come closer and move towards sustainability for the ceramics industry rather than just being the central place for hand-made ceramics.
In terms of Lai Thieu ceramics, my biggest dream is that Tuhu would be well-received all around the world. This gives us faith in the traditional ceramics industry to make a come back. The artists of this industry would have better lives and this type of ceramics would return to a golden age with a new look.
Address: 11/4 Nguyễn Ư Dĩ street – Thảo Điền ward – district 2 – HCMC
Facebook | Instagram

Written by Kimberly Nguyen, Adapted by Annie Trieu

Related Content:
[Article] Kashew Cheese Is The Future Of Vegan Food in Vietnam
[Article] Hey Camel Ceramics: A Handmade Vietnamese Ceramics Brand