This piece is really two things: a eulogy for three places in Saigon that will soon be gone, and a commentary on trends in the city that are emerging.
Saigon does not need misty-eyed nostalgia any more than it needs sneering expat dismissal. It's therefore my goal to show the stories of these three spaces as truly as possible, and to give a thoughtful take on cultural capital, real estate and the future of Saigon. And yes, I know there are many new spaces, venues and projects in the city: this piece just isn't about them.
Cargo
Cargo began as an ambitious mission statement posted on Resident Advisor in 2015.
"After years of experience in underground raves in parties underneath train tracks, abandoned factories and coal yards across Manchester, we are ready to take on Saigon."
Beyond the obvious touchstones of Warehouse Project and the birth of rave culture, it was clear that Cargo was talking about something more abstract, an open space not tied to genre or a single cultural scene.
Saigon Sound System, an organization that had been given permission by the Saigonese port authority, took over a dilapidated warehouse by the river – hence the name. Cargo was to be Saigon's premier venue, with a high capacity, late opening hours, and a state of the art sound system managed by experienced engineers. The proposition was unique, the challenge basically new, it was easy to imagine the whole project shuddering through life half-funded and half-realized.
In December 2016, writer Shawn Campbell wrote an article named "Whatever Happened to my Rock and Roll." I'd recommend Sean's article for anyone seeking a more in-depth story of Cargo, there's only space here for a brief list of successful events hosted by the venue:
Saigon International Tattoo Convention, a production of Waiting for Godot, a sci-fi cosplay party, performances by Mac Demarco, Frank Turner, The Cribs, the Vaccines, Black Rebel Motorcycle Club, Oddisse, two huge Halloween parties with live bands, and countless smaller acts, local and international alike.
Professionalism and enthusiasm meant that Cargo single-handedly made Saigon one of the stops on many artist's' tours of Southeast Asia; bolstering scenes, encouraging local artists, and elevating the city's profile. "For the duration of its existence", writes Sean, " it would provide the only venue big enough to draw touring bands to this steamy corner of Southeast Asia."
And then it was gone. At the end of May, Cargo threw a final party as the demolition trucks rolled in. As the sun came up, and those that remained climbed the stage, the huge space loomed empty except for the plastic cups, cigarette butts and few remaining diehards.
Since the closure of Cargo, Ho Chi Minh City lacks an indoor space that can host 300 to 1000 capacity shows. Artists still wish to come here, there simply is not space for them to perform. No one bothers to entertain dreams of Morrissey playing here, as he did in Bangkok. Meanwhile, more unfinished construction projects gather rust, and craft breweries threaten to drown us all in hoppy 7.3% IPAs.
42 Nguyen Hue
The modern tourist arrives at their destination and immediately wishes to go beyond it; to pull aside the curtain and reveal the "authentic." It's a new instinct that is the logical next step from the commonplace practices like photographing  the Mona Lisa from 400 meters back, and has directly given rise to abominations like Berlin "authentic street art tours" or London's "holistic Shoreditch immersion sessions".
Nguyen Hue is a curated tourist space known as "walking street" (no bikes and cars allowed.) Named after a Vietnamese Emperor, it effectively functions as the city's Times Square, Washington Monument and Champs Elysees all at once.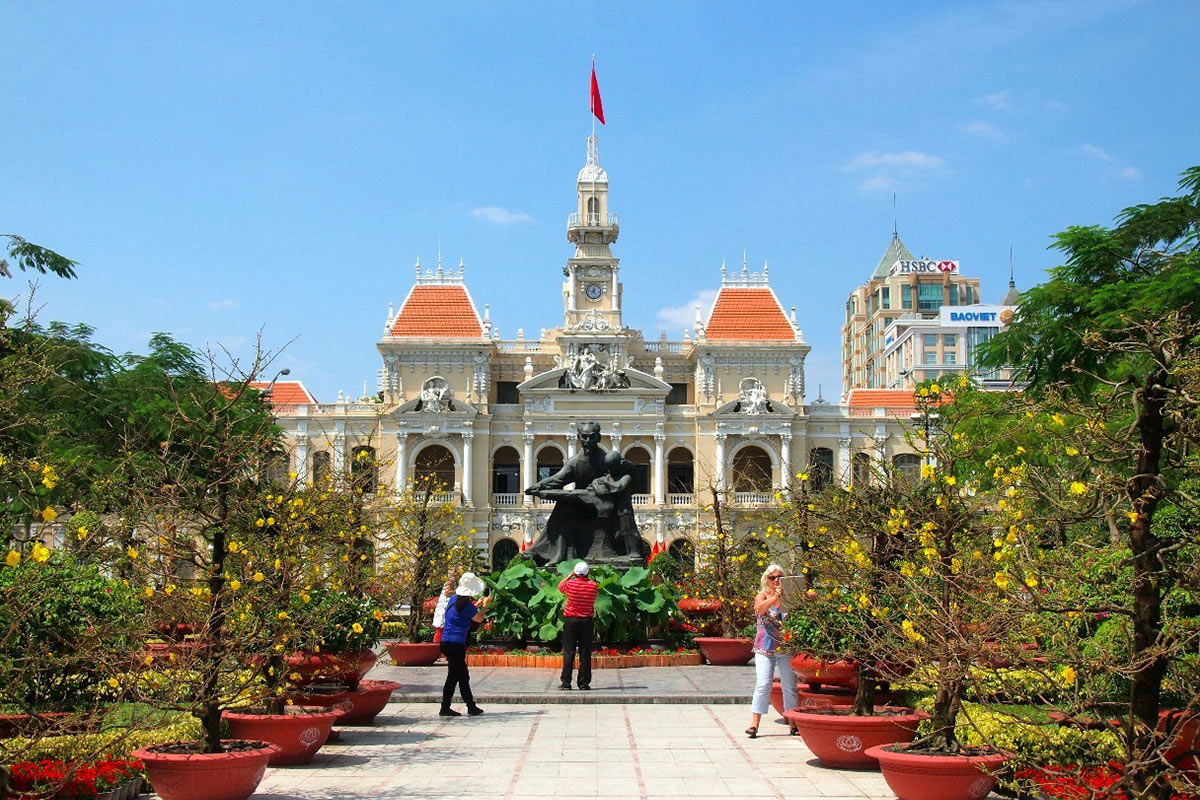 Nguyen Hue succeeds because it manages to typify an attractive selection of Vietnamese cultural touchstones without descending into kitsch. There's French colonial architecture, kids on hoverboards, couples drinking bubble tea, street performers and smiling guards. Meanwhile the stunning People's Committee of District One provides a backdrop to a statue of Ho Chi Minh, his hand raised in triumph and greeting.
Something unplanned came alongside the creation of Nguyen Hue, however. The occupants of a large apartment building at number 42, presented with a constant stream of tourists with open minds and full pockets, converted their entire block into a sort of mini-Kowloon, except with fewer prostitutes and more artisanal cakes.
This article by the Vietnam Coracle is a thing of beauty, giving a floor by floor breakdown of the boutique attractions offered inside 42 Nguyen Hue. There is more soul in every floor of 42 Nguyen Hue than in the entirety of a newly constructed mega-mall, where every decision is made by committee and authentic imperfection scrubbed from the equation. 42 shone because it fit perfectly into the milieu of the street, providing an authentic local experience that countermanded the aesthetic rigidity of the area around it.
42 Nguyen Hue was a beautiful box of confection, bookshops, cafes and quirky charm, but its fate was to be the same. Echoing a similar decision in Hanoi, 42 was ordered to close down. Overnight a Saigon highlight was condemned to eradication.
3A Station
3A Station sprung from unlikely soil. Once the site of the French Naval Arsenal and the base of the French International Secret Service, it was replaced by American occupation, housing the South Vietnamese Intelligence Organization (CIO.) Rumors of interrogation chambers and secret facilities shrouded the area in mystery, but 3A station emerged from the fog.
When the Americans moved out, art galleries, coffee shops and fashion designers moved in. Street art blossomed on the walls. Hip-hop battles and barbecues, art exhibitions and live shows, 3A was always buzzing, couples taking selfies in front of buildings and artists spray painting the repurposed walls.
And then, eventually, the announcement of 3A station on a permanent basis, with the reason summed up succinctly by 3A's management team and quoted in Saigoneer.
"The company has received a notice from the authorities to cease operations and relocate for the purpose of reclaiming this land to serve open development projects for the city."
What unites these stories is a problem not endemic to Vietnam's socialist government, but to capitalist approaches to social issues. These spaces are closed to make room for luxury flats and office buildings, and their disappearance severs communities, destroys jobs, reduces expression and paradoxically throttles investment.
It's at least somewhat a problem with fungibility – what it is possible to measure. It is easy to put a price on luxury apartments, and appropriate, as they are essentially giant slabs of invested money, built to survive floods and market fluctuations alike.
Berlin, to give one example, has long been a drain on the German government, but the Bundesrepublik's wisdom lies in understanding how great an asset Berlin is to Germany. It makes up for its relative impoverishment with an artistic scene that has held strong for twenty years. Tourists, artists, musicians and tech capitalists flood the city. We see its antithesis in countries such as Dubai, that have built entire islands to lure in visitors – an island of money within a desert of cultural capital.
This energy of creation – cultural force, soft power, etc. cannot be shown convincingly on a graph. No instrument has been invented which can measure it. Yet the repercussions are  wide ranging, reducing investment and suppressing creativity; shutting down projects before they've had time to fully develop.  South Korean writer Euny Hong, in his book The Birth of Korean Cool paints the government as having an extremely active role in the promotion of a sort of Korean culture that has spread with enormous success across the globe.K-Pop girl groups, video game stars like Faker, the remarkable films of South Korean director (Bong Joon-Ho, Park Chan-wook)  – these are part of a deliberate nurturing approach by a government that recognizes the influence of soft power.
If decisions are made that uncaringly obliterate and close down centers of cultural creation, the impact will not be noticed on graphs. The value of these places is not fungible, it cannot be counted and reduced to numbers. Like the areas of London that are now ghost towns, with the homes owned by foreign investors who spend a few summery months of the year enjoying the prosperity of the British capital, the threat of the soulless metropolis looms large. This fate is achieved through both closing and opening, two sides of the same coin, with closing the ugly face, and opening the happy mask.
Spaces like Cargo should be seized and held up as examples of the country's cultural relevance. Quirks like 3A Station and 42 Nguyen Hue can be retroactively fitted into Ho Chi Minh City by authorities, recognized as priceless embodiments of creativity and spirit, not stains that should be removed. And yes, there is an onus on wealthy ex-pats to act as patrons to these kinds of spaces, supporting them in a way that ensures their survival. But there is no need for self-flagellation when spaces are shut down without warning or prior notice.
When decisions are made to allow lifeless residential projects to erase culture, something intangible is lost forever. Allow Saigon organic spaces, strange flowerings, its 3A stations and apartment cafes, not for profit; but because they are Saigon's present and future, and no good reason can be given for their erasure.