Vietnam has been praised for so many things: a roaring post-war economy, strong middle class, rapid industrialization, and prudent measures against coronavirus. But not for its air pollution, definitely not for air pollution.
The country has seen elevated levels of air pollution in recent years. Hanoi is highly considered the most polluted city in Vietnam, and often in the region. During hot days, fog forms and hangs over the city. As of this writing, Hanoi's air quality index stands at 88 (moderate), but it's forecasted to worsen in the coming days, making the air "unhealthy for sensitive groups", according to Swiss air quality technology IQAir. Vietnam's capital is the 28th most polluted city in the world today, as the world celebrates Earth Day.
PM2.5 levels around Hanoi and Ho Chi Minh City reached particularly high levels in November and December 2020. Data from Vietnam Environment Administration revealed that AQI in November last year was between 221 and 243 — levels considered to be unhealthy for children, seniors and people with respiratory and heart diseases. 
Local authorities already moved to install air monitoring systems, and issued directives on air pollution control. Closing windows, wearing masks outdoors and administering saline nasal washes are few of the things Vietnamese can do to lessen the effects of air pollution.
But the problem can't be solved with a simple face mask or the shutting of glass windows. Air pollution involves very fine particles that penetrate deep into the lungs and cardiovascular system, no matter how covered one is, and cause stroke, lung cancer, chronic obstructive pulmonary diseases and many others. All these ailments can lead to death.
According to the World Health Organization, air pollution claims around 60,000 deaths each year, the fourth highest pollution-linked deaths in the Western Pacific.
"These fine particulates (PM2.5) are particularly harmful to health as they penetrate deep inside the lung tissue and are small enough to lodge in the alveoli. These are the tiny sacs in the lungs that receive the oxygen you breathe in. Located at the base of the bronchial tubes, these are microscopic yet number around 480 million in the average adult human. Once they start blocking the airways, diseases such as chronic obstructive pulmonary diseases, heart disease, lung cancer, and respiratory infections are much more likely to occur. Those suffering from asthma are prone to increased attacks," reads a report from IQAir.
Aside from affecting people's quality of life, air pollution in Vietnam is also directly linked to its GDP. An article from VnExpress last month detailed that the country suffered an estimated $11 billion to $13 billion worth of economic loss due to pollution. That's about 4-5% of the GDP.
Main causes of air pollution
A country of 3.6 million cars and 58 million motorbikes, Vietnam's transportation system is named as the main cause of air pollution. The majority of the vehicles found in highways in big cities like Hanoi and Ho Chi Minh City are old and therefore fall short of recommended emission standards. Buses, trucks and lorries are also exhausting endless black smoke into the atmosphere.
Vietnam also blames large scale constructions and intensive industrial activities for its low air quality. The burgeoning number of construction sites creates a huge amount of dust. The government already called on provincial and urban authorities to review and evaluate industrial plants, factories and constructions. Those found to exceed dangerous levels may be asked to suspend operations.
The use of biomass cooking stoves by hundreds of thousands of people in big cities and the burning of organic material such as straw and other waste products in the rural areas also contribute significantly to air pollution, particularly in the dry season from October to February. 
And as Vietnam suffers the impacts of climate change, matters have worsened by an unusually low amount of rainfall which normally helps clear the air.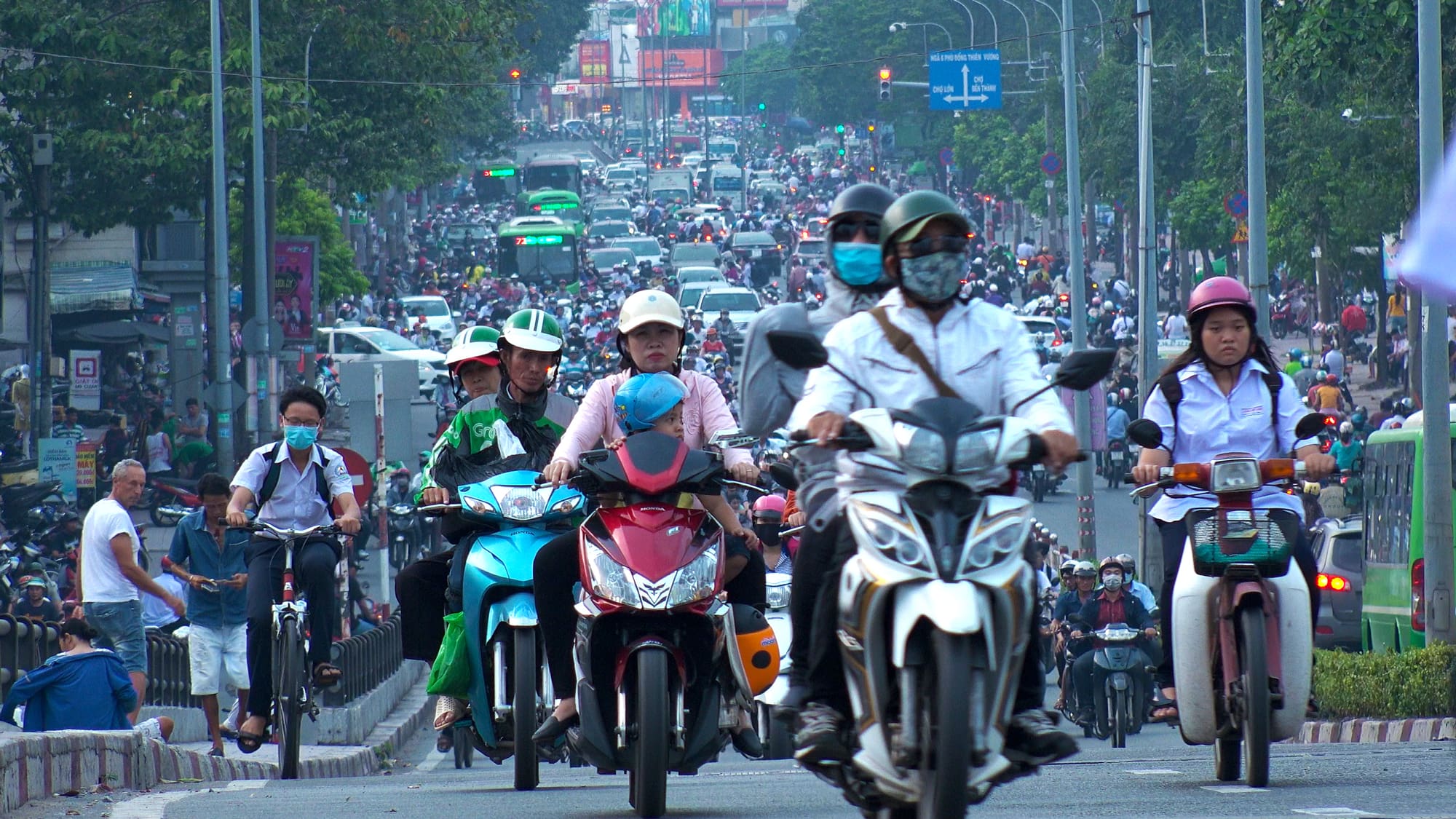 Growing environmental awareness
When COVID-19 hit Vietnam last year, mass quarantines, movement restrictions, social distancing and banning of mass gatherings improved the country's air quality. As people stayed in their homes, roads were freed from vehicles, contributing to an 8% reduction in PM2.5 in Hanoi. Favorable meteorological conditions accounted for the remaining 10% reduction.
This has also led to many Vietnamese getting more aware of their environment. When Q&Me market researchers recently surveyed nearly 800 people between the ages of 18 and 49, 79% cited air pollution as their greatest environmental concern, and 84% said environmental issues became a bigger issue in 2020.
Females and the older group tend to be more concerned about environmental issues than males and the younger people.
The number of eco warriors in Vietnam also increased, as more activists led the charge on environmental issues. From using recyclable bags for grocery to drinking with biodegradable straws and even by sharing or retweeting environmental campaigns, people are slowly learning how to make Vietnam's air cleaner and healthier.