Twenty-two year old Ho Thi Nhu Quynh wakes up at 6 o'clock every day, and readies herself for her 7am shift at a vaccination site in District 12. With full PPE on, she manages the vaccination list, guides the long lines of people to make sure proper social distancing is observed, and assists the elders as they get their jabs.
When Ho Chi Minh City's COVID-19 daily cases grew by thousands from a mere three to seven counts before the April 27 outbreak, the city's healthcare system was caught unprepared. As the patient tally skyrocketed, the lack of medical manpower and resources became more apparent. The southern metropolis, albeit considered the commercial center of Vietnam, didn't have an outstanding healthcare system in place to start with. Now that hospitals are crowded with patients suffering coronavirus and other serious conditions, the whole sector is already stretched thin. 
As the country struggles against its worst surge yet, the Ministry of Health has repeatedly encouraged volunteers to help HCMC and other hard-hit southern localities.
More than 10,000 Vietnamese like Quynh have heeded the call. 
"I work for hours — running, guiding, yelling hundreds of names. My shift sometimes ends at 4 pm, but there are days when we work until past 6 pm to finish inputting the data so people can see their vaccination information the next day," said Quynh, whose main reason for volunteering is her father, who's now stuck in his office because of the mobility restrictions. "I miss him, and I know many fathers like mine are hoping to come back to their families soon. I want to help end this problem."
For Tam Nguyen, who just arrived in Vietnam in July after getting her diploma in medical science from Sydney, joining the country's COVID-19 fight was a natural thing to do. More than having a medical degree, Tam owes the once-in-a-lifetime opportunity to study abroad from the Ho Chi Minh Communist Youth Union.
"I got my degree in Australia because of the scholarship offered to me. I believe that contributing to the fight against the pandemic is the best way for me to show gratitude to my beloved country."
At the Long Khanh Preventive Health Center in Dong Nai, which now accounts for more than 30,000 of the coronavirus infections in the country, Tam collects up to a thousand specimens from communities and performs rapid antigen tests on the spot for large-scale COVID testing every day.
While her educational background made her job easy, Tam admitted that working for long hours in level 3 PPE under the scorching summer sun is a real challenge.
"Now that I am working in the healthcare industry and can see what's really happening, I can say that the Vietnamese government and healthcare workers are doing the best that they can to limit the spread of the virus. It's not an easy task. I sympathize with all the frontline workers who have been fighting for us since the start of the pandemic."
Acts of courage amidst danger
The delta strain, which turned Vietnam from a pandemic success story to now one of Asia's coronavirus hotspots, is spreading rapidly in high-density areas like Ho Chi Minh City, Binh Duong and Dong Nai, where hundreds of thousands of factory workers work in confined spaces. 
The more infectious and dangerous variant of coronavirus, first detected in late April, brought the country's infections from less than 3,000 to more than half a million — the vast majority recorded in the past month. 
But while almost all of Vietnam's frontline workers and volunteers have had at least one dose of COVID-19 vaccine, the delta strain has reduced the efficacy of the available vaccines, putting these people, who go around communities and directly face COVID patients, at greater risk.
"I worry about getting infected, to be honest. However, as a Vietnamese proverb states, 'when you know your enemy, you can win the victory,' I am using all that I've learned in medical school to counter my fears. At the university, I studied about the biological features of different kinds of pathogens, how to detect them, what they can do, how the human body reacts to them and how to prevent them," explained Tam.
For interior design student Pham Ngoc Minh Thy, the fear of contracting the virus is nothing compared to her "responsibility" as a citizen of Vietnam.
"I think this is an extremely urgent situation, when my country needs the young generation to stand and do something. In Vietnamese, there is a slogan "Đâu cần thanh niên có, đâu khó có thanh niên" which means that young people are always ready for difficult situations."
As part of the Go Volunteer group in HCMC, Thy's main role is to mobilize funds for students in need during the lockdown, as well as assist people in getting their COVID-19 jabs at Thong Nhat Hospital. On other days, she's assigned at Tan Son Nhat Airport to welcome and support medical teams arriving from other provinces.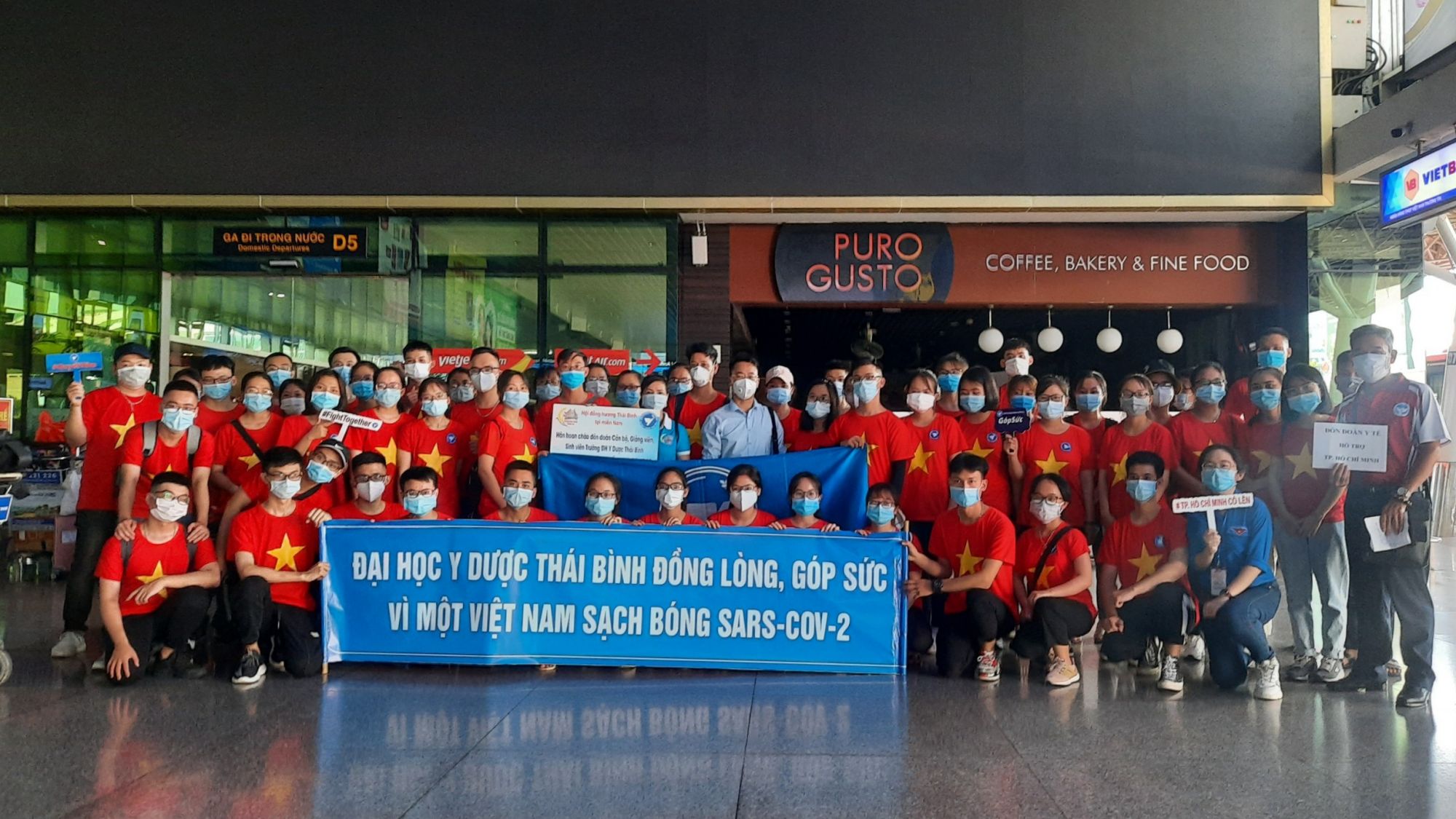 Bearers of hope
When the government enforced a 24/7 curfew in HCMC on August 23, tens of thousands of medical workers, student volunteers and military personnel from less-affected provinces were deployed in the city.
The presence of huge military trucks in streets caused initial fears and panic, but city authorities immediately said HCMC is not under a state of emergency, and the deployment of security forces across districts are meant for distribution of goods and medical support.
For more than two weeks now, military officers have been collecting orders from the city's 12 million residents, going to supermarkets, segregating food orders and distributing them to homes and apartments. 
This strategy has been working so far. With the security forces the only group moving around wards and districts, the "stay where you are" order is followed religiously. But it has posed a different challenge - because of the limited manpower attending to hundreds of thousands of orders every day, it takes days or a week before the goods are delivered to households.
Roy Nguyen, who lives in an apartment complex with nearly 400 units, has had his grocery orders delivered late. He and all residents in HCMC are allowed to order once a week through preset combo options accessible on different apps.
Roy knows the local authorities are overwhelmed with the bulk of orders, so instead of complaining, he volunteered to help with food purchasing and distribution in his apartment. Aboard his bike, he goes to a nearby supermarket and grabs packs of meat, vegetables and other essentials ordered by his neighbors. Just this Monday, he spent seven hours at the store to complete 380 sets of groceries.
"There are four volunteers, including myself, from our apartment. We are supposed to receive order requests, visit the supermarket, and purchase those items. The distribution process is supposed to be taken care of by other groups. However, since everyone is busy with their other designated tasks, our group makes the delivery as well. It's within walking distance though (we cannot go far due to lacking of permissions. We cannot ride past the traffic blocks, managed by local police and military personnel)," said Roy, who works as executive director at real estate marketplace FinHome.
In every food package he delivers at people's doorsteps, Roy includes a note of encouragement. He's not just delivering food, he said, he delivers hope and positivity, too.
"I believe that in a crisis like this, every contribution will mean a lot. A startup founder, a small business owner, a freelancer, a blue collar worker...as long as you are willing to help out, that means a lot to your home and your community. I just feel happy to do something meaningful to my neighbors, my community."