Presented by our partners, Speed POS and Beervana International.
This is Vietcetera's inaugural Saigon bar of the year list. From speakeasies and whisky dens, to brew houses and high-end cocktail bars, 2018 witnessed an explosion of places to drink in Saigon. These exciting new venues joined some more established bars—and our list represents that. This year also witnessed more pop-ups, masterclasses, and guest shifts than ever before with some of the world's most talented bartenders touching down here which we've also taken into consideration.
The only downside of the booming Saigon bar scene is that making a list of the very best is getting harder and harder. So, to decide the Saigon bar of 2018, we put together this shortlist of ten of the best for you, the readers, to vote on. Honorable mentions go to Corked Tales, Below and Broma, Birdy, The Social Club, Alley Cocktail Bar & Kitchen, and a few others that fractionally missed out on the top ten.
In addition to the People's Choice Award, there will also be a Saigon bar of the year award decided by a panel of experts. We'll announce both results at our awards ceremony in January. Make your decision below. If you need help, read the descriptions further down the page. Polling closes at 5pm Saigon local time on Wednesday December 19th.
The results will be disclosed when we announce the full range of winners of our Restaurant & Bar Awards 2018 in mid-January 2019.
Don't forget to vote now for Saigon's Restaurant of 2018 as well.
The short list of the best bars in Saigon in 2018
Drinking & Healing
This year, Drinking & Healing was an exciting addition to the speakeasy scene. There's the location—across the street from Bitexco Tower on the fringe of Nguyen Thai Binh ward—and the drinks, with solid classics, but also with bartenders willing to go off-menu upon request. In fact, they record every drink customers ask for, which they're currently compiling into a recipe book.
Then there were the masterclasses, like the one by Hidetsugu Ueno before his shift at ATM, and the guest shifts by bartenders like Monkey Shoulder's Jay Gray. Not bad for a bar that only officially opened on 19th September.
What: A speakeasy in District 1's cool Nguyen Thai Binh ward.
Where: 2nd Floor, 25 Ho Tung Mau
Why: Guest shifts and great cocktails—whether on or off-menu—in this historic building.
Layla – Eatery and Bar
Like the city itself Layla – Eatery and Bar refuses to stand still. This year they opened up another section adding a pool table and spacious smoking area with seating. At eleven-meters the bar is one of the longest in the city, but thanks to the warmth of its bartenders it's also one of the most welcoming.
There's a 5-8pm happy hour with an intriguing menu of eminently explorable cocktails—like the Not Any Ordinary Gimlet and the Kick Back Colada—and sharing cheese and charcuterie plates as well as Australian-infused seafood dishes. The location just off Dong Khoi helps too—who can refuse an offer of an after work drink in a bar you'll probably be passing by anyway?
What: A cavernous cocktail bar and lounge in an old converted apartment.
Where: 63 Dong Du, District 1
Why: Packed out and scores high on every measure of a great bar we give it.
2 Lam Son
The Park Hyatt Saigon's martini bar, 2 Lam Son, refuses to be dislodged from our Saigon bar of the year list regardless of the number of young upstarts that we add. This year might have been 2 Lam Son's most exciting year ever. First, in January, they welcomed the Clumsies from Athens—the sixth best bar in the world—who made drinks like their El Draque, a mojito with its mint flavor delivered as a toothpaste.
Then, they finished the year with a visit to their Passion Week by Simone Caporale, former International Bartender of the Year (who also once kicked Justin Bieber out of his bar).
There were a number of other exciting guests in between, but the esteemed visitors just complimented a bar that has remained on top of its game for a long time now.
The bars signature cocktails elevate local ingredients and ideas, like the bitter melon Khổ Qua Negroni. There's also classics, like the Lychee Martini, and a corner of the menu dedicated to the recipes of the special guests who have dropped by.
What: The Park Hyatt Saigon's timeless martini bar.
Where: 2 Lam Son, District 1
Why: Some of the best guest shifts of the year, and a perennial favorite.
Rabbit Hole
True to its name, Rabbit Hole is an underground hideaway. A stone's throw from the Reunification Palace and beneath this branch of the ever-popular Ngon Restaurant, they make cocktails with the kind of precision that takes a classic and reminds us why we fell in love with it in the first place—just try their Ramos Gin Fizz for proof. They also make Alice in Wonderland-themed specials at their L-shaped bar beneath pictures in the style of Belgian Surrealist Rene Magritte.
Plus, they were also generous enough to extend an invite to The Rabbit Hole, Bangkok—no relation except for the name—who won a special award from Asia Top 50 Bars.
Saigon's Rabbit Hole is another new bar, opened in June, that hit the ground running.
What: A hidden Alice-themed cocktail bar and lounge.
Where: 138 Nam Ky Khoi Nghia, District 1
Why: The place for cocktail purists.
Sake Central Saigon
The opening of Sake Central Saigon signalled a shift in Saigon's bar scene.
This is a specialist sake joint backed by Sake Samurai Elliot Faber and the Eight Four Collective with a shared-table concept and some next-level design by Hong Kong's Sean Dix—the creative behind Yardbird, Ronin, and Chom Chom, among many others.
Here, Sake Central show the impressive range of sake available, from rich, nutty nama sakes like the Narutotai Ginjo Nama Genshu to the light, fruity Tatenokawa 'Seiryu' Junmai Daiginjo. Just like its Cantonese sibling, Sake Central Hong Kong, this place is an education in Japanese culture…especially its beverages with bar manager and sake expert Jesse Selvagne as its benevolent head teacher.
What: A hub for Japanese culture that showcases its sake.
Where: 59 Dong Du, District 1
Why: Sean Dix design and a schooling in Japanese fermented rice beverage.
Hyde
Japanese influence loomed large across the city this year and the renovation of Play was no exception. Despite evolving tastes Saigon's residents still prefer to be roadside or in the open air to hidden or hard to find locations and so everyone always gravitated to Glow Skybar a floor above. Hyde, designed by MIA Design Studio, gave them a reason to start the night one floor down.
Here, the 360-degree bar is the star topped with a dramatic single curve of lighting. There's rain-washed Tokyo signage. And the drinks and food add to the ambience, with some fascinating highballs and conceptual cocktails by The Studio Saigon's Richie Fawcett, and small plates of hotate scallops and salmon sashimi.
What: A neo-Tokyo themed cocktail bar and lounge.
Where: 93 Nguyen Du, District 1
Why: Futuristic decor and an ingenious drink and dinner menu.
Firkin Bar
The team behind Racha Room and Stoker Woodfired Bar & Grill, both on Mac Thi Buoi, imposed their influence on the street even more with the opening of Firkin Bar late last year. In 2018, Saigon embraced the speakeasy, but Firkin took the trend to the next level.
The imposing door and vertiginous flight of stairs recalls Racha's enntrance. But unlike at Racha, Firkin's focus is its drinks. There's whisky, served by dram and half dram, or in a three-serving tasting flight, and cocktails like the Four Pillars Negroni and the mint julep-inspired Bronze Bullet. Plus they have a few hand-picked cigars that you can enjoy out on the balcony.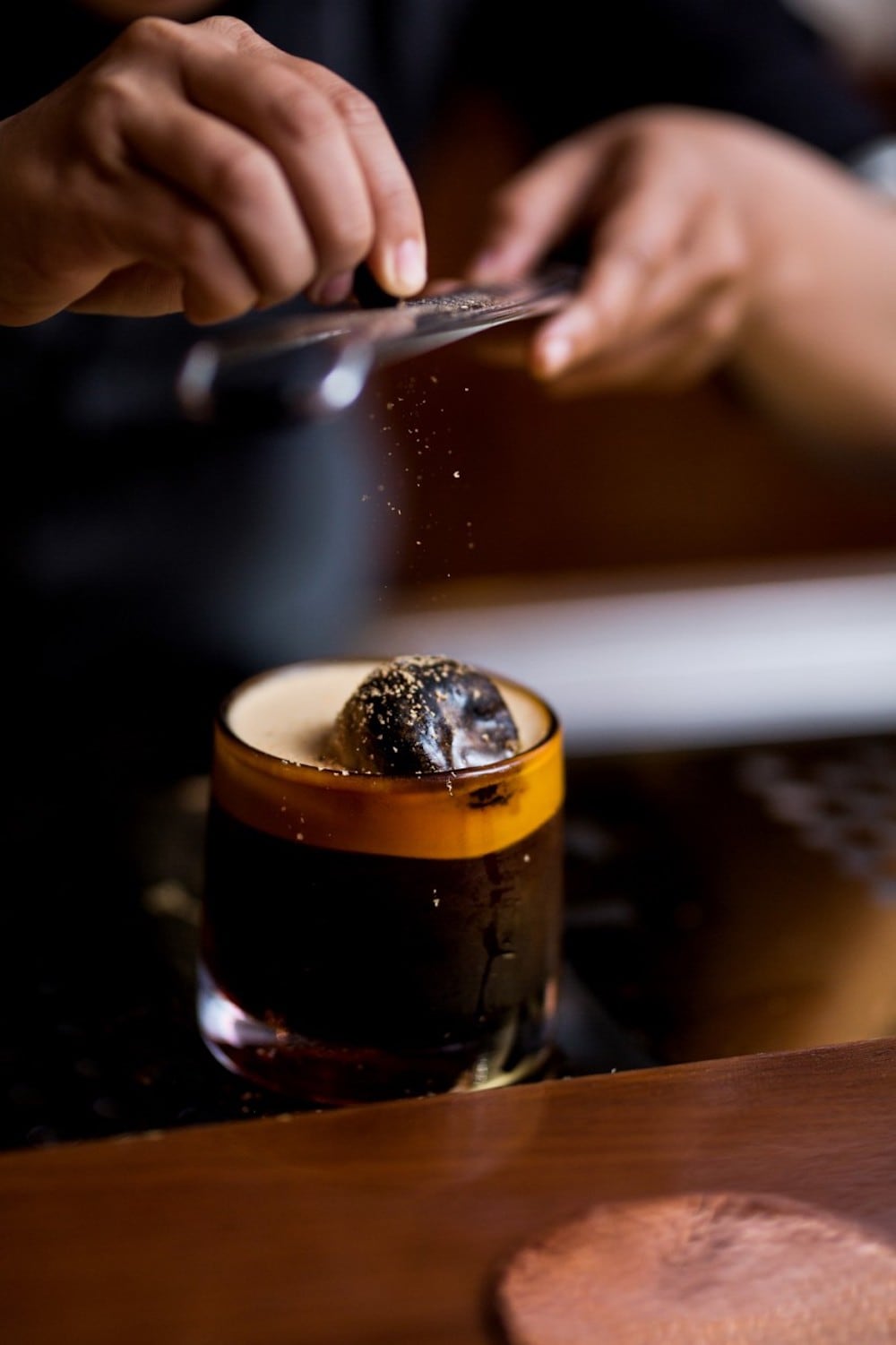 What: A whisky and cocktail bar in downtown District 1.
Where: 20 Mac Thi Buoi, District 1
Why: An impeccable whisky selection and flawless mixology.
Nhau Nhau
What comes after eat, eat? Drink, drink, of course. Anan Saigon—whose name translates as "eat, eat"—created a destination dining experience among the buzz of District 1's last wet market on Ton That Dam. But the "new" Vietnamese restaurant only took up the ground floor, the first floor, and the rooftop of the building so chef and founder Peter Cuong Franklin opened an 18-seat dining bar on the second floor.
It's also another project by designer Sean Dix that distilled everything that was good about Anan—innovative cuisine and locally-themed cocktails—into a cooler, more eye-catching space called Nhau Nhau, or "drink, drink."
And nowhere else will you find a balut cut lon, a shot with a quail foetus egg inside.
What: A "new" Vietnamese dining bar.
Where: 89 Ton That Dam, District 1
Why: Truly innovative modern Vietnamese drinks and dishes.
Qui – Cuisine Mixology
From Vise Hospitality, who also created Envy Club, Qui – Cuisine Mixology is all woods and welcoming warm tones. Impressively, Qui – Cuisine Mixology reclaimed a location that had never quite taken off at 22 Le Thanh Ton, added DJs and good cocktails, and opened up the front to the chaos of Le Thanh Ton…and became a rip-roaring success.
There are small plates filled with Asian flavors, like the edamame with chilli garlic sauce, and the wok-charred chicken sate. There are classic cocktails too, like their Old Fashioned, and their Ramos Gin Fizz, and signatures including their Long Goodbye with Zacapa 23 rum and lavender and ginger. But then, it always takes a long time to say goodbye at Qui – Cuisine Mixology.
What: Cuisine, mixology, and music.
Where: 22 Le Thanh Ton, District 1
Why: Mainstream but never mediocre.
Gin House
Hidden down an alley and curtained off from plain sight—like any self-respecting speakeasy should be—is the Gin House. The bar stocks around 125 gins, from the simple, clean Hendricks, to the Riesling-grape accented Ferdinand's Saar Dry Gin. It's a perfect place for concocting obscure gin and tonics or delving into their creative cocktail menu of signatures like the market inspired Ben Thanh.
It's a sign of the Gin House's skills that its bartenders have starting winning recognition—like Nguyen Thanh Trung, the Vietnam and Asia representative at the Opihr World Adventure Cocktail Competition 2018.
What: A Gin House with around 125 bottles of the botanical liquor.
Where: 28/3A Ton That Tung, District 1
Why: Packed nightly with regular live music…and those artisanal gins.
Related Content:
[Article] Saigon Guide: Where To Work, Eat, Drink, And See Art In The City
[Article] Vote Now For Restaurant of 2020