It's the first weekend of November 2019, just a few months before the global pandemic would put everything on pause. On a rooftop in the middle of Saigon's District One are the city's best dressed and most creative locals partying, drinking, and mingling with guests from around the world. Founders of streetwear brands, IISE, Daily Paper, and Filling Pieces; designers and stylists; DJs and artists; and photographers and influencers were all invited to partake in the grand opening of Saigon's first ever avant-garde multi-concept retail store, There VND Then (now known as Labels). Laughter and chatter filled the air as people danced to techno and house. This wasn't just the start of a long weekend of festivities — it also marked the beginning of a new chapter for fashion in Vietnam where it became more imbued with Saigon's eclectic nightlife.
As a Vietnamese-American model, photographer, and art director born and raised in California, there never seemed to be a dull moment during the time I spent living in Saigon; there was always something happening - a release party, fashion event, concert, underground raves, etc. Partying and work blended together as I navigated my new life in this new city, working on new projects, and meeting new and inspiring people.
I met "42thehood" for the first time in Saigon at a tropical Bali-themed bar called Bam Bam. I found myself hanging out, working, and partying with them nearly every day for the next seven months. "42thehood" is a group of friends made up of creatives working in all aspects of fashion, music, art, and film. If there's one thing I learned while being with them, it's that they all party just as hard as they work. And if there's a second thing I learned, it's that nightlife and partying both have a heavy influence on their creativity.
Saigon is a place that has something for everyone, regardless of your music preference or sense of style. As Levi, a German-born Vietnamese DJ, tells me, "The way you party and the music you listen to definitely reflects on your style. Music has a huge impact on fashion, and consequently, fashion on the way you are partying!"
If you're at Lush on a Tuesday for hip hop night, you might find people dressed in all black Have Fun with the Homies tank tops and jackets designed by Liem. If you're at Bam Bam or Observatory for techno or house, you'd spot pieces from Bin's AAH Midnight Club, Trang's AEIE, Vy's Mamavirus, and Chimin's Outfix. Everywhere you look, you could see how much of an influence this group of friends and their brands have on Saigon's youth.
Chi (Min) Nguyen's inspiration for Outfix comes from futuristic aesthetics, music, and nightlife. She designs sporty and sexy clothes for those who have rebellious personalities and want to feel confident when attending raves and dancing to tech house.
Ryan Son Hoang is the co-founder of some of Saigon's most iconic events and concept spaces. His projects, The New District, The New Playground, and Objoff, give Vietnamese designers the opportunity to sell their clothes while also being party-destinations where Saigon's youth can express themselves freely and mingle with like-minded people.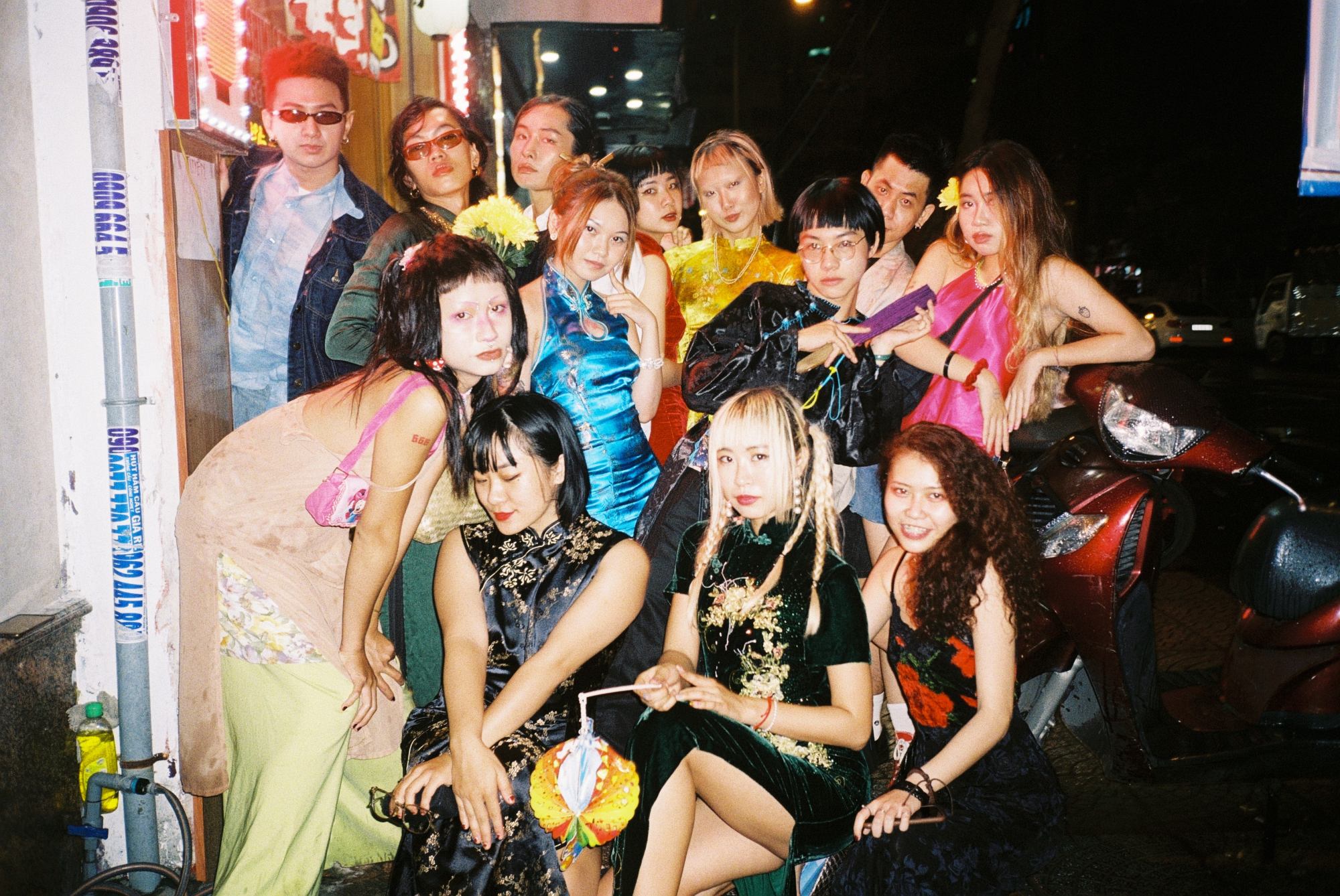 One of my most memorable experiences in Vietnam was celebrating the Mid-Autumn Festival with a group of university students majoring in fashion and design. It was my first time celebrating a Vietnamese holiday while in Vietnam, so I wasn't sure what to expect. They took me to Chợ Bà Chiểu to thrift a qipao in the afternoon, and in the evening, we met up in the heart of District One at a Cà Phê Bệt. We sat on pieces of cardboard singing folk songs, playing games, eating snacks, and drinking tea and alcohol. Once we were bored of that, we set up camp in front of Louis Vuitton and danced until our feet hurt.
When I saw how this group of young Vietnamese creatives lived carefree while still following traditions and embracing their culture, I realized how important it was for me to be in Vietnam, and undergo what I was going through as a Vietnamese-American trying to understand her identity. By moving to Saigon and surrounding myself with people who welcomed me into their lives with open arms, I was able to experience all these customs and traditions that I grew up hearing about from my parents. The more time I spent in Saigon, the more exposure I got to my Vietnamese heritage.
Through the unique dynamic of Vietnamese nightlife, I've come to realize that partying is not just about drinking and dancing, but rather it is a social experience. It's about being in a community where you work as hard as you play, creating an inclusive environment where diversity thrives, and supporting others just like you. "42thehood" and all the friends I made in Saigon showed me how beautiful and chaotic the city can truly be. Vietnam continues to be a fast-developing country where fashion and the creative industry are constantly evolving and growing. Even after two years of being away, I still miss Saigon and the life I once lived. So until the borders open, I'll continue to reminisce on the memories I made and yearn for the memories to come.