Previously, we compiled a list of what Vietnamese locals eat for breakfast. And we can't just leave you hungry after breakfast, so how about lunch? Vietnamese food is known for its versatility and variety, and lunch food is not an exception.
Here is a list of Vietnamese dishes that you can enjoy during lunch break, brunch or on a chill Sunday lunch. This list contains some of the most popular dishes in Ho Chi Minh City and Hanoi. Let's buckle up and get ready for a lunch foodie bike ride.
Bot Chien
Originally from China, Bot chien is the Vietnamese version of Chinese chai tow kway. The dish is simple but also savory. Bot chien is a combination of crispy fried rectangle rice cakes, chopped green onions, and topped with an egg to glue everything together. A side of shredded turnip and carrot are served to balance out the oily nature of the fried dish. Lastly, you can't forget the most important ingredient: the sauce. The sauce is a mixture of sweet and sour flavor from the soy sauce, red vinegar and sugar.
When you're at a Bot Chien stand or restaurant, besides rice cakes they usually offer fried mezzani and fried taro cake. You can easily restaurants or stands serving bot chien, given that it's such a simple dish. It's also relatively easy to prepare at home if you're looking to fix your cravings.
Bot Chien Dat Thanh – 277 Vo Van Tan, District 3, Saigon
Bun Cha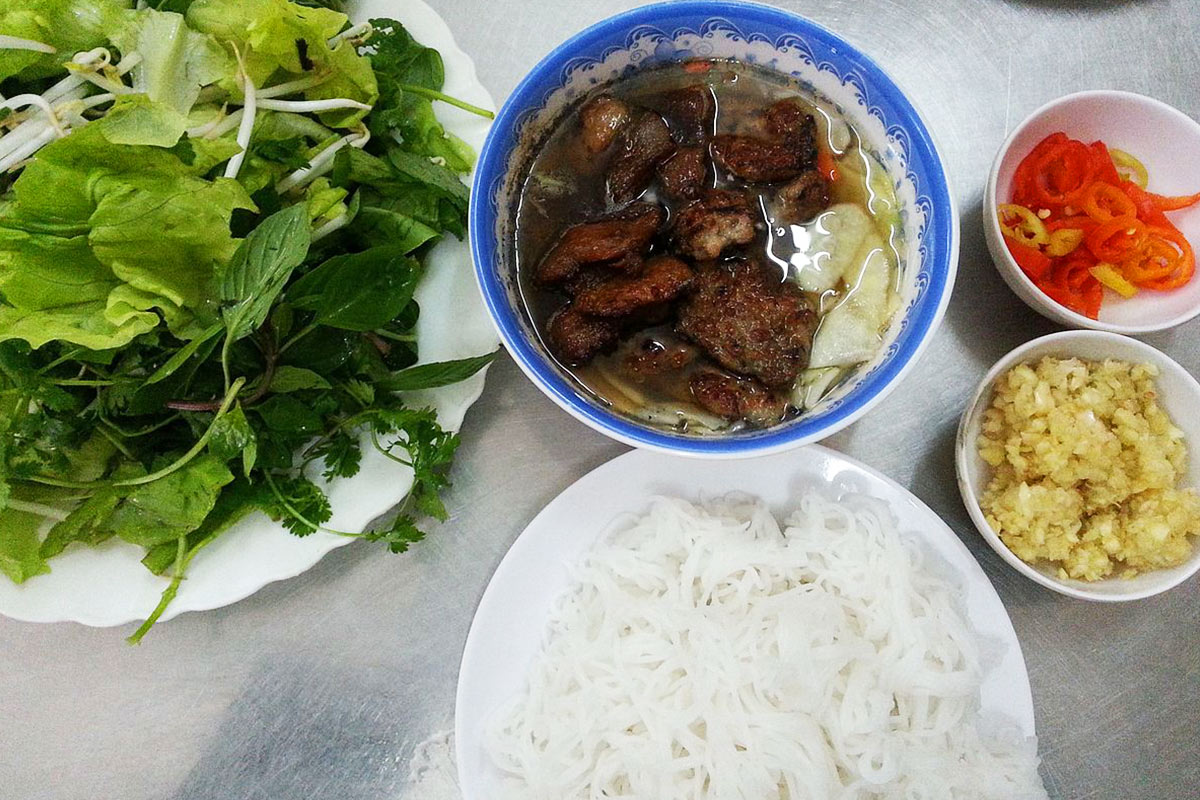 Bun Cha is the must try dish when someone visits Vietnam. This traditional Vietnamese dish is a combination of grilled pork and meatballs, served with herbs, rice noodles and dipping sauce. The dipping sauce makes all the ingredients come together for bun cha. The sauce is a water-down version of fish sauce with a mix of vinegar, sugar and a handful of chopped green papaya.
There are several ways to eat Bun Cha, but there is one common way to have it. The meat is served together with the dipping broth, a combination of cold rice noodles and herbs. Fun fact: this was also the dish former US President Barack Obama had with Anthony Bourdain in Hanoi on his farewell presidential tour of Vietnam in May 2016.
Bun Cha Huong Lien – 24 Le Van Huu, Hanoi
Bun Cha Ha Noi Xuan Tu – 291A Hoang Van Thu, District Tan Binh, Saigon
Com Ga Xoi Mo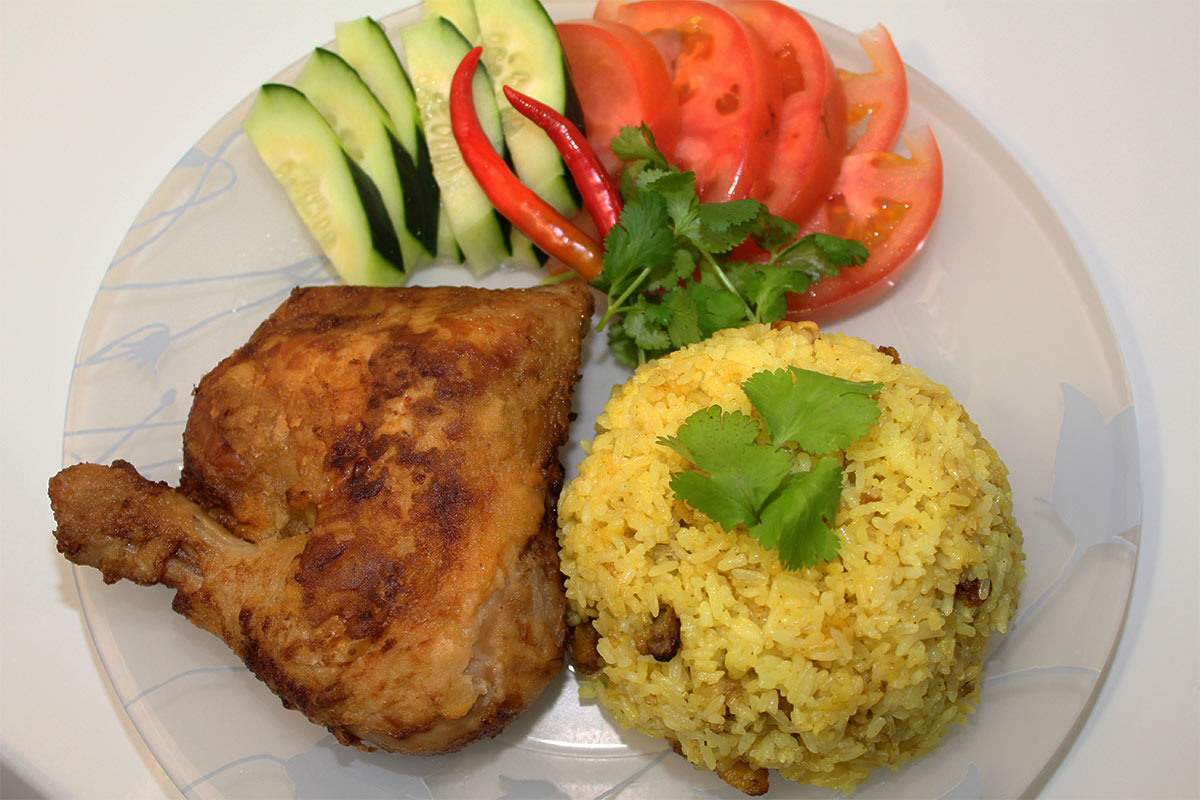 Ga Xoi Mo was popular amongst the Chinese community in Vietnam during the 80s. Back then, the dish was served only with chicken and no rice. Not until the 90s, the rice was added and the dish Com Ga Xoi Mo was born. There are two choices of chicken when it comes to this dish. You can choose the leg option which includes the thigh or the wing option which has the breast.
Similar to Hainanese chicken rice, Com Ga Xoi Mo is a chicken rice dish. However, the chicken for this dish is prepared through many different steps. After the chicken is marinated with garlic and seasoning, it will be boiled thoroughly. Next step will be frying. Unlike the conventional deep frying method at KFC or Popeyes, the chicken here is "showered" with boiling hot water until the skins turn golden brown. The rice is cooked with chicken broth, similar to the traditional way of making chicken rice. The dish is often served with a side of tomato, lettuce salad and soy sauce to top it off.
Com Ga Xoi Mo Su Su – 1067 Hoang Sa, District 3, Saigon
Com Ga Xoi Mo Dinh Ngang – 07 Dinh Ngang, Hanoi
Cha Ca La Vong
Known as one of the most iconic dishes in Vietnam, cha ca has been around for nearly a century. Usually, the fish is served in a pan on top of a portable stove and diners will cook the fish while dining. The combination of ingredients include fish chunks marinated with turmeric, garlic and ginger. With the addition of dill, scallions and onions, the guests can start enjoying their fish with some rice noodles, peanuts and a spoon of shrimp paste to mix everything together.
Cha ca represents one of the signature earthy tastes of Vietnam. From all the ingredients included in cha ca, every bite will make your mouth explode with flavors. Cha ca is amongst the top of favorite dishes of Hanoians. We recommend getting this dish in Hanoi for the authenticity. However, Saigon also provides several quality options.
Cha Ca Thang Long – 31 Duong Thanh, Old Quarter, Hanoi
Cha Ca La Vong – 3 Ho Xuan Huong, District 3, Saigon
Banh Xeo
Besides banh mi, banh xeo is another influence from a French dish and this time from the iconic crepe. The name banh xeo translated to English literally means "sizzling cake". Banh xeo is made from rice flour mixed with coconut milk and seasoned with turmeric which creates the yellow color. Inside, the crepe is packed with slices of boiled pork, shell-on prawns, bean sprouts and sprinkled with a handful of mung bean.
To fully experience banh xeo, you've got to be a vegetables lover and ready to "get down and dirty". The reason is because you will be wrapping these slices with some fresh herbs and of course use your hands to eat. After wrapping, you will be dipping it in watered down fish sauce. Unlike cha ca or bun cha, banh xeo is widely popular in Southern Vietnam. But don't worry, Hanoi offers some great banh xeo for you as well.
Banh Xeo Muoi Xiem – 204 Nguyen Trai, District 1, Saigon
Thuy Xeo – 166B Doi Can, District Ba Dinh, Hanoi
Bun Dau Mam Tom
Out of all the dishes, Bun Dau Mam Tom, shortly known as Bun Dau has the most humble beginnings. It was considered as food for the poor during the Subsidy Era post-war. Bun Dau has this title because of the nature of its ingredients: simple and affordable. Back in the day, Bun Dau only consisted of rice noodles, fried tofu, herbs and dip with shrimp paste to eat. As time progressed and the economy improved with greater access to different ingredients, Bun Dau became more popular and a variety of meats were added.
Nowadays, Bun Dau has become a trend amongst young Vietnamese. Many different kind of meats got added such as slices of boiled pork, fried minced pork with green rice flakes, and fried pork intestine. With a variety of Vietnamese herbs, the meat, fried tofu, rice noodle are evenly spread on a round rattan tray when served. The dipping sauce is a mixture of shrimp paste with a teaspoon of boiling oil and a squeeze of kumquat to lighten out the smell.
Phat Loc Alleyway in Old Quarter Hanoi (Any of the restaurant here is amazing!)
At Suu Bun Dau Mam Tom – 95 Dinh Tien Hoang, District 1, Saigon