Good weather, yellow apricot flowers in full bloom, kumquat trees lined up on streets, bright and gigantic cat statues at intersections and parks — every symbol that signifies the festive season in Vietnam is now on full display as if greeting everyone Chúc mừng năm mới. But while the upbeat vibe is now palpable, many say the real celebration starts when families reunite.
I have always believed that, especially during the past COVID Tet holidays. However, now that everything's back to normal and reunions and gatherings are no longer limited to a Zoom or Messenger call, I realized that many Vietnamese are still celebrating the holiday away from home, either by choice or because of circumstances out of their control.
If Tet isn't about family reunions, then what is it?
Duty to humanity
Thu Giang – Resuscitation Anesthesiologist
Since attending medical school, I haven't been able to welcome the new year with my family at home. Almost every Tet, I go on duty. My physical body is in the hospital, but my heart longs to be at home.
But even when I miss my family these days, I understand that I have a big responsibility towards my profession. I learned that Tet is also an occasion for people to take care of each other.
I've seen many patients stay at the hospital alone for the whole New Year, with only doctors and nurses around them. During these moments, there's no longer a distinction between patients and doctors; everyone shares joy and loneliness.
I vividly remember one Tet holiday when I had to handle an emergency case. Two patients brought in at the same time had already lost a lot of blood. We later found out that they were brothers. Tet is supposed to be a cheerful time for families, but others are forced to face challenges.
Being a doctor is a hard job, and such a profession puts us in situations like this when we're confronted with the reality of life. But it also allowed me to value life a little more, mine and those of the people I love.
Alone on Tet
Thang Vo – Dispatching engineer of national power system
Operating the electrical system requires us to be on duty 24/7, even on New Year's Eve. I was on duty for three consecutive years on New Year's Eve. Sitting alone in the station, I'd see people on the road, traveling back to their homes. It makes me sad I couldn't do the same, but I also understand that this is my chosen path.
Since electricity is a basic necessity and a normal part of everyday life, many people don't think there's much to it. Not everyone knows there are people working in operations, inspection, maintenance, and repair who make sure every household and every building across the country can switch their lights whenever necessary.
Even when I can't join the fun on the street or be with my family during Tet, I am filled with happiness knowing that I'm contributing something to make people's Tet celebrations bright and safe.
Tet away from home
Ngoc Quy – Student in Russia
I am an only child. When I was born, my parents were already over 40 years old, so people often thought I was my parents' grandchild. It wasn't something that bothered me as a kid. As I grew up, I became uncomfortable with my parents' age, so I told them to let me go to school alone. From then on, the distance between us widened – literally and figuratively. I soon moved far from home for my studies.
One time, I got very sick and stayed in bed for days. It was probably because of the fever that I suddenly smelled the aroma of a bamboo shoot soup. I didn't feel sad when I left home for Russia, but right at that moment, when I was feeling unwell, I knew I was homesick. With a blocked nostril, I remembered all kinds of smells during Tet in Vietnam — incense, flowers, food, and jam. We didn't have grand celebrations at home, but my parents always held traditional ceremonies.
Reminiscing all those things was alien, mainly because I used to feel sorry for myself for having elderly parents. But now, I feel sorry for just realizing that the number of years I can spend with my parents is less than "normal" families.
The bright and warm traditional Tet holiday with my parents is now like an anchor of memories, filling my heart with warmth and happiness.
All I want to do right now is to pick up the phone and say, "Hello, mom and dad, this is your grandchild Bi," and promise them I'd drive them around when I get home.
Family and home are two different things
Ha Quyen - Mother of three cats
I don't remember exactly when I lost the excitement for the Tet holiday. But even when I don't love the celebration as much as others, I still visit my hometown to help clean the house and light incense for my parents.
I only stay at home for about three days, then usually go on a trip after or return to the city to work early. When I lost my parents, I focused on connecting with myself by working hard to be financially stable and achieve my dreams. Don't get me wrong — I am not insensitive to familial relationships or dread them.
The image of a complete family on Tet is still something I cherish, but I don't feel the need to be "home." My time with my parents was unfortunately cut short by fate, but I believe they're watching over me no matter where I go or whatever I choose to call "home."
It's sad to welcome the new year without my parents, but I'm still luckier than many. With each of us going through different hardships, we've all learned to redefine the word "enough."
Sending wishes to family back home
Hai Khanh – New "married club" member
"Get married somewhere close," was what my father had told me five years ago. At that time, I thought communication and traveling were easy and hassle-free — something I could do anytime.
I still haven't returned home three years into my marriage to celebrate Tet with my father. In the last two years, the COVID pandemic was my excuse. This year, however, I decided not to go home because I couldn't afford to do so. When you're thousands of kilometers away, and the only way home is by plane, your primary enemy is the high airfare.
I think I have to live realistically and practically. If not being with my family for Tet means I could take care of them financially, like buying more medicine for my aging father, I'd gladly stay put.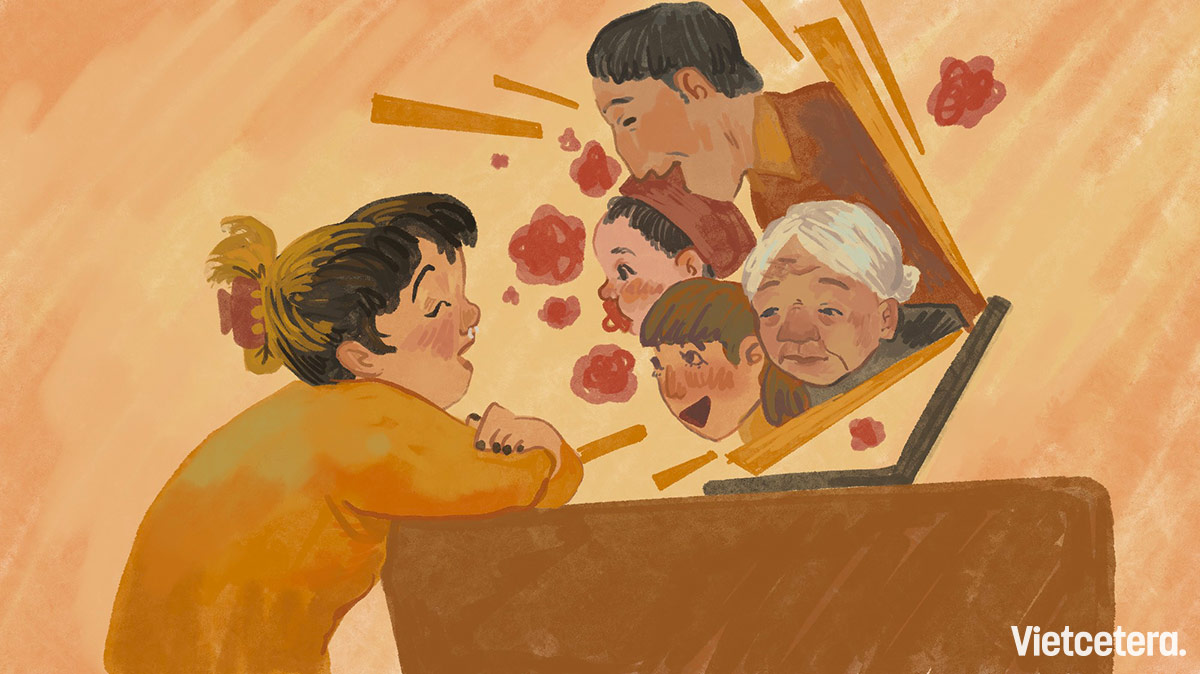 Tet is about happiness; right now, my joy is seeing my father living a healthy life. When time and money permit, I could buy that plane ticket and reunite with my family back home.