In the 20th century, as the rise of industrialization resulted in longer working hours, people relied heavily on a morning caffeine kick to help them awake and generate excitement to get through the day. This led to the mass consumption of coffee, marking the "first wave of coffee."
In 1971, Howard Schultz, the founder of Starbucks, brought the artistry of Italian coffee culture to the United States. More than just doing a business and making a profit, Howard desired to spread the delight of enjoying the taste of coffee to American customers. Over the decades, Starbucks grew into a global empire, a ubiquitous name that you may hear about a thousand times in your life. Starbucks is a great example of the second wave.
The third wave started with a major focus on craft or artisan coffee and appreciation for the baristas. The fourth wave is typified by the "science of coffee." You can buy caffeine extract in the form of… tablets, or walk into a coffee shop where the roaster takes absolute control over the temperature and the roasting time with incredible accuracy in accordance with the characteristics of the coffee beans.
The fifth coffee wave on the go
Following the scientific approach to coffee, the fifth wave started to take shape around 2015, gradually changing the face of today's coffee industry.
Some common elements of the fifth wave of coffee:
Small boutique stores, big investments in coffee shop design with distinct concepts, diverse products, and eye-catching displays
Strong focus on continuous improvement toward excellence
Commercializing products with increasing value
Prioritizing overall customer experience
Constant investment in new technology and team development to achieve the things listed above
The fifth wave can be summarized in two words: Experiment and ambition.
With a deeper understanding of specialty coffee, customers nowadays have raised their expectations for a more high-end coffee experience — in both the taste and the atmosphere. It's not really just about the taste of the coffee or the brand it represents; it's about the coffee drinkers and how they now have a say on where the coffee culture is heading.
The fifth wave is as simple as "How do you like your coffee?"
And your answer could be, "V60 coffee made from organic Arabica beans grown in Lam Dong, medium roasted."
If you love craft coffee, want to improve the lives of Vietnamese coffee farmers along with product quality, and support sustainable development, there are more than one way to express those. The majority of the businesses now are willing to listen to customers' opinions, and seriously taking customers' perspectives of how they be of better service.
This excitement and resonance in the market have created the fifth wave of coffee, which is considered to have all the quintessence from the previous four waves, bringing a new generation of drinkers with meaningful coffee experiences.
To give you a better idea of what the fifth wave of coffee really — at least, locally — here are some Vietnamese coffee brands to try.
Lacàph
Lacàph is the perfect example of a Vietnamese fifth wave coffee company, creatively combining premium products, innovation and a strong customer focus.
Established by Dutch entrepreneur, Timen Swijtink, and Korean coffee expert, Scott Sehoon Bahng, the two set about building a brand with the mission "to share Vietnamese coffee and culture with curious people everywhere".
Since its founding, the company has set up a network of partner farms across four prime coffee growing regions of Vietnam, enabling them to source green beans that showcase the best the country has to offer.
Roasted at their state-of-the-art facilities in Saigon, Lacàph's signature filter, espresso and phin blends are proving popular with both domestic and international coffee drinkers.
As part of its mission to share the culture behind Vietnamese coffee, their centrally located Lacàph Space Saigon hosts regular coffee 'experiences' for tourists and locals, celebrating the cultural heritage of Vietnamese coffee and sharing the stories of those who grow and produce it.
The company is also behind the first book in English and Vietnamese that documents the history of coffee in Vietnam, and founder of Đặc Đen Đắng, Vietnam's leading online coffee magazine.
Bosgaurus Coffee Roasters
Established in 2016, Bosgaurus has a "big dream" of bringing specialty coffee in Vietnam to the world and changing the common perception of international friends about Vietnamese coffee. This philosophy is embodied in Bosgaurus' barista style and spatial design.
Bosgaurus brews fine coffee with modern methods, keeping the highest accuracy without losing the romantic dreams of coffee aficionados. Bosgaurus is a unique representation of the fifth coffee wave in Vietnam.
Before founding Bosgaurus, Nguyen Canh Hung was an engineer. When traveling around Europe, Hung discovered more about Vietnamese coffee beans and realized the potential to produce quality coffee right in his native land.
Inspired by a Scandinavian and Japanese minimalist and simplicity, Bosgaurus's space is intentionally designed to allow patrons to focus exclusively on the coffee.
Bosgaurus is one of the pioneers in introducing Arabica beans into Vietnamese coffee culture. Moreover, through the application of new management techniques and methods, Bosgaurus also helps coffee farmers reduce their operating costs without compromising the coffee quality, thus improving farmers' life quality.
La Viet
"There is no specialty coffee. There are only special people who make coffee with all their hearts."
While its name is considerably plain and untheatrical, La Viet is a force to be reckoned with in the industry, having impressed customers with its signature drinks like coffee cocktails. They also contribute to the "go green" movement by using glass instead of paper cups.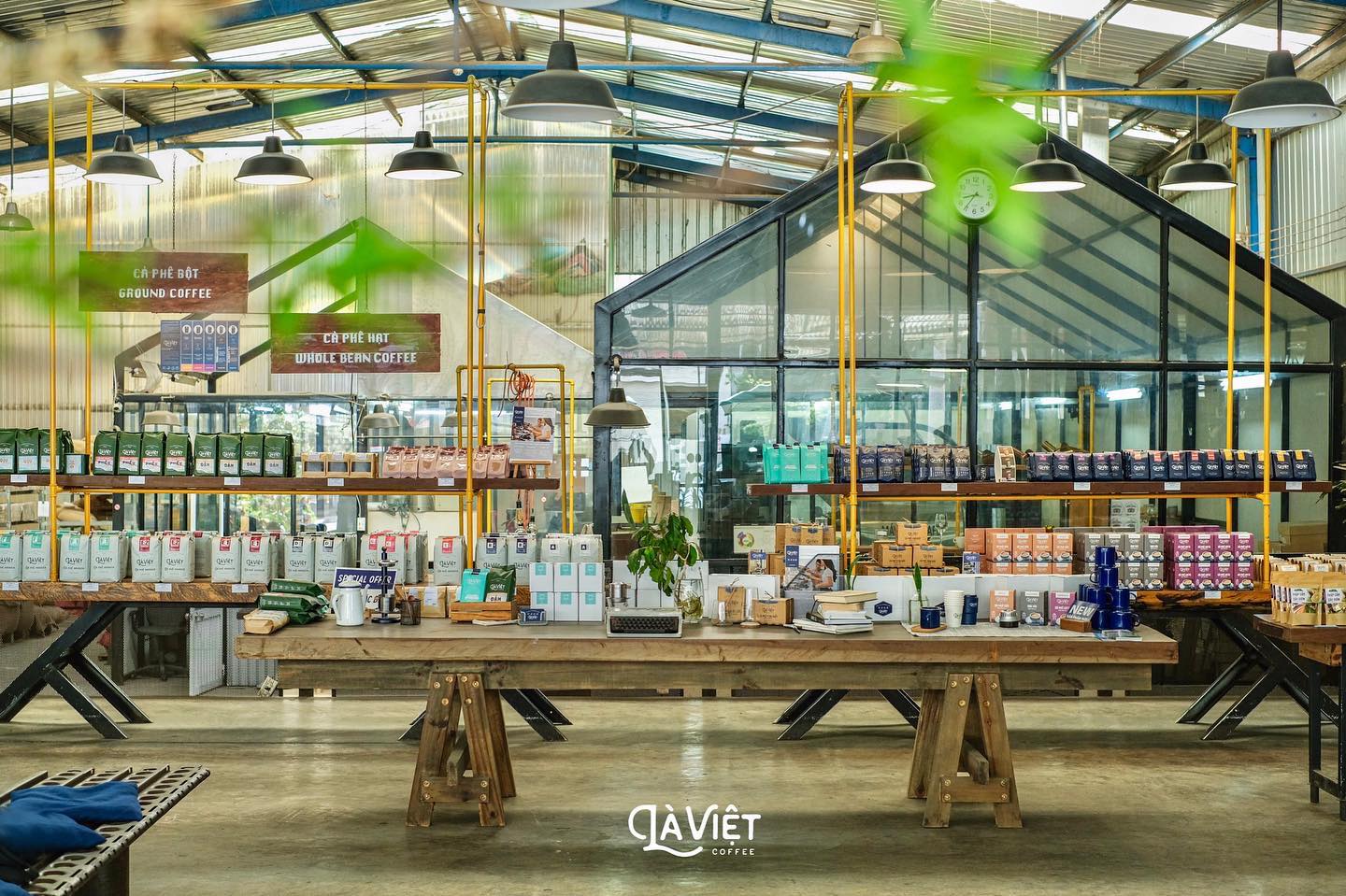 For La Viet, passion for coffee and processing technique are the key. From meticulously selected seeds to a delicious cup of local Arabica coffee served on your table, every step is taken seriously to bring out the highest-quality end results, aiming to scale the specialty coffee in Vietnam.
What makes La Viet stand out is not only the drink quality but also good customer experience. You can freely enjoy conversations with friends without getting intimidated by the place. And don't be confused by the strange menu. What La Viet cares about most is to accompany coffee lovers as well as Vietnamese coffee farmers to create a beautiful coffee drinking culture.
Lacaph is pleased to be one of the sponsors for Vietcetera's Flavors Vietnam 2022.

At Lacàph, we are passionate about Vietnamese coffee, and we want to share our passion with you. It's embodied in the coffees we produce, blended from beans grown by our network of carefully selected smallholder farmers across four provinces of Việt Nam.

But our passion extends beyond producing excellent coffees.

Our mission is to share Vietnamese coffee and culture with curious people everywhere, so we take time to learn about the many communities who, together, produce our coffees. They are passionate about Vietnamese coffee too, and we want to share their stories, their culture, and their rich heritage with you.
Translated by Bich Tram