Work Room Four was founded in 2013 by the English designers and educators Claire Driscoll and Dorian Gibb. With a focus on creative collaboration and passion to push boundaries within a rapidly expanding social and commercial climate whilst maintaining business integrity, Work Room Four's core activities are arts management, design consultancy, education and studio and gallery management.
In our continuing showcase of artistic work in Vietnam, we meet with Claire to learn more about Work Room Four's efforts. They work with international and local artists to organise exhibitions, curate shows and act as agents to promote growth in the Vietnamese Art market. Work Room Four provides the space, resources and support to develop networks and partnerships that will nurture talent and enthusiasm for contemporary art – with the goal to Create Something New.
What about Vietnam led you to plant your artistic roots here for the last few years?
My partner, daughter and I moved to Hanoi in 2010 for a work placement. At the time of moving only my partner had a position secured. He was teaching Design in the United Nations International School. After arriving I started lecturing first at Raffles University and then at the London School for Fashion studies in fashion and textiles whilst establishing myself as a freelance designer. We had an eventful two years and grew our family with our second daughter being born in Hanoi. In 2013 my partner started looking for his own studio space. He wanted a departure from all his time spent in the classroom and a chance to focus on making his own work, his formal training being in Fine Arts.
After scouring the city, few available places came to light. After a discussion with a friend he was introduced to a large area of disused warehouse spaces that many creatives were interested in renting. There was a possibility of not just a single studio, but 600m2 of space at an exceptionally affordable rental price. After much debate we took half of the space and shared with some friends also launching their organisation in educational consultancy. The offer was for a floor of building E of what became to be known Zone 9. There were four of us, on the 4th floor and we were working there so very literally it became Work Room Four. I like literal naming. Our gallery shop is called 'we are all for sale' as everything in the shop is for sale from the tables to the prints. We were hoping to turn the space into part gallery, part artist studios, a place to learn and host exhibitions to become a collaborative space for artists and designers. Many know the story of the short rise and demise of Zone 9. After we were evicted we felt we had enough brand value, audience and found a service need in Hanoi. Four years later we continue developing the organisation. Work Room Four is still alive and kicking creatively, we are both working here full time and it has grown to a nice 'family' of staff with a shared passion and commitment to creative life and work.
What surprises you every day about living and working here?
The knot tying abilities of Hanoians. I enjoy watching the dextrous skills and how cleverly things are tied and secured to transport, but always with a method that allows for easy undo and reuse of the tie. As a skill it should have more of a global rollout.
I'm an artist and/or creative. Why should I consider moving here?
I believe in choice and the right space and place for the right person so I'm not one to do the hard sell… But I often try to recruit my friends to come and stay for an over extended period. For some creative fields, Vietnam is an excellent place, for others less so. I think the advice would depend on the field of expertise. I think for certain areas of design, there is access to affordable prototyping in many fields of design and this makes creating working prototypes a more affordable option which is not as accessible in Europe anymore.
What are the pros and cons of being a creative in Hanoi compared to Saigon?
Ahh the obligatory Hanoi/Saigon question! I feel strongly that divisive city based questions can be detrimental to developing the creative scene in each city, or the other cities and provinces. Working together to discuss the pros and cons of being a creative in Vietnam and not focusing on one city's advantages and disadvantages against one another. I would love to read more articles that discuss how creative people in both cities work together successfully. This is much more interesting topic and beneficial to all.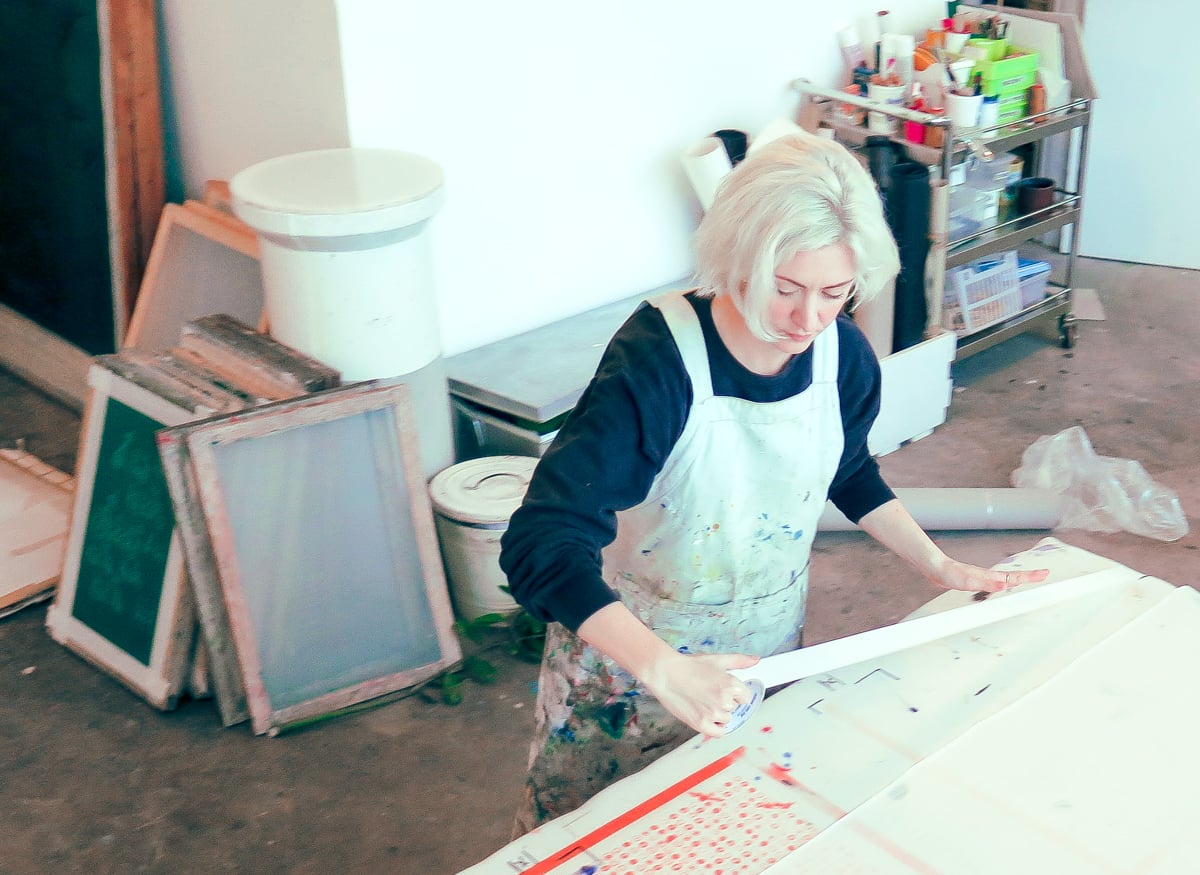 Tell us in a few sentences what your team's work does for you, your audience, and Vietnam.
Our core values as a studio are firmly rooted in Art, Design and Education. We believe in good design to be accessible empathetic and enabling, a collective 20 years of working in education reminds us daily to be learners and the importance of Art in our lives and our work makes us appreciate simplicity, complexity and humanity. We are makers, teachers, learners and creators and we strive to do our best work from conception to creation.
For me, our team consistently exceed my expectations. And very nicely take my dirty coffee cups up to the kitchen and don't complain about the mess I make screen printing or when I ask for their assistance in dealing with said mess.
For Vietnam, our team believe that Art and Design does change the world. Good Art and Design can activate and assist great change. They want good Art and Design from Vietnam to be known for it's excellence in these fields with other countries on a global platform. Vietnamese Art or Design can become a globally ubiquitous as Pho is in Vietnam.
For our audience, our team are flexible, fair, informed, intelligent, empathetic guides for our clients and customers. We offer advice on how to look at artwork and make the most of exhibitions and embrace the creative process and the discourse that goes with it – with our clients and audience.
What about Vietnam and Hanoi makes you proud to say that you live here?
For Vietnam I would say I am proud to be offering my children experiences I hope will result in liberal, courageous and empathetic worldviews. I love Hanoi for many reasons as I do many other parts of the world. But if specifics are required here is one…my friends and colleagues are here and many of them are a born and bred Hanoians. One of the highlights of the work we do is collaborating with Hanoi Art Space Manzi on our project Art For You, Vietnam's first affordable art fair. Working with this organisation is a joy and I love the synergy of our different backgrounds and perspectives and working together to create a local product with global sensibilities makes me very happy. As does giving money back to Vietnam based artists where funding is scarce. Aside from that I am not qualified to offer too much insight or observation on what this pride means but sometimes it is as simple as that.
What does the 'new Vietnam' mean to you?
It means the same as 'new' anywhere else in the world. It means opportunities and challenges. It means being liberal and kind. It means we have a responsibility to observe, learn and act in accordance with a just and empathetic value system.
What were your first impressions of Hanoi?
It was hot. Now I know it can be a bit chilly too. Which makes me happy. I like needing a big winter jumper for some of the year.
What's missing in the lifestyle scene here?
Same as everywhere else in the world…equity in lifestyle.
Who should we speak with next?
My partner and accomplice Dorian Gibb at Work Room Four. Thao Vu, the amazing fashion designer behind Kilomet 109. Tram Vu, co-founder of Manzi Art Space.
You can find some of Work Room Four's work and collaborations at the upcoming ART for You fair, organized by Manzi Art Space and Work Room Four.
Ho Chi Minh City, a five-day event from the 23rd to 27th of March at Mai's Gallery, 3A Station. Hanoi, a five-day event from the 20th to the 24th of April at Manzi Art Space.