Vietnam is one of the fastest-growing internet economies in Southeast Asia, with 72 million or 74% of the population accessing the internet daily to chat, shop, watch videos and play games, according to a Google report. In 2021 alone, the country saw an additional eight million new digital consumers.
And as the use of social media also expands, a new report by Decision Labs shows Vietnam's own homegrown app, Zalo, continuing its ascent and almost outperforming Meta's Facebook in the fourth quarter.
Zalo came in as the second-most widely used application in Vietnam, with 88% of the online population using the app, compared with 94% using Facebook, according to "The Connected Consumer Q4 2021" report published by the Decision Lab this week. Interestingly, Zalo inched up in popularity, gaining 2 percentage points, while Facebook took a slight dip.
Decision Lab, a Ho Chi Minh City-based market research firm, has been conducting a quarterly online consumer survey in Vietnam since 2019. Its survey of 881 consumers from October to December showed that Zalo, compared to the third-quarter poll, jumped 10 percentage points as a primary app for Vietnamese users of all ages, further solidifying its position in the country's social media landscape, especially among Gen X users.
Video-sharing platform YouTube retained its spot as the third most popular social media platform with 80%, also slightly lower than the previous quarter's report. A newcomer in Vietnam, Tiktok surpassed Instagram for the first time as the fourth-most popular social media platform, and enjoyed a healthy growth across age groups, according to the Decision Lab report. TikTok had an impressive 6%-jump in popularity, driven by an overwhelming increase in demand among Gen Z users.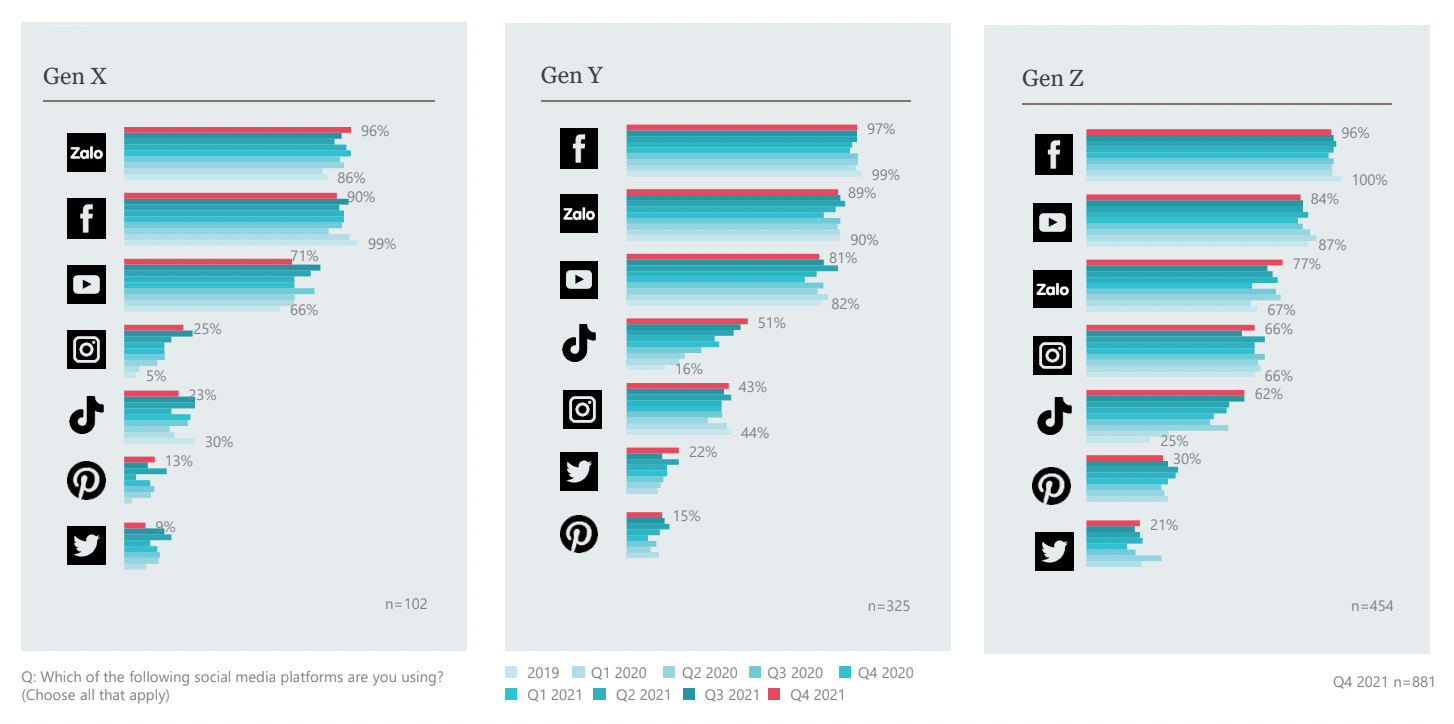 Zalo is on track to outpace international giants
Launched in late 2012 by VNG, Vietnam's first-ever unicorn startup, Zalo was considered a latecomer to the social media game. While many other apps, like Facebook and Viber, already registered hundreds of millions of users, Zalo was still struggling to penetrate the Vietnamese market and overcome an unreliable 3G infrastructure. But a year after it was released, the app hit two million users, thanks to special features that cater to the needs and wants of its main market.
In 2018, Zalo reached 100 million users from around the world. Beyond usual features like messaging and multimedia sharing, Zalo is used as an official app for government agencies, celebrities, and companies. The Ministry of Health uses the app to send daily COVID-19 updates. The company also offers features like Zalo Pay, Zalo Shop, and Zalo Bank that can be used to pay utility bills, shop for consumer goods and apply for loans.
"We started seeing Zalo's rise around Q1 2021, first as a preferred means of communicating with close ones," said Aske Østergård, co-founder and CEO of Decision Lab. "Throughout Vietnam's battle with COVID-19 in Q2 and Q3 of 2021, Zalo really proved to be a crucial app when they rolled out features such as Zalo Connect, which allows people to help each other and ask for help if needed."
According to the Decision Lab report, close to half of the consumers (48%) when asked which apps they cannot live without mentioned Zalo. This demonstrates Zalo's increasing indispensability for consumers' everyday lives. Furthermore, as the only local platform among international behemoths, Zalo holds itself as the go-to platform for connecting with friends and family — 48% of the online population uses the app to send messages to loved ones. Facebook (27%) and Messenger (20%) came in second and third, respectively, in the fourth quarter.
"I believe that Zalo holds a local advantage over other apps," Aske said. "They really understand the Vietnamese market and how Vietnamese consumers behave, which helps them provide necessary features that serve Vietnamese people."
Is Facebook shrinking?
International players often lack the local insights that Zalo has and inadvertently distance themselves from the consumers over time. A separate report by Decision Lab showed that Vietnamese consumers considered Facebook to be "less newsworthy" in 2020, signifying a reduced reliance on the app as their primary source of news. When the pandemic hit, people turned to social media to gather news and information. In Decision Lab's report for the fourth quarter of 2021, however, Facebook experienced a revived interest as a news source, albeit only slightly.
Meta, the Facebook company's new name, revealed that Facebook lost about half a million global daily users in the fourth quarter of 2021 compared to the previous quarter — a first for the social media platform that debuted in 2004. Meta shares sank after the news came out early this month.
Meta CFO David Wehner said this drop in user growth was due in part to increased competition from other apps like Tiktok, which has already garnered one billion users as of September 2021 and was named the most downloaded app in the world by Apptopia.
Aske of Decision Lab noted that Facebook is still by far the most popular platform in Vietnam. "And it still dominates many categories for Vietnamese of different demographics," he said. However, with the rise of new competitors like TikTok and Zalo, "Facebook seems to be on shaky ground."
When it comes to e-commerce, Facebook grew in popularity in the fourth quarter. The survey showed that while Shopee (74%) and Lazada (51%) maintained their positions as the top two online shopping platforms across generations, Facebook Commerce made gains among generations X, Y, and Z.
Search engine Google, meanwhile, remained the most utilized platform for news, especially among Gen Y consumers. Similarly, Google Chrome took the top spot as the most-used browser on both PC and mobile devices.