As the festive marathon to Tet begins, Saigon's dining scene is becoming increasingly vibrant as banquet halls are filling with clinking glasses with the New Year excitement.
Naturally, restaurants are bringing out the big guns to impress diners and food connoisseurs alike, with unique creations that will not only delight your taste buds, but make for an impressive New year Instagram collection. 
We took this opportunity to ask the Executive Chefs at three French, Mediterranean, and Japanese up-scale venues in Saigon about what they have in store this festive season.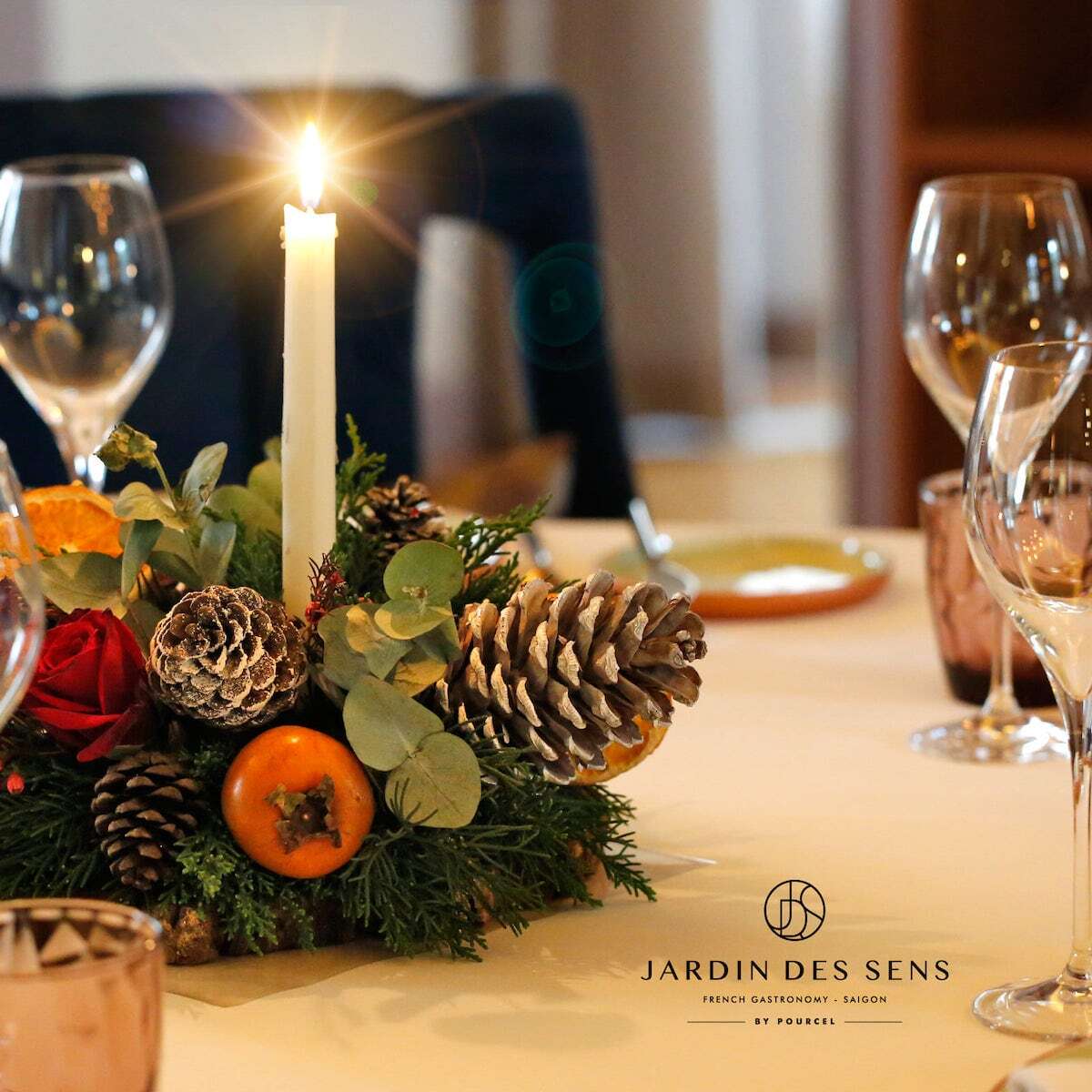 Ads
Jardin Des Sens Saigon - Contemporary French 
A restaurant that requires little introduction, Jardin Des Sens Saigon has been consistently ranked one of Saigon's most distinguished dining experiences by industry experts and fine-dining connoisseurs. 
Led by a world class culinary team, Jardin Des Sens delivers a myriad of fascinating culinary stories, serving up a classy menu that interplays ingredients from opposite ends of the flavor spectrum for a satisfying result.
On New Year's Eve, Jardin Des Sens will be putting the delicate techniques of contemporary French cuisine on full display with a 5-course set menu that includes a one-the-house glass of Dom Perignon champagne and a dazzling Jazz performance by singer Bea de Carlo.
You can experience the festivity at the restaurant itself or even in your living room, with a special Canapes & Mignardises menu that includes a special selection of savory finger food and bite-sized dessert.
Address: 251 Dien Bien Phu, District 3, Ho Chi Minh City
Hotline: 028 3930 3394
Fear of Missing Out?
Signup to receive a collection of this week's top stories in your inbox every Tuesday.
Kyo Watami Grill & Sushi - Authentic Japanese 
While there is no shortage of Japanese restaurants in Saigon, few occupy the highest pedestal like Kyo Watami, who take on a more refined approach to Japanese cuisine.
The festive menu was designed for everyone from family to work colleagues; whether the occasion is intimate or professional. Whether in the company of your nearest and dearest, or a cozy corporate gathering; the Kyo Watami accommodates tailored seatings setup for your New Year's Eve celebration.
According to the Executive Chef, "fresh ingredients prepped in a delicate Japanese style" will be at the heart of the menu. If you are looking for an experience where Japanese culinary arts are celebrated, look no further.
Address: 259 Dien Bien Phu, District 3, Ho Chi Minh City
Hotline: 028 7305 0038
Ads
Mama Sens - a trip to the Mediterranean 
Since its opening in Thao Dien this July, Mama Sens has become the go-to spot for delicious and beautifully-prepared Mediterranean dishes. During the day, the sun-filled patio reminisces of the cafes on the shores of Greek and Sicily, while the space takes on a vibrant, tropical vibe after sundown.
The kitchen and food concept are driven by the dynamic and talented chef Nam Hoang. Under the orchestration of this young conductor, Mama Sens continues to deliver a delightful performance, impressing diners with its creative use of local ingredients.
On New Year's Eve, Mama Sens promises to impress with a 5-course menu featuring the freshest seafood you can find. If you happen to miss dinner, the Brunch Buffet on New Year's day will have the young diners jumping for joy with kid-friendly activities such as balloon-making from 11 am to 2pm and a buffet free for children under 12 years!
Address: 16 Thao Dien, District 2, Ho Chi Minh City
Hotline: 028 7305 0042