With rising temperatures, people are looking for different ways to escape the impossible heat, one of which is going to the beach, enjoying the soothing white sand, and immersing in cool ocean waves.
Vietnam has long been known as a country that is blessed with abundant natural resources. With a 3,260km coastline, our nation has various beach destinations from north to south that attract millions of visitors each year, both locals and foreigners.
Among so many options, where should you go? Don't worry, Vietcetera lists the top five beaches you cannot miss this summer in Vietnam.
Da Nang
Da Nang has been an all-time favorite choice for many travelers. No matter what holiday it is, Da Nang is always filled with tourists from other provinces and countries. Currently, this destination is also South Koreans' favorite, with bookings in June increased by nearly 3000% compared to May 2022.
Besides enjoying the beach, there is a wide range of places you can visit in Da Nang: Ba Na Hills, Son Tra Peninsula, Hoa Phu Thanh Waterfall, Non Nuoc Mountain. From Da Nang, you can easily travel to nearby destinations in Quang Nam, most famously Hoi An. In addition, if you still want to enjoy the blue ocean, Cu Lao Cham in Hoi An is a can't-miss destination with pristine beauty.
Nha Trang
Nha Trang is a coastal city in Khanh Hoa province, well known for its beaches and scuba diving as there are so many islands that you can visit, such as Hon Chong, Hon Tam, Hon Mun, Hon Tre, Hon Ong, Binh Son Island, Binh Hung island and so on. The city is surrounded by the sea with turquoise, clear water and white sand. Although Nha Trang has been a famous location, its beach has maintained its natural, unspoiled beauty.
One setback when you visit Nha Trang is that there are currently no direct flights to the city. To go to Nha Trang, tourists have to fly to Cam Ranh, then take a 1-hour car ride to go into the central part of the city. It is recommended to visit Cam Ranh for a few days, then travel to Nha Trang so that you can fully take advantage of the incredible beach sceneries in Khanh Hoa.
Phan Thiet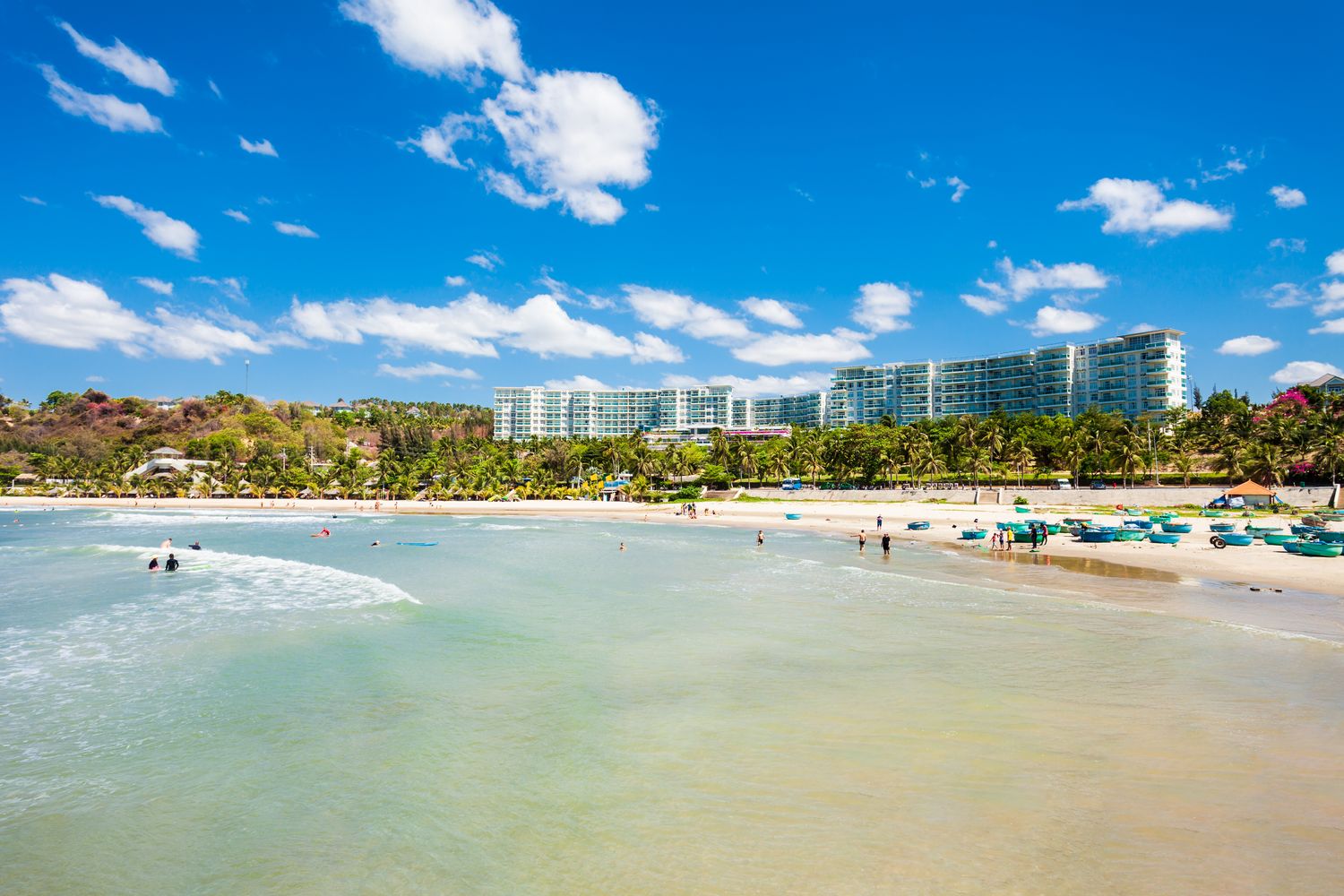 Many tourists refer to Phan Thiet as Dubai in Vietnam, due to the mesmerizing sand dunes. However, this city is also popular for its outstanding beach. The best time to visit Phan Thiet is from June to July or December to February as the temperature is comfortable and the ocean is rather calm.
Just 12km away from Phan Thiet, there is Mui Ne, a quality beach destination but cheaper than Phan Thiet. At the moment, if you want to go to Phan Thiet or Mui Ne, you have to fly to nearby cities (Ho Chi Minh, Vung Tau, Da Nang) and then go by car to these destinations. The good news is that Phan Thiet Airport is under construction and might be open by the end of 2022, creating opportunities for travelers to take direct flights and boosting tourism in the city.
Quy Nhon
Another gemstone in the Central area is Quy Nhon, a city in Binh Dinh province. The central part of Quy Nhon is very energetic and offers a natural beach right by your side. For a more rural and authentic experience, there are multiple fishing villages you should stay: Nhon Hai, Bai Xep, or Cu Lao Xanh. At these places, not only you can swim in the ocean but also participate in local activities such as squid fishing or fish markets visiting.
Luckily, it is extremely easy to go to Quy Nhon as there are numerous flights every day from Hanoi and Ho Chi Minh to Quy Nhon. Besides going to the beach, Quy Nhon is also a food hub for travelers. Some of the dishes you should try are bánh xèo tôm nhảy, bún rạm, bún cá, and bánh canh.
Phu Quoc
This final destination takes you to the biggest island in Vietnam - Phu Quoc. Recently, it was selected by Travel+Leisure as one of the best islands in the world. According to this magazine, the island is mostly known for its production of fish sauce and peppercorns, as well as its coral reefs and dense tropical forest.
There are direct flights to Phu Quoc so you don't have to worry about transportation. Some of the beaches that you have to visit are Cua Can, Ganh Dau, Bai Dai, and Ong Lang. Don't forget Rach Vem if you want to see some starfish and take a lot of Insta-worthy pictures!