As the whole world becomes more conscious of environmental impacts and making sustainability the new normal, so is the cocktail world.
Making your cocktail more eco-friendly is not difficult. One easy way you can take is to lower food waste by using the ingredients to their full potential. This small action can be instrumental in shrinking your carbon footprint, thus benefiting the planet and our health as well as contributing to a greener future.
Here, we'll walk you through five ideas on how to go zero-waste and find sustainable options with your cocktails.
1. Make homemade syrup
Don't throw away the leftover fruit flesh and its skin, as you can put them to good use. Take a pineapple, for example. A whole pineapple is a common cocktail ingredient and garnishes, except for its skins which usually go straight into the trash bin.
You can make a zero-waste syrup with pineapple skins and the leftover pineapple flesh. The result is a pineapple syrup with a distinct flavor that goes well with cocktails and pairs nicely with tea or pastry.
Ingredients:
500g pineapple flesh and skins, cut into pieces
500ml water
500g sugar
Method:
Step 1: Boil the sugar mix and water in a saucepan.
Step 2: Add pineapple flesh and skin into the saucepan, then stir the mixture over low heat for 20 minutes until it thickens.
Step 3: Take the saucepan off the heat and let it cool.
Step 4: Fine strain the syrup.
Step 5: Store the syrup in a clean container for up to 3 weeks.
2. Oleo Saccharum
Not as tricky as the name sounds, Oleo Saccharum, which means "oil sugar," is a syrup made using sugar's hygroscopic property to extract the natural oils from the citrus peels. Oleo Saccharum has been commonly used as a cocktail ingredient since the 19th century.
Now, as you have heard of Oleo Saccharum, whenever you make orange juice, lemonade or grapefruit, keep the citrus peels aside for a batch of fragrant oleo Saccharum.
Ingredients:
200g orange peels (or any peels of other citrus fruits like lemon or grapefruit)
400g sugar
200ml warm water
Method:
Step 1: Coat the fruit peel with sugar.
Step 2: Put the sugar and peel mix in an air-tight jar and let it sit for 24 hours at room temperature.
Step 3: Add warm water to the mix and stir until the sugar dissolves completely. Be patient.
Step 4: Strain the syrup into a sterilized jar and store it for up to three weeks.
3. Tepache
Tepache is a Mexican fermented soda with a low ABV of 1% or 2%. The main ingredient in tepache is pineapple skins, giving the drink a light, sweet and sour flavor that tastes similar to pineapple beer. The probiotic bacteria in tepache also help improve your digestion.
Ingredients:
500g leftover flesh, core, and skins of pineapple
1 litter water
1 cinnamon stick
5 dried cloves
15 black peppercorns
1g yeast
250g sugar
Method:
Step 1: Add all the ingredients to a jar. Cover the jar with cheesecloth instead of the lid.
Step 2: Let it sit for 3 to 5 days.
Step 3: Strain the juice into a sterilized jar.
Step 4: Keep your tepache in the fridge for up to 3 weeks.
4. Fermented juice
Fermented juice will make your cocktail taste more fruity, acidic, and sweet. You can be creative with soda and mint leaves to create a refreshing drink at home.
Ingredients:
500g mixed ripe berries
500g sugar
500g apple cider
Method:
Step 1: Place alternate layers of berries and sugar in a container to better extract the berries' essential oil.
Step 2: Add apple cider to the berry and sugar, then stir.
Step 3: Strain the liquid into a sterilized jar.
Step 4: Let the juice sit in the refrigerator for up to 5 days.
5. Strawberry-pineapple tart for garnish
Why don't we garnish cocktails with tarts instead of dried fruit? If you have too many leftover pineapples and strawberries, this is one way to make the most use of them. Tarts can also be an excellent treat to your friends and perfect for an outdoor picnic. Besides, you can use any type of fruit to your liking to make tarts, but it's better to have some sourness.
Ingredients:
100g pineapple flesh
100g hulled strawberries
50g sugar
15g flour
Method:
Step 1: Mix all the ingredients in a bowl.
Step 2: Divide the dough into equal small-size pieces.
Step 3: Preheat the oven to 170°C or 300°F.
Step 4: Shape the dough on the baking tray.
Step 5: Bake in the preheated oven for 15 minutes.
Basic spirits
Inevitably, a genuinely sustainable cocktail is made using sustainable ingredients, including base spirits. Flor de Caña is among the most sustainability-driven distilleries in the bar industry.
One of the most popular rums of this family-owned distillery is Flor de Caña 12 – rum aged for 12 years. With diverse aromas, palates, and a well-balanced finish, this sustainably-crafted rum would be a perfect base spirit for your zero-waste cocktail. Its reddish amber also adds to your cocktail a more eye-catching look.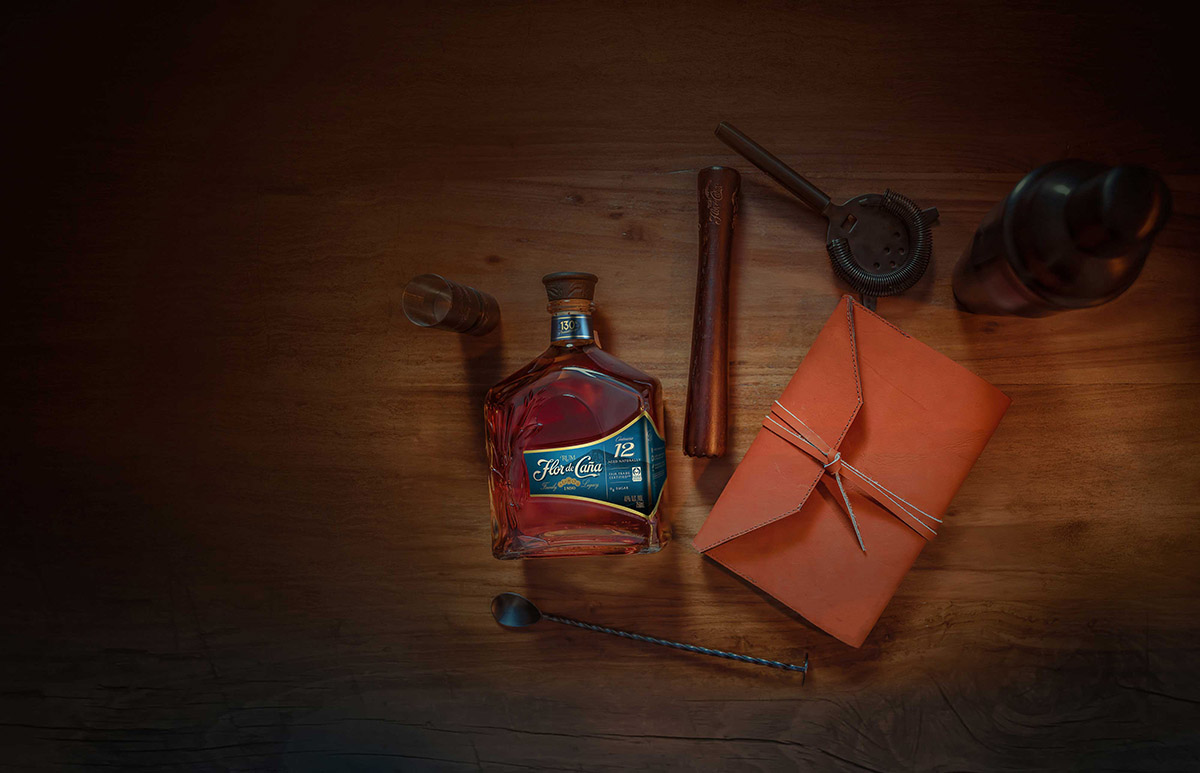 Flor de Caña rum distillery is located at the base of the San Cristóbal volcano – the tallest and most active volcano in Nicaragua. Flor de Caña offers a wide range of premium rums aged from 12, 18, up to 25, or 30 years. Moreover, sustainability has always been the core value of Flor de Caña. The brand has supported the local communities in sustainable development programs, launched a global reforestation campaign, and offered free education and health services to the children of employees at the company-owned school.
Those who want to make sustainable cocktails can now check out more recipes and tips on Flor de Caña's videos. Let your creativity run wild with bartending to enjoy this sustainable trend to the fullest!
Translated by Bich Tram