Steak has always been a fixture on Vietnamese palates given its deep culinary history with the West, though only recently has a taste for higher-end steakhouses emerged with Vietnamese consumers seeking more premium experiences.
Vietcetera has searched high and low for discerning steak connoisseurs. Whether you're craving a porterhouse steak or a special cut of fillet mignon, these are our favorite six steakhouses to hit up when you're in Saigon.
El Gaucho Argentinian Steakhouse
El Gaucho is always a top contender among critics, appearing in nearly every single must-try list of steakhouses in Saigon.
El Gaucho's meat suppliers are always carefully curated and directly imported from famous farms in Australia and the US. These farms' conditions are also up to state-of-the-art standards, meet nutritional expectations, use no chemical substances, and allow the cattle to develop naturally. Therefore, all foods, especially the steak, always preserve their rare but fresh, tender nature.
The complex recipes of the restaurant still retains the softness and juiciness of the meat, delivering a balanced experience. Just as you would with choosing the preparation style and what cut of steak you like, you can also choose the accompanying sauce and side dishes to your liking. Among the options, the most well-known sauce is Chimichurri — an Argentinian specialty— and the buttery cream spinach.
Moreover, the interior design of El Gaucho always impresses its diners for its classy, suave yet subtle modernist style. Not only reserved for romantic dates, El Gaucho always tries to create a suitable space for family gatherings and friends reunions too.
Address:
74/1 Hai Bà Trưng Street, District 1.
Lô L1 – 01,02, Estella Place, 88 Song Hành Street, District 2.
CR1 – U3, Crescent, Phú Mỹ Hưng, District 7.
Facebook
'NAMO Tuscan Grill
'NAMO is another recognizable name among Western cuisines in Saigon. If 'NAMO's Neapolitan-style pizzas have given you a long-lasting impression, then the steak menu and Tuscan Italian concept of 'NAMO Tuscan Grill won't disappoint you either.
The rich Italian vibe that came even from the procurement process to the cooking stage has created the distinct taste for all dishes at 'NAMO. For first-time customers, Bistecca Fiorentina is undoubtedly the steak dish that you wouldn't want to miss. Using T-bone that is carefully marinated in pure Italian olive oil, Himalayan pink salts, and then cooked with custom-ordered oak wood grill, the steak successfully introduces Vietnamese diners to the traditional palates of Florence. Beyond beef, you can also switch up your choices with pasta as well as other chicken, lamb, crab, and salmon dishes.
The distinction between 'NAMO Tuscan Grill and others also lies in the dining experience. Coming from the philosophy that meals are best shared between the warmth of family and loved ones, 'NAMO's menu includes the Sharing Platter, Tuscan Tas Board, Steak Sampler and Dessert Platter.
All types of sauce and side dishes are carefully considered by the chef. When enjoyed together with the main course, they even bring out the best flavors and complete the meal.
Address:
146 – 148 Pasteur Street, District 1.
Facebook
Moo Beefsteak Prime
While located on one of Saigon's most central streets, Ngo Duc Ke Street in District 1, the moment you open the door to enter Moo Beefsteak Prime will surely welcome you with the buzz outside with the rare peacefulness amidst the heart of this very busy city. Moo Beefsteak Prime's interiors use muted brown as its central focus, with an open space that's complemented by warm white lights and soft music that encourages a classy and comfortable dining experience.
Beyond the well-designed space, Moo's menu guarantees to satisfy those who are looking for 'gourmet' steak. Beef is imported from Hitachi (Japan), Mulwarra (Australia), and Tyson and Omaha (the United States). Delicately handled from preservation to processing, the steak dishes here are known for their premium softness along with the light seasoning that can highlight the original flavor of the final product.
Like many high-end restaurants, in order to enhance diversity beyond the premium steak dishes, Moo Beefsteak Prime's appetizer menu also features a variety of other dishes particularly seafood such as mussels and Japanese scallops.
Address:
35 – 37 Ngô Đức Kế Street, District 1.
Facebook
Stoker Woodfired Grill & Bar
As the name suggests, Stoker Woodfired Grill & Bar is inspired by one of the oldest cooking arts: grilling meat directly with fire. Although it sounds a little 'rustic,' it is in fact a rather complex process that requires much skill and almost absolute precision.
After being selected, the beef will undergo an extremely elaborate dry-aged process to increase the tenderness, reduce moisture, and improve the sweetness of the meat. Then, for each meal to bring a unique smokey flavor in the mixture, each type of meat will be grilled by using various woods, in their own wood-fired oven and custom made wood-fired grill.
Such attention to detail is also presented by the chefs through their balancing of the temperature as well as controlling the contact between meat and fire. This allows any steak served by Stoker to be guaranteed as soft, juicy, and full of flavor.
Not only distinguished by their cooking, the layout of Stoker Woodfired Grill & Bar will give customers a very unique experience. At both Stoker locations, before entering the dining area, you'll be able to admire the aging room and have the freedom to choose the meat section of your liking.
Address:
44 Mạc Thị Bưởi Street, District 1.
2 Đặng Hữu Phổ Street, Thảo Điền Ward, District 2.
Facebook
Il Corda
If you're too familiar with steak dishes based on Western European recipes, why not try to spice things up by immersing yourself into Japanese steak instead?
Following the culinary philosophy of Akon-Yosai, Western cuisine that has been adapted to the Asian palate, the main dishes of Il Corda while carrying an Italian 'facade' are tended with Japanese precision and sophistication.
Most evidently is the signature charcoal grilled steak dish of Il Corda. After going through two grilling stages with large and small fire to maintain the softness and sweetness, Il Corda's chef proceeds to induce the aroma of the charcoal into the meat. Through this process, customers after the first tasting will surely be unable to forget this rich trademark flavor that is nowhere to be found but at Il Corda.
In addition, Il Corda's chefs recommend that everyone should try their other specialty starters as well, personally handmade by the head chef himself, namely the Pate De Campagne (pork liver pate) and Salsiccia (Italian sausage).
When at Il Corda, you won't have to think about your sitting arrangement. Bringing together the cultures of Italy and Japan in Vietnam, Il Corda's interiors are incredibly diverse.
If you want privacy and tranquility, there are private rooms available at the restaurant. If you prefer a more upbeat and bustling atmosphere, the open area with a large Western-style wooden dining table that is accompanied by background music will be suitable for you too. For those who like to dine out and about, Il Corda also has balcony seats for you to admire the city lights all the while enjoying your dinner.
Address:
11 Lê Thánh Tôn Street, District 1.
Facebook
B3 Steakhouse & Craft Beer
Different from most high-end steak restaurants, B3 Steakhouse & Craft Beer is designed with a mix of contemporary and retro street style, giving customers a sense of belonging and intimacy.
In order to ensure the most complete experience for everyone coming here, the 'sharing platter' is certainly an indispensable highlight in the menu of B3. Diners can enjoy three types of beef served with three side dishes and different types of sauce. With a list of 16 side dishes and 11 types of sauces, the culinary experience here will be hard to beat.
Like many famous steak restaurants, the supply and quality of meat are always among the top concerns at B3. In addition to saying no to farms that use chemical substances, the restaurant prioritizes importing meat from free-range farms that raise their cattle based on grass instead of regular grains.
What could be better than sitting outside on a terrace overlooking the busy main street while enjoying a mean steak and cold craft beer with friends?
Address:
1st Floor, 90 Nguyễn Huệ Street, District 1.
Facebook
Do you know your preferred ripeess?
If you've ever enjoyed steak, you've probably heard of the term 'rare', 'medium rare', or 'well done'. John Thomas, a culinary expert with the same name steakhouse, offers the following graphics to help you determine your preferred ripeness. From here, you can assess which steakhouse suits you best to check out.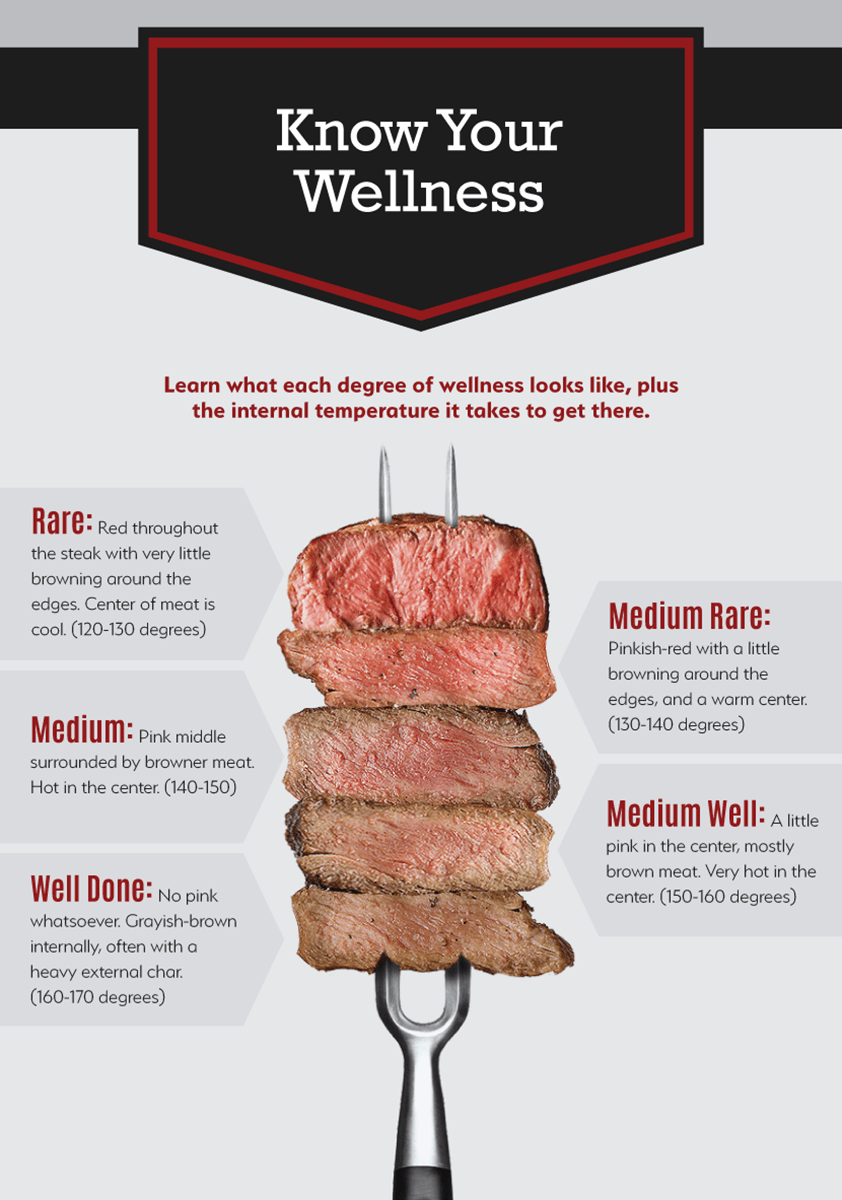 Related Content:
[Article] IL CORDA Steakhouse Infuses Western Cuisine With Asian Spirit
[Article] Out Of The Brewhouse: A Four Stop Craft Beer Tour Part 1